Sunday Mornings with Rania: Holiday Scams and Rumors
Click the Buzz Me button to receive email notifications when this writer publishes a new article or a new article in this column is published.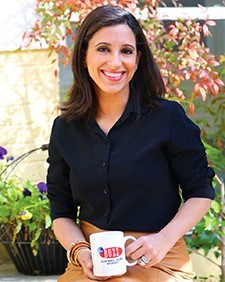 Over the last week, I've received more than a dozen calls on the viral emails that share incidents of women and children being targeted in all parts of our city by human traffickers. While the stories vary, the idea is similar and creates a narrative that traffickers are watching you shop, get gas, run errands and drive down the road at all times of the day. It's terrifying. But here's the bigger issue - these stories are not true. My biggest hope for all of us is to become "public safety minded" but never "irrationally paranoid." How do we strike a balance? With information. 
Viral Posts: True or false? 
True or False: Traffickers are tying people's windshield wipers with zip ties so drivers are forced to pull over and untie them before driving, at that point they snatch you: False
True or False: Traffickers are pushing in passenger side windows so drivers are forced to pull over and fix before driving, at that point they snatch you: False
True or False: Women are targeting other women at gas stations and shopping areas; they have a large duffle bag and strike up just enough conversation to distract you while they try to drug you and abduct you: False 
True or False: A woman using a ride-sharing platform as a passenger was allegedly nearly abducted by the driver in Houston earlier this month: True. During the course of the ride, the driver went off course, stopped answering the woman's question and ended the ride with the woman still in the car. Upon driving into a parking lot with a warehouse, she noticed another man waiting for - she feared for her life and fled the scene. Surveillance video shows her running and HPD is currently investigating her case. 
True or False: Jugging, robberies, porch pirates are on the rise and hitting Houstonians at all times of the day and in all parts of our city: True. The overwhelmingly large increase in these types of crimes is shocking. According to HPD crime statistics, nearly 900 Houstonians have been seriously assaulted over the last few months when compared to the same timeframe in 2018, and the numbers only continue to climb.
Viral Posts Can Help, Hurt or be Downright Dangerous. 
Helpful: It is wonderful people care about the safety of themselves and others and want to spread awareness, especially if they really believe in the threat. Also, a post that raises awareness is always a positive - if it's raising awareness on a real issue! 
Hurtful: Remember the boy who cried wolf? I fear that too many false viral posts will cause dismissiveness and complacency in our community. When the real alerts go out, who will be listening? 
Dangerous: False viral posts become scare tactics which lead to unwarranted fears, they can hurt businesses or neighborhoods; they can also waste law enforcement time. 
How do you vet these stories? 
Call HPD / HCSO directly or Crime Stoppers of Houston. 
Call local businesses or homeowners associations that were allegedly affected to find out more information. I am sure that they will appreciate a willingness to know and share the truth. 
Takeaways: A Few Reminders: 
Posts about human trafficking: Human trafficking is an issue in our area. Only nine percent of trafficking cases occur via Hollywood-style abductions. The vast majority still involve a grooming process that involves a relationship and/or a cyber contact (parents beware of who your children talk to online). 
Since we know jugging, robberies, porch bandits and others such incidents are on the rise, beware of your surrounding at all times. 
Ride-sharing this holiday season: I have always said to proceed with caution when it comes to ride sharing. Never let minors go alone. Never drink and get in a ride sharing car alone. Always let friends / family know when you get in a ride sharing car and share the ride. Pay attention when you are in the vehicle. 
Remember things like the sliders and the wobbly wheel scam. These are real. Sliders snatch purses from cars at gas stations. In the wobbly wheel scam, people pull up next to you while you are driving and implore you to pull over because you have a wobbly tire. There will always be scams and it's difficult to know them all so in general, while we cannot assume that everyone who approaches us is dangerous, it's important to have rules of thumb (especially for the young drivers in your home) - never pull over when someone asks you; before you get in your car, truly inspect it, make sure nothing's been tampered with, if something has, go back into the store or home or office you were just in and call for help, fix the problem while you are there, don't get back on the road. 
Remember attacks can take place online too - phishing scams and charity scams swell this time of year. Be careful before you click and give information or make that donation. 
It really is the most wonderful time of the year. Let's approach each day in safety as we savor the hustle and bustle. It's my sincerest hope that you spend this busy month enjoying creating memories and sharing stories and that you and yours have a happy, health and safe holiday season! 
Read past Sunday Mornings with Rania posts here. Find more information on Crime Stoppers of Houston on their website or follow them on Facebook. Have topics in mind that you'd like Rania to write about? Comment below or email her at [email protected]. Rania is co-host of a weekly podcast which features interesting local and national guests who used their platforms for the good of the community. Connect with Rania on Instagram and Twitter. 
Editor's Note: Views expressed here are those of the author and do not necessarily represent the views of The Buzz Magazines.
Want more buzz like this? Sign up for our Morning Buzz emails.
To leave a comment, please log in or create an account with The Buzz Magazines, Disqus, Facebook, Twitter or Google+. Or you may post as a guest.