Turning 13 with Honey and Silver
Click the Buzz Me button to receive email notifications when this writer publishes a new article or a new article in this column is published.
Jerry and Sheila Reese are lifelong travelers. Married now for 54 years, from the very beginning they traveled together. 
"Instead of getting a new piece of furniture when we didn't have very much, we'd travel," Sheila recalls. They raised their children in Beaumont, where Jerry had a construction business and Sheila taught school. Two of their children moved to Houston, where they now have seven grandchildren, so they moved here.
About 15 years ago, Sheila and Jerry hit upon a splendid idea for how to enjoy and celebrate each of their 11 grandchildren, who call them "Honey" and "Silver." For each one of them, on their thirteenth year, they would plan an extraordinary adventure together. 
Thirteen is the perfect age, they reasoned, as they're old enough to understand a lot of what they are seeing – and it's before the busyness of high school, dating, sports and other extracurricular activities really starts to set in. 
"It's more than a trip; it's an adventure," said Sheila. They try to take them to places and plan activities that their parents wouldn't – "things that are a little out of the ordinary," as Sheila puts it. So far they've taken all but the youngest, and their trips have taken them to the far reaches of the globe.
"It's nice to have one-on-one time with our grandchildren – because we're a fairly big family," said Sheila. "We did it not just for our memories with them, but for them to have memories of us, memories with their grandparents. They love their trips, and hopefully it will be something that they will always remember."
It started with a relatively close-to-home adventure with their first grandson, Reese Henningsen, whom they took to the Bahamas. "What is not to like about the Bahamas?" Sheila says with a laugh.
Still, looking back and seeing what was to come, she sometimes wonders if they should have gone a little further afield. They hadn't yet decided to take all the kids on a trip yet; they just wanted to take Reese to the Bahamas. 
Recently married and working for Lockton in Houston, he still remembers his trip. "I said, you kinda got the bad end," she says with a laugh. "To this day, he says, 'I loved that trip!'"
The second trip they got a bit more adventuresome and took two of their grandsons, Blake Henningsen and William Reese, to the Galapagos Islands. The first stop was the Equator, where they loved standing on the line that marks the planet's midsection. 
"When we got to our boat they donned wetsuits and jumped into the frigid waters with the seals and other animals," recalls Sheila. "They saw lava lizards and giant turtles, but enjoyed getting back on the boat to play cards with other teenage passengers." 
Next came their first granddaughter, Abigail Henningsen, and this time they decided on an even more exotic destination: Morocco. Abigail, now assistant director at Laura Rathe Fine Art, still remembers the anticipation. 
"I didn't even know where Morocco was," she recalls. "I went and pulled out a map and started to do some research … I was excited and didn't know what to expect."
She remembers the place awash in color and aroma and culture; lush gardens and stately courtyards and splendid architecture. They went to Berber markets, food and clothing markets, and even a cooking school ("She still promises to cook chicken tagine for us," says Sheila, chuckling at the thought.
They traveled to Fes and Rabat and Marrakech and took a drive up into the Atlas Mountains and down to the coast. She'll never forget the day their tour guide almost got in a fight with a man who offered to buy her for three camels.
Another lifelong memory has been the way that every day, five times a day, the whole city would be flooded with the call to prayer. "I remember the first time I heard it, it was like, 'What's going on?' But by the time I left, I loved it,'" Abigail recalls. "I never traveled anywhere like Morocco in my life… it was completely different from Western civilization in all the best ways."
Besides the Morocco trip, Abigail treasures the memories from the photo safari in Africa that her grandparents treated the whole family to. She feels the travel combined with many other special times has helped to shape her life in many ways.
"All of the grandkids have an extremely close relationship with Honey and Silver," she said. "The time they take to not only be with us but to take us on unforgettable adventures and create memories you could never even imagine, is all a part of that. My trip to Morocco allowed me to expand my horizons beyond the bubble I grew up in and was a big influence on my path towards the art industry."
"It's very pivotal in helping you mature even and helping you expand your horizons beyond the bubble."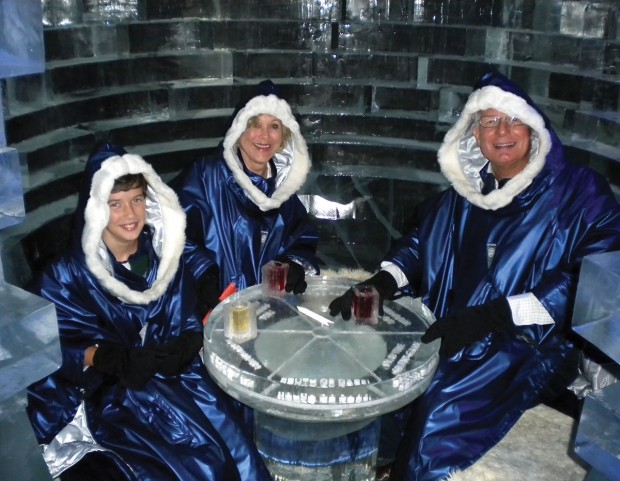 Their next grandson, David Reese, got to go to Japan. "It is still one of the most significant events – in terms of travel particularly – that I've ever had, and being able to do it with them was just amazing," recalls David, now a systems analyst for Cisco Systems who lives in Durham, N.C. 
The trio traveled to a sumo wrestler camp, where they got to see the enormous men training for their next season. They hiked through the steamy landscape of Hakone, the great boiling valley where eggs boiled in sulfur hot springs turn black. They got up early one morning and went to the seafood market where they bring in the tuna to be weighed and inspected. They attended a Kabuki Theatre performance, a classical kind of Japanese musical where heavily made-up men play all the parts. 
"David and his grandfather loved the tradition that males are served before the females," Sheila recalls with a laugh. 
David recalls taking in the picturesque countryside, including the iconic Mount Fuji, zipping by on 240-mph bullet trains. He remembers visiting a village that still practiced the ancient art of roof-thatching, where the villagers still work together to replace each other's roofs and build new ones when needed. He remembers visiting Shinto shrines and Buddhist temples. Most of all, he recalls being struck by the realization that there are such vast differences in the world's cultures. 
"Growing up in Southeast Texas is somewhat limiting in terms of the kinds of people you come across," said David, who grew up in Beaumont. "It kind of like made me fall in love with the idea of different cultures, the ways we differ from each other, and how that affects the way we see the world."
He ended up majoring in international business and studied abroad because of that trip, which he sees as deeply influencing his life.
The couple's next adventure was to China with two of their other grandsons, Walker Reese and Collin Lawrence. There they saw The Great Wall, the green tea farms, and the oldest pharmacy in China, where they still prescribe herbs. "Another big highlight was seeing the Terracotta Warriors and the panda bears," Sheila recalls. They took a side trip to Hong Kong and went over to Macau, which was once a Portuguese colony. 
Their second granddaughter, Eliza Lawrence, chose to go to Greece. Their first stop was in Turkey, with an adventure to Cappadocia. This region in central Turkey is known for its breathtaking geological formations called "fairy chimneys," and for being a refuge for early Christians, who lived there in caves – "In fact, our hotel was in a cave," recalls Sheila. They also saw Ephesus before cruising to several Greece ports, including Santorini. 
Their next trip, earlier this summer, took them to India with granddaughter Lila Henningsen and grandson Harrison Lawrence. They saw where Gandhi lived, and saw the place where he was shot. They went to the Taj Mahal and saw the tigers at Ranthambore National Park in Rajasthan.  
They saw the Sikhs' Golden Temple, where they joined the volunteers making bread for the pilgrims. 
"There is so much going on; they worship, bathe, chant ...," wrote Lila in an email. "But the thing I liked most about it was the kitchen." In every Sikh temple, there are kitchens, financed through donations, where visitors can come to be fed. "People come and volunteer to prepare the food, chop veggies, clean dishes, and pass out food. One of these kitchens feeds over 1 million people in a month."
The Reeses have just one grandchild left, Jude Reese, and are considering Alaska as their next destination. 
"It's been amazing," says Sheila. "We have such good relationships with our grandchildren, and I think it's because we have put forth an effort to be with them, not just on trips but watching them play sports, cheerleading, art shows, anything we can – that's been real special, too. They've given us a gift by being our grandchildren, and I like to think that we've given back the gift of being a grandparent to them."
Editor's note: Buzz travel columnist Tracy L. Barnett is a Lowell Thomas travel journalism award winner and longtime travel and environmental writer. 
Want more buzz like this? Sign up for our Morning Buzz emails.
To leave a comment, please log in or create an account with The Buzz Magazines, Disqus, Facebook, Twitter or Google+. Or you may post as a guest.