Around the World
One marathon at a time
Click the Buzz Me button to receive email notifications when this writer publishes a new article or a new article in this column is published.
When Randy Keith played baseball at Houston's North Shore High School, running was torture. 
"I did not like running," the 61-year-old real estate developer says. "To me, running was always punishment as a baseball player. You do something wrong, you go run." 
Now, Randy is on his way to becoming part of a select group of runners who have completed the Abbott World Marathon Majors – the six most prestigious marathons in the world – plus, a marathon on all seven continents. Randy joined the select Seven Continents Club this year after knocking off marathons in South Africa and Antarctica, and he's set to run his last Abbott World Major at the 2020 London Marathon. 
"Randy downplays it a lot, but it's pretty incredible," says his wife, Donna. 
Since the Seven Continents Club was founded in 1995, only 527 men and 263 women have become a part of the exclusive group. Overlap that with the Abbott World Majors, marathons in Tokyo, Boston, London, Berlin, Chicago and New York City, and Randy will be part of an even more elite group of runners with both designations come next spring. 
Some might find Randy's commitment to running maniacal. He's completed 95 races, including some of the most challenging marathons in the world. One of them – the Pikes Peak Marathon in Colorado – he's completed seven times. Another one, the Inca Trail Marathon to Machu Picchu, was a grueling nine-and-a-half-hour uphill climb on difficult terrain. But Randy finished it eager to run more. 
"I met people from all over the world," Randy says. "They had done so much, and it really inspired me. I got on a path to do the continents and the World Majors because, at my age, you never know when you're going to go over the cliff." He chuckles. A genial man with a calm demeanor, Randy has a positivity that carries him through tough races – Donna says he even smiles while running. 
After Randy runs London in April 2020, he has no plans to stop. After London, he wants to do more global runs – St. Petersburg, The Great Wall of China and a race above the Arctic Circle in Norway. 
"I used to always say, once I ran 100 marathons, I'd never run another," Randy says. "But I never quite thought I'd run a hundred."
Randy developed an interest in running in his late 20s. After graduating from The University of Texas at Austin with a BBA in accounting, he worked in public accounting and lived near Houston's Medical Center, where he saw a neighbor run every day. "I wondered why he did that," Randy says. "I'd go play softball and basketball – all of these pick-up games. And I said, 'Why would you want to run? Just go play a sport.'" 
But when Randy joined his neighbor for a three-mile run one day, he started seeing the lure of the strenuous activity. "I was about dead after, but I kind of got into it," he says. 
Then, Randy went to support a friend running the Chevron Houston Marathon in January 1987. Seeing his friend cross the finish line made Randy decide it was something he too wanted to experience. And the next year, he did.
The day Randy completed his first marathon was typical for Houston: hot and muggy. That made for a tough race. "It wasn't the best experience in the world," Randy says, adding that he probably did not run enough long runs in his training. But, two years later he was back at it again, and ever since, he has run at least one race every year excluding one. 
Randy's success as a runner seems a combination of opposing forces. On the one hand, Randy has a competitive streak. Seeing others complete the 26.2 miles in Houston – and later hearing people talk about running different continents – inspired him to do the same. But he pairs his ambitiousness with a balanced approach. He will run his 30th Chevron Houston Marathon in January 2020, in part because he knows when to push himself and when to back off.  
"You don't need to run hard every time you run," says Randy. "You need to run easy at times." 
Randy considers himself lucky; he's a rare case of a serious runner who has not been dealt a serious injury. Randy attributes this to "good genes." The 5'11'' runner has a slender frame well-suited to endurance training. But the dozens of medals displayed in his home also come from diligence.
In the months leading up to a race, Randy runs about four days a week. On training days, he wakes up at 5:30 a.m., does a few dynamic stretches and is out the door. He often runs near his home in Memorial, and, on Tuesday and Thursday mornings, joins the Rummel Creek Boot Camp, a group of about 40 men from his neighborhood who gather for an hour-long workout, led by volunteers. 
By the time race day comes around, Randy has tapered his training; he's well-rested and full of adrenaline, but careful not to start too fast. The first five to six miles should feel easy, he says. Miles 4-20 should be run at a quicker pace, and on a good day – when he's trained well and the weather is right –  that pace is maintained through the end of the race. 
Sometimes, Randy's races are tough. It's hot and humid outside, he gunned it at the outset, or training was imperfect. Around Mile 20, he "hits the wall," and running even one more mile seems impossible. "It's just so hard to move and to run and to run fast," he says. "You've depleted all the glycogen in your muscles, and you have nothing left. A death march is a good description."
Although running is an individual sport, it's the social aspects of training that seem to bring Randy the most joy. He speaks happily about Strava, a mobile app through which he connects with runners he's met at different races. On the app, Randy likes giving "Kudos" – similar to liking a Facebook post – when he sees a friend has completed a great run. 
On Saturdays, Randy runs in Terry Hershey Park with friends from the Boot Camp. He's also gotten his wife, Donna, into running. 
"He taught me how to run," says Donna, who worked as a real estate broker before retiring two years ago. "He just started a little bit at a time, and the next thing I knew I was training for the Houston Half Marathon." 
The tall blonde has always been athletic – she ran track in junior high and high school and was into weight-lifting and aerobics classes as an adult. But she became a serious runner only after marrying Randy in 2003. Doing so, she says, has yielded health benefits, from losing weight to maintaining heart health. 
Donna and Randy approach running with different mentalities. While Randy is always on the lookout for the next big challenge, Donna runs more leisurely. And while Randy has never run a half marathon (13.1 miles), Donna has no desire to run the full 26.2-mile race. 
"He wouldn't be caught dead running a half marathon," Donna says. "I like half marathons because it's a challenge, but I don't have to be as disciplined as him."
For the Keiths, running is more than a shared interest. Empty nesters with more free time than before, the couple uses marathoning as  a way to travel to some of the most far-flung places on the planet. This year, they experienced their biggest adventure yet, when they ran the half and full marathons in Antarctica. 
The couple was on a three-year waiting list for the race, organized by Marathon Tours & Travel, a company dedicated to organizing adventure trips centered around marathons. The site of the race, King George Island, restricts Marathon Tours to 100 people onshore at any one time. With only 200 runners allowed per year, most people wait at least two years to participate.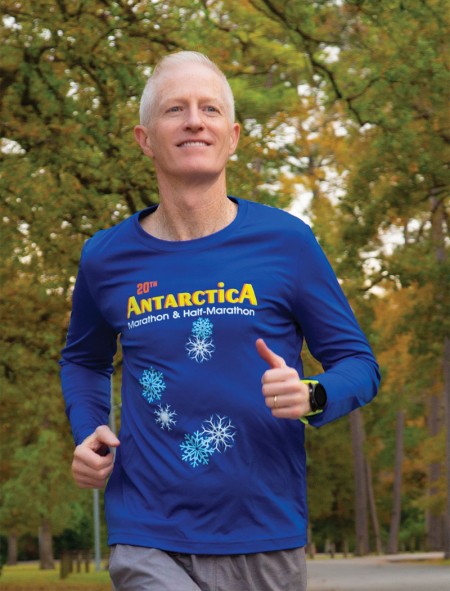 The March 2019 trip started out with three nights in Buenos Aires, where Donna and Randy met the others on the trip. From there, they flew to Ushuaia on the southern tip of Argentina and boarded a ship that sailed through the Beagle Channel, the Drake Passage and the Shetland Islands until reaching King George's Island. 
"It wasn't for the faint of heart," Donna says. "Many people got sick on the boat." 
Donna and Keith got lucky with nice weather – it was about 30 degrees and sunny on the day they ran the race with about 100 other runners. In years past, the race has been delayed or cancelled due to blizzards. The terrain was hilly and muddy, no trees in site – "very much like a lunar surface," says Donna. 
After completing Antarctica, Randy and Donna ran full and half marathons, respectively, at The Big Five Marathon in South Africa. There, they ran through the habitat of elephants, rhinoceros, buffalo, lions and leopards. At one point, the race was diverted because of an elephant stampede. 
"I was literally finishing my half marathon in a quarter mile, and the next thing I know all these men are in the road telling us to get in the jeep," Donna recalls. "We were all stopped for 15 or 20 minutes because this herd of elephants was making its way down the course. How many people can say that?"
Donna has run half marathons in three continents and is now on her own mission to complete a half on every continent. 
Randy freely admits that running 100 marathons is a crazy venture. Even for a veteran, the last few miles of a race can be arduous. "Those last six miles when you've hit the wall – I don't care if you run a two-and-a-half-hour marathon or a five-and-a-half-hour marathon. It's tough for all of us." 
Part of why Randy runs marathons is to stay in shape and to feel good. He says that how he feels for the 23 hours in the day that he's not running makes the grueling hour of running worth it. 
But some health experts question whether running so many marathons is over-exerting the human body. Research is clear that running 15 to 20 miles per week is a healthy way to maintain heart health. "There's no benefit beyond that, and I don't know if there's a negative," Randy says. 
In his own experience, the benefits outweigh any potential negatives. "A lot of people say, 'You're going to have bad knees.' But I think it's just the opposite," he says. "I think people who run are more mobile than those who don't [….] And if it does get me eventually, I was doing something I like to do." 
Randy's perspective on running has changed over time. While his goal at one point was to break a personal record, he no longer expects that. Now, when he approaches the starting line, or when he is running Memorial Park on a Saturday morning, he's thinking more about gratitude.  
"Honestly, the older you get, it's the fact that you can still do it," Randy says. "That's what makes you want to keep doing it. I know it's a little deep, but I still get out there and think, it's a beautiful morning and I'm out here running. And I can do it."
Editor's Note: See Where to Run in Houston for local runners' favorite places to run around town. 
Want more buzz like this? Sign up for our Morning Buzz emails.
To leave a comment, please log in or create an account with The Buzz Magazines, Disqus, Facebook, Twitter or Google+. Or you may post as a guest.