Back to Basics: Pigs in Blankets with Two Dipping Sauces
Click the Buzz Me button to receive email notifications when this writer publishes a new article or a new article in this column is published.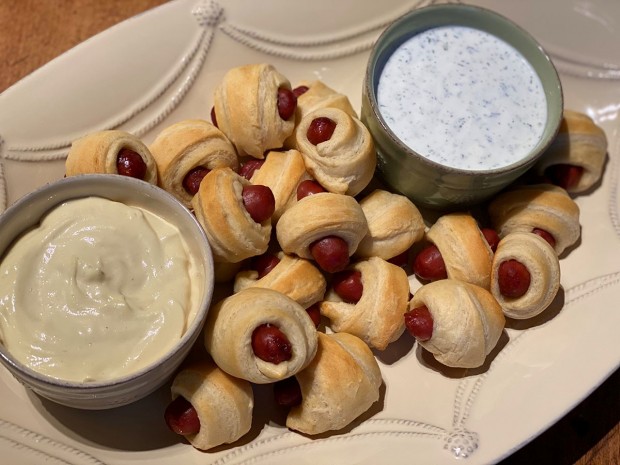 Here is something I will sheepishly admit I don't know: who is playing in this Sunday's Super Bowl.
Here is something I do know: what I'm making to snack on during the game.
Because, to some of us, the game is all about the commercials and the snacks. And the snacks for 2020 are going to be Pigs in Blankets with two dipping sauces – Dijonnaise and homemade ranch.
"Pigs in Blankets?" you may say, with your nose turned up. Don't get snooty yet. Have you ever been to a party where the host served Pigs in Blankets? Yes? What were the first nibbles everyone went for? Pigs in Blankets, I'd suspect. Were there ever any leftover Pigs in Blankets? I'm guessing not. 
Which is why we're going for it this year with the tiny hot dogs and the crescent roll dough that comes in a can. January's on its way out. Bring on all that we swore off. 
Our Pigs in Blankets are going to be pretty simple, because we're buying the dough. All we have to do is cut it into little slices and wrap the little hot dogs. We might bake them right then, or we might line them up on a baking sheet, wrap them in plastic wrap, and chill them in the fridge prior to the big day, so they're just waiting for the right moment to be baked. But we are going to make a little effort on one front, and that's the dipping sauces. Somehow adding some bowls of homemade ranch and Dijonnaise to the tray elevates this delicious, albeit humble, snack to something special. 
The Dijonnaise is a simple mix of mayonnaise with a bit of Dijon mustard whisked in. The mayo tempers the tang of the Dijon, resulting in a sauce that's a match for pigs in blankets, turkey sandwiches, vegetables and everything in between. The ranch is Julia Moskin's Classic Ranch, which she published in The New York Times along with a fun article on the history of ranch dressing. I've tweaked her seasonings just a bit; you might tweak mine. Basically, though, Julia's version of homemade ranch is perfect, with none of the things we can't pronounce that are standard in the pre-made stuff.
So go retro and make some Pigs in Blankets this weekend, and whip up some dip to keep things interesting. Whatever team you're rooting for, you're sure to enjoy the snacks!
Pigs in Blankets with Two Dipping Sauces
Ingredients for Pigs in Blankets: 
1 8-ounce can crescent roll dough
1 14-ounce package cocktail hot dogs or sausages
Recipe directions:
Preheat the oven to 375 degrees. Pop open the can of dough, and cut along the dotted lines to separate it into triangles. Cut each of those triangles lengthwise into thirds, so that you make 3 skinny, long triangles out of the big one. Put a hot dog on the widest part of a triangle, and roll it up. Place the pigs in blankets on an ungreased baking sheet, and bake for 12 minutes.
Ingredients for the Dijonnaise:
½ cup mayonnaise
1 tablespoon Dijon mustard
Recipe directions: 
Whisk the mayonnaise and mustard together.
Classic Ranch Dressing
Adapted slightly from Julia Moskin's Classic Ranch, The New York Times.
Ingredients for the Ranch:
1 tablespoon dried chives
1 teaspoon dried parsley
1 teaspoon dried dill
1 teaspoon onion powder
1 teaspoon garlic powder
1 teaspoon salt
½ teaspoon pepper
½ cup chilled sour cream
½ cup chilled buttermilk
Recipe directions: 
For the seasoning mix: In a bowl, whisk all the ingredients together. Taste and adjust the seasonings to your liking. Transfer to an airtight container and store in the refrigerator until ready to use; it will keep indefinitely.
To make 1 cup dressing: In a medium bowl, place 1 tablespoon seasoning mix. Add sour cream and buttermilk and whisk together until smooth. Taste and add salt if needed. Serve immediately or refrigerate, covered, up to 2 days.
Editor's Note: If you're looking for ideas for where to watch the Super Bowl, see our roundup here. 
Want more buzz like this? Sign up for our Morning Buzz emails.
To leave a comment, please log in or create an account with The Buzz Magazines, Disqus, Facebook, Twitter or Google+. Or you may post as a guest.