A century of travel
Click the Buzz Me button to receive email notifications when this writer publishes a new article or a new article in this column is published.
Ruth Peters celebrated her 100th birthday as only a consummate world traveler could do: with a steep climb up the long staircase of Blarney Castle in Ireland, where she leaned back and kissed the fabled Blarney Stone. 
It's something that had been on her bucket list since her dear friend Marie told her about it. She and Marie had been friends for more than 50 years, and when Marie's husband died, she began traveling, and would always come back and tell Ruth of her adventures. But Marie had passed away the year before, and Ruth was determined to do it soon.
"When I get to heaven I've got to tell Marie I did the same thing," she told her daughter and traveling companion Gayle Christie, who has been globetrotting with Ruth since her retirement in 2013.
Although judging from Ruth's energy level and her good spirits, it seems as though Marie will have to wait awhile – the lively centenarian doesn't show any signs of slowing down anytime soon. As Buzz readers may have already seen in 2017 in Travel Buzz: 97 Years of Travel, Ruth and her late husband, Kenneth, who was a flight instructor as well as a farmer, started seeing the world early through the International Flying Farmers, and though Kenneth passed away in 2009, Ruth never stopped traveling.
"I didn't know she was actually going to do it," said Gayle of the stone-kissing feat. Blarney Castle was the highlight of a 14-day Dublin-to-Lisbon cruise last October, and the two will never forget the adventure. It had been pouring down rain all morning, but as soon as they arrived at Blarney Castle the clouds parted, the sun came out and the day began to sparkle. 
"Mom said, 'I think I'm going to do it.' So the two began to climb the narrow stone staircase. After a strong ascent, they came to a curve and Ruth said, "Oh, I think I have to sit down." Gayle turned around and looked. "I said, 'Oh, no – there's no way we can go back down.' There were 50 people behind us!'" 
But she needn't have worried. Ruth had waited a long time for this, and she was determined. She caught her breath and continued the climb. It took them 45 minutes, but when they made it to the top, a crowd of about 60 cheered as two gentlemen leaned her back to kiss the stone.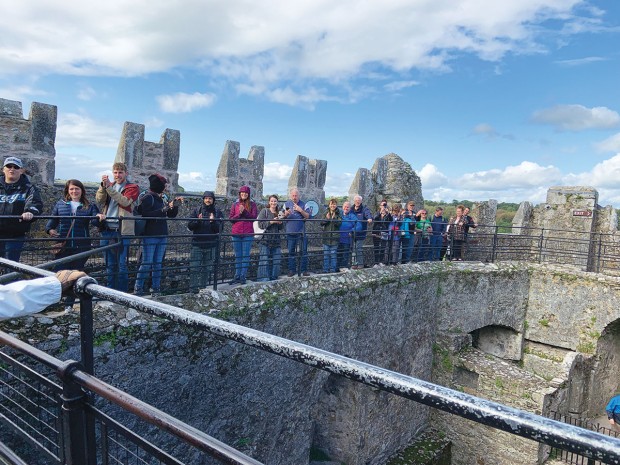 "Word got out that a 100-year-old lady was kissing the Blarney Stone," said Gayle with a laugh. "Then there was a sort of receiving line, where everyone wanted to shake her hand."
The two laughed in merriment at the memory. And that was just the beginning; it was still a week until her birthday, and a memorable week it would be. They landed at the Shannon Airport in County Clare, near the dramatic and rocky West Coast of Ireland and the much-visited Burren region. Their "happy, fun and knowledgeable" driver, Colm with Adams & Butler, picked them up at the airport and headed for their first destination, the stunning Cliffs of Moher, which had been a highlight of Marie's Ireland tour and promised to be one of Ruth and Gayle's as well. Here the mother-daughter duo also enjoyed another regional attraction: the Burren Perfumery. Inspired by the many fragrant flowers in the wild local landscape, the organic perfumery is also home to a popular tea room that gave the travelers a taste of the delicious cuisine they'd be enjoying on the Emerald Isle.
A special highlight of their Ireland tour was a long leisurely tea at the Tourin House, family home of the Jameson sisters, of Jameson Whiskey fame – Kristin, Andrea and Tara – the ninth-generation descendants of company founder John Jameson. What made it really special was a three-hour heart-to-heart with the Jameson sisters themselves – a connection their travel agent Sandra Ortiz of Woodlake Travel set up for them. ("We don't normally spend three hours with anyone," Kristin told them as they departed.)
"We just really hit it off with them and had the most incredible time," said Gayle. "Along with tea, they served a shot of whiskey. And so, while we're sipping our tea, Kristin says, 'Well, bottoms up!'
"So I have a photograph of Mother where we all have our crystal glasses, and mine's full and our friend's is full but Mother's is empty." Gayle and Ruth laugh heartily at the memory. "And Mother just said, 'Bottoms up!'" 
Their fast bond with the Jamesons wasn't what they'd expected – but they quickly discovered a mutual love for gardening. Ruth is a lifelong farmer, and while you can take the girl off the farm, Gayle is living proof that you can't take the farm out of the girl. Gardening remains a core practice in her life and her mother's as well.
The pair enjoyed traveling from one end of Ireland to the other, enjoying the delightfully fresh and flavorful Irish potatoes – perfectly fried every time, according to Ruth. But the best part of the Ireland tour was the people – everyday people they met everywhere they went, especially when they went into the pubs to warm up from the nippy October weather.
"They're just happy people," said Gayle. "They're so outgoing and friendly and they really love people; they love to laugh and have fun and enjoy life. It felt really different from the dolce vita in Italy – the people were really genuine."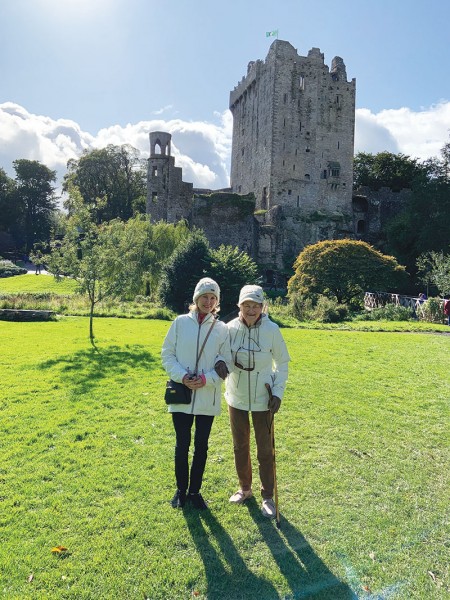 There were a couple grumpy people they encountered in line one time – "I can't believe you're so irresponsible as to take your 100-year-old mother to Blarney Castle," they remembered being told. Notably, the curmudgeonly travelers were not Irish. 
"Remember that girl who pulled us aside and she had purple hair?" Gayle reminded Ruth. "She wanted to meet Mother – she just so impressed everybody. People come up to Mother all the time because she's such an inspiration, and they say to her, 'You're my hero.'"
Ruth's can-do and common-sense approach to life has extended to her travels. She starts every day, when possible, with a brisk walk, tries to eat a healthful diet and takes a number of "pharmaceutical grade" or high-quality vitamins, minerals and food supplements, preferring self-care and prevention over the health care system, which she's largely managed to avoid. 
"She doesn't look 100, and she certainly doesn't act it – but what does a 100-year-old look like anyway?" Gayle asked. Ruth's photos speak for themselves. Most of her friends are at least 15 years her junior and are in assisted living; most are amazed to hear of her exploits.  Marie, one of her oldest friends, was in her 80s when she passed away. 
Since so many people ask for her secret to good living, Gayle typed up the "Ruth Peters' top 10 secrets on how to live an exciting & active life in your 100s." (See below.)
After Ireland, the pair made their way down through Europe, taking in a tour of Normandy, including Omaha beach – especially significant for Ruth, whose brother was a World War II veteran; a couple of stops in Spain, where they enjoyed some delicious paella; and a visit to Portugal's enchanted Douro Valley, home to the famous Port wine. From there they set sail to Lisbon, where they visited the royal stables and watched a dressage performance with the magnificent Portuguese Lusitano horses. Another highlight in the Portuguese capital was a "tuk tuk" (motorized rickshaw) ride around Lisbon.
On Ruth's big day, Oct. 24, they were aboard the cruise ship, where the pastry chef created an enormous chocolate cake with 100 edible flowers.
The staff aboard the Ovation had already begun to feel like family as the pair had already done the Dubai cruise three times, most recently in April and May of 2019. This time, Sandra found them a beautiful resort in the desert 45 minutes outside the city, Al Maha (meaning oryx in Arabic). Surrounded by giant sand dunes and nestled among the lush palm groves of an oasis amid the Dubai Desert Conservation Reserve, the ladies had their own infinity pool where the gazelles would come for an occasional sip. Gayle went riding, for an unforgettable desert sunrise on an Arabian horse. Then they boarded their cruise ship and went through the Suez Canal and the Strait of Hormuz to Oman, where they stocked up on frankincense – another of their secrets to a long, healthy life, as they drink a glass of water with 10 drops in it every day. 
Mother and daughter alike are grateful for the perspective that global travel has given to them. 
"It affects your outlook," says Ruth. "You don't just see one corner of the world; you see the whole perspective. You don't just keep your thoughts in this little space where you live." 
It also helps you understand diverse points of view, added Gayle. "You actually meet people and learn that not everyone is like-minded. You hear other people's perspectives, and you like the people so you listen to them – and that makes you more aware that everybody has hopes and dreams and disappointments. People are people everywhere, and they just want the best for themselves and their families."
Ruth Peters' top 10 secrets on how to live an exciting & active life in your 100s
1. Strong faith and relationship with Jesus Christ
2. Pray constantly
3. Read the Bible and uplifting articles
4. Be involved in organizations that help people
5. Take many "pharmaceutical grade" vitamins
6. Drink hot water
7. Walk daily
8. Eat everything
9. Be positive
10. Laugh, forgive, and love
Editor's note: Buzz travel columnist Tracy L. Barnett is a Lowell Thomas travel journalism award winner and longtime travel and environmental writer. 
Want more buzz like this? Sign up for our Morning Buzz emails.
To leave a comment, please log in or create an account with The Buzz Magazines, Disqus, Facebook, or Twitter. Or you may post as a guest.