And... Action!
Memories of movies made here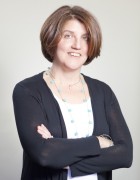 Click the Buzz Me button to receive email notifications when this writer publishes a new article or a new article in this column is published.
Years ago, Kaitlyn Sharp was at the old Town & Country Mall with her two children when someone approached, asking if she'd like to be in a movie. "Today, I'd think it was a sex trafficker," she says, "but back then, I said, 'Sure!'"
Kaitlyn ended up with a "2.5-second role" as a nurse in a 1995 two-part television miniseries called A Woman of Independent Means, starring Sally Field. Kaitlyn remembers Field as being "perfectly pleasant," which was good because Kaitlyn stepped on her foot during one of their takes. "I was supposed to walk ahead of her through a hospital ward," explains Kaitlyn. The scene, set in the early 1900s, required Kaitlyn to wear a full-length, striped nurse's uniform, lace-up boots, a bouffant hairdo and a corset. "And that was a real corset," she remembers. "Somebody had to lace me into it, and I discovered why women in pictures from that era always stood up so straight."
It might not seem so, but Houston has been the setting for a wide range of movies. Terms of Endearment (1983) was filmed, in part, in River Oaks, and Urban Cowboy (1980) at Gilley's in Pasadena. Several space-themed movies, including Transformers: Dark Side of the Moon (2001), Armageddon (1998) and The Martian (2015) have been filmed at NASA's Johnson Space Center. Houston-made movies run the gamut from 1990's RoboCop 2 (which shows the downtown skyline, the George R. Brown Convention Center and the Alley Theatre) to 2014's Boyhood (University of Houston-Downtown, the Houston Museum of Natural Science, Hermann Park, the Miller Outdoor Theatre and Minute Maid Park), from the 1977 sequel to The Bad News Bears, called The Bad News Bears in Breaking Training (Astrodome and Bayland Park) to Rushmore (1998), directed by native son Wes Anderson at, among other Houston locations, his alma mater, St. John's School, and its neighbor, Lamar High School.
Ann Barry ended up in a movie because she worked at the apartment complex where the actors were staying. She and her co-workers became extras for the movie Rush (1991), starring Jennifer Jason Leigh and Jason Patric. The movie was set in the 1970s, and Ann's scene, the opening scene of the movie, was filmed at the dance hall at The Swinging Door, the famous barbecue restaurant in Richmond. "We were there all night, until 6 a.m.," Ann remembers. The wardrobe people took a few extras at a time into a trailer and outfitted them with vintage clothes from the '70s. Ann wore bell bottoms. "I think you see my pants leg in the movie, or maybe it was my friend's," she says. The scene had Gregg Allman walking in the front door of the dance hall to the back, where Jason Patric was playing pool. It was a complicated scene to shoot because the filmmakers wanted it to be all in one shot. It had to be done several times and took all night. 
Tonya Anderson and her friends were tapped to be extras by a friend of a friend and ended up in the television movie Murder in Texas (1981), based on the 1969 death of Houston socialite and equestrian Joan Robinson Hill. The movie starred Farrah Fawcett, Sam Elliott, Katherine Ross, Andy Griffith and Craig T. Nelson. Tonya's scene was a garden party filmed at the Pierce Ranch near Victoria. "This was big stuff for us," says Tonya, who was in her 30s at the time. The day of filming started at 5:30 a.m. "We were all walking around like country come to town," watching the movie being made, she says. They were given 1960s clothes to wear – "I told them I could remember when I wore these for real," says Tonya – and drove vintage cars, "big, long Chevys and Lincoln Imperials." Ryan O'Neal, there with Fawcett, talked to the extras. It was around Thanksgiving and really cold, Tonya remembers, but the extras couldn't act cold. "It was really interesting, watching the internal workings of making a movie, how they filmed little snippets to splice together and how the actors popped in and out of character," she says.
Mary Miracle has been in three movies. It all started when she heard an ad on the radio back in the '70s, looking for extras for The Bad News Bears in Breaking Training (1977). She not only went downtown to sign herself up, but also brought along her three girls, then in elementary school, as well as neighbors and friends and their kids. The movie people said, "Yes, bring everybody," Mary remembers. They all ended up being extras in crowd scenes shot in Bayland Park and the Astrodome. Mary says she and her neighbor's young daughter are visible in one scene. "I'd drive a whole carful of kids down, and they were so excited. They were getting paid $30 per day to do it."
A couple of years later, she and her daughters appeared, ice-skating at the Galleria, in the made-for-television movie Girls in the Office (1979), starring Susan Saint James and Barbara Eden as two women who worked in a department store.
By now, the casting people knew Mary so they called her when Urban Cowboy (1980), starring John Travolta and Debra Winger, came to town. This time, the movie needed all kinds of people, particularly men, for its crowd scenes at Gilley's Nightclub in Pasadena. Mary convinced her retired parents to do it. "They were in their 80s then, and they'd drive every day to Gilley's," Mary remembers. The thing her dad liked the best was the free food. Her mom made Travolta a pound cake.
Full disclosure: My sister-in-law, Linda Thomson, 11 years old at the time, realizing that Travolta was living in a house a few blocks away from her own in Memorial, made him brownies, got on her bicycle and delivered them. In return, he autographed her Saturday Night Fever album. Apparently, Travolta ate well while he was here. According to the Houston Chronicle, he also had his own private corner at the Ninfa's on Westheimer during the filming.
Mary was in Urban Cowboy too. "I remember it like yesterday," she says. "I was leaning against a pool table at Gilley's and saw John Travolta was going to walk by. I thought, I'm going to say hi to him, but when he did walk by, I forgot how."
When Bette Pesikoff got a flyer in her mailbox, asking if she'd be willing to have her house in a movie, at first, she thought it was a scam. But not only did the request turn out to be real, the director turned out to be someone she knew well. "When the location scout showed Wes [Anderson, the director of Rushmore (1998)] the house, he said, 'Hey, that's the Pesikoffs' house,'" said Josh Pesikoff, Bette's son and Wes's friend and classmate from St. John's School. The Pesikoffs' house became the house of one of the main characters in the movie, Miss Cross. She is shown eating at their dining room table, and another character, Max, is shown climbing through a bedroom window. Underwater pool scenes were also filmed in their backyard pool. (Other pool scenes were shot at The Forest Club.)
In total, there were three or four filming sessions at the Pesikoffs' house, for three to four days each. "A day to set up, a day or two of filming, then a day to clean up," explains Bette. Though the movie crew painted the bedroom purple, hung up purple velvet drapes, moved in an aquarium and also decorated the room with model airplanes that actually belonged to the Pesikoff boys, they also put everything back when they were done, including fixing a roof where their equipment left dents and leaving a new heater in the Pesikoffs' pool. "They filmed at night," explains Bette, "because they have more control of the light at night, but they couldn't film past midnight because some of the actors were children."
They also filmed at St. John's during the school's holiday break. Another of Wes Anderson's friends and classmates, Mike Maggart, was then a teacher at St. John's. He was one of several people in the St. John's community – alums, current students, parents – who ended up in the movie. He played a concierge in a scene filmed at the old Warwick Hotel (now Hotel ZaZa). He checked Bill Murray in. "They said, 'And action,' and my heart was really beating," says Mike. It took 16 takes, or about an hour, to get the exchange.
Mike's classroom, redone with new paint and dark blue wallpaper, was in the movie. The crew offered to put it back the way it was after they were done, but Mike liked it. 
Think being in a movie might be fun? According to Rick Ferguson, executive director, the Houston Film Commission helps 28 to 40 filming projects per month – and only about half of the projects filmed in Houston contact the commission, he estimates. The commission's website (houstonfilmcommission.com) lists cast and crew calls for upcoming projects, and you can also list your property in its locations database.
Want more buzz like this? Sign up for our Morning Buzz emails.
To leave a comment, please log in or create an account with The Buzz Magazines, Disqus, Facebook, Twitter or Google+. Or you may post as a guest.