NAO: The Village School's TikTok Famous AI Robot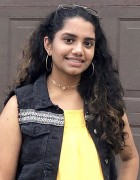 Click the Buzz Me button to receive email notifications when this writer publishes a new article or a new article in this column is published.
On Wednesday, Jan. 29, The Village School organized its inaugural Innovation Day, an opportunity for students, parents and community members to witness innovative ideas and solutions from Village students. The event invited attendees to tour classrooms and witness student creativity across each division. It concluded with an Innovation Day Fair, which featured and highlighted student-led projects. 
One of the many projects showcased during the Innovation Day Fair was NAO, a robot programmed by four Village High School students who are learning about Artificial Intelligence. What made the project stand out was that the team programmed NAO to perform fascinating tricks. Junior Dhruv Saligram programmed NAO to play the classic game of Rock, Paper, Scissors and dance to the Macarena. Dhruv also worked on the robot's facial recognition abilities and its interactive introduction. Sophomore Esha Garg created a program that allowed people to interact with NAO by asking questions about different geometric figures, which Nao would then answer. Senior Olivia Bangs worked on a sound lock program that allowed NAO to turn towards whoever was speaking to it.
Despite its wide range of functions, what put NAO into the national spotlight was its one-of-a-kind performance on the latest viral TikTok dance Renegade.
"The first thing that we did when we were together was sit down in front of a whiteboard, and we all asked ourselves, 'how can we make NAO popular? Dhruv said. "It actually started with us making NAO do the Macarena, but we didn't want to stop there. When it really came down to it, we knew that we would have to do something impressive that everyone could relate to - hence, Renegade."
NAO earned fame after freshman Divya Khatri, one of the team members, uploaded a video of the robot's dance on her TikTok account. Her video received 373.6K views and 71.8K likes, and another video recorded by a Village student during the Innovation Day Fair received an even larger response of 1.9 million views and 594.6K likes. 
"It was definitely a pleasant surprise that the dancing robot received such a strong, positive response online," Khatri said.
Although the team collaboratively brainstormed on this idea for NAO to perform the Renegade, Khatri was the student behind the programming. 
"We used a program called Choreographe that we downloaded on our computers and had a separate WiFi network set up to transmit the instructions from our computers to NAO," Khatri said of the programming process. "To get NAO [to] Renegade, I inputted different angles for each of the robot's joints to get him into several positions. The movement from one position to another is what allowed NAO to actually dance!"
Although Khatri was proud of the end product, she explains there were several issues and setbacks during the programming process in which her teammates collaboratively helped her solve and debug.
 
"NAO became mildly infuriating to work with at times," Khatri said. "He overheated, making his sensors stop working after a while, and he seemed to create new bugs every day. The separate WiFi network actually ended up causing us a lot of issues on the big day as well. When we went up on stage to present, we clicked 'Run,' expecting NAO to start the program and interact with us. However, the blue bar remained disappointingly empty as the instructions failed to send...We later realized that the WiFi signal was being blocked due to the density of the people in between NAO and the WiFi box. After the WiFi got elevated, NAO was finally able to receive the instructions! By the second stage presentation, he did as we intended him to do: conversation, charades, rock, paper, scissors, and, lastly, Renegade."
To achieve the success they were seeking, the students worked hard and put in extra hours to make sure NAO was ready for Innovation Day, and the secret to their accomplishments - teamwork. 
"The project was really collaborative," Saligram said. "Really, none of us had defined 'roles' per se - it was just a bunch of us collaborating and working together. Honestly, my favorite part of the whole project was the work after school. All of us would come in, and we'd just be all over the place until 7:00 every day after school for almost two weeks. We'd just be sitting there trying to brainstorm ideas about what we could do with the robot. Two of us would be at the whiteboard trying to think out a problem, one of us would be testing out our programs, and one of us would be trying to come up with new ideas - it really emulated a software company's environment, and I loved that."
The students credit their sponsor Mansoor Ansari, The Village School IB Computer Science teacher, for introducing them to NAO. 
"Mr. Ansari asked a few students from his computer science classes to work on the robot," Khatri said. "He guided us throughout the process,.. [as] there was a lot of trial and error that went on behind the scenes. 
The positive responses and success that the students have received so far have motivated them to continue pursuing and improving NAO. 
"We can't wait to get back to work on NAO and show everyone the power of Artificial Intelligence," Saligram said. "Next up is some more movement, advanced mood recognition, and refining some of its classroom capabilities."
Want more buzz like this? Sign up for our Morning Buzz emails.
To leave a comment, please log in or create an account with The Buzz Magazines, Disqus, Facebook, Twitter or Google+. Or you may post as a guest.