Raised on rodeo
Click the Buzz Me button to receive email notifications when this writer publishes a new article or a new article in this column is published.
Buzz Baby is a column about life with little ones. Writer Annie McQueen has four children age 5 and under.
It's rodeo season in Houston. For almost three weeks, starting March 3, the annual, over-the-top, Western spectacle that is the Houston Livestock Show and Rodeo will take over NRG Park.
For some Buzz residents, the rodeo is more than simply a fun night out.
Rodeo has run in the blood of the Montalbano family for generations. Vincent Montalbano, a professional auctioneer for Montalbano Auction Company, and his wife, Stephanie, a realtor at O'Connell Yarborough Properties, are raising their boys, Luke, 1, and JR, 5, around the rodeo.
Every year, the entire family rides in the Salt Grass Trail Ride, the 93-mile trail ride starting in Cat Spring. The Salt Grass is one of 12 trail rides that kick off rodeo season. Stephanie didn't even take a break from the ride when JR was a baby. They missed the daytime riding, but not the camaraderie in the evenings. "I drove back and forth [from Houston] to camp with JR," she said. "He would come for dinners at night."
Vincent was a member of the Spring Branch FFA during his years as a student at Memorial High School. He's been attending the Houston rodeo since he was a small child, and he went on his first Salt Grass ride at age 5.
Now, at 36, he has been volunteering on various rodeo committees for 15 years. He's serving on four of the 108 volunteer rodeo committees this year, including Grand Entry, Agricultural Mechanics, Sheep and Goat, and Houston Metro Go Texan.
Vincent and Stephanie, who is a vice chair on the Trailblazer committee, take JR every year to the livestock show in the NRG Center, and this year will be Luke's first time to go and wander along the aisles to see the animals lined up.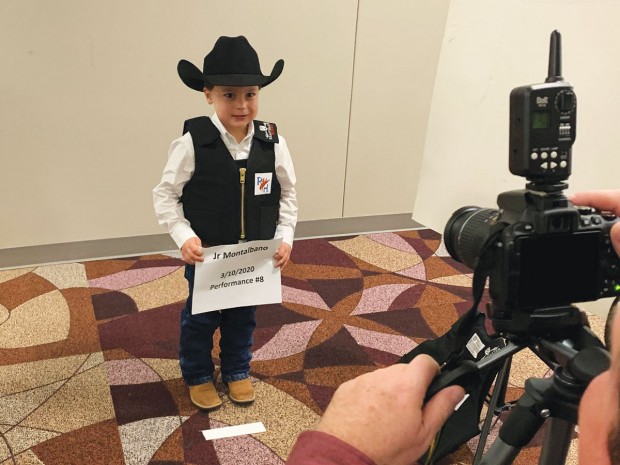 "Every year, they are able to grasp a little bit more and understand a little bit more about what it means," said Vincent. "They will say, 'Why are the people brushing?' and I will explain to them. 'That's a student. They have worked for that. They have taken care of that animal for a year, every day. When it's hot. When it's cold. When there's other fun things to do.'"
Vincent says his favorite spot for the kids is Agventure in Hall A at NRG Center. It is an extensive exhibit where kids can learn all about agriculture – from how cows are milked in the milking parlor to learning about honey bees in the honey bee exhibit and more. "Inner-city kids may never see a cow unless it's there," said Vincent.   
JR will suit up for his first Mutton Bustin' ride in the big arena this year. Mutton Bustin' is a fan favorite where kids ages 5-6 attempt to ride a sheep. JR's family and rodeo friends will be in NRG Stadium to root him on.
Another Buzz family with a multi-generational love for the Houston rodeo are the Finchers. Lyndsay Fincher, an attorney at BoyarMiller, and her husband, Travis, who works for CBRE, have two boys, William, 3, and Parker, 4. 
"As a child, my parents took my sister and I to the rodeo every year," said Travis. "We would do a lot of what Lyndsay and I do with our kids now, walk around the livestock show, see all of the different animals and exhibits, and enjoy the carnival."
Travis says once he got a little older, they'd go into the Astrodome for the actual rodeo, with professionals competing in events like bull riding and barrel racing. He would bet on the chuck wagon races with his dad. He loves carrying on those same traditions – now in NRG Stadium – with his boys. Parker was 2 and William was 1 when they attended their first Houston rodeo.
"They loved it, but the parts they loved the most surprised us," said Lyndsay. "The tram that took us from the parking lot to the livestock show and the tractors that take you place to place within the rodeo might be one of their favorite parts." 
Last year, Lyndsay and Travis brought their double stroller, but it wasn't necessary. "Once we got on the grounds, they were in awe at all of the sights, sounds and smells," said Lyndsay. "They were running from animal to animal, exhibit to exhibit, and tractor to tractor."
Parker is a little young for Mutton Bustin' this year, but his parents say they'll sign him up for next year. "The boys are already excited to see all of the animals," said Lyndsay. "Last year, they were all about the huge turkey legs."
First rodeo?
The Houston Livestock Show and Rodeo has a lot going on for families. Be sure to check out these spots if you are bringing small children.
Carnival. The giant carnival outside NRG Stadium is a rodeo-must. For the younger ones, there's a kid-focused area called The Junction – formerly called Kids Country – with kid-friendly games and rides.
Fun on the Farm. FOTF is one of the most popular areas of The Junction. It is located outside NRG Center. It's a hands-on, interactive, learning experience, run by volunteers, where kiddos can explore the world of agriculture. Visitors see the process from farm to market. Children can get a taste of life on the farm by helping with chores such as gathering eggs and milking a cow.
Petting zoo. The petting zoo inside NRG Center is a hands-on way to meet and greet the faces of a farm. Admission is free. For $2, visitors can purchase food to feed the goats, pigs, lambs and more.
Agventure. This extensive exhibit is great for kids of all ages and adults, too. Check out the honeybee exhibit, birthing center, breed row, fisheries, horticulture exhibit, poultry, rabbits and pony rides.
We're Small Y'all Barn. This adorable exhibit is in the Agventure area. Take your little one to see and touch adorable miniature horses and donkeys and learn more about how their tininess came to be.
Mutton Bustin'. Mutton Bustin' is an exhilarating real sheep ride for kids ages 5-6. There are two options to participate: Mutton Bustin' in NRG Stadium or in The Junction. Riding inside NRG Stadium requires advance registration for a chance to participate, while The Junction is run on a first come-first served basis. Parents register at The Junction upon arrival, and the cost is $15 per ride. Riders must not exceed 55 pounds.
Fan Zone inside NRG Stadium. Let your little one meet professional rodeo cowboys and cowgirls in the Fan Zone during the rodeo. Receive a free booklet to collect autographs and snap photos. A ticket to the rodeo is required, and the Fan Zones are located on the main concourse level, in sections 103 and 124.
Want more buzz like this? Sign up for our Morning Buzz emails.
To leave a comment, please log in or create an account with The Buzz Magazines, Disqus, Facebook, Twitter or Google+. Or you may post as a guest.