A springtime garden party
Click the Buzz Me button to receive email notifications when this writer publishes a new article or a new article in this column is published.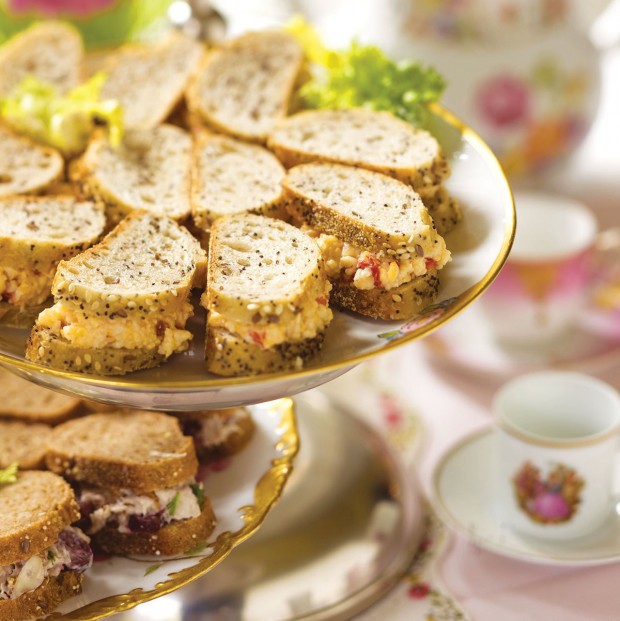 Cooking Buzz is produced in partnership with the Junior League of Houston, a women's charitable and education organization founded in 1925.
While out running recently on one of Houston's glorious-weather days, I thought about the joys of entertaining outdoors and how there's no better way to connect food and friends than with a spring garden party.
For meals in this season, I like to celebrate growth and fresh ingredients, avoiding the heavier meals of winter. The Roasted Red Pepper and Three Cheese Spread from Peace Meals is the perfect flavoring for raw vegetables. Although Peace Meals suggests serving it with hearty crackers, in the spring, I prefer pairing it with a selection of fresh raw vegetables from local farmers' markets. It can also be served as part of an array of sandwiches on fresh, crusty bread or as a tea sandwich.
For a garden party, I serve a variety of sandwiches, including the classic Cranberry Tarragon Chicken Salad from Peace Meals and Egg Salad from Stop and Smell the Rosemary, or, for something distinctive, the Grilled Gruyère and Salmon Sandwich twist on grilled cheese from Peace Meals.
For dessert, the Spiced Layer Cake with Berry Filling from Peace Meals is a gorgeous addition to your menu. If you want to make a family event of meal preparation, children love picking berries at nearby farms (our favorite is Blessington Farms) and helping to transform the fruit into a tasty dessert. Consider making this beautiful cake the centerpiece of your table.  
The Cranberry Tea Punch or Clyde Tea, both from The Star of Texas, are refreshing and light choices. These can be served chilled in a punch bowl or in a large tea dispenser. Consider adding fresh orange or lemon slices to the Clyde Tea or frozen cranberries to the Cranberry Tea Punch to amplify the taste and presentation.  
Fresh flowers and lightly scented candles on the table complete the garden-party atmosphere. Now it is time to gather your friends and enjoy!
The Roasted Red Pepper and Three Cheese Spread
From Peace Meals
8 ounces smoked Gouda cheese, shredded
8 ounces sharp cheddar cheese, shredded
8 ounces mozzarella cheese, shredded
¾ cup mayonnaise
14 ounces roasted red bell peppers, drained
½ teaspoon cayenne pepper
½ teaspoon dry mustard
1 fresh jalapeño, seeded and chopped
Combine the ingredients in a food processor. Pulse for 1 minute until well combined, scraping down the sides of the bowl as needed. Transfer to a container with a lid and chill until ready to serve. Makes 1 quart.
Cranberry Tarragon Chicken Salad
From Peace Meals
4 cups cooked and chopped chicken breast
1 cup mayonnaise
1 cup dried cranberries
¾ cup chopped pecans
1 Tablespoon fresh tarragon
1 Tablespoon finely grated lemon zest
Coarse salt and freshly ground pepper
Combine the ingredients and mix well; season with salt and pepper. Chill for at least 1 hour. Serves 4 to 6.
From Stop and Smell the Rosemary
4 large eggs, hard-boiled and peeled
2 to 3 green onions, minced
2 ribs celery plus some leaves, chopped
⅓ cup mayonnaise
1 Tablespoon Dijon mustard
Salt
Freshly ground pepper
8 slices whole wheat bread
Mayonnaise (for spreading)
1 head Boston lettuce
2 large tomatoes, thinly sliced
While eggs are still warm, place in a bowl and chop with a pastry cutter. Add onions, celery, mayonnaise and mustard. Season with salt and pepper. Combine well and chill. Assemble sandwiches using whole wheat bread, additional mayonnaise, lettuce and tomatoes. Serves 4.
Grilled Gruyère and Salmon Sandwich
From Peace Meals
8 Gruyère cheese slices
8 smoked salmon slices
8 thin slices white sourdough bread
6 Tablespoons unsalted butter, softened
Preheat a griddle or large pan to medium-low. Assemble 4 sandwiches by layering the cheese and smoked salmon between the bread slices. Brush the outside of the sandwiches with the soft butter and grilled them for about 2 minutes per side or until the cheese is melted. (Place a slightly heavy pan on the top of each sandwich to help flatten it while cooking.) Place the sandwiches on a cutting board, trim the crusts and cut each into 3 finger-size sandwiches. Makes 12 finger sandwiches.
Spiced Layer Cake with Berry Filling
From Peace Meals
Cake:
2 cups flour
2 teaspoons cinnamon
1 teaspoon baking soda
½ teaspoon salt
½ teaspoon ground allspice
½ teaspoon ground ginger
¼ teaspoon ground nutmeg
½ cup (1 stick) unsalted butter, softened
1½ cups packed light brown sugar
3 eggs, separated
1 cup sour cream
Filling:
2 cups blackberries
1 cup raspberries
¼ cup sugar
Frosting:
12 ounces cream cheese, room temperature
¾ cup (1½ sticks) unsalted butter, softened
5 cups powdered sugar (about 1¼ pounds)
2 Tablespoons sour cream
1 teaspoon pure vanilla extract
1 cup blackberries, for topping
Cake: Preheat the oven to 350 F. Butter and flour a 9-inch springform pan with 2¾-inch sides. Sift the first 7 ingredients into a small bowl; set aside. In a large bowl, beat the butter until fluffy using an electric mixer. Add the brown sugar and beat until well blended. Beat in the egg yolks. Beat in the flour mixture alternating with the sour cream. In a separate bowl, using clean, dry beaters, beat the egg whites until stiff but not dry; fold into the batter in 2 additions. Transfer the batter to the prepared pan and bake until the top is golden and a tester inserted into the center comes out clean, about 45 minutes. Allow the cake to cool for 10 minutes. Gently run a knife around the edge of the cake and release the sides of the pan. Allow the cake to cool completely on a wire rack.
Filling: Mix the berries and sugar in a bowl. Mash the fruit coarsely with a fork and let stand 20 minutes or up to 1 hour.
Frosting: Beat the cream cheese and butter together in a large bowl until fluffy. Beat in the sugar, then the sour cream and vanilla. Cut the cake horizontally into 3 equal layers. Place the bottom layer, cut side up, on a platter. Leaving a ¼ -inch border around the outer edge, spread 1 cup of the frosting over the top, followed by half of the filling (about ¾ cup). Next, add the second cake layer and spread with another 1 cup of frosting, then top with the remaining filling. Finally, add the third cake layer, cut side down. Spread the remaining frosting over the top and sides of the cake. Refrigerate the cake until the frosting sets, about 1 hour. Loosely cover the cake and keep it chilled until 1 hour before serving. Top the cake with the blackberries. Serves 10 to 12.
From The Star of Texas
8 tea bags
20 mint sprigs
2 quarts boiling water
1 cup ReaLemon
1 cup sugar
1 cup orange juice
Put tea bags and mint in 2 separate pitchers. Pour 1 quart boiling water over each and let steep for 15 minutes. Remove tea bags, strain the mint and discard. Combine all the ingredients and chill. Yields 10 cups.
From The Star of Texas
1 quart boiling water
6 tea bags
8½ cups cold water
2 cans (6 ounces each) frozen lemonade
2 cans (6 ounces each) frozen limeade
2 cans (6 ounces each) frozen cranberry juice, or decrease water by 2 to 4 cups and use bottles of cranberry juice
2 bottles (23 ounces each) ginger ale, chilled
Pour boiling water over the tea bags and steep for 10 to 12 minutes. Add tea to the cold water and juices. Just before serving, add the ginger ale. For a festive touch, freeze additional lemonade in a ring mold with cherries, mint or whatever seems pretty. Float the frozen ring in the punch. Yields 1 gallon.
Want more buzz like this? Sign up for our Morning Buzz emails.
To leave a comment, please log in or create an account with The Buzz Magazines, Disqus, Facebook, Twitter or Google+. Or you may post as a guest.