An Easter celebration
Click the Buzz Me button to receive email notifications when this writer publishes a new article or a new article in this column is published.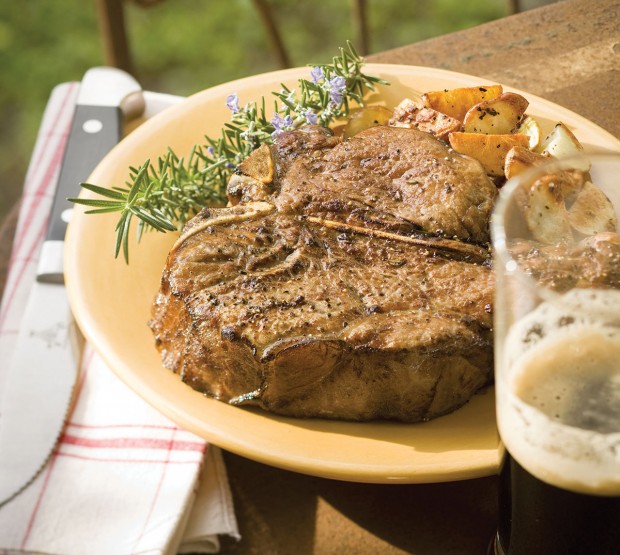 Cooking Buzz is produced in partnership with the Junior League of Houston, a women's charitable and education organization founded in 1925.
With the arrival of spring comes the Easter holiday. Beyond all the egg hunts, bunnies and chocolate candy, Easter is a time for reflection and renewal, as well as celebration.
When putting together an Easter meal, consider traditional options such as chicken, fish or beef, along with simple sides to complement the main courses. 
For a refreshing start, consider making Avocado Cucumber Soup with Cilantro from Peace Meals. You can make the chilled soup the day before and serve it in individual decorative cups garnished with a dollop of yogurt, cucumber slice and cilantro.
The Balsamic Glazed Steaks from Peace Meals are a hearty, filling centerpiece for your meal. The balsamic glaze is a buoyant and straightforward finish, but should it not strike your fancy, considering serving the steaks with Blue Cheese Walnut Butter.
For something a little lighter, try the Oven Roasted Bourbon Salmon from Peace Meals. With brown sugar, bourbon and soy sauce, you'll get a combination of sweet and savory. Alternatively, you can prepare Breast of Chicken Beau Monde from The Star of Texas. For a side, you can whip up some Almond Rice from The Junior League of Houston Cookbook. The rice has a smooth, buttery feel that complements chicken or fish.
Consider pairing the Green Vegetable Medley, also from The Junior League of Houston Cookbook, with your steaks. This recipe calls for frozen vegetables, but if you have fresh vegetables on hand, even better. The Pasta with Spring Vegetables in Saffron Cream Sauce from Peace Meals is a creamy springtime menu addition also calling for vegetables. 
While the kids busy themselves with their chocolate goodies, adults will enjoy the juicy fruit flavors of Fresh Blueberry Pie or Fresh Strawberry Pie, both from The Star of Texas. Each pie is topped off with a dollop of cream. They can also be served with a scoop of your favorite vanilla ice cream. 
Each of the recipes, in addition to being tasty, require less than one hour of prep and cooking time, which will allow you to spend more time with your guests. Happy Easter!
Balsamic Glazed Steaks
From Peace Meals
4 steaks (about 6 ounces each), such as New York strips or ribeyes, about ¾-inch thick
Coarse salt and freshly ground pepper
¼ cup extra virgin olive oil, divided
4 cloves garlic, minced
1 Tablespoon chopped fresh rosemary
½ cup Balsamic vinegar
Season the steaks with salt and pepper. Heat 1 tablespoon of the olive oil in a large skillet over medium-high. Add the steaks to the skillet and cook for 4 to 6 minutes per side or to desired doneness. Transfer the steaks to a plate and tent with foil. Add the remaining olive oil to the skillet and reduce heat to medium-low. Add the garlic and rosemary; sauté for 2 minutes, stirring occasionally and being careful not to burn the garlic. Stir in the vinegar and cook until thickened and reduced to a glaze, scraping the bottom of the pan, about 2 to 3 minutes. Place the steaks on a serving dish and return the meat juices to the skillet, stirring to combine. Spoon the glaze over the steaks and serve immediately. Serves 4.
Avocado Cucumber Soup with Cilantro
From Peace Meals
1½ cups chicken broth
2 avocados, pitted, peeled and chopped
1 medium sweet onion, chopped (about 1½ cups)
½ to 1 fresh jalapeño, seeded and coarsely chopped
2 large cucumbers, peeled and chopped (about 2½ cups), plus additional slices for garnish
1 cup loosely packed fresh cilantro leaves, plus additional
½ teaspoon coarse salt
½ teaspoon ground cumin
½ cup fresh lime juice
1 cup plain yogurt (or sour cream)
This recipe requires advance preparation. Puree the ingredients except yogurt in a blender until smooth. Refrigerate for at least 3 hours or up to 1 day. Ladle into bowls, top with a dollop of yogurt, and garnish with cilantro and slice of cucumber.
Serve chilled. Serves 6.
Blue Cheese Walnut Butter
From Peace Meals
6 ounces blue cheese, crumbled (about 1½ cups)
4 Tablespoons (½ stick) butter, softened
2 Tablespoons chopped fresh Italian flat leaf parsley
1 Tablespoon minced fresh rosemary
¼ cup chopped walnuts, toasted
Coarse salt and freshly ground pepper
Combine the blue cheese, butter, parsley and rosemary in a medium-size bowl. Stir in the walnuts. Season with salt and pepper. Place on plastic wrap, roll into log and refrigerate until ready to use.
Oven Roasted Bourbon Salmon
From Peace Meals
Marinade:
¾ cup packed brown sugar
⅓ cup bourbon
¼ cup soy sauce
2 Tablespoons fresh lime juice
2 teaspoons peeled and grated fresh ginger
¼ teaspoon freshly ground pepper
2 cloves garlic, crushed
Fish:
8 skinless salmon fillets (about 6 ounces each)
¼ cup thinly sliced green onions
4 teaspoons sesame seeds, toasted
Combine the marinade ingredients in a large resealable plastic bag; add the salmon fillets (check for bones). Seal the bag and marinate in the refrigerator for 30 minutes, turning once. Preheat the oven to 400 F. Line a baking dish with aluminum foil and lightly brush the foil with oil. Remove the fillets from the marinade and place in the prepared baking dish; discard the marinade. Roast in the oven for 15 to 18 minutes or until the fish flakes easily when tested with a fork. Sprinkle each fillet with the green onions and sesame seeds. Serves 8.
Breast of Chicken Beau Monde
From The Star of Texas
½ pound fresh mushrooms, sliced
4 Tablespoons margarine
4 whole chicken breasts, halved and boned
2½ teaspoons Beau Monde seasoning
1 cup chopped green onions
½ cup dry white wine
1½ teaspoons tarragon
1 cup sour cream
Sauté mushrooms in 3 tablespoons of the margarine. Remove mushrooms and set aside. Add remaining margarine to skillet. Sauté chicken until brown. Sprinkle with Beau Monde while browning. Add green onions, wine, and tarragon. Simmer over low heat for 30 minutes or until tender. Remove chicken to serving platter. Stir sour cream and mushrooms into sauce. Pour over chicken and serve with rice or noodles.
Almond Rice
From The Junior League of Houston Cookbook
1½ cups uncooked rice
¼ cup butter
1 onion, finely chopped
Pepper
3 cups beef consommé
3 cans (3 oz. each) mushrooms, drained
½ cup almonds, chopped
2 Tablespoons poppy seeds
Salt
In heavy pan, brown rice in butter. Add onion and pepper. Cook until onion is tender. Spoon into buttered casserole. Add consommé, mushrooms, almonds, poppy seeds and salt if needed. Mix well. Bake, uncovered, for 1 hour in 375 F oven. Serves 6-8.
Green Vegetable Medley
From The Junior League of Houston Cookbook
1 package frozen French-cut green beans
1 package frozen baby lima beans or corn
1 package frozen English peas
1 green pepper, julienne-cut
Salt and pepper
1 cup heavy cream, whipped
1 cup mayonnaise
Grated Parmesan cheese
Cook frozen vegetables separately. Parboil green peppers. Drain all vegetables; combine and season with salt and pepper. Arrange in buttered casserole. Mix whipped cream and mayonnaise together; spoon over vegetables. Top with Parmesan cheese. Bake at 300 F until brown on top, about 30-40 minutes. This casserole can be made a day ahead and baked just before serving. Serves 8-10.
Pasta with Spring Vegetables in Saffron Cream Sauce
From Peace Meals
1½ pounds thin asparagus
5 saffron threads
1 Tablespoon butter
2 shallots, finely diced
1½ cups heavy whipping cream
½ teaspoon coarse salt
¼ teaspoon white pepper
1 pound green peas, fresh or frozen
12 ounces farfalle, orecchiette or sagnarelli pasta
¼ cup chopped fresh Italian flat leaf parsley
1 teaspoon finely grated lemon zest
Freshly grated Parmigiano-Reggiano cheese
Bring a large pot of salted water to a boil. Snap off the end of the asparagus and discard. Cut the asparagus on the diagonal into 2-inch pieces. In a small bowl, cover the saffron with 2 tablespoons of boiling water and set aside. Melt the butter in a large sauté pan over medium-low heat. Add the shallots and cook for several minutes until softened. Add the cream and the saffron with liquid. Bring to a boil, reduce heat, and add the salt and white pepper. When the pot of water has come to a boil, add the asparagus and peas. Using a slotted spoon, remove the vegetables from the water when tender but still bright green, after about 4 to 5 minutes. Gently stir the vegetables into the cream sauce; set aside. Cook the pasta in the same pot of boiling water according to package directions; drain well. Add the cooked pasta to the cream and vegetable mixture, tossing gently to coat. Add the parsley and lemon zest, and top with cheese. Serves 4.
Fresh Blueberry Pie
From The Star of Texas
Crust:
1½ cups ground graham crackers or vanilla wafers
2 Tablespoons melted butter
Filling:
2 pints fresh blueberries
1 jar (8 ounces) currant jelly
2 cups sour cream
Preheat oven to 350 F. Mix together crumbs and butter. Press into a 9-inch pie plate and bake 8 minutes. Cool. Place berries in pie crust, reserving a few large ones for garnish. Melt jelly and pour over berries. Top with sour cream and garnish with a few large berries. Chill.
Fresh Strawberry Pie
From The Star of Texas
1 cup sugar
3 Tablespoons cornstarch
1 quart fresh strawberries
½ cup water
2 Tablespoons lemon juice
9-inch baked pie shell
Whipped cream
Mix sugar, cornstarch, ½ cup of the strawberries (crushed), water, and lemon juice in a saucepan. Cook until thickened, and chill. Fill cooled pie shell with remaining strawberries, halved, and cover with cooked mixture. Top with whipped cream. Chill.
Want more buzz like this? Sign up for our Morning Buzz emails.
To leave a comment, please log in or create an account with The Buzz Magazines, Disqus, Facebook, Twitter or Google+. Or you may post as a guest.