A Good Hair Day: Fourth Graders to the Rescue
Click the Buzz Me button to receive email notifications when this writer publishes a new article or a new article in this column is published.
Maggie Garza's hair was getting long - too long. Jason Goldstein's thick head of hair was absolutely unruly. Maggie was holding hers back in a ponytail. Jason was keeping his tucked under a hat. By the fourth week of social distancing, both of them were on the verge of having a bad hair day - every day.
What to do when the salons are closed? For Maggie and Jason, the answer was right in front of them. Both - as it turns out - turned to their now-stay-at-home students to help them out of a hairy situation. Fourth graders cutting their parents' hair? That's right - it's the kids with scissors these days that are saving their parents' tresses.
Back before her family's Spring Break ski trip was cancelled, and back before most everything was shut down, Maggie had meant to get a haircut. But time ran out and she never made it to her hair salon. As the weeks passed and online learning and working from home became a daily reality, Maggie had to face her mirror: she needed five inches trimmed from her straight, brunette locks.
It helped that Maggie already had a grooming set - bought on Amazon last fall when she realized that with her three sons' busy schedules, she might have to step in to trim their hair. "It came with two pairs of scissors, a comb and cape," says Maggie, who with husband Dax, have sons Dax, 16, Porter, 13 and Marshal, 11. "In the last year, I did cut the oldest's hair before his Homecoming dance. I just trimmed it up, because between school and sports, we did not have time to get him to get a real cut." After that one time, Maggie put the shears away and forgot about them, until she needed them for herself. 
It was that moment of looking in her bathroom mirror, when inspiration struck. "I had already showered, and I was just looking for a stylist," laughs the outgoing Maggie, who is a realtor. "I went from room to room in the house. First, I went to our oldest but he was in the middle of online class, so I did not ask [him]. Then I went to the middle child and he said 'no.' So, I went and found Marshal, who was playing basketball, and I asked him." Marshal, a fourth grader at St. Vincent de Paul, quickly said "yes" to his mom.
"I am pretty okay at cutting," reflects Marshal. "Once you see something and you can get an image of it, you can do it. I thought it was serious and she is my mom and there is a pandemic going on, so I wanted to help her."
Together, Marshal and Maggie carried a barstool up to the master bathroom, where Marshal helped Maggie with the cape and then picked up the scissors. "So, I took the comb and ran the comb through my hair, showing him the line where to cut," says Maggie, who also videotaped the haircut on her cell phone. "I told him to just cut under the comb. The first cut was really the scariest." But it was not at all scary for Marshal, who, after that initial moment of instruction, confidently cut the rest of Maggie's hair. 
"I could tell that my mom trusts me a lot," says Marshal. "When I was done, I thought it looked okay. There were some stragglers and I cleaned those up. Then I looked at the floor and I said: 'that's a lot of hair!'
The haircut lasted a total of 10 minutes. "Afterwards, I cleaned up the hair and he helped me. We did get the blow dryer out and put mousse on. He dried my hair for me, too!" says Maggie, who noted that Marshal went back to playing basketball post-haircut. "I am so proud of Marshal! He did a fantastic job on my hair," says Maggie. "I loved having a little silly moment in the midst of all of this."
Likewise, Jason was looking to make a lasting memory when he asked his 10-year-old daughter, Zoe, to cut his hair. "Right now, we just have a lot of hangout time," says Jason, of following the Stay Home, Work Safe order with wife Amy, son, Ethan, 14 and Zoe. "It's super fun and it is great to spend time together but we also do not have the 'first basket of a basketball season' or 'first pitch of a baseball season' moment right now." To create one, he asked Zoe to help create a "first home haircut" moment.
"My hair just grows really, really fast and it was getting really long," laughs the genial Jason. "I had resorted to wearing hats every day - I had a front and back mullet!" Realizing that he could make an indelible memory - while also solving a hair necessity - he asked Zoe. "Four weeks without my hair cut was really long," he says. "And then I got the idea and I thought she would enjoy it and make her feel like she was doing something very grown up."
A favorite family story did not deter them from the haircut. "Once when Zoe was 4 years old, she found some scissors and it did not go so well," recalls Jason. "We came in the house and there was hair all over the place - the hallway was filled with hair."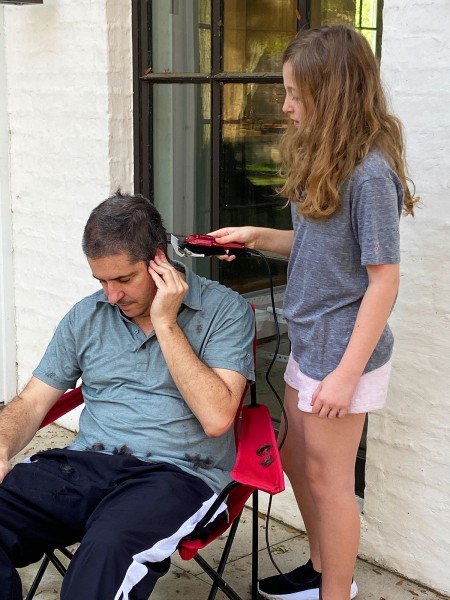 Zoe, a fourth grader at The Kinkaid School, says she loves arts and crafts. Her own long-ago haircut memory aside, using scissors to create art is a favorite pastime of hers. Moving from cutting construction paper to her dad's hair was a little daunting at first, she says but after a few days of planning, Zoe was up to the task. But first, Zoe had to get comfortable with the new hair cutting tool. 
"I remembered I had some professional type clippers I had used on myself 15- 20 years ago," says Jason, a consultant. "I dug around and found them in the depth of our cabinetry. The clippers have plastic covers on them, so they really are safe to use." 
The pair picked Easter Sunday as the day. "I set a folding chair up in backyard and said go for it," smiles Jason. "Amy put my phone on time lapse and she also took some photos when Zoe started." Rather than go for a stylized cut, Jason opted for a straight-up summer buzz. "I told her to start in the front and go right over the middle and give me a reverse mohawk," he laughs. "The clippers have different plastic coverings and I put a number two on there. It is like a razor and I set it at a quarter inch, which separates the scalp from the blade by quarter inch." The whole cut took about 15 minutes and Zoe is happy with her handiwork.
"I was really scared at first, because I had no idea how to use a razor and what it did," she says, with newfound pride. "There were a few parts that my mom pointed out afterwards that I went over again." They all got a kick out of how much hair Zoe sheared away. "It was a ton of hair," says Jason, noting he is thrilled with the haircut. Zoe laughs: "The cut off hair looked like a giant squirrel's nest!"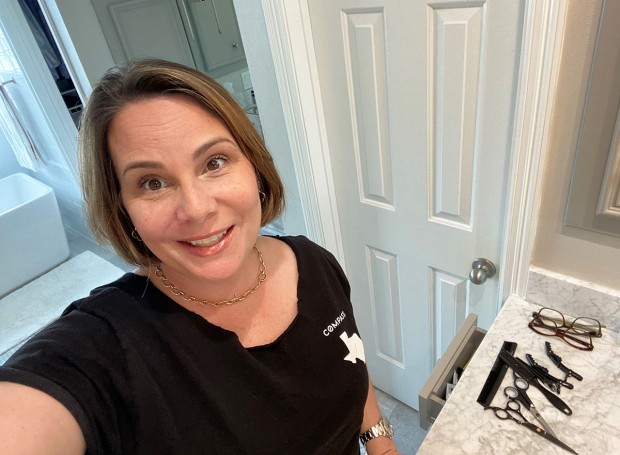 Having a laugh these days is much needed for everyone.
"I could get a summer job cutting hair," quips Marshal. Jason was thinking the same thing: "I told Zoe this is better than a lemonade stand right now if you could get close to people."
One day, they all say, life will get back to normal and haircuts will move back into salons. But for now, says Jason, "your perspective changes and this is a nice moment when it's hard to find those nice moments."
Want more buzz like this? Sign up for our Morning Buzz emails.
To leave a comment, please log in or create an account with The Buzz Magazines, Disqus, Facebook, Twitter or Google+. Or you may post as a guest.