Movie Bracketology: March Madness Goes to the Movies
Click the Buzz Me button to receive email notifications when this writer publishes a new article or a new article in this column is published.
Sports enthusiast Nicky Mintz thought he was going to be rooting for a Kansas - Dayton matchup in the Championship game of the NCAA Division I Men's Basketball Tournament this April. Instead, he is now pondering a new, possible duo squaring up: Animal House versus Wedding Crashers.
At the beginning of March, it was inconceivable to Mintz that the 82nd annual men's college basketball tournament could be called off. But then the coronavirus pandemic altered the landscape of everyday life. Mintz, a graduate student in the University of Houston's Sport and Fitness Administration program, decided to keep a bracket alive - just with a new, comedic twist. He seeded a field of 68 teams, er, movie titles, to determine "The Funniest Movie of All Time."
"Not that long ago, I was thinking about watching March Madness and then also about baseball starting up - it's just one of best times of the year and I was really looking forward to it," says Mintz, a graduate of Southern Methodist University, where he was manager of the men's basketball team. "I came up with the idea right after March Madness got cancelled. I need something to feel that void." 
He recalled a past conversation with his siblings (he is one of five) about funny movies that spurred his plan into action. "I live with two of my brothers, Andrew and Emery, and a few months ago, we were discussing what are the top 10 funniest movies of all time. But as we talked, we could not limit it to 10 titles, so then we made lists of the top 25 then 50 and then 150 - it sort of planted the seed."
On the day after the City of Houston was given the Stay Home, Work Safe order, Mintz decided to reach back to that list and turn it into a bracket. "I went through our list of 150 movies and whittled it down and made a real bracket of 68 with four play in games, just like March Madness."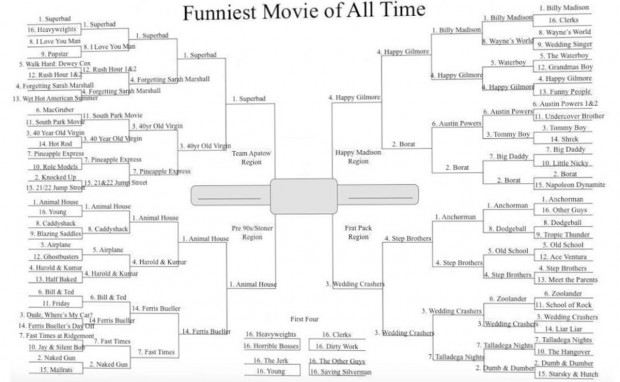 And, just like the bracket, there are regions. Mintz broke his movie regions into the following, which place the titles into the genres: "Happy Madison," "Pre-90s," "Frat Pack," and "Team Apatow." Once his bracket was set, he decided the best thing to do was to open up voting to his Instagram followers. On Instagram, Mintz has been posting the matchups on his Instagram story as a poll (@chunky37) daily, tallying the votes and then posting the winners. 
Mintz also shared the bracket with his parents, Lauren and Jordan Mintz, because he wanted to make sure that the results were not going to be skewed by a younger audience. "There's obviously going to be a large bias towards those more recent movies," says Mintz. "My dad shared the bracket with a lot of his coworkers and one said Caddyshack would win." (Note: Caddyshack lost to Animal House in round 32.) 
To help make sure the winner is valid, Mintz tells people they can only vote if they have seen both of the movies in the matchup. "I have had multiple people tell me that they have watched a movie just so they could vote," he says. "And some people have watched a movie again that they have not seen in a long time." 
He is looking forward to seeing which movie is voted the "Funniest Movie of All Time." Asked what he is going to do once the winner is revealed (on Thursday, April 2), Mintz says: "I am thinking I will watch whatever movies wins and then tag the actors and director on my Instagram announcement."
The public response to his bracket has been so positive that people are asking him to create more brackets going forward. "I like that and I am going to make more," he says. "Right now, I am working on 'Best Drama' movie, 'Best Horror' movie and 'Best Kid' movie and cartoon from '90s to early 2000s."
No matter which genre he chooses next, Mintz is glad that the public is interested and participating in his polls. "My hope is that people are enjoying it and gives them something to look forward to and makes the whole situation right now more bearable," he says. "If you can find a distraction, it relieves a lot of anxiety. Sports always brings people together and without sports now, I am hoping this movie bracket does the same."
Wednesday, April 1 is the "Final Four" day. Vote on the Instagram story poll (@chunky37), which will be posted around 10:30 a.m. The winner will be revealed on April 2.             
Want more buzz like this? Sign up for our Morning Buzz emails.
To leave a comment, please log in or create an account with The Buzz Magazines, Disqus, Facebook, Twitter or Google+. Or you may post as a guest.