Not Letting it Pass: Passover Seders Go On - Virtually
Click the Buzz Me button to receive email notifications when this writer publishes a new article or a new article in this column is published.
With a penchant for singing showtunes at her annual Passover Seder, Ellen Taer is proving that it is the apt time to say: "The Show Must Go On." We wrote about Ellen's creative Seders in this article in the current issue of The Buzz Magazines, but when Houston was ordered to "Stay Home. Work Safe," Ellen realized that she was going to have to get even more resourceful this year with her Passover celebration.
Her usual Seder is a seated, singing, game-playing event that lasts for hours. This Wednesday night's Seder will go by a completely different playbook.
"We are still going to do something, we have to," says the upbeat and outgoing Ellen. "So, we are going to be doing a Zoom Seder. We have three out of four of us at home, with our daughter from DC here. Our other daughter in Austin will Zoom in and a few other friends will join us by Zoom too." Instead of being seated together around her dining table, all the guests will be live, from their own homes. "Everyone will do their own cooking," says Ellen. "It's going to be shorter and be very different. Everyone will have their own food and their own wine but at least we will feel like we are connecting - and we want to connect."
Having a disrupted Passover is not entirely new to Ellen - she and husband Andy conducted their 2018 Seder mere weeks after moving into their new home after their old home was flooded in Hurricane Harvey. "That was another time where we were like, "How are we going to do this?" she says. "This coronavirus has really upended the whole routine: it is a different kind of disruption of life. There are a lot of plagues in the Passover story and now we have a new plague to add in: this is the 11th plague."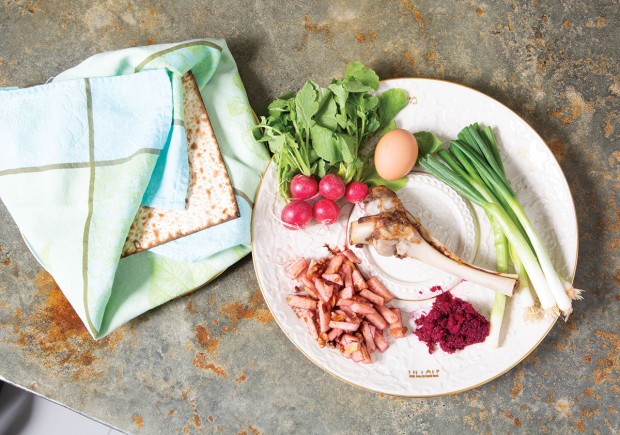 Lindsey Lee Hirsch, whose sentimental and symbolic Passover we also featured in this story, is likewise having to readjust her dinner this week. Instead of getting to prepare and cook the meal with her grandmother, mom and aunts, Lindsey is having to go solo, cooking by herself. "My amazing family of five - my husband Jesse, our three boys, and me - are having our own Seder," says Lindsey. "Our usual Seders are so gorgeous and so gregarious. Instead, we'll go for small and intimate, which has its merits, too." Lindsey notes that the coronavirus pandemic is a teachable moment for her to pass along to her children.
"I think what's happening now has incredible relevance for Passover," she says. "After all, this virus is a plague, much like the plagues we read about that our ancestors had to endure. Much like they did, we are making sacrifices and making do. We are trying to use this time to strengthen our bonds as a family and have fun together, without being burdened by the usual frantic rush of early mornings, practices, games and meetings. Our ancestors before us prevailed in hardship, and we will, too. Strength comes from the family."
Lindsey also points out that it is important to not pass on Passover this year. "We gravitate towards religion because we crave ritual and tradition in our lives," she says. "Now more than ever, those structures will bring comfort and joy. So if you're honoring Passover with your immediate family or all by yourself, give yourself the gift of celebration and honor your traditions. We are survivors."
Dr. Amy Coburn, an associate professor of clinical ophthalmology at Houston Methodist Hospital Blanton Eye Institute, agrees and says that she is looking forward to celebrating Passover with her extended family - even though the celebration is going to be conducted at a literal social distance. "My parents and sisters all live in Houston so we always take turns hosting, which we look forward to every year," says Amy, who is married to Dr. Michael Coburn, professor and chairman of the Department of Urology at Baylor College of Medicine. "Because we have kids, nieces and nephews living in other cities, and because they cannot be here this year, we are going to do a virtual Seder." Amy says that she is weighing the options on which website to use. "At work, we are doing telemedicine because of social distancing and in the last week I used Zoom, Facetime, Google Hangout, Skype for Business, Microsoft Teams and WebX to communicate with patients. Since I used six platforms this week, I feel like I have a pretty good feel for what might work."
Amy says that she likes Zoom but notes there is a bit of reverb with all of the microphones and unless you have a subscription, there is a 40-minute time limit - which is too short for her Seder. She is leaning towards a Skype for Business Seder with family members reading together from a free, online Haggadah. (She likes https://www.haggadot.com but notes there are many other online options.)
"Why is tonight different from all other nights?" says Amy, laughing, referring to a phrase that appears at the beginning of each line of The Four Questions, which are a central part of the Passover Service. "So obviously you are supposed to be eating reclining, that is one of the stipulations of the Seder - with the virtual Seder this year, we literally will be doing this, and we will just wear athleisure." Amy adds that she hopes that Seder 2021 will be in person with her family. "My sisters are amazing cooks and this year we will unfortunately be having a reduced calorie Seder because we will be enjoying their meals virtually," she laughs.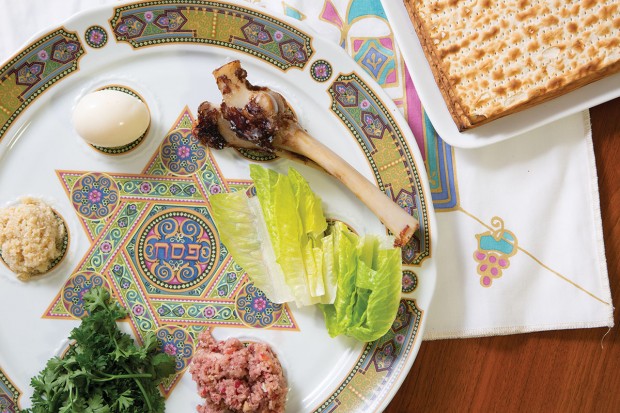 Like Amy, the need to laugh, to make the best of a situation, is not lost on Ellen. "We need a lot of humor to get us through the darkness," she says. "There is a Chinese curse which says, 'May he live in interesting times.' Like it or not, we are living in interesting times. These are times of danger and uncertainty, but I believe they will ultimately prove to be a time of creativity and compassion. We have all made incredible adjustments in dealing with coronavirus in order to continue with our day-to-day needs. Nonetheless, at the same time, we are very aware that we will all soon be experiencing our respective spring holidays in a different way than any of us could have imagined a few weeks ago. I want us all to make this unique period as positive as possible and appreciate what we do have and that during these 'interesting times' we will be able to create memories to treasure after this crisis has passed."
Editor's note: Find a list of online Passover resources from the Jewish Federation of Greater Houston here. Read more on Seder traditions, including recipes, here. Also, see tips from Rania Mankarious, CEO of Crime Stoppers of Houston, on using Zoom safely here. 
Want more buzz like this? Sign up for our Morning Buzz emails.
To leave a comment, please log in or create an account with The Buzz Magazines, Disqus, Facebook, Twitter or Google+. Or you may post as a guest.