Super Seders
Memorable traditions with a twist
Click the Buzz Me button to receive email notifications when this writer publishes a new article or a new article in this column is published.
"There's no Seder like our Seder. We tell a tale that is swell…"
Passover Seders at Ellen and Andy Taer's house begin with a song. Seders and singing go together like, well, matzoh balls go with soup. However, the Taers have taken their musical game up a notch. "As soon as we begin to sing, 'There's no Seder like our Seder,' to the tune of 'There's no business like show business,' it sets the tone that we are going to have a fun time!" says the outgoing Ellen with a smile.
Having enjoyable and memorable Seders are important to Ellen, who likes to add new twists to her annual Passover supper each spring.
That's equally so for Lindsey Lee Hirsch, who incorporates the symbolism from the Passover Haggadah (a book that explains the exodus of Israelites from Egypt) into every dish that is served, as well as how she decorates her dining table.
Lindsey makes sure that the food takes center stage, with each taste helping to give life to the story of Passover. "To me, it means the celebration of our exodus from slavery – of not being slaves anymore," says Lindsey. "Passover is a great example about cooking in a time of strife and trouble by using what you have and taking care of your family. The best part of any holiday, in any religion, are symbols and rituals."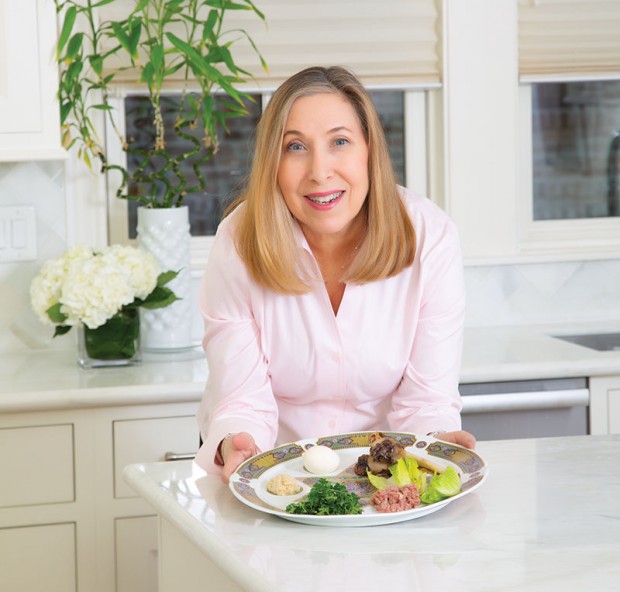 Ellen and Lindsey recognize their family traditions with their own seders – but jazz them up a bit to suit their personal tastes. The end results are creative and delicious Seders that honor the meaning of the holiday in epic style.
"…Moses took the people out into the heat. They baked the matzoh while on their feet …"
Walk up to the front door of Ellen's house and you might find it covered in red craft paper, signaling a clue to the fun that is about to take place. "If you can get through the front door, you can get through the Red Sea," says Ellen with a laugh, referring to Moses using his staff to part the Red Sea. "One year I had a plastic kiddie pool filled with red balloons that people had to walk through."
Props and games play a key role in Ellen's Passover – a response she created to the Seders of her youth.
"I grew up in a very traditional Seder, which was very patriarchal, headed by my grandfather, and it was very beautiful in its own way," she says. "It always felt very special with all my family and cousins. I always had a warm feeling about Passover, but I also knew I could make it more engaging and fun and do it in a different way." 
To that end, Ellen and Andy started making changes to their Seder when daughters Nikki, now 26, and Jennie, now 23, were born. "When they were little, I really wanted to make it more than reading a story and singing a few songs," says Ellen, a personal trainer who works mostly with seniors and special needs clients. "We changed to a more family-friendly Haggadah. Then, we personalized it and came up with our own service."
Every year, Ellen and Andy, who is in business development, have hosted a group of about 20 people. Guests are asked to sign their names inside the book's cover, a tradition Ellen started decades ago. "I have a history going back to even before I was married when I did Seders for my friends. I would always ask everyone to sign their names inside the Haggadahs," she says. "It's fun to look back and see all the names – even the kids with their scribbly handwriting when they were young."
Ellen says her Seders have evolved over the years. "You have to know your demographic. When our kids were little, I made it very kid friendly," she says. "One of my favorite games from the past was the 'Getting out of Egypt' game where I had a pile of hats, socks, scarves, T-shirts, and everyone would have to put it all on like a race. It was a crowd pleaser! One year I put a sandbox in the middle of our living room, and everyone had to do an archeological dig to find all the plagues."
A few years ago, Ellen added "Passover Jeopardy" to the night. Think Alex Trebek at the Seder table. A sample category: Food. Answer: What is the sacrificial lamb? Question: What does the shank bone represent on the Seder plate?
It was such a hit she is keeping it in her repertoire, for after their meal. "We project the game on the wall, and we all shout out the answers," she says. "To me it is the perfect bringing together of the sentimental and the new energy for my family. I have the memories of my grandparents and the way they did it in their own traditional way, and I am just trying to build on that. Passover is, statistically in Judaism, the most celebrated holiday, and hosting the Seder means I am continuing the tradition that has kept Jewish families together for thousands of years."
" … Now isn't that a story that just can't be beat? Let's go on with the show!"
Being together with family and creating indelible memories for her children through food is central to Lindsey's multi-generational Passover. "We are very big on passing family traditions from one generation to the next," says Lindsey, who uses her Seder as the ultimate teachable moment. "Really, what we are doing is using food as a sensorial way to tell the story of Passover."
Lindsey, along with her mom Laurie Lee, grandmother Julien Rosenthal and aunts Jan Cohen and Marty Marlowe, work side by side to prepare, from scratch, every bite of the Seder service. "My grandma is our cooking inspiration, and we all learned how to cook from her," says Lindsey. "We eat with our eyes first, so we also learned how to cook and how to present food. Every platter gets a fresh garnish."
Lindsey, an in-home cooking teacher, and her husband, Jesse, who is in retail construction, say it is vital to share traditions with their three sons, Daniel, 12, Jonah, 8, and Nico, 6. They consider the rituals of the Seder important, starting with the Seder plate (a special plate containing symbolic foods).
"Everyone gets an individual plate at their place setting, but we also have one large plate that is for the prophet Elijah," she says. "So, on the menu of the Seder plate, we start with a hard-boiled egg, which symbolizes life and renewal. Then, there is salt water, which is like the tears of our ancestors who were enslaved, and then we serve bitter herb horseradish, which is like the bitterness of slavery, and then charoset, which is an apple and cinnamon slaw. The apples are chopped in a way that look like bricks, which represents the temples that our ancestors built out of brick when they were slaves."
Because the word Seder means "order" in Hebrew, the meal is conducted in a specific series, which Lindsey coordinates food-wise. "We eat each thing as it comes up in the service," she says. "We get to the gefilte fish a little bit later after the Seder plate, and its origin is that anytime you are grinding or pureeing fish, you are trying to make more of it, stretching it. That is what it is about: making more out of less in times of need."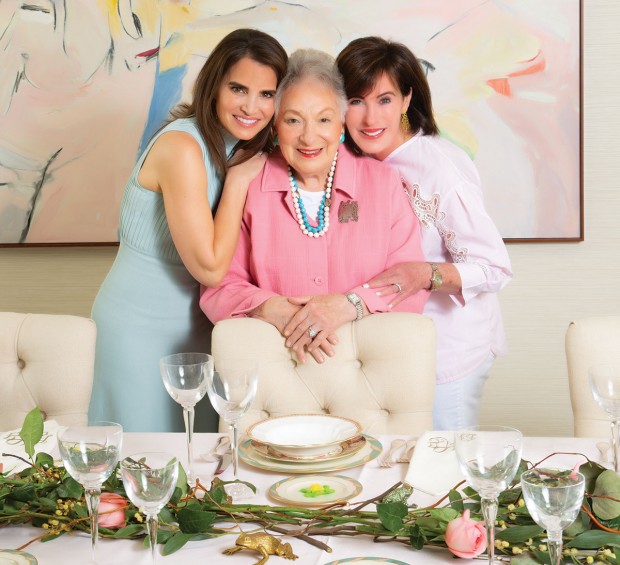 The gefilte fish-making is one of Lindsey's favorite parts of Passover. "All the women in my family get together and puree the fish and puree the vegetables. We take out an enormous meat grinder like you would see in a restaurant, and we grind the fish and we very gently form it into balls. We use the tails and heads to make our own stock. Next we simmer the balls in the stock. We have lunch, and we make the fish and we argue over seasoning every single time." 
Once the gefilte fish course is done, they eat a traditional, homemade matzoh ball soup. "That is a way to incorporate matzoh into the service," she says. "Because we stay away from flour and leavening as a tribute to our ancestors who had to escape slavery and did not have time to leaven their breads for the journey, we use matzoh.
The matzoh balls are shaped like little eggs, which signifies new life, too."
After the soup course, the entrees are served, along with desserts that include a flourless chocolate cake and a vacherin. "We have a feast because slavery is over," says Lindsey. "We have two entrees because we celebrate prosperity."
And, to further exemplify the message of the meal, Lindsey dresses the table with symbolic frogs to represent one of the plagues. She uses edible chocolate frogs at each place setting as well as jeweled frogs among the floral decorations. 
"Passover was also the Last Supper," she says. "That's why you are seeing it celebrated in other faiths. At our house, I think we are bringing the story to life."
Editor's Note: See more about plans for virtual Seders this year in light of the coronavirus pandemic. 
Ellen Taer's Passover Charoset
3 apples, peeled and diced
1 cup walnuts, toasted and roughly chopped
1 teaspoon cinnamon, ground
1 teaspoon white sugar or brown sugar
1 Tablespoon red wine, sweet like Manischewitz
1 Tablespoon honey
Place all ingredients in a large bowl and toss to combine evenly. If you want this to be more of a spread, combine all ingredients in the bowl of a food processor and pulse until just forming a paste. Serve with matzoh.
Ellen Taer's Apple-Mango Charoset
2 Granny Smith apples
Juice of ½ lemon
½ cup fresh mango, peeled and diced
½ cup chopped toasted pecans
½ teaspoon cinnamon
1 Tablespoon honey
1 Tablespoon port or sweet wine
Peel, core and dice the apples and sprinkle with the lemon juice. Place all of the ingredients in a food processor. Pulse once or twice, just to break up. Let sit for the flavors to blend and then serve with matzoh.
Lindsey Hirsch's Flourless Chocolate Cake
8 large eggs, room temperature
1 pound dark, semisweet or bittersweet chocolate, coarsely chopped
1 teaspoon ground cinnamon
1 teaspoon ground coffee
16 Tablespoons (2 sticks) unsalted butter, cut into 16 pieces
Optional toppings: powdered sugar and/or berries
Adjust an oven rack to the lower-middle position and heat the oven to 350 F. Line the bottom of an 8-inch springform pan with parchment paper or waxed paper and grease the sides of the pan. (Be sure to grease the sides really well!) Wrap the outside of the pan with 2 sheets of heavy-duty aluminum foil and set it in a large roasting pan, or any pan that's larger than the springform. Bring a kettle or pot of water to boil.
With an electric hand mixer, beat the eggs at high speed until the volume doubles and the eggs are foamy. This usually takes about 5 minutes.
Meanwhile, melt the chocolate, cinnamon, coffee, and butter together. You can either do this in a double boiler on the stove (by placing the chocolate and butter in a large heatproof bowl, set over a pan of simmering water, and stirring until melted and smooth). Or you can do this in the microwave (by heating the chocolate and butter in a microwave-safe bowl in 30-second intervals, stirring in between, until the chocolate and butter are melted and smooth). Then fold about a third of the beaten eggs into the chocolate mixture using a large rubber spatula until only a few streaks of egg are visible. Fold in half of the remaining egg foam, and then the last half of the foam, until the mixture is totally homogenous.
Scrape the batter into the prepared springform pan and smooth the surface with a rubber spatula. Place the roasting pan on the oven rack and very carefully pour in enough boiling water to come about halfway up the sides of the springform pan. Bake until the cake has risen slightly, the edges are just beginning to set, a thin-glazed crust (like a brownie) has formed on the surface, and an instant-read thermometer inserted halfway into the center reads 140 F, 30-35 minutes, depending on your oven. Remove the springform pan from the water bath and set on a wire rack; cool to room temperature. Cover and refrigerate until cool. (The cake can be refrigerated for up to 4 days.)
Lindsey Hirsch's Family Horseradish Sauce
1 pound (or a little over) horseradish root, soaked overnight
4 or 5 fresh beets, tops removed
1¼ cups apple cider vinegar
¾ cup sugar
1 teaspoon kosher salt
Wash beets and cut off ends. Cook in salted water until soft. Cool enough to remove skins with paper towels. Mix together the vinegar, sugar and salt. Peel horseradish root, cut off ends and save for the Seder plates. Cut root into smaller pieces. Grate in food processor. Remove and grate the beets. Put beets in a bowl. Change to grinding blade. Finely grind a third of the horseradish with a third of the beets. Add some vinegar mixture and continue until smooth. Repeat two more times. Repeat two more times. You may need more or less of the vinegar mixture. This is done by taste. Add all together and season with more salt if needed. Refrigerate. May be prepared a week or longer ahead of time. 
Lindsey Hirsch's Family Gefilte Fish for Passover
Celery stalks
4 onions in thick slices
Carrots, peeled and sliced ½ inch
4 pounds net fresh filet of snapper, red fish, or combination (Net is total weight after fish has been removed from bones. Be sure to have fish market save heads with spines and tails attached to use for broth.)
3-4 large onions, peeled and quartered
7-8 eggs
1 cup matzoh meal
Salt
Pepper
3 Tablespoons sugar
Prepare roasting pots or soup pots with celery stalks, thickly sliced onions, carrots and fish bones with heads. You may choose to cover all with cheesecloth, but this is optional. Add water just to cover.  
Grind fish together with onions in electric grinder attachment on mix master. Mix in eggs and matzoh meal, plus salt, pepper, and sugar to taste.  
Dipping hands in cold water, gently form fish balls to size of your liking. Place fish balls in a single layer on top of cheesecloth, or directly on top of bones and vegetables, but not too crowded. Gently add water down the sides of the pot to cover fish balls. Add salt, pepper and sugar to water to taste.  
Bring to a slow boil and cook covered with lid for 1-1.5 hours. Cool in the pot. Remove when cool, place in a Tupperware container with carrot slice on top of each piece. Refrigerate until ready to plate for service. (Note: 1 pound net of fish filet yields 8-10 fish balls.)
Want more buzz like this? Sign up for our Morning Buzz emails.
To leave a comment, please log in or create an account with The Buzz Magazines, Disqus, Facebook, Twitter or Google+. Or you may post as a guest.