Amid Prom Cancellations, Technology Enables Community and Connection
Click the Buzz Me button to receive email notifications when this writer publishes a new article or a new article in this column is published.
The playlists were curated. The venue was booked. And the girls were ready to deck themselves out in their roaring '20s best for a Great-Gatsby-themed prom. 
But then the coronavirus pandemic came along, and Incarnate Word Academy's Class of 2020 was forced to pivot, as social distancing measures would preclude an in-person dance. Although prom was cancelled, Incarnate Word Academy (IWA) – an all-girls Catholic high school located downtown – leveraged technology to honor the spirit of coming together, even while staying home. 
"[Canceling prom] was really quite heartbreaking for our Senior Student Council, who had worked so hard to plan it," said Lorien Cuneo, Senior Class Sponsor at IWA. "I think [the Council] deserves all the accolades they can get for putting their own disappointment aside and quickly coming up with a plan in this new virtual world that we are all living in."
IWA's Senior Class Council shifted away from the planned roaring 20s prom night, and instead decided to hold a "Pajama Prom" over Zoom. Instead of wearing ball gowns and heels, the girls would wear pajamas and slippers while playing games, watching television and eating snacks - much like a traditional slumber party.  
More than half of the senior class attended Pajama Prom, held on Friday, April 24. The two-hour event included games like trivia and bingo and activities like a TikTok dance challenge and several photo challenges. Prizes, such as gift cards and Tiff's Treats cookie delivery, were awarded to the student with the best pajamas, the best Zoom background and the best snack item.  
While Pajama Prom was far from traditional, the school did maintain the tradition of announcing the Prom Queen and Prom Court. When it came time to announce Prom Queen, Lorien, who was leading the Zoom call, instructed the students to shift over to Facebook Live to tune in for a surprise. There, the students watched as the Dean of Students Leslie Flickinger and Athletic Director Rick Perez pulled up to a student's home to officially declare her Prom Queen 2020.  
"In the moment, I was very confused," recalled Prom Queen Kennedy Trahan. "I was on the Zoom call and Ms. Cuneo was about to announce the queen, and my mom pulled me away and told me to go downstairs. Then I walked downstairs and saw Mrs. Flickinger and Coach Perez and I was so lost for words … I almost cried because I was so overwhelmed with emotions." 
Kennedy added that Pajama Prom was both a fun and nostalgic night – serving as a reminder of what she'll miss as she goes on to the University of North Texas in the fall. 
While IWA students donned pajamas, students at The Post Oak School put on all white for their own Zoom party on prom night. 
Prom is a big deal at Post Oak, where the entire upper school – not just the seniors – attend the event each year. 
"For us, it's this really great night that is fully student run," said Sydney Ying, President of Post Oak's Prom Committee. "Teachers go too. We dress up and have a fun time and it's a time for all of us to be together."
As a small school – there are only 88 students in the entire upper school – Post Oak is focused on community-building, said Sydney, explaining that prom is the culmination of months of bonding with classmates. 
To honor the original prom date, the committee decided to hold a Zoom White Out party – "like whiting out the original prom idea and replacing it with something else," said Dr. Jamie Lee, Director of High School Student Life.
Students wore white as they played games like trivia and bingo and won raffle prizes on the April 25 event. The highlight was a teacher flash mob, where the teachers all joined the video call at 7:25 p.m., wearing black, and dancing the macarena. 
Sydney emphasized that the purpose of the White Out party was never to replace prom. It was simply to gather together at a time when community and connection has become even more important.
"The reality of it was that [the White Out party] was going to be nothing like prom," Sydney said. "It was just about having a fun community building activity that everyone could participate in. We all miss the school environment, and it just felt really good to have everyone there." 
Like Sydney, Diego McKenna Borrero, a senior at Kinder High School for the Performing and Visual Arts (HSPVA), wanted to find a way for students to come together on the prom night. So Diego, Secretary of HSPVA's student council, turned to Instagram Live.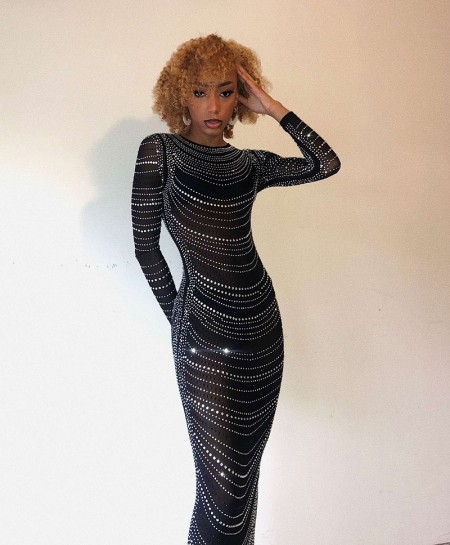 On Friday, April 17 – what should have been prom night for HSPVA seniors – Diego went live from the student council Instagram account. He played music and invited seniors to join him in their prom attire. As seniors came on, their classmates would comment on Instagram with affirmations, telling them how good they looked. 
More than 100 students participated, some being underclassmen who wanted to see the seniors' prom looks. 
"It's disheartening and kind of restricting to force ourselves to have events in a virtual setting," Diego said. "Prom is something you look forward to from freshman year. But I was happy that even though I had those sad feelings, I found comfort in comforting others. I was happy about all of the people who tuned in and dressed up. It was therapeutic for me to give back to my fellow seniors." 
Editor's note: Comment below or email [email protected] to share your own 2020 prom stories. For more on virtual prom experiences, see this fun story.  
Want more buzz like this? Sign up for our Morning Buzz emails.
To leave a comment, please log in or create an account with The Buzz Magazines, Disqus, Facebook, Twitter or Google+. Or you may post as a guest.