At home with the pros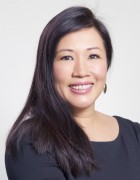 Click the Buzz Me button to receive email notifications when this writer publishes a new article or a new article in this column is published.
Cooking every night during the coronavirus pandemic, I needed some professional inspiration and insight, and who better to provide it than James Beard Award winner Robert Del Grande?
The Annie Café & Bar chef and other experts helped me take my cooking up a notch, along with simple ideas to retool leftovers, like stirring in pureed chickpeas into soups and stews. I also learned an easier, almost no-fail technique that savvy toques use to roast meats like hanger steaks. Thanks to such kitchen know-how, cooking became remarkably less stressful, and right now, we need that. 
Pan-frying steaks on the stove usually leads to a smoky, grease-splattered kitchen, but Del Grande solves this by searing the hanger steak on the stovetop, then finishing it in the oven. So, rather than sweat bullets and stand watch to avoid overcooking the steak, I could relax with a glass of wine while dinner finishes cooking in the oven. 
"If nobody is ready to eat in 20 minutes, just leave the oven door ajar. This will keep the steak warm until you're ready," Del Grande says. "This approach gives you a lot of flexibility." 
For an easy side dish, Del Grande relies on potatoes, which he always has on hand. Like pasta, they have 101 uses, he says. For the hanger steak, he sliced Yukon Golds, then layered the spuds on top of thinly sliced onions, followed by olive oil and fennel seeds. With just two layers in a 9-x-13 baking dish, the potatoes cook evenly and quickly.  
The day before Houston's stay-home-work-safe order, Del Grande's wife, Mimi, asked what he needed from the store. "Eggs, lots of eggs," he replied, then added rice, polenta, pastas, tomato sauce, canned beans and anchovies to his must-have pantry list. 
The pandemic led to a surge in demand for non-perishables and eggs. This inexpensive protein is wildly versatile and is not just for breakfast. For a quick dinner or lunch, Del Grande likes to top butter or Parmesan cheese-tossed pasta with a sunny-side-up egg. "Eggs are one of the few food items that come with their own sauce," he says.
But his all-time favorite egg dish is the Joe's Special, made with spinach, mushrooms, Parmesan cheese and ground beef. The 1920s dish originated in San Francisco. Later, it was the signature dish of the Bay Area chain Original Joe's, where Del Grande ate as a kid. "It's delicious and comforting because it's like a ravioli filling," he says. 
Growing up, Fajita Pete's founder Pedro Mora looked forward to his grandmother's homemade chicken soup. These days, he takes short cuts by making it with leftover chicken fajitas. "I keep it homey and simple by adding carrots, potatoes and broth. That's it," he says. 
Mora noticed that since social distancing began, his customers are buying fajitas to last several days. "That wasn't the case before," he said. "But now, they'll have fajitas the first night and then later in the week, use the leftovers to top salads or breakfast eggs." 
His favorite way of retooling fajitas is to make chicken or beef quesadillas for his kids. He says that the leftover proteins also make great Philly cheesesteak sandwiches, and a keto-friendly fajita casserole with sautéed poblano peppers and cheese. 
Along with flour and rice, dried pasta sales worldwide also have surged during the pandemic – by more than 249 percent, according to ResearchAndMarkets.com.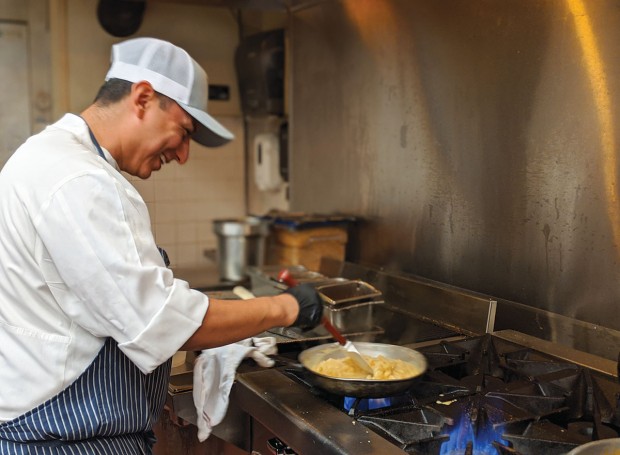 "You can do so many things with pasta, and it can go a long way feeding a family," said Brennan's of Houston executive chef Joe Cervantez. The father of two young kids always has macaroni and cheese in his kitchen cupboard. To keep it from becoming boring, he will switch it up a bit by adding canned tuna or crumbled bacon.
At Brennan's, he dresses up macaroni and cheese with crawfish and andouille sausage. It's a big seller and is among the take-and-bake meals that H-E-B selected to showcase in its foodie-inspired pilot program to support local restaurants during the coronavirus crisis.   
Brennan's uses its own secret Creole blend of seasonings for the Crawfish & Andouille Mac 'n Cheese, but home cooks can dupe this dish by using Chef Paul Blackened Redfish Magic Seasoning. "It's very similar to the blend we use," Cervantez says. 
Canned beans are on the stockpile list as well. Cervantez transforms red beans into a one-pot meal with sautéed onions, bell peppers and celery, plus bacon and andouille sausage. 
"Don't forget to add the bay leaf and some Crystal hot sauce," the Pearland native says. "Now you have a pot of beans that you can eat for a few days. It couldn't be easier." 
Adapted from Robert Del Grande's recipe
1 hanger steak (1 pound, 1-1½ inches thick); ribeye or New York strip also can be used 
1 Tablespoon canola or vegetable oil
Freshly cracked black pepper 
Kosher salt
Allow the steak to reach room temperature, then blot the steak dry with paper towels. While the oven is heating to 400 degrees, place a cast-iron skillet over high heat. Lightly season the steak with kosher salt and black pepper. Go light on the salt for now, as it tends to draw out juices and prevent the meat from browning properly. Rub the steak with oil and place into the hot skillet.
Sear for 30 seconds on each side. Season the steak with salt and pepper to taste before transferring the beef onto a roasting or baking pan with a wire rack. Put into the oven and cook five minutes. Reduce the oven temperature to 225-to-250 degrees and cook for about 15 minutes, or until the steak temperature reads 140 degrees. Remove from oven and allow to cool for 10 minutes. Serves 2. 
Adapted from Robert Del Grande's recipe
1 medium onion, peeled and sliced thin
Olive oil 
4 gold potatoes, peeled and sliced ⅛-inch thick 
Kosher salt 
Freshly cracked black pepper
Fennel seed 
Fresh rosemary (optional)
Preheat oven to 375 degrees. Coat a 9-by-11 pan with olive oil. Spread the onions evenly on the bottom of the pan and season them with salt and pepper. Layer potatoes on top and sprinkle with fennel seed. Season with salt and pepper to taste. Drizzle more olive oil and bake until the potatoes are almost tender. If desired, this is the time to sprinkle fresh rosemary (or even fresh thyme) on top of the potatoes if desired. Cook until the potatoes are fork-tender and lightly golden brown, about 30 minutes. Serves 4. 
Adapted from Robert Del Grande's recipe
2 Tablespoons olive oil
4-5 cloves garlic, minced
1 medium yellow onion, finely chopped
8 ounces ground chuck 
1 (10-ounce) package of frozen chopped spinach, thawed and squeezed dry in paper towels
8 eggs, lightly beaten
¼ cup finely grated Parmesan
Kosher salt 
Freshly ground black pepper
Heat oil in a 12-inch skillet over medium-high heat. Add garlic and onion, then cook until soft, about five minutes. Add ground chuck, then stir and cook until browned and all moisture evaporates, about 10 minutes. Add spinach, then cook until heated through, about two minutes. Add eggs and cook about three or four minutes. Season with salt and pepper, then sprinkle with Parmesan. Serve immediately with French or sourdough bread. Serves 4. 
Andouille and Crawfish Mac 'n Cheese
Adapted from Joe Cervantez' recipe
2 (7.25-ounce) boxes of macaroni and cheese, or homemade 
3 ounces andouille sausage, cubed
½ cup onions, diced 
1-2 garlic cloves, minced
2 teaspoons Chef Paul Blackened Redfish Magic Seasoning, or more to taste
4 ounces crawfish tail
Kosher salt
Freshly cracked black pepper to taste 
2 Tablespoons green onions, sliced
Prepare macaroni and cheese following box instructions; set aside.
In a large pan over medium-high heat, sauté andouille sausage until fat starts to render. Add onions and garlic; cook onions until almost transparent. Add Blackened Redfish Magic Seasoning, followed by crawfish tails. Reduce to medium heat and cook crawfish tails until almost opaque, indicating they are almost done. Fold in macaroni and cheese. Season with salt and black pepper and adjust Magic Seasonings if necessary. Reduce to low heat and stir noodles gently until hot. Sprinkle with green onions and serve immediately. Serves 6.
Editor's note: Buzz dining columnist Dai Huynh is a James Beard food-journalism award winner and longtime Houston-based restaurant writer.
Want more buzz like this? Sign up for our Morning Buzz emails.
To leave a comment, please log in or create an account with The Buzz Magazines, Disqus, Facebook, Twitter or Google+. Or you may post as a guest.