Friends Through Music
Playing violin together, a street apart
Click the Buzz Me button to receive email notifications when this writer publishes a new article or a new article in this column is published.
What does a bubbly, precocious, 9-year-old girl do when the world shuts down? When there's no more third grade to go to, when playdates in friends' homes cease to exist, when after-school rock climbing and softball are no more?
Mia Pliskin, a West University Elementary student who will turn 10 on Aug. 12, will tell you: You take your violin into your front yard and start playing for the neighbors.
"It's really hard not to be with other people," says Mia. "I miss school. Before, the boys at my school were like, 'I wish I didn't have school,' but if we didn't have school, it would be like this!"
And "this" is not cutting it for Mia.
So she took matters into her own hands and took a cue from the musicians she'd see playing on the streets of New York when visiting her parents' former home.
One afternoon, Mia's sister (and best friend) Riana, 11, was inside focusing on her virtual Houston Ballet class. Mia and her dad Alex (an investment banker who plays music – he's a member of the Campanile Orchestra at Rice University's Shepherd School of Music) went out to the front porch to practice together. 
Then something unexpected happened.
Irene Pletcher, an 11-year-old girl (now 12) who had moved to the neighborhood only days earlier from New Hampshire so that her mom, Sarah Pletcher, could begin a new position as executive medical director of virtual care at Houston Methodist, brought her violin outside.
Without a word, and without ever having met, the two girls began playing together, across the street from each other.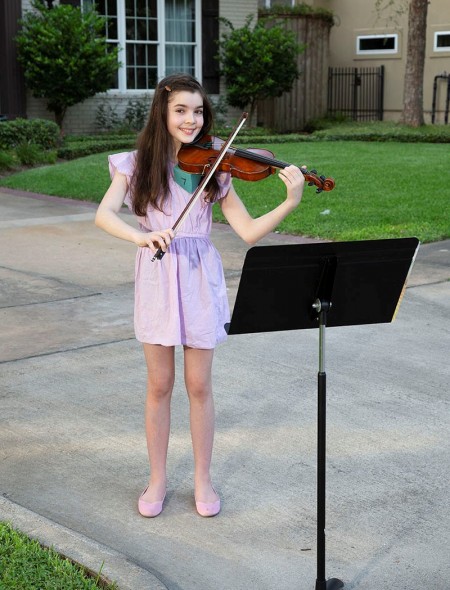 "I was outside and was playing a song, and I was checking my music," says Mia. "Irene heard me playing, and she came outside and started playing the same song as me from the same book. When she was done playing the song, we started talking, and I asked her questions like what was her name."
Irene, who was deeply involved in musical theater, piano and violin in New Hampshire, says, "I heard Mia playing one of the songs from Suzuki Book One, and I had nothing else to do, so I went outside with my violin. It's really fun to share music even during social distancing."
Greta Ravitsky Pliskin, Mia's attorney mom, says her own mother, Rozalia Ravitsky, who owns a music school in San Antonio, was visiting at the time. "She came in and said to me, 'You've got to come see this.' It was a fun moment, at dusk, really beautiful. The girls didn't even have to talk – they just connected through the music. Moments like these, being outside, with the neighbors, these are the sweet moments of the quarantine."
Mia says quarantining hasn't been too bad. "We've all been hanging out together and having game nights, movie nights, bike rides. And we've been going on runs, and I've been working out with my mom. And I want to add to the highlights of the quarantine that we got a dog and her name is Sadie. She's a Bernedoodle [Bernese mountain dog/poodle]."
Mia's and Irene's music has become a salve for the neighborhood. "After the first time, the girls made a date to play together again the next day," mom Greta says. "Then the neighbors started coming to listen."
"Now the neighbors come up to me to say thank you," dad Alex says. 
"This is what life is all about," Greta says. "Being able to walk outside and enjoy the music. And an unintended consequence is that playing outside with Irene has energized Mia and motivated her to pick up new pieces."
Mia and Irene love being able to make the neighbors smile with their music. "One day it was our neighbor's birthday," Mia says, "and we went outside and played 'Happy Birthday' for him, and I think he had a really good birthday."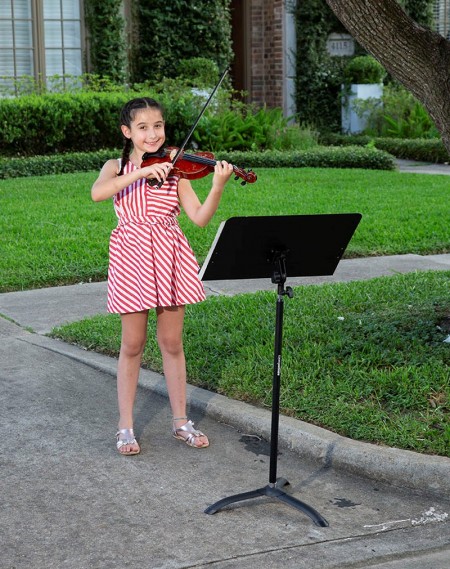 Irene says the quarantine has given her an opportunity to share the unique importance of music with her neighbors. "Music takes people out of their everyday lives to experience something different," she says.
For now, the girls talk to each other from across the street, socially distanced. Mia says she looks forward to hanging out with Irene in one of their homes.
"I think this is what makes West U so wonderful, neighbors who become friends who become a community," mom Greta says. "I've always loved living here, but I've appreciated it more than ever during the quarantine."
Want more buzz like this? Sign up for our Morning Buzz emails.
To leave a comment, please log in or create an account with The Buzz Magazines, Disqus, Facebook, Twitter or Google+. Or you may post as a guest.