Remembering Katrina, 15 Years Later
Click the Buzz Me button to receive email notifications when this writer publishes a new article or a new article in this column is published.
Do you remember what you were doing just before Labor Day weekend 15 years ago? There's a good chance you were in shock watching footage of the widespread devastation Hurricane Katrina left behind in southern Mississippi, Alabama and Louisiana, especially New Orleans. 
As it became obvious that many would not be able to return to their homes anytime soon, many of our Gulf Coast neighbors headed to Houston for refuge. Thousands who had been stranded in their flooded cities for days came by busloads to the Astrodome in Houston. 
As we mark 15 years since Katrina hit, we catch up with some Buzz residents who lent a helping hand that Labor Day weekend and beyond. 
The night of Sept. 1, Dr. Kristy Murray, epidemiology and infectious disease expert, was called by local public health authorities to quickly come up to the Astrodome. One hundred and ten buses full of evacuees were about to arrive, and officials were concerned about the potential transmission of infectious diseases following Katrina. She immediately headed down to the Astrodome. Kristy shared, "As I drove up that night. I was amazed to see how many Houstonians were lined up by the Reliant Park entrances holding signs of love and hope to welcome the buses. I remember choking back tears seeing this outpouring of love to complete strangers."
The buses were unloaded, one by one, with more than 20,000 evacuees coming through their station for medical triage throughout that night. Eventually, approximately 27,000 New Orleans residents evacuated to Houston's Astrodome and Reliant Park Complex.
Dr. Murray, along with a small team of health professionals, created "the cot survey." Every night for 17 days, members of the team went to each cot to note how evacuees were feeling physically and mentally. This was before smartphones, so everything had to be written down manually. 
"The surveys helped discover people's needs, which we shared with organizations like West University Methodist Church," said Dr. Murray, current Professor and Vice Chair for Research at Baylor College of Medicine and Texas Children's Hospital. "Simple things like reading glasses and slippers meant so much to so many. Families needing things like bottles, pacifiers, strollers and playpens to help keep their children safe in such a chaotic environment. Houston provided."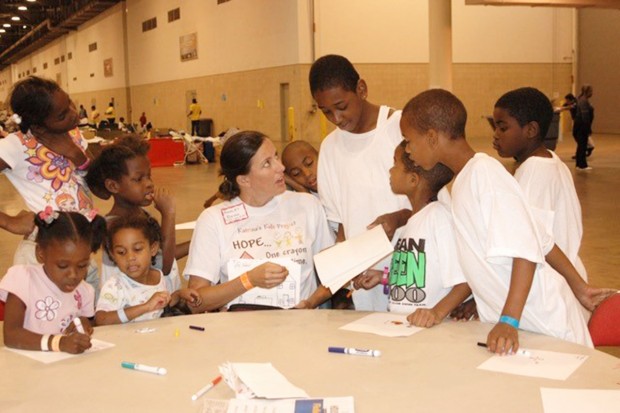 Another local mom, Johna Dimuzio, headed down to the Astrodome that Labor Day weekend. She took some extra arts supplies to hand out for the kids to have an entertaining activity. While she was volunteering, she realized creating art was therapeutic for the kids; it was helping them express their emotions during this crisis. So she called her West U Methodist Preschool mom friends Ashley Bryan, Janine Schueppert and Carol Gunn, and told them to grab all the crayons, markers and reams of paper they could and meet her in the Astrodome food service area the next day.
The ladies set up a few tables, put out their art supplies and, over the next few weeks in the Astrodome, hundreds of children came to color at the tables. Johna, Janine, Carol, Ashley, Sue Jensen, and many others came to volunteer and this is how Katrina's Kids Project was born.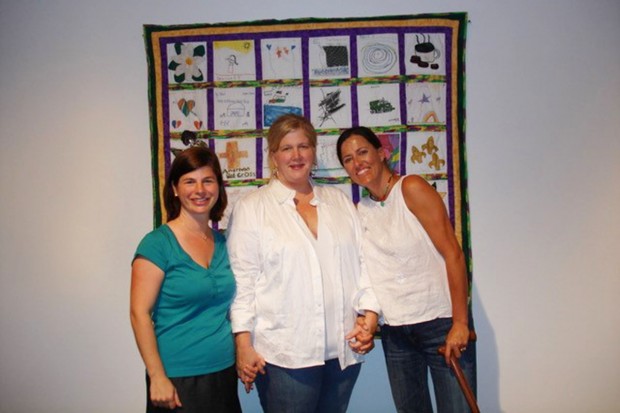 A quilt was created using 48 of Katrina's Kids Project drawings (chosen from 600 pieces of art), that were transferred to fabric panels sharing the artists' stories about living through Katrina. 
"The Katrina's Kids Project artwork quilt traveled around the country for two years and is now in the Louisiana State Museum," Janine said.
Ashley shared, "It is amazing to think back on how far we have come from those couple of food service tables we set up in the Astrodome! We had no experience in art therapy, but all of us knew how to be moms, and those kids desperately needed a whole bunch of extra moms to hug them, listen to them, watch them, entertain them and, ultimately, love them."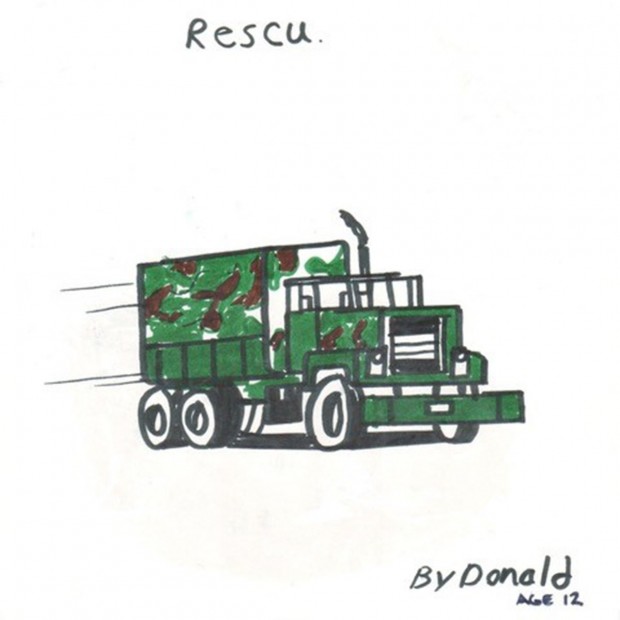 One of the kids who came to draw was 12-year-old Donald Expose, a talented young artist. His drawings depicted some of his Katrina experiences. Eventually, Donald shared that his mother had drowned during Katrina. During that time, Ashley and Donald formed a strong bond.
Ashley said, "Donald has been a part of our extended family from day 2 in the Houston Astrodome. And we will always be family."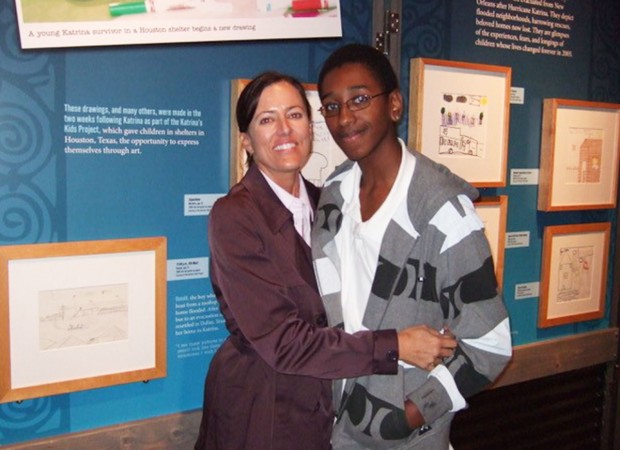 Today, Donald, 27, lives in the Dallas area and still loves drawing. His dream is to work in video game design one day. Ashley and Donald still keep in touch.  
I was fortunate to be among those at the Astrodome that Labor Day weekend. I met New Orleans natives Rayna Foy and her smiley two-year-old grandson, Jo-Jo Williams. Rayna mentioned they would like to go to church on Sunday, so I picked them up the next morning and we headed to West University Methodist.
Just a few days earlier, they had sat in total darkness on a freeway in New Orleans and now they sat in a pew in Houston wearing clothing from the Red Cross. Rayna asked the congregation to pray for her family, especially her two adult daughters from whom she still had not heard from at the time.  
Thankfully, Rayna was later reconnected with her daughters, Nadia and Neesha. The Cornelius family will always love New Orleans and cheer for the Saints, but since Katrina, they have been happy to make Houston their permanent home. Rayna has touched the lives of many through her jobs as manager of the Tennis Pro Shop at The Briar Club and special events coordinator at The Amazing Place, a day program for adults with memory issues. The family was also blessed with a house from Habitat for Humanity.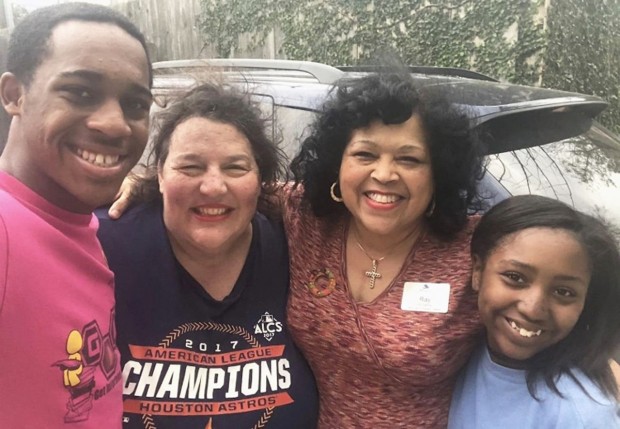 I'm thankful to still have Rayna as a friend and fun lunch date. Now 17 years old, Jo-Jo goes by Josiah, and still has his winning smile. He is thriving in high school these days. I love that he still calls me Auntee Kah-ron. Josiah doesn't remember anything from his Katrina experience or time spent at the Astrodome. 
Not everyone came into Houston via the Astrodome. Monica Turner and her family were able to evacuate from New Orleans. But as they watched the devastation from their hotel room in Houston, it became evident their three-day evacuation would be a long-term displacement. Monica, Outreach Coordinator for WYES, the New Orleans' PBS television station, shared her predicament with her Houston PBS colleague, Ann Crider. Monica was in luck as Ann and her husband, David R. King, jumped into action. They contacted their good friends, Sands and Caroline Woodruff, who said they would love to help. 
 
Sands is a Bellaire High School alum who divides his time between Houston and Weatherford, TX. So Sands and Caroline have a small home that Sands uses every other week when he's in Houston on business. Sands and Caroline offered use of their home to Monica and her family - husband Calvin, 19-year-old daughter Mallory, 17-year-old son Craig, Monica's mother, plus dogs, Bacon and Hammy. The Turner family was so thankful to have a place to live. Whenever Sands traveled to Houston during that time he stayed with Ann and David in their home. 
  
Mallory went off to Louisiana Tech and, for his senior year, Craig attended Westside High School and played on the baseball team. 
"Over the nine or so months that the Turners were our houseguests, we all became great friends," Sands shared. "Every August 29, the anniversary of Katrina hitting New Orleans, we get an update from Monica on the kids, careers, spouses and I give the same about ours. They are still very thankful for the help they got from everyone in Houston, and I feel really good about that. We all kind of pitched in with what resources we had and it was really a citywide affair. Certainly [it was] as rewarding for the helpers as for the players. For us, a lifelong friendship was formed."
Monica said, "Every year when we 'remember when,' thoughts of heartfelt thanks are in each memory. The kindness that Sands and Caroline showed to us also lives in our children's hearts as well. Although we can never repay, we remain eternally grateful for their generosity and support during one of the most difficult times in our lives."
Editor's note: Find a list of ways to help families impacted by Hurricane Laura here. 
People in this article:
Kristy Murray
,
Johna Dimuzio
,
Ashley Bryan
,
Janine Schueppert
,
Carol Gunn
,
Sue Jensen
,
Donald Expose
,
Rayna Foy
,
Josiah Williams
,
Nadia Cornelius
,
Neesha Cornelius
,
Monica Turner
,
Ann Crider
,
David R. King
,
Sands Woodruff
,
Caroline Woodruff
,
Calvin Turner
,
Mallory Turner
,
Craig Turner
,
Sumiyah Fox
,
Karen Vine Fuller
Want more buzz like this? Sign up for our Morning Buzz emails.
To leave a comment, please log in or create an account with The Buzz Magazines, Disqus, Facebook, Twitter or Google+. Or you may post as a guest.