RV Tips and Tricks
Click the Buzz Me button to receive email notifications when this writer publishes a new article or a new article in this column is published.
Since quarantine began in March, many have considered the idea of an RV getaway since it allows for social distancing while traveling. Over the summer, the Kosoy-Schwartz family took the plunge. In July, this family of four, plus two dogs, pulled away from their home in their rented 25-foot RV. 
They spent two weeks sleeping in the RV, minus a couple of nights with dad David Schwartz's family in Michigan. Notable stops included swimming in Lake Michigan and many beautiful hikes along the way. They enjoyed the journey and here, they share some tips and tricks they learned along the way: 
Mom Rachel Kosoy says to make sure to overestimate how long driving will take. Reserving a parking spot at KOA (Kampgrounds of America) locations at www.koa.com the day of should work. Rachel also says to double-check what equipment is supplied in the vehicle ahead of time. While a vacuum, garbage can and broom were included in her rental, she suggests bringing a hand broom as well for quick clean-ups. She also advises clearing and doing dishes as soon as you are done eating so you can start driving, since otherwise things will move around and make clean-up difficult. Rachel shares that showering brought some challenges due to its small size. "You can't take a long one [shower] or you will run out of hot water. Also, bring a 2-in-1 shampoo and conditioner to save time and space!"
They needed to buy a certain kind of toilet paper ahead of time in case it couldn't be found on the road. They were given two kitchen towels, and Rachel suggests bringing both cloth and paper towels. They used plastic plates and cups to cut down on dishes and marked the cups with permanent markers to cut down on waste. The small sink backs up when the water tank that takes water waste gets filled up; they emptied the tank daily. 
The RV contained a big cabinet and two little cabinets, similar to the size of a typical luggage compartment on a plane, plus a large cargo area under the living space. Stuff slides around, so they used plastic bags to store clothing and other items; in retrospect, Rachel says they would have color-coded or labeled each bag with family members' names and a list of items inside. 
Rachel shares that they needed to be able to hang towels and swimsuits, and that a clothesline or rope could be hung outside at night. Items can also be hung on the RV awning arms. She brought clothespins as well.
The family cooked three-quarters of their meals, easy dishes like individual pizzas. Since the oven was small, they used a toaster oven tray to cook on. Alternatively, a piece of tin foil would've worked too. 
They made space to take a blender on the road. Rachel explains it was essential since, "Our crew loves smoothies. It's a good snack and there was no Smoothie King [locations along the way]!" They started out with a substantial amount of food, and Rachel meal planned because of the small amount of storage space.
Kids Talia and Jacob Schwartz, a ninth grader at The Kinkaid School and a seventh grader at Pin Oak Middle School, respectively, were focused on the technology aspect of the RV. Talia's tip is to bring a long charger and a portable charger. Rachel and David knew the RV had strong WiFi, but they brought a portable WiFi router since they needed more bandwidth for Jacob's PlayStation.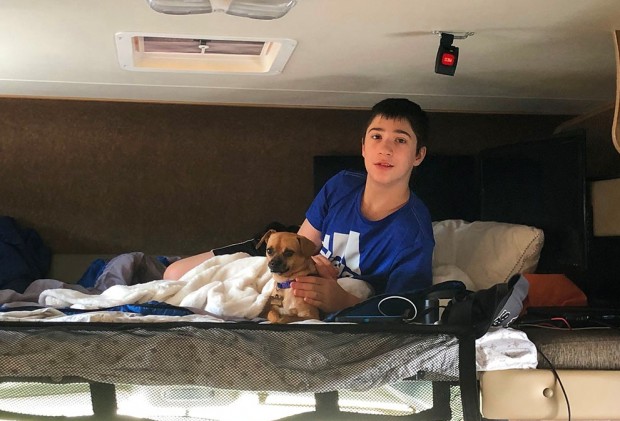 While Rachel and David had a full-sized bed in the back of the RV, Jacob's was above the living area. Talia's bed was a table during the day that was topped with a mattress at night. They added their own air mattress on top to make it more comfortable. The air conditioner and generator created white noise at night and the RV was soundproof inside to make falling asleep easier. 
Rachel shares that it is important to have a rain plan and to consider activities to enjoy inside the RV. They downloaded podcasts and movies in case they lost WiFi, too. Rachel says they packed battery-operated fans, which were good to have if there were issues with the generator. Otherwise, there are outlets, and the air conditioner stays on as long as the generator is on. 
Talia warns: "If you have a dog that gets scared easily or doesn't like loud noises or the car, don't take them!' One of their dogs was happy during the journey, but rode up front with Rachel the whole time. She advises talking to your vet before a long trip like this to see how best to alleviate nerves. 
Taking care of the dogs' needs was otherwise easy. They walked the dogs on their stops, along with a collapsible water bowl attached to their leashes. And they fed the dogs 2-3 times a day, since they could not leave the food out in the moving vehicle. 
With all of these thoughts on what to remember for next time, it seems inevitable that this family will go on another RV adventure. Since they can't be with David's family like they normally are for Thanksgiving, they are considering another RV trip to a new destination. Whether the dogs join in again remains to be seen. 
Thanksgiving travel will look different for many people this year and an RV road trip is one way to safely get where you need to go. The RV definitely provides for family time, with many parks and trails to visit in Texas' cooler fall weather. Cooking an entire turkey dinner may not be possible in such a vehicle, but it can get you "over the river and through the woods" to wherever your holiday celebration may be.
Editor's note: For more on RV adventures, read A No-Fly Adventure by Andria Frankfort.
Want more buzz like this? Sign up for our Morning Buzz emails.
To leave a comment, please log in or create an account with The Buzz Magazines, Disqus, Facebook, Twitter or Google+. Or you may post as a guest.