Scouts Forever
A canoeing pilgrimage with friends
Click the Buzz Me button to receive email notifications when this writer publishes a new article or a new article in this column is published.
Hundreds of lakes and one million wild forest acres straddle the Minnesota-Canadian border to form the Boundary Waters Canoe Area. Their first residents were the Chippewa tribe centuries ago. In the 1800s came the Voyageurs, rugged French trappers in search of beaver pelts. 
Today, its adventurers include a crew of 60-somethings with Southwest Houston roots. They canoe the same waters, hike the same portage trails and camp in the same woods. Every year. 
They are former Boy Scout leaders and their wives, friends for 25 years since their sons were in Troop 211 at St. Mark's Episcopal Church in West University. Now ages 61 to 69, they return regularly to this pristine area, without the boys. Most have gone at least three times now, a few of them 20. This trip is their ultimate getaway. And in this unusual year it became a quest for normalcy and time of thanksgiving.
"We all talked long and hard before deciding we were going to do it," said Jim Russell, formerly of Bellaire, who retired to Virginia with wife Carol. "Although we all met in Houston, we now live in Wisconsin, Houston and Virginia, and we weren't sure if it would be safe or possible, so it does feel good that we pulled it off."
For Richard and Carol Phillips, another former Bellaire couple who organize much of the trip, returning was a simple decision. 
"It's the one thing that lets me have some semblance of 'I'm going back to normal,'" Richard Phillips said. "The rest of the year has been topsy-turvy, and now I'm finally getting into a routine from prior years with friends I know and love in a place that I know and love."
Richard calls the trip his "one opportunity a year to get into the most serene, tranquil place that I know, to do some great thinking, some great bonding with longtime friends, to see nature at its absolute finest, and to disconnect from the doggone internet."
Each trip follows a routine. First, they meet at the Phillips' part-time rural Wisconsin home to map their route, pack and relax before driving to a canoe base near Ely, Minnesota, where they rent canoes and enter the Boundary Waters. (I have gone about five times, but not this year.) They paddle 5 to 10 miles a day to primitive campsites for at least five nights, with Richard typically serving as guide, his map and compass nearby.
This is definitely wilderness, part of the Superior National Forest. No running water, electric hookups, motorboats, glass or cans. Pack out your trash. No airplanes below 5,000 feet. Each campsite has a latrine (a big pipe sticking out of the ground in a secluded area). 
But the rewards are many. Watch for at least two bald eagles per day from the water. "Eagles are almost everywhere, almost like seagulls," said crew member Kevin Golden of Bellaire. The crew sees loons, raccoons, otters, beavers, beaver lodges and chipmunks galore. Once they saw a bear in camp, once a moose and once the aurora borealis in the wee hours. One year they extinguished the small remains of a forest fire from their canoes. 
I was on the trip during that small fire in 2013. The paddlers instinctively followed the Scout slogan (do a good turn daily) and motto (be prepared). Patricia Hattenbach of Houston, Carol and Richard, Jeff Adamski of Bellaire and I paddled toward a large burned area. Patricia first spotted the smoke. The U.S. Forest Service had extinguished the blaze and left, but a few flames had popped up in a smoldering brushy area near the water. We paddled closer and pinpointed the source to a burning log.
We secured our two canoes. Carol yanked out our battered 2-gallon cooking pot from the equipment pack as we formed a bucket brigade. Water was up to our knees and thighs as Carol repeatedly filled the pot with lake water and passed it ahead to pour on the log. Richard maneuvered around a rock shelf and into brush to help douse the remaining flames. After about 30 minutes, the fire was out. And there was another story to tell back home.
In 2010, the crew was climbing into canoes one morning for the paddle to the next camp. Westbury residents Jim and Lisa McGinness checked their tent site for belongings one last time.  Then Jim saw a big furry paw on a fallen log. A bear "was coming in to see what we'd left behind," Jim recalled. "And I said, 'Uh, BEAR!' and headed to the campfire area, so everybody grabbed their camera." They left him alone and paddled away as the bear wandered the campsite and licked spilled oatmeal near the firepit.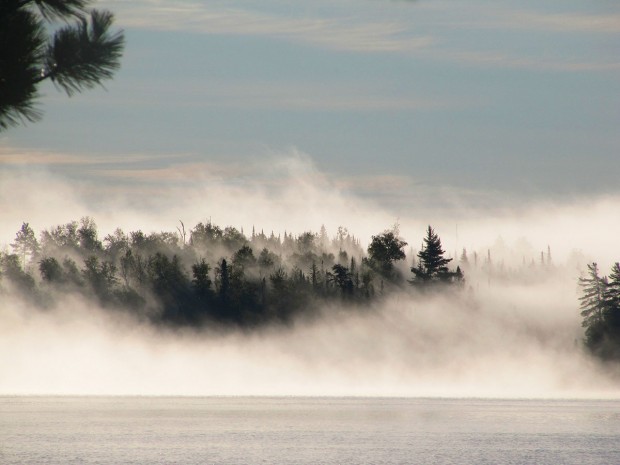 Kevin said it seemed like "the bear was thinking, 'Oh, they've already taken all of the food – bummer.' He was this sort of sleepy, grumpy bear. That was an amazing experience, too, because I don't run into bears all the time."
Adventure works up appetites, and meals are memorable. Jim Russell has prepared tuna jambalaya, hamburger stroganoff (he dehydrates meat at home), chicken and dumplings, gyros and lentil soup. Desserts: sopapilla cheesecake, apple crisp, rice pudding or cobbler. They store food in small barrels that hang from trees away from bears. Lake water is mostly clean, but the crew treats it before use.
The trip is usually in mild weather the week of Labor Day, although in 2018 they went two weeks later to see fall foliage. Instead they saw sleet and light snow; two canoeists nearly caught hypothermia. 
The scenery and camaraderie help overcome such challenges. Some prefer to paddle into camp by early afternoon, set up and read. Jeff prefers to paddle and then paddle some more. "I would love being out, paddling until dark and eating peanut butter sandwiches" until supper, he said. "I just love being on the water, especially when the weather is cooperating."
This latest trip seemed a bit tiring, with a route that included longer portage trails. Trails range from 150 feet to a quarter-mile, often on smooth ground one minute and steep rocky ground the next. The crew unloads packs from each canoe after arriving at a portage trail and carries gear to the next lake. A paddler picks up an empty canoe, flips it over his head and balances it carefully down the trail alone. It's an awkward, clunky trek. A two-seater canoe is 18.5 feet long and 43 pounds; a three-seater is 20 feet long and 53 pounds.
Still, they cherish the beauty, serenity, food, friendship and adventure. There's a sad moment "when you're coming back and you see rooftops and a radio antenna, and you hear the motorboats," Carol said. But next year they'll return with memories of the time they retained tradition amid unprecedented challenges. And had a blast.
"We're having a bit of our normal life," Jim Russell said. "Take that, Covid."
Editor's note: John Harris is a Bellaire native who lives in Austin. Jim Russell's recipe for tuna jambalaya is at his food blog at greasylittlebirds.com. 
Want more buzz like this? Sign up for our Morning Buzz emails.
To leave a comment, please log in or create an account with The Buzz Magazines, Disqus, Facebook, Twitter or Google+. Or you may post as a guest.