O Christmas Tree: Stories that Won't Leave You Hanging
Click the Buzz Me button to receive email notifications when this writer publishes a new article or a new article in this column is published.
Hang on to your branches! These Buzz Neighbors have Christmas ornament stories to share. We promise it will be a ball, and soon you'll be hooked!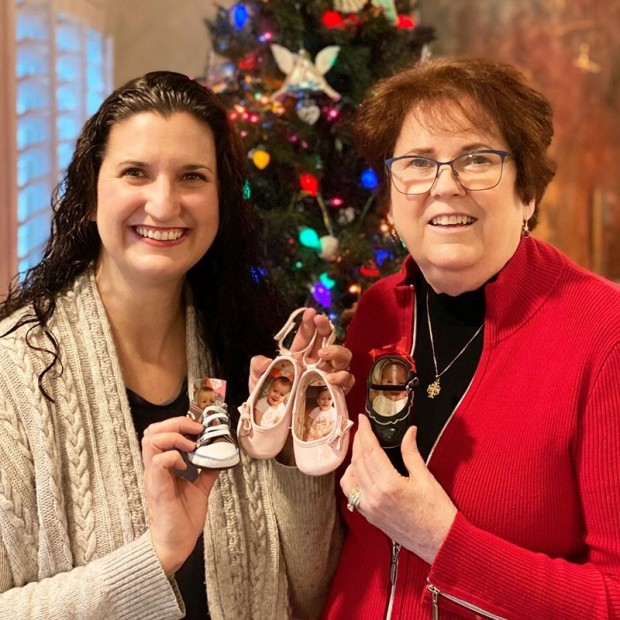 "By far, my favorite ornaments are the ones my mom made for my sister and I with our baby shoes," Amanda Sorena shared.
"I couldn't bear to throw away a pair of baby shoes that both my daughters had worn," explained Karen Johnson, mom to Amanda Sorena. "I got the idea to turn them into ornaments by putting a baby photo in each shoe and writing names and birthdays on the back. It was really simple, but also special. There is just something about a girl and her shoes."   
 
Amanda's baby shoe ornament now hangs next to the three baby shoe ornaments she made for her own children. 
Renae Nunez's Granny, Tissie Smith, is celebrating her 94th Christmas. Renae remembers watching Granny make fabric Christmas ornaments in the 80's. For decades, the beautiful ornaments decorated Granny and Granddad's tree. A few years ago, Granny gave the ornaments to Renae.  
Renae explained, "With everything going on in 2020, I decided this is a good time to share something special with the family! Every year, I give all my nieces and nephews an ornament. This year, I'm adding Granny's handmade ones."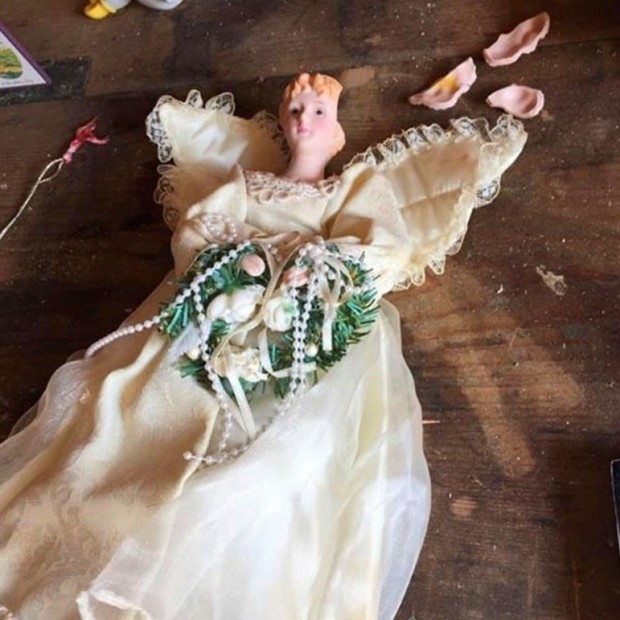 When she was little, Sharon Thorne and her family visited a boutique with Christmas displays. She accidentally dropped a fragile angel tree topper that shattered as it hit the ground. Her parents had to pay for it and scooped up every fragment of the angel's head they could find. 
 
"We did our best to glue the angel back together," Sharon shared. "But found we'd left the back of her head on the floor of the store. Her intricate hairdo would forever be incomplete. But she was ours and my parents proudly displayed her on top our tree."
 
Sharon's parents gave her the "hole in the head" angel to sit atop her own tree as a housewarming present. She and her husband proudly displayed her for many years.
This year, Sharon and her husband have a new Christmas angel - their one-year-old daughter. And they found the perfect tree topper - a beautiful, unbreakable bow.  
Sharon shared, "Ribbons make the perfect toddler safe tree."
Back in 2012, Kelsey and Jacques Mathieu were looking forward to their first Christmas as parents with their son, Bennett. Kelsey bought a frame ornament to document the milestone.
Bennett is now 8 and has two younger siblings - Gray (age 6) and Emery (age 2). There have been additions to the frame ornament collection. 
"We love looking at the ornaments and seeing how our family has grown and changed each year," said Kelsey. "Maybe someday there will be ornaments with photos of the kids and their own families."
Santa is a fan of the Vredevelt family's time capsule Christmas ornaments. 
"Every year, each of our kids write down three things they want from Santa. The piece of paper gets placed in a clear ball ornament with their name and the year written on it," said mom Naida. "As the kids have gotten older, it's fun to read old lists and see their handwriting. It's full of memories. We love it."
Current ornaments on the tree were created by Gavin (age 9), Luna (age 8) and Sunday (age 2). This year, there will be a new ornament list maker: 4-month-old baby brother, Maverick. 
Kelly Bluhm and her family enjoy collecting ornaments from their travels. One year, the family visited Kelly's friend in the Dominican Republic. 
"We didn't do many touristy things as we were there to see my friend and went to some off-the-beaten-path places," Kelly shared. "We searched high and low for an ornament, but the best we could do was a keychain with the Dominican Republic Flag and a palm tree on it that we found at the airport. That keychain proudly adorns our tree and we laugh each year when we hang it up."              
Where do high school valedictorians hang their graduation tassels and parking passes? On their Christmas tree, of course! 
"I like to keep family history alive in Christmas stories and décor," said Sarah McCoy.  
Her son Grant was the 2020 St. Thomas Valedictorian, so it is definitely a good memory. Tassels of other family members' can be found on the tree as well as the keys to Sarah's parents 1960's Cadillac.
"For generations now, our family tradition starts when we take the tree down," said Kelly Pepper. The adults slip money into the tissue around the ornaments when they put everything back into the ornament Christmas boxes." 
She continued, "When it's time to decorate the tree the following year, everyone is so excited because that's how the kids 'earn' their Christmas spending money. Each ornament is wrapped up and you have to pick the ornament off the top - no peeking! It was a great way to keep me and my siblings actively involved in decorating the tree during our teenage years."
 
No matter how your family decorates or celebrates, The Buzz Magazines hope your holiday is tree-mendous!
 
Want more buzz like this? Sign up for our Morning Buzz emails.
To leave a comment, please log in or create an account with The Buzz Magazines, Disqus, Facebook, Twitter or Google+. Or you may post as a guest.