Rumor Has It - January 2021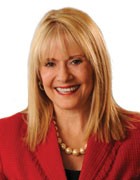 Click the Buzz Me button to receive email notifications when this writer publishes a new article or a new article in this column is published.
Chillin' in a good way. They met at Kirby Ice House in 2018. When the sparks started to melt the ice, they knew they had chemistry. Blaine Rogers proposed to Stephanie Simon at the Japanese Tea Garden in San Antonio and surprised her with a trip to Houston for an engagement party with her family. Their original wedding for 200 people changed to a Covid 30. The art deco-inspired décor was carried out at Beth Israel, and the reception at The Astorian. The wedding was live-streamed to guests with timed events so they could toast at the same time. Blaine wrote the music and lyrics to their dance song, "Everything to Me." They plan to honeymoon in Italy and England once normal life resumes. The couple's parents, Ken and Carol Simon, Tim Rogers, and Kim and Russ Shanks, think the occasion is everything to them.
How relative is this? A sister and brother each brought a friend to join their family on a 10-day cruise around Spain in 2016. The friends, Davis Hance and Kittsie Klaes, started dating upon return to the United States. Davis proposed in Kittsie's parents' backyard surrounded by twinkle lights, red roses, a fire, champagne and a photographer lurking behind a barbecue. The families, including parents Robin and Danny Klaes and Debbie and Britton Hance, joined the celebration and continued to a table at El Tiempo, desserts at Marble Slab and Shipley Donuts. A sweet happening indeed!
Out with the hippos. The "Hippo Lady," aka Sue Shefman, who drives her red auto-potamus art car,  decided to downsize her large collection of stuffed hippopotami by letting the kids in the neighborhood choose one or two from her 'Potamus Patch laid out in her carport. That was a win-win situation. Then she expanded the idea, with parents and neighbors donating to the Houston Food Bank. Win-win-win. A donation of $455 was raised. Cate Cummings, Lila Pramudito, Kaden Evans, and Sophia and Ellie Wang were some of the many children in the Woodstone II townhouse community that picked up a hippopotamus. Hip hippo hurray! 
Throw a celebration. One Sunday it turned chilly just as girls arrived at Jordan Warnica's home to celebrate the Hurricanes' soccer season with the Spring Branch-Memorial Sports Association. A few days in advance were required to order 500 water balloons, filled, ready to throw on the half-acre empty lot across the street. It took the girls only 20-30 minutes to toss the 500 at each other and run in to warm up with towels in front of a fireplace and laugh about the whole thing with cake. The goal of fun was scored.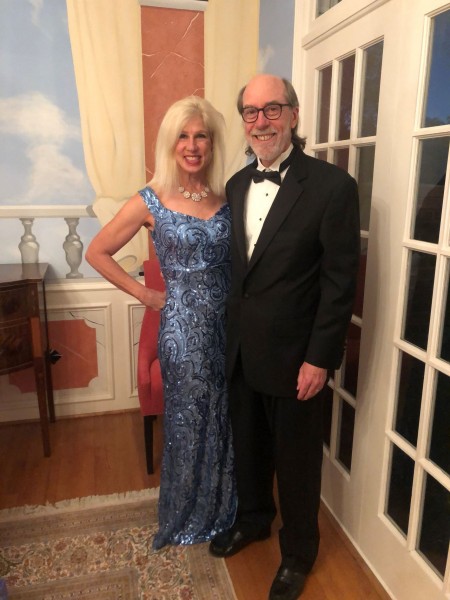 Of note. The virtual gala Lights Up Houston celebrated musical theater with TUTS, Theatre under the Stars. Dinner was delivered from The Post Oak Hotel, and Broadway entertainer Brian Stokes Mitchell entertained. It was a hard act to follow, agreed gala chairs Elaine Balagia Croucher, Megan Hotze, Amy Pierce, Helen Shaffer and Hector Villareal and emcee Ernie Manouse. Some of those who chose to applaud from home together were Cal and Connie Dalton, who hosted at Carrie and Ron Woliver's home with guests Grace and Robert Givens. Charlotte and Larry Whaley hosted others at their home. No one knew if you wore slippers.
She got her Medicare card. A virtual 65th birthday for Cynthia Mills, who has returned from Colorado to Houston again, was held by her former mah jongg group. The gals donned pearls, gloves and hats to honor her 1995 Best Dressed award and her pre-Covid always-stylish ways. They each held up a photo of a Chanel outfit they could see Cynthia in and tried to answer questions about her. Which countries has Cynthia lived in besides the U.S.? There were many other questions, and the friends realized just how little they knew. The answer: Egypt, Indonesia and France. The next day, on her actual birthday, six of them gathered in person for a box lunch in an outdoor living room. 
Chanel bags were filled with roses. Mary and David Powell took a three-day respite to Miami and South Beach. After they enjoyed a meal by the gold-lined pool at Gianni's Restaurant in the former Versace mansion, they watched a Chanel commercial filmed right outside the door. A brunette in a polka dot '40s Chanel outfit posed with a black hat, gloves and heart-shaped sunglasses in front of a pastel-pink vintage Fairlane convertible. It was quite a scene.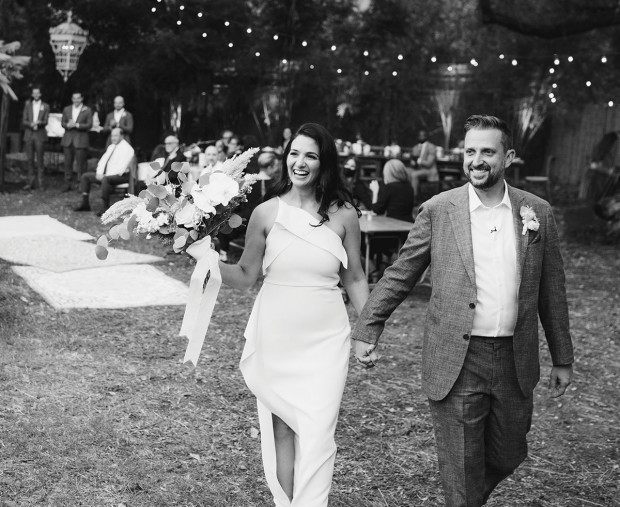 Online sparks. They met on the Bumble dating app in September 2016 and bought a house together last year. When Loren Siegel went to the house the day after closing, David Mosser was already there with champagne and a proposal. Despite Covid, they kept their wedding date at Vuka Bouldin in Austin but changed the number of guests. Champagne and dessert were delivered to the stay-at-homers who live-streamed the California-style ceremony with an elaborate chuppah with giant palms on top. They mini-mooned in San Antonio with a stay at Hotel Havana and strolls at the San Antonio Botanical Gardens and Mission Trails. Parents of the couple are Bryan and Suzanne Siegel and Barbara Mosser.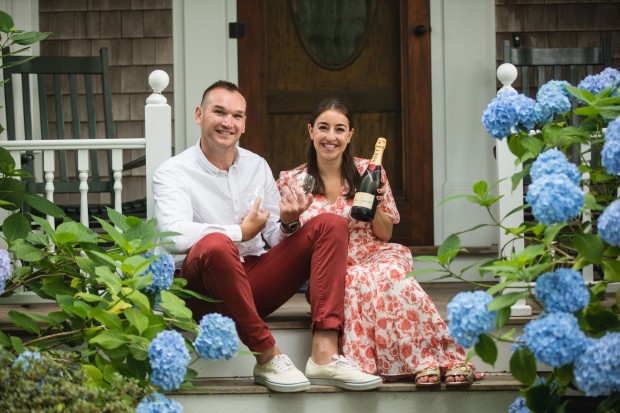 Chocolate, anyone? Dakota Klaes went to Vanderbilt, and Joanna Coco went to Loyola in Maryland. After college, they lived and worked in New York when a mutual friend introduced them. Six years later, they were in Hershey, Penn., for a romantic holiday getaway when Dakota was inspired to propose in front of a large tree in the exquisite gardens at the grand Hotel Hershey. Parents of the couple, Danny and Robin Klaes and Meg and Tom Coco, agree that the sweetest place on Earth to get engaged is Hershey, Penn. The wedding will be at the Klaes family residence, intimate, cozy and Covid-friendly, with lots of Hershey's Kisses, no doubt.
Tune up. A particular mah jongg group knows that Michele Hosko can just burst into song when the right phrase stands out. It happens just about anywhere, even on girls' trips to the Sundance Film Festival. So, it was quite natural that her mah jongg group, which has a virtual Martini Monday happy hour, surprised her with a Songfest Birthday Tribute on Zoom. Each gal who participated picked a song they thought would be on Michele's playlist to see if she could sing a bar. 
A toast at the beach. Natalie Fox Maisel and husband Joseph Machado celebrated their fourth Thanksgiving in Galveston, where they were married in August of 2017. The start to the long holiday weekend began at their historic Airbnb, Fox Cottage by the Sea, and then with dinner and drinks at The Galvez and Blvd Seafood, where they met up with Natalie's friend since Deer Park Elementary School, Vikki Jordan, and her husband, Michael Taylor. Michael just returned from his seventh deployment in Bahrain and is a logistics chief in his 23rd year with the U.S. Navy. They toasted to their long friendship and Michael's return with bubbles on the beach Thanksgiving morning. A lot to be thankful for.
From Houston to Seattle to Bentonville. Randi Patel and hubby John Steinmetz love their new home in Bentonville, Ark., home of Walmart and the famed Crystal Bridges. Randi loves walking to the cute town and enjoys the biking trails. They celebrate a year there this month. Her dad, Ben Patel, keeps her coming back to Houston, but she knows she would come anyway, as her former mah jongg friends keep her in the loop with Zoom and girls' trips. She and John celebrated Thanksgiving in H Town for several weeks with a side trip to Galveston. Surf's always up, as they enjoy their fave seafood there. 
Have some good news to share? Email us at [email protected].
People in this article:
Blaine Rogers
,
Stephanie Rogers
,
Ken Simon
,
Carol Simon
,
Tim Rogers
,
Kim Shanks
,
Russ Shanks
,
Davis Hance
,
Kittsie Klaes
,
Debbie Hance
,
Britton Hance
,
Sue Shefman
,
Cate Cummings
,
Lila Pramudito
,
Kaden Evans
,
Sophia Wang
,
Ellie Wang
,
Jordan Warnica
,
Brian Stokes Mitchell
,
Elaine Balagia Croucher
,
Megan Hotze
,
Amy Pierce
,
Helen Shaffer
,
Hector Villareal
,
Ernie Manouse
,
Cal Dalton
,
Connie Dalton
,
Carrie Woliver
,
Ron Woliver
,
Grace Givens
,
Robert Givens
,
Charlotte Whaley
,
Larry Whaley
,
Cynthia Mills
,
Mary Powell
,
David Powell
,
Loren Siegel
,
David Mosser
,
Bryan Siegel
,
Suzanne Siegel
,
Barbara Mosser
,
Dakota Klaes
,
Joanna Coco
,
Danny Klaes
,
Robin Klaes
,
Meg Coco
,
Tom Coco
,
Michele Hosko
,
Natalie Fox Maisel
,
Joseph Machado
,
Vikki Jordan
,
Michael Taylor
,
Randi Patel
,
John Steinmetz
,
Ben Patel
Want more buzz like this? Sign up for our Morning Buzz emails.
To leave a comment, please log in or create an account with The Buzz Magazines, Disqus, Facebook, Twitter or Google+. Or you may post as a guest.