Author Q & A with Judithe Little
Click the Buzz Me button to receive email notifications when this writer publishes a new article or a new article in this column is published.
This week I am featuring a Q & A with Houstonian Judithe Little whose new book The Chanel Sisters came out last week and is an absolutely amazing book. I loved it so much that it made my top reads of 2020 list, I interviewed her for my podcast, and our literary salon is hosting two events with her.
Judithe and I have known each other since our children were little and attended preschool at St. Luke's Methodist Church. Once our kids "graduated" from preschool, I saw her less frequently as our kids were no longer in school together. Several years ago, I received a book in the mail called Wickwythe Hall (because of my work, books show up on my door step regularly), and when I looked at the author's name, I was stunned to find that it was Judithe because I did not know she had written a book. I called her immediately, and we reconnected and now enjoy regularly chatting and trading tips about the book world.
Because I am a picky reader who does not finish a fourth to a third of the books I read (I long ago gave up on having to finish a book I do not like because my pile is so large), I am always a bit anxious to read a book by someone that I know. While I totally understand that not every book is a good fit for every reader so that just because I do not like a book does not mean everyone else will not like it, I also feel I can only recommend those books that I truly connect with and enjoy which occasionally can put me in an uncomfortable spot. That issue did not arise with The Chanel Sisters because it is a beautifully-written book that provides a glimpse into both Coco's and her sister Antoinette's early years and the impact of those years on both Coco herself and the Chanel brand. From the very first page, I was drawn in and swept away by the lyrical prose and the intriguing story line. I highly, highly recommend it.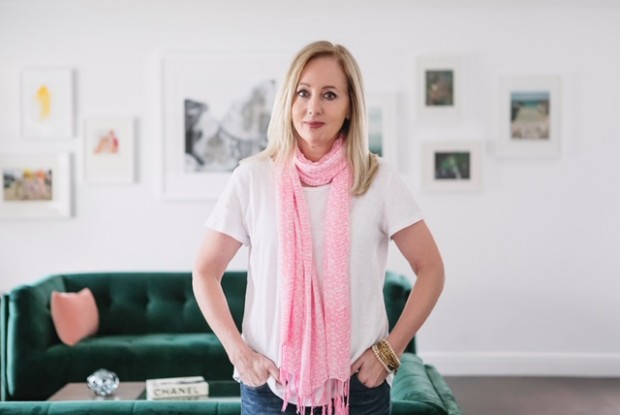 1. Tell me a little bit about your latest book.
A lot of books have been written about Coco Chanel but none have been written from the point of view of her sister, Antoinette. In fact, most people don't know Coco had any sisters (there were three). This book starts with their early days after their mother died and their father left them to be raised as charity cases at a convent orphanage. A rags to riches story, it follows the sisters as they fight to rise out of poverty and ends in 1921 when the Chanel brand really begins to take off. It's a novel of survival, love, loss, and triumph and the sisters who changed fashion forever.
2. What inspired you to start writing it?
I'd cracked open a biography of Coco Chanel to read for fun. When I learned that she had a younger sister, I was intrigued. I was very curious to know what it would have been like to be the sister of the famous Coco. Not much, however, was known about Antoinette. I started to research, and as I did I became more and more fascinated by her story and that fact that she played an unsung role in the founding of the Chanel empire. I thought it was unfair that no one knew about her and wanted to bring her story, which is interesting in and of itself, to light.
3. What comes first, the plot or the characters?
For me, it depends on the book. In the case of The Chanel Sisters, the characters came first. Also, with historical fiction, the bare bones of a plot already exist to a certain extent. The author's job is to fill that in from the perspective of a person actually living the past who has no idea what will happen next.
4. Can you share something with me about your book that is not in the blurb?
Coco's years at the convent had a significant influence on her aesthetic. You can see it, for instance, in her preference for simplicity, black and white, and modesty. There are so many examples. She lied about her convent orphanage past to her dying day, but then she hid it in plain sight. Her biographers say that even the interlocking Cs of the Chanel logo derive from the stained glass of the convent windows. There are clues everywhere. The book is a foundation for understanding her and what drove her and that was why I thought it was important to explore her early days before she had any thought of selling hats or clothes. In fact, she was kind of a late bloomer and only turned to fashion after everything else failed. All of that--the terrible poverty, the abandonment by her father, the convent, the failures-- made her who she was for better and for worse.
5. What do you hope your readers take away from your book?
Coco and Antoinette refused to let the world tell them who they should be. Instead, they took the hard road and followed their instincts to became who they wanted to be despite the odds and the naysayers. It was quite remarkable, especially given the time period they lived in and how there were so few opportunities then for women. I hope people find inspiration in that for their own lives and maybe do something that they've always wanted to do but haven't.
6. What were the key challenges you faced when writing this book?
Coco Chanel purposely lied about her past, destroyed correspondence, and didn't leave behind any kind of diary so it was difficult to find a lot of information about Antoinette who also didn't leave anything behind. In some cases where there were gaps, I had to take what I knew about her and the circumstance of the time period and logically extrapolate from there. 
7. What is the hardest part of writing for you?
The blank page is always difficult. It's easier to write when you have something already on the page and can revise. Also, writer's block is real. Sometimes the words flow and sometimes they just don't.
8. How do you do research for your books?
For The Chanel Sisters, I researched old French census records and newspapers. I used Google Earth to "travel" to the places the sisters lived and "walk" down the streets they would have walked down. I searched for birth and death records. I corresponded with certain relatives of Antoinette's who were kind enough to give me a lot of helpful information. I even bought a book from the time period about how to make hats so I could understand the process. 
9. Share something your readers wouldn't know about you.
If you didn't know me, you might think I'm a fashionista. If you know me, you know that I am not. I've written The Chanel Sisters in a way that I hope will appeal to those who love fashion as well as those who just love a great story.
For more book recommendations and bookish thoughts, see Cindy's monthly Buzz Reads column, her Thoughts from a Page Podcast or follow @ThoughtsFromaPage on Instagram. Find upcoming Conversations from a Page events here.
Want more buzz like this? Sign up for our Morning Buzz emails.
To leave a comment, please log in or create an account with The Buzz Magazines, Disqus, Facebook, Twitter or Google+. Or you may post as a guest.