Love Stories
From first glance to forever
Click the Buzz Me button to receive email notifications when this writer publishes a new article or a new article in this column is published.
George Alcorn won't hesitate to tell you that, in the fall of 1986, he fell hard for a tall and gregarious 23-year-old woman named Sallie Comstock. It was the night of Halloween, and George, then a 28-year-old geologist, was hosting a costume party with his roommates in Tanglewood.
"I glanced over in the living room, and [Sallie] was sitting on a sofa we had," recounts George. "I stopped and went, 'Woah. Who is that?" 
George then walked right up to Sallie, a 5'11'' brunette who was dressed as a witch, and introduced himself. George, wearing a tuxedo and a scary mask – a getup he calls "the sharp-dressed ugly man" – started a conversation. Soon, George and Sallie were laughing it up and dancing to Jimmy Buffett in the den. All seemed to be going well, until Sallie said it was time for her to go.
"I was having the best time, and all of a sudden she was getting ready to leave," says George. "I was like, 'Where are you going?'"
The answer is one George, now 63, shares somewhat solemnly: Sallie had another date. 
The name of the man Sallie left with that evening is not something she remembers. What she does remember is that she hit it off with George. Sallie won't go so far as to call it love at first sight – though she did take a liking to George's hair and 6'4'' frame – but she was interested.
For about six months after the Halloween party, Sallie and George saw each other only once per month. Sallie, working as a legal assistant at the time, was still dating someone else – a different guy than the one she went out with on Halloween, and it took some persistence for George to win Sallie's admiration and love. With time, Sallie got to know George as a fun and generous man with a sense of humor.
She recalls a Christmas gift he gave her – a planter filled with poinsettias and a reindeer Christmas ornament. "I remember I thought, 'What guy would get me this?' It was so nice," Sallie says with a big laugh.
By the following summer, the couple was dating each other exclusively, often going out dancing. "We were always dancing," Sallie reminisces, rattling off names of places they frequented in Houston. The relationship progressed quickly: George proposed in December, Sallie said yes, and by April, they were married.
Today, Halloween remains an important holiday in the Alcorn household. Just like the night they met, George dresses up as a sharp-dressed ugly man, wearing a tuxedo and a different mask each year, and Sallie dresses up as a witch. Though the pandemic stopped them from hosting a Halloween party in 2020, it could not stop the Alcorns from celebrating. Creatively, George constructed a candy chute using a six-foot PVC pipe. He painted it orange and secured it above the front door using a bungee cord and hook. Throughout the evening, the couple dropped candy down the chute to trick-or-treaters.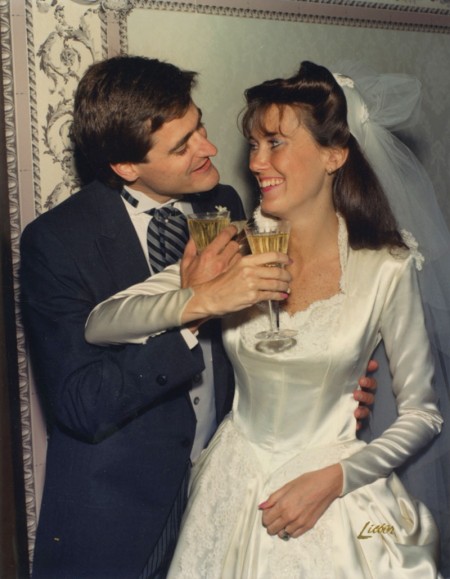 "We've spent every single Halloween the same way: at home, handing out candy, and celebrating with our friends. Just like the day we met," George says, grinning. "It's our favorite holiday." 
When George Alcorn tells his love story, it sounds simple: He spotted Sallie, was struck by her beauty, and was won over by her kind and generous spirit, which he says is evident in Sallie's career. She's a dedicated public servant: for over 10 years, she worked for the City of Houston before she ran a successful campaign and was elected in 2019 to serve on Houston's City Council. George never doubted that Sallie was the one he wanted to spend his life with, and he patiently waited until she felt the same way. 
But when it comes to love, it's not always a straight path. There can be rough patches, hiccups, unreciprocated gestures, or even broken hearts along the way. 
Take Sandi Bodzin and Fred Jordan. The couple met almost 50 years ago, as students at Westbury High School. Although they dated for two years back then, it took Sandi and Fred 45 years to get together.
"It took me a long time to marry her, but I'm persistent," says Fred, 66, who married Sandi last December. "I call her my bookends," Fred says, explaining that Sandi is both the first woman he ever loved and the last he ever will love.
When Fred first met Sandi at BBYO, a non-profit organization for Jewish teenagers, he was smitten. Sandi was smart, sweet and popular. Fred wrote love letters to Sandi while she was on a pilgrimage to Israel and then invited her to his senior prom. Even when Fred went off to the University of Houston to study engineering, he continued to date Sandi, then a senior at Westbury.
"But then shortly after that, we broke up, and she broke my heart," says Fred. Sandi was off to college at UT Austin, and she wanted to experience new things, meet new people. She did just that. After graduating from college, she married a fellow Longhorn and moved to Dallas, where she worked as a math teacher. She built a family, a teaching career, good friends – an entire life.
Fred, though despondent about the breakup, eventually moved on, too. He graduated from UH and moved to Savannah, Georgia, and later to his birthplace of Brazil. He got married, had kids, traveled the world, and worked as a manager of industrial projects.
For 25 years, Sandi and Fred neither saw nor spoke to each other. When they finally did meet – at a bar mitzvah of a mutual friend's son in 2000 – they simply said hello and went their separate ways. 
It wasn't until 2018 that someone hit play on Sandi and Fred's love story. Sandi had recently lost her husband, Mark Bodzin, and Fred, divorced, was back in the States, living in Atlanta. He commuted each week to Baton Rouge, where his company operated an industrial plant. One weekend, Fred traveled to Houston to visit friends. He took photos of his old neighborhood and posted them on Facebook. When Sandi saw the post, she reached out to Fred.
"We started conversing through Messenger, and then finally she sends me a phone number," Fred recounts. "It took me a couple days to get enough courage to call her." That first phone call lasted three hours.
Soon after, Sandi got on a plane and met Fred in New Orleans. She was nervous. After spending 38 years married, this was new territory. But, as the couple walked down Bourbon Street, Sandi realized that even after 45 years, the chemistry was there. Sandi laughed at Fred's jokes, and Fred found Sandi to be the sweetest woman he had ever met. From then on, not a day went by that Fred and Sandi didn't talk on the phone.
Today, Sandi and Fred are happily married in Dallas. They've blended two lives: Sandi's grandkids call grandma's new husband "Uncle Fred." And when the coronavirus is under control, the couple plans to travel to Brazil and Georgia to visit Fred's friends and family, who Sandi adores.
Romantics may see Fred and Sandi's story as evidence of fate – only divine intervention could reunite two long lost lovers after 45 years. Right?
Maybe. Or, perhaps Sandi and Fred wrote their own love story. It was, after all, Sandi's own chutzpah that led the two to reconnect through Facebook. And ultimately, it was Fred and Sandi who chose to surmount geographical barriers to make a relationship work.
Maybe love isn't up to fate at all; maybe it is very much in our own hands. Such is the case for Lucian Rombado and his fiancée Sarah Staerker, two 23 year olds who, against both statistical odds and physical distance, are together.  
Lucian and Sarah first met as shy and awkward 14 year olds. It was a cold winter day in Houston, and Sarah, a freshman at the all-girls St. Agnes Academy, was introduced to Lucian, a freshman at the all-boys school down the street, Strake Jesuit. What Sarah recalls most about that day is how she felt.
"I remember I was super embarrassed," recalls Sarah, visibly cringing at the memory. "As a 14 year old, you're obviously self-conscious, but I was also embarrassed about the way my jacket was zipped up all the way past my chin."
Sarah thought Lucian was cute and went on a few of what Sarah called "group dates" – hangouts at CityCentre, lunch at Chipotle – teenage stuff. It was a sweet romance. Eventually, Sarah asked Lucian to the St. Agnes winter formal. But, unsure of how to process her feelings, she said they should just be friends.
"I was pretty bummed out," admits Lucian.
After spending their sophomore year apart – during which Sarah dated one of Lucian's friends – the two were back together junior year. They went to homecomings, proms, cotillions, and National Charity League dances together.
"You could just kind of see that they did really well together," says Marissa Rombado, Lucian's mom.
After high school, Sarah decided to attend Texas A&M while Lucian picked the Naval Academy in Annapolis, Maryland. Lucian's mentors suggested he end things with Sarah. "They said the Naval Academy is not the type of place you want to go with any kind of attachments," says Lucian.
A young man with a strong will, Lucian dismissed these warnings and decided with Sarah to try long-distance. For the next three years, Lucian and Sarah matured, physically apart but still together, staying connected through FaceTime and occasional visits.
It was by no means easy. "There were trying times where we'd ask, is it worth it to be doing long distance, where we see each other twice a semester at best?" says Sarah. "It came to a head our senior year when we broke up."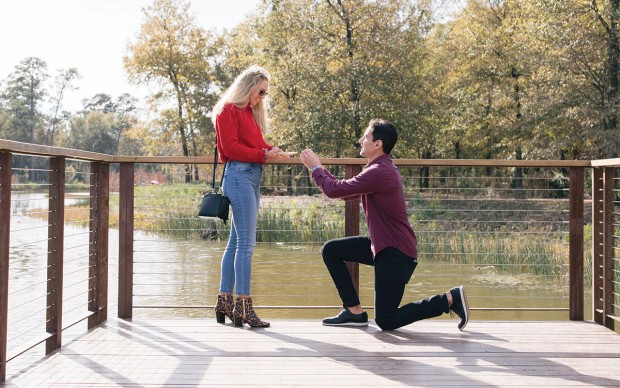 Breaking up was, statistically speaking, likely. At the Naval Academy, students speak of the "two percent club," the small number of students who continue to date and then marry their high school sweethearts. Lucian and Sarah knew the odds were not in their favor.
But after a year apart, they both realized that no relationship with the other was far worse than a long-distance one.
"That year that they were apart, Sarah's name would always come up," recalls Lucian's mom Marissa. "Lucian would say, 'I wonder what Sarah's doing. And I wonder what Sarah's doing. And I wonder what Sarah's doing.""
Lucian discovered that Sarah had moved to Nashville for Teach For America, not far from Georgia, where he'd be stationed as a navy officer. That summer, Lucian boldly drove from Pensacola, Florida – where he was in summer training – to see Sarah in Nashville. "It's pretty much been uphill ever since," says Lucian.
Over the past year, Lucian and Sarah have together survived and even thrived during a global pandemic. They've made it through two of Lucian's deployments, when he's stationed on a submarine with little to no ability to communicate with Sarah. So even though the odds have never been in their favor, Lucian and Sarah – who got engaged in Memorial Park over the holidays – are confident that their relationship is built to last. 
"What's cool about our story is we've always found our way back to each other," said Lucian. "We always figure it out."
Want more buzz like this? Sign up for our Morning Buzz emails.
To leave a comment, please log in or create an account with The Buzz Magazines, Disqus, Facebook, Twitter or Google+. Or you may post as a guest.