Heading Out West
To Katy Asian Town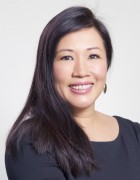 Click the Buzz Me button to receive email notifications when this writer publishes a new article or a new article in this column is published.
Of late, Michelle Ford finds herself packing her two kids into the family car to go exploring in Katy.
"I love Katy Asian Town," the Galleria-area resident and University of Houston law grad says. "Believe me, there was nothing that could get me to travel to the Grand Parkway. The Kinokuniya Bookstore was the initial draw. Now, we're there every week. We explore a little more each visit." 
There are culinary rewards for the drive. "We always get our Earl Grey milk tea at Gong Cha," says Michelle, who plans to continue her exploration of the 40-plus restaurants, cafes, and shops. 
Peli Peli South African Kitchen co-founder Thomas Nguyen has lived in Katy since 1979, so we asked him and Phat Eatery chef-owner Alex Au-Yeung to guide us around Katy Asian Town, which technically is two strip-center complexes bordering the Grand Parkway and Colonial Parkway. However, these days, most people refer to the entire 125-acre corner nook between the Grand Parkway and Katy Freeway as Katy Asian Town, says Josie Lin, a driver of the master-plan development and owner of Re/Max United. She says Katy Asian Town is about to add a 15-vendor food hall: Asian Cloud Kitchen. 
Meanwhile, we found this burgeoning destination easy to explore on foot and ideal for progressive dining. For now, parking is easy, even on bustling weekends when masked shoppers zoom in and out of the key attraction, H Mart, the Korean grocery chain with a food court. 
We started a few doors down from H Mart at Phat Eatery with chef-owner Au-Yeung. "There was nothing here when we opened Phat," the Malaysian-born chef says, "just three empty finished buildings, plus a Vietnamese noodle place, called Yummy, and Square Root Poke." 
Now, almost all the spaces are occupied, despite a couple closing since the pandemic. Au-Yeung stopped in front of Yan Tea, bustling with college students from nearby University of Houston-Katy, across from a 24-acre tract of land that will be the future home of Houston Community College. "People come here for desserts and fresh fruit tea," he says. "If you haven't tried fruit tea, you should. It's becoming extremely popular."
We ordered the supreme fruit green tea, teeming with sliced watermelon, orange, and passion fruit. "Sugar or no sugar?" the cashier asked. Even without sugar, it was sweet enough and refreshing.   
Yan Tea also features a blackboard with savory specials, including the hard-to-find xiao long bao. The Shanghai dumplings, filled with savory broth and ground pork, were a gratifying precursor to the 20-layer mille feuille crepe cake, ubiquitous on countless Asian menus these days. 
At H Mart's food court, Au-Yeung pointed to a few favorites, including Jang Guem Tofu & BBQ's red chili-infused tofu soup with egg and either beef or seafood. For something quick and simple, there's the futomaki vegetable roll at Sushi Hara, and at Donkey Yaki, Au-Yeung likes the fried squid. "Usually, people grill it, but here, they fry it, and it's pretty unique," he says. 
The next day, Nguyen of Peli Peli shared his go-to places. He and wife Kristen Truong live about 10 minutes away and frequently eat in Katy Asian Town. "There is a large Asian population in Katy, but the other night, when my wife and I looked around Phat Eatery, we noticed that more than 70 percent of the patrons were non-Asians. That's what's beautiful about this place. If you go to Bellaire Chinatown, there is still an element of what to order; you're a little unsure. But in Katy, the menus and atmosphere are approachable to everybody." 
He couldn't be happier that he need not drive to Houston's Chinatown for Tan Tan and Mala Sichuan Bistro. Now, he can get dan dan noodles at Mala's Katy location. At Tan Tan Wok, aside from stellar homemade wonton soup, Nguyen always orders the No. 1, fried egg with crispy rice cakes, which garnered the original Bellaire location countless fans. 
Nguyen also is looking forward to the opening of Michelin-starred Tim Ho Wan, a dim sum restaurant from Hong Kong. The 5,160-square-foot space with a Zen garden will be located in the same shopping center as Kinokuniya Books, Kura Revolving Sushi Bar, and 85°C Bakery Café. 
Meanwhile, Nguyen is enjoying the fried noodles and stir fried snow pea tips with fiery belacan shrimp paste at Phat Eatery. Another favorite is the Cajun Viet crawfish at Yummy Seafood & Oyster Bar, the younger sibling of Yummy Pho & Bo Ne a few doors down. 
For homey Vietnamese, he can count on Com Tam Saigon, where the braised catfish claypot with pork belly reminds him of mom's, along with the hot-and-sour catfish or shrimp soup. 
It turns out that the owner of the eight-month-old Com Tam Saigon once operated Thuan Kieu Com Tam on Bellaire, where Vietnamese homemakers line up for fresh spring rolls stuffed with chargrilled ground pork and crispy wonton. The same rolls are sold here. 
One thing that Katy Asian Town seems to do particularly well is boba tea (there are four tea shops) and desserts, from the warm-from-the-oven vanilla cream puffs from Japanese import Beard Papa's to luscious, espresso-charged affogato with creamy gelato at Eight Turn Crepe. This New York City concept is known for savory and sweet crepes made with gluten-free rice flour. 
But the must-try treat for Nguyen is Bing Su's mochi doughnuts, either the original or churro flavor.  
"You got to have these doughnuts," he says. "It's on par with my love for Krispy Kreme." 
Stuffed and happy, we were about to wrap up our Katy excursion when we got a call from a friend who supplies fresh seafood to Asian restaurants and supermarkets around town. 
"Have you tried Black Pearl Seafood Bar?" she asked. "Their scallops with green onions are amazing." 
Some Katy Asian Town destinations
Beard Papa's, 23119 Colonial Parkway, A13; 832-913-1257; beardpapas.com
Bing Su, 23119 Colonial Parkway, B16; 832-930-7802
Black Pearl Seafood Bar, 1223 Grand W. Boulevard, B109; 281-401-9195
Com Tam Saigon, 23119 Colonial Parkway, B4; 832-437-9838; www.comtamsaigon.com
Donkey Yaki in H Mart, 23119 Colonial Parkway; 832-234-4636
Eight Turn Crepe, 23119 Colonial Parkway, C8; 832-913-3461; eightturncrepe.com
Gong Cha, 23119 Colonial Parkway, B9; 832-913-8578; www.gongchausa.com
Jang Guem Tofu & BBQ in H Mart, 23119 Colonial Parkway; 832-234-4633
Kinokuniya Bookstore, 23330 Grand Circle Boulevard, Suite 140; 832-437-6232; usa.kinokuniya.com
Mala Sichuan Bistro, 23119 Colonial Parkway, C1; 281-665-3300; Malasichuan.com
Phat Eatery, 23119 Colonial Parkway, B2; 832-913-6382; www.phateatery.com
Sushi Hara in H Mart, 23119 Colonial Parkway; 832-234-4635; www.sushiharakaty.com
Tan Tan Wok, 23119 Colonial Parkway, B12; 281-769-9966; www.tantanwok.com
Yan Tea, 23119 Colonial Parkway, B-5; 832-437-0088; www.yanteatx.com
Yummy Seafood & Oyster Bar, 25119 Colonial Parkway, A14; 281-665-7623; yummysob.com
Want more buzz like this? Sign up for our Morning Buzz emails.
To leave a comment, please log in or create an account with The Buzz Magazines, Disqus, Facebook, Twitter or Google+. Or you may post as a guest.