Favorite Recent Nonfiction
Click the Buzz Me button to receive email notifications when this writer publishes a new article or a new article in this column is published.
While I have always enjoyed narrative nonfiction, it has appealed to me even more during the pandemic. When fiction cannot capture my attention, nonfiction still usually manages to keep me engaged. 
Over the long weekend, my middle daughter Emily and I took an overnight trip to Waco to check out Fabled Bookshop and Café – an independent bookstore that a number of people had recommended to me. I recently interviewed their adult book buyer, Elizabeth Barnhill, for my podcast (the episode runs tomorrow so you can listen to our conversation then), and she walked the store's shelves with me while we chatted about various titles. In line with my interest in nonfiction lately, I found more nonfiction to buy than I did fiction titles.
This week I am highlighting some of my favorite nonfiction books so far this year. I was captivated by books about Pan Am stewardesses, the iconic Barbizon hotel, Lady Bird Johnson, the mothers of three very famous men, the women who invented television shows as we know them, and the first female doctors.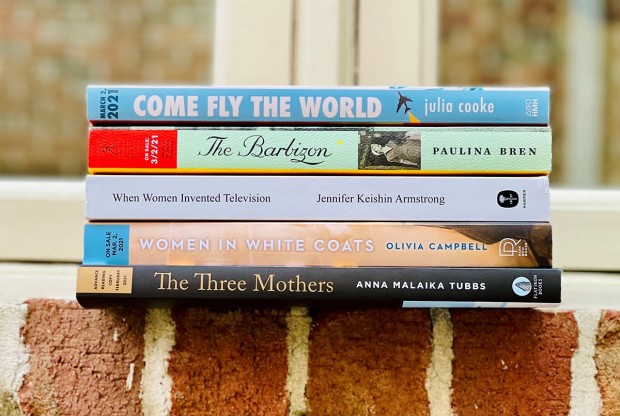 The Barbizon: The Hotel That Set Women Free by Paulina Bren – After World War I, women flocked to New York City to follow their dreams and sought safe, female-only places to live. While residential hotels for men existed, no such thing was available for women at the time. The Barbizon Hotel for Women was built to fill this void, housing such well-knowns as Grace Kelly, Liza Minnelli, Ali McGraw, Sylvia Plath, Joan Didion, Phylicia Rashad and many more, and was so successful that it remains the most famous of the women-only residences erected in the first half of the 20th century. In The Barbizon, Paulina Bren captures not only the history of the legendary hotel but also important moments in women's history from that time period.
Come Fly the World: The Jet-Age Story of the Women of Pan Am by Julia Cooke – Julia Cooke chronicles the women who worked as stewardesses (she uses this term since that was in use then) for Pan Am Airlines and their contributions to the Vietnam War effort and women's rights. Cooke interviewed scores of women who served as stewardesses for Pan Am and chose to tell several of their stories in-depth. She relays their stories while also weaving in historical details such as the way in which the role of flight attendant changed over the years and the women's help in staffing American soldiers' R & R trips between Saigon and Hong Kong. It is a truly awe-inspiring and captivating read.
Lady Bird Johnson: Hiding in Plain Sight by Julia Sweig - Lady Bird Johnson: Hiding in Plain Sight seeks to correct the misconception that Claudia Alta "Lady Bird" Johnson's role as First Lady was uneventful by documenting her many contributions while in office. From the incredible strategy memo she created for Lyndon Johnson when he was debating whether to run for president in his own right to managing the White House during one of the country's most tumultuous decades, Lady Bird served as one of her husband's most respected and valued political consultants. She was also the first First Lady to treat the East Wing as a professional office, creating her own initiatives including pursuing comprehensive environmental protections and encouraging women to pursue their own careers. In Lady Bird Johnson: Hiding in Plain Sight, Julia Sweig provides a new understanding of Lady Bird's legacy including her important progress on environmental, racial, and women's issues. 
The Three Mothers: How the Mothers of Martin Luther King, Jr., Malcolm X, and James Baldwin Shaped a Nation by Anna Malaika Tubbs – While much is known about Martin Luther King, Jr., Malcom X, and James Baldwin, most people are unfamiliar with the exceptional women who raised these three great men: Alberta King, Louise Little and Berdis Baldwin. In her seminal debut, Anna Tubbs brings these women's stories to life and emphasizes their efforts to inspire and protect their children who were born into a society that resented them from day one. This beautiful homage to black motherhood is highly relevant for today's world.
                            
When Women Invented Television: The Untold Story of the Female Powerhouses Who Pioneered the Way We Watch Today by Jennifer Keishin Armstrong – The arrival of television was ignored by many men in the entertainment industry who felt radio was the better platform. Four women, Irna Phillips, Betty White, Gertrude Berg, and Hazel Scott, individually used this opening to each forge their own path in the television industry and, as a result, significantly impacted the way we still watch the medium today. When television did in fact prevail, these women were pushed to the side as men began to dominate the industry. When Women Invented Television spotlights their forgotten stories.
Women in White Coats: How the First Women Doctors Changed the World of Medicine by Olivia Campbell – In Women in White Coats, Olivia Campbell tells the story of three trailblazing women, Elizabeth Blackwell, Lizzie Garret Anderson, and Sophie Jex-Blake, who changed the way women receive healthcare in the United States. At the beginning of the 20th century, women were afraid to seek medical care and often died from treatable diseases. Driven by their own losses and dismayed by the state of women's health care, these three women went to medical school (despite encountering numerous obstacles) and then together founded women-run hospitals and teaching facilities, completely refashioning medical care for women.
Have you read any nonfiction books lately that you loved? I always enjoy hearing what others recommend – feel free to drop them in the comments below.
For more book recommendations and bookish thoughts, see Cindy's monthly Buzz Reads column, her Thoughts from a Page Podcast or follow @ThoughtsFromaPage on Instagram. Find upcoming Conversations from a Page events here.
People in this article:
Elizabeth Barnhill
,
Cindy Burnett
,
Paulina Bren
,
Grace Kelly
,
Liza Minnelli
,
Ali McGraw
,
Sylvia Plath
,
Joan Didion
,
Phylicia Rashad
,
Julia Cooke
,
Julia Sweig
,
Lady Bird Johnson
,
Lyndon Johnson
,
Anna Malaika Tubbs
,
Martin Luther King
,
Jr.
,
Malcolm X
,
James Baldwin
,
Alberta King
,
Louise Little
,
Berdis Baldwin
,
Jennifer Keishin Armstrong
,
Irna Phillips
,
Betty White
,
Gertrude Berg
,
Hazel Scott
,
Olivia Campbell
,
Elizabeth Blackwell
,
Lizzie Garret Anderson
,
Sophie Jex-Blake
Want more buzz like this? Sign up for our Morning Buzz emails.
To leave a comment, please log in or create an account with The Buzz Magazines, Disqus, Facebook, Twitter or Google+. Or you may post as a guest.