The Pony Girls
When riding just feels right
Click the Buzz Me button to receive email notifications when this writer publishes a new article or a new article in this column is published.
Jane Wexler is only 6 years old, but she says she's found her calling.
"Riding feels like what I was born to do!" This is what the precocious and extra-talkative little girl tells us about riding ponies.
Her older sister, Ellie, 8, chimes in, a little more quietly: "It just feels right," she says as a matter of fact.
Ellie is the reason the sisters, both elementary school students at The Kinkaid School, spend so much time at the Memorial Park Hunters barn. "When she was 3, Ellie asked over and over to ride a pony, so we put her on a pony," says the girls' mom, Kimberly, a nurse who retired to "shuttle her kids around," as she says. (Her kids also include 4-year-old daughter Hazel, who is barely starting to be interested in ponies.)
From there, Kimberly says, Ellie "never looked back."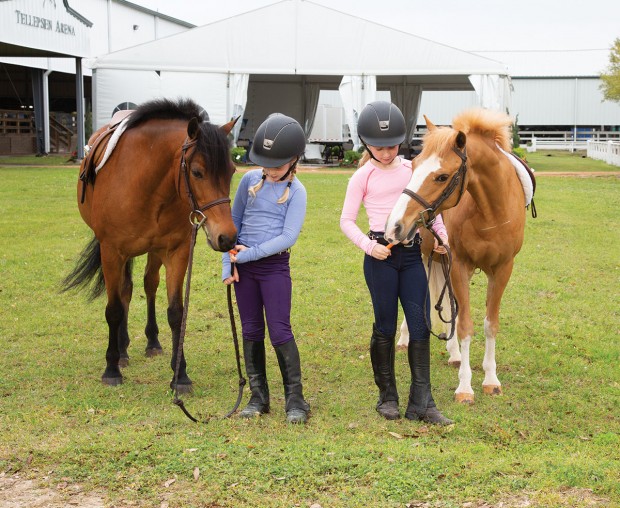 Neither Kimberly nor her husband Scott, who works in investment banking, knew a thing about horses. But suddenly they found themselves with a daughter obsessed with riding.
"It was completely new to both of us," Kimberly says. Nevertheless, she started researching ways to get more pony time for her eldest daughter, who was longing to ride competitively.
"It was a lot of trial and error," she says. "I was Googling 'local barn,' and then it was word of mouth, a friend of a friend of a friend type thing. So we went out and tried it."
"Out" was to Blackjack Lane Equestrian in Mont Belvieu, 30-plus miles northeast of Houston, past Baytown. "It was once a week, then twice a week, then three or four days," Kimberly says. Still, Ellie couldn't get enough.
They bought Girl on Fire, a small chestnut pony, and Ellie gave her the barn name Katniss because she was strong and tough and a leader, like the character Katniss from The Hunger Games, which Ellie hadn't watched but had heard about. (Ponies often have "show names" and more casual "barn names" for at home.)
"Blackjack gave her an amazing foundation, but it was just too far," Kimberly says. "I was not going to drive to Mont Belvieu six days a week. So I looked for the closest barn within city limits. I emailed Patty [Roberts, the long-time trainer and manager of Memorial Park Hunters], and within a day or so our pony was on a trailer heading to Patty's, and we were moving to our new barn."
The Wexlers have since realized it can be preferable to lease ponies instead of buying, since the girls outgrow them quickly and eventually graduate to horses. The type of English riding they do is called "hunter" and "equitation," which involve riding in arenas over jumps, with both pony and rider in proper form. Ponies are small horses, and they often compete in separate divisions than horses.
Jane wasn't as quick to take to the ponies. "When I was on a horse, kind of for the second or third time," she says, "I thought it was too bumpy and I didn't want to trot." But she overcame her hesitations. How? "I tried and tried again," she says.
Now, both Ellie and Jane are riding ponies and learning to show competitively, with only Mondays off. "It's their whole world, their life. I live in my car, and we're just happy to support it." Moving from West University to Tanglewood helped the Wexlers minimize drive-time to the barn.
The "living in the car" part happens during show weeks at the Great Southwest Equestrian Center in Katy – what Kimberly calls "complete, wonderful chaos." Those are the days the girls pile into their mom's SUV, Jane and Hazel in the middle row and Ellie in the third, to have a quick snack and drive 40-plus minutes straight from school to Katy for lessons. "Hazel is the standard third child," Kimberly says. "She goes with us and plays in the dirt or with her toys while the girls ride." Come Saturday and Sunday, they'll be in Katy, boots on, hair braided, sparkly bows in place, by 7 a.m. Jane says she's not much of a morning person, but on show days, she's happy to bounce out of bed by 5 a.m.
"There are different parts to a horse show," Kimberly explains. "At first, all the riders in a level will trot, halt, and listen to the judge. Then each rider will go out one at a time and do a jump in a particular order. Each kid will do that, then each goes twice."
Jane says, "We think about all the things our coaches taught us, and we try to do all those things and do our best. Then when we pass the gate [where the judges sit], they say one thing we can work on."
"Or they say, 'Good job,'" Ellie says. "I will think about what I need to fix and what I need to do the same. When you're in a show and you make a mistake, you have to do it over, the opposite of the mistake."
Show days in Katy can last up to 12 hours, with Jane's group showing early in the morning and Ellie's showing later in the afternoon. "We'll have a little snack, watch the older girls – who Jane and Ellie look up to – ride," Kimberly says.
Right now, Jane is riding Harry Potter, "the best pony ever!" she says, and Ellie is riding her new pony Silver Dragon. The family purchased Silver Dragon, who was a zone champion last year, "a proven pony," Kimberly says. Ellie describes Silver Dragon as "speedy" and says, "The second I got on him, he felt like the right pony. You have to squeeze to make the horse go, and he teaches me to do it because he won't go if I kick him, which is what I usually do." When Ellie outgrows her pony in a couple of years, Jane will ride him.
Kimberly appreciates the modeling her girls see watching the older riders. "It's an act of responsibility to learn how to balance all of this," she says. "One of Ellie's role models is a junior at St. John's School. At a show, she told us she had five hours of homework, but she chose to stay at the show and cheer for Ellie." Homework gets done at the barn, or it fits somewhere before or after lessons. "There's no time for trouble outside of that," Kimberly says. "No room for anything else, in a good way. The older girls, they're at the barn all day hanging out with the younger girls, instead of going to parties."
For now, the Wexlers are watching, learning how to balance school with their passion. "I can't count how many survival meals we've had in the car," Kimberly says. "I'm definitely a frequent flyer at Chick-fil-A.
"The last show the girls did, my husband and I were saying it was the longest day, but it was a good day. Then we wake up on Sunday and do it again."
Want more buzz like this? Sign up for our Morning Buzz emails.
To leave a comment, please log in or create an account with The Buzz Magazines, Disqus, Facebook, Twitter or Google+. Or you may post as a guest.