Ramadan Traditions
Fast, reflect, pray, give, eat
Click the Buzz Me button to receive email notifications when this writer publishes a new article or a new article in this column is published.
As a child, Wafa Taiym fasted for McDonald's. That is, she abstained from food and drink all day during Ramadan, the Islamic holy month, in hopes of burgers and fries come nightfall.
"My mom bribed us," said Wafa. As children growing up in a suburb outside of Chicago, Wafa and her siblings were rewarded for keeping their fast. "Basically, whoever fasted got to eat McDonald's."
Now a 35-year-old epidemiologist working at NASA's Johnson Space Center and living in West University, Wafa continues to fast during Ramadan, which she observes with her husband David Thanoon and their three daughters. But Wafa's reasons for fasting during Ramadan have changed as she's gotten older. Now, fast food is far from Wafa's mind. 
"As you grow older, you start to think about why we fast: to be thankful, to achieve piety, and to withhold from things you normally enjoy so you can focus on other things," said Wafa, whose parents are both refugees from Palestine. "Like in the morning, you're waking up and you're making breakfast and you're thinking about your coffee. When you can't have that, and when you withhold from those things, it kind of brings you closer to your spiritual self." 
Muslims around the world annually fast during Ramadan, the ninth month of the Islamic lunar calendar. Muslims believe that it was during Ramadan that the Quran was initially revealed to the Prophet Muhammad, and fasting from sunrise to sunset each day is one of the five pillars of Islam. Other activities associated with the holy month include increased frequency of prayer, spiritual reflection, and charitable giving. 
Because Muslims follow a lunar calendar that is 11 days shorter than the Gregorian calendar, Ramadan moves back 11 days each year. This year it takes place April 12 to May 12. 
For the second time, the coronavirus pandemic is changing what Ramadan looks like for many Muslim families. Typically, observers go to their mosque for nightly prayers, called taraweeh, engaging in communal worship and standing shoulder-to-shoulder with other congregants. Many families break their fast together after sunset, sometimes dressing up in festive attire and gathering at friends' homes for elaborate meals. 
But families have adapted to the new conditions, swapping in-person prayers for virtual Quran readings and trading large gatherings for intimate meals with immediate family. 
"During Covid, it's been really nice to actually cut down on the socializing and focus on the true meaning of Ramadan," said Wafa, expressing a sentiment that several Buzz-area Muslim families echoed. Without the opportunity to socialize, there's more time for family bonding and spiritual reflection. 
Wafa said she plans to focus this year's Ramadan on her daughters, Amelie, Ameena, and Alya, who range in age from 1 to 7. She wants them to feel the spirit of Ramadan despite the limits that Covid presents. She says she'll be festively decorating her home, and, as she does every year, make Maamoul cookies, shortbreads filled with dates. She'll help Amelie create a Ramadan poster board to present to her first-grade class at Roberts Elementary School – so Amelie can share the meaning of Ramadan with her classmates. 
Muslim children are not expected to fast until they reach puberty, or around age 14, but families vary on their approach to fasting, both in how they explain its purpose and in when they encourage their kids to participate. Wafa started fasting around age 9. Wafa's daughter Amelie, 7, expressed interest in fasting last year, but Wafa thought that as a kindergartener, Amelie was too young to fast. 
"This year, we may wake her up with her dad, and they might have breakfast before the sun comes up," said Wafa, who herself often skips breakfast during Ramadan, opting instead for only one meal at night. "Amelie might do a half-day fast. She likes to kind of participate in big-kid things."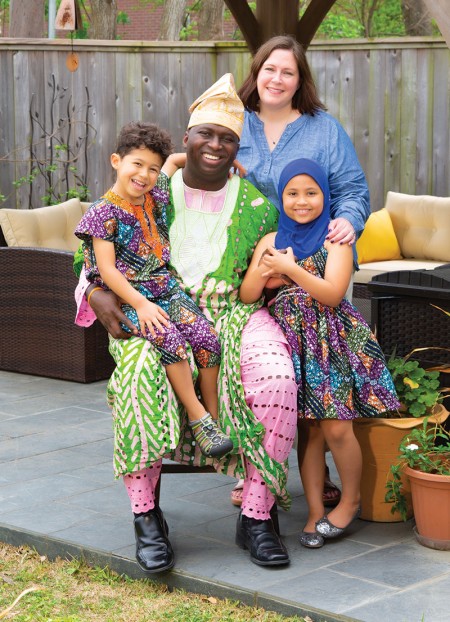 Ayo Bello, a Bellaire resident who has been observing Ramadan since he was a high school student in Nigeria, has experienced a similar situation with his 6-year-old daughter Abiola, who, during Ramadan last year, woke up before sunrise to participate in the fast. 
"She was like, 'Daddy, wake me up so I can eat too!'" recounted Ayo, an environmental engineer. So Abiola would sometimes join her father for suhoor, the pre-dawn meal, then fast until lunchtime. "She just wanted to do that," said Ayo, who added that he and his wife Rosalind, a practicing Catholic, are exposing their kids to both Islam and Catholicism. "We basically celebrate all the holidays in our house," Ayo said with a laugh. 
Fasting doesn't impact everyone the same way, Ayo said. For Ayo, abstaining from water is the most challenging. "So, often you have to catch yourself grabbing for a cup because you feel thirsty," he said. "That's usually the bulk of it. You're thirsty – and then you catch yourself." 
Zuhaira Razzack, a Memorial resident with three adult children, described a unique focus she discovers within herself during the month of Ramadan. "It's funny because we always say there's this magical power people have during Ramadan," she said, "and I kind of believe that. Even caffeine, for example, I'm a big tea drinker, but I can go the entire month of Ramadan without drinking tea."
Zuhaira was born in Pakistan and grew up in Massachusetts. About 22 years ago, she settled in Houston – where she'd later found an Islamic school called ILM Academy – with her husband Jamal, a pulmonologist. 
"I think, for me, what [Ramadan] has kind of come to symbolize is my strength and my power," said Zuhaira. "The fact that, you know, I can go for a whole month without eating or drinking. And normally, I struggle to even give up carbs." 
After Ramadan ends, Muslims celebrate Eid al-Fitr or "Festival of Breaking the Fast." It's a joyous occasion – "It's kind of like our Christmas," said Zuhaira. And, after a month of fasting, food is the main event.
Eid begins in communal prayers, usually in a mosque or in a large outdoor space to accommodate many people. In Houston, NRG Center usually hosts an annual Eid event. "You basically have three, four, or five thousand people show up to pray there," said Ayo, who went on to describe the logistical hurdles of navigating such a large event. "When it's done, everyone is coming out at the same time. Just imagine, it's like game-day crowds getting out at NRG." Needless to say, the Bello family opts for a smaller Eid, at Masjidul Mumineen – The Nigerian Muslim Association of Greater Houston. 
Due to Covid, many Muslim families have been forced to adjust their Eid celebration. "It really stressed me out a lot initially," said Zuhaira, laughing at herself, something she did frequently during our conversation. "I was having anxiety, like, how do we do this? How do we make this day special?"
Ultimately, Zuhaira planned a tea party. It was just her immediate family – herself, Jamal, and their three kids, Huda, Yusuf, and Faisal. But it was significant nonetheless. "I think it was a nice way to make it feel special when we couldn't the regular way."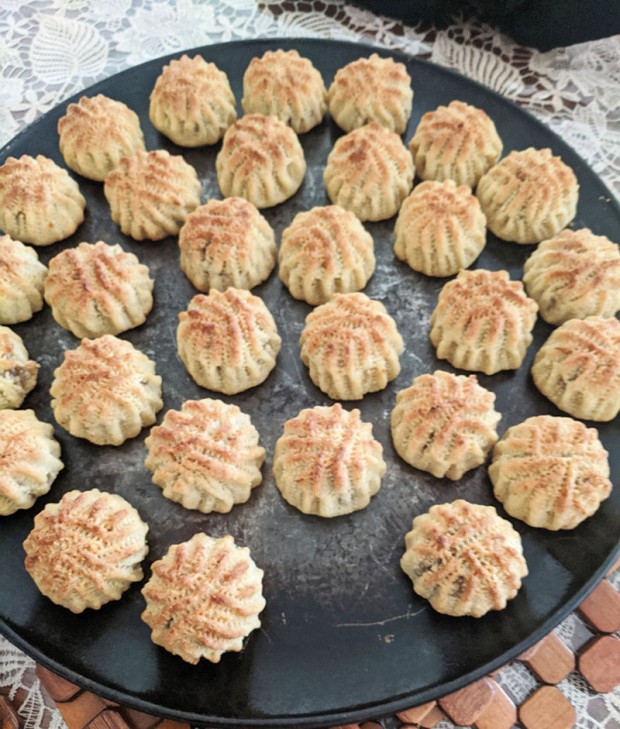 These Middle Eastern date cookies are made with semolina flour. The cookies are associated with Eid al-Fitr and with iftar meals during Ramadan. Wafa makes these cookies with her three daughters every year during Ramadan. 
Recipe adapted from catastrophiccook.com/maamoul
1½ cups melted Crisco (yellow butter flavored)
½ cup vegetable oil
1 cup flour
4 cups semolina
3 13 oz. packs baking dates
3 Tablespoons ground anise seeds, divided
1 Tablespoon ground cinnamon
½ teaspoon ground nutmeg
¼ cup olive oil
1½ teaspoons ground mahlab
1½ teaspoons ground mastic
1Tablespoon yeast
¾ cup warm milk (as needed)
Melt the Crisco, allow it to come to room temperature, and then measure. Measure the vegetable oil and set aside. Mix the flour and semolina. After the melted Crisco has cooled, pour the melted Crisco and oil on the semolina flour mixture. Using your hands, rub the semolina flour mixture with the Crisco and oil so all the semolina is coated well. Cover and set aside for at least 24 hours. 
Prepare the dates by sprinkling on them half of the ground anise, plus the cinnamon, ground nutmeg, and olive oil. Knead it well and measure out ½-tablespoon balls. Place on a greased tray and set aside. 
Mix the remaining ground anise, the mahlab, and the mastic into the semolina mixture. Evenly split the semolina mixture into three pieces. Begin working the first piece. Sprinkle 1 teaspoon yeast and mix in well. Warm 1⁄3 cup of milk to about 100 degrees. Slowly pour the milk, 1 tablespoon at a time, onto the semolina mixture as you rub it between your fingers to knead the dough. Once the dough begins to hold, be careful with the milk. Add enough so the dough holds but isn't soggy. Continue to slowly add milk until it's soft yet absorbed. Measure the dough using a small cookie scoop and line on a tray. Flatten each ball of dough into a small disc and place a ball of dates in the middle. Wrap the dough around the dates and place on the tray. Repeat with the remaining balls of dough. Using a round-ended wooden spoon or your pinky finger, pierce the middle of each ball of dough all the way to the bottom. Use a fork to decorate the maamoul. Bake at 500F for 5-8 minutes or until bottoms are browned and tops are slightly browned. Cool completely and store in a covered container for up to 6 months.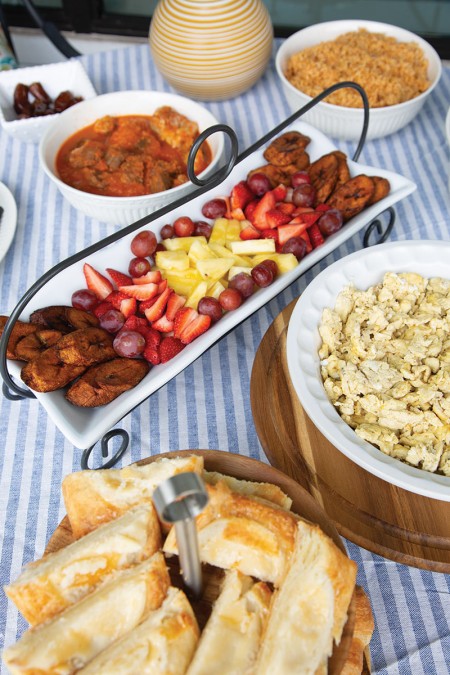 Jollof rice is a popular dish in West and Sub-Saharan Africa. Ayo and his family often enjoy Jollof rice at the breaking of the fast and during Eid celebrations. Ayo never cooks with recipes, but the below recipe he found on The New York Times reminded him of his own cooking style. 
2 medium tomatoes, roughly chopped (about 5 ounces each)
½ medium Scotch bonnet pepper (or use a habanero pepper), stem removed
½ medium onion, roughly chopped
3 small red bell peppers, roughly chopped (about 5 ounces each)
½ cup vegetable oil
1½ teaspoons salt
1 teaspoon curry powder
1½ teaspoons hot ground chile pepper, such as African dried chile or cayenne
1½ teaspoons garlic powder
1 Tablespoon plus 1 heaping teaspoon onion powder
2 bay leaves
½ teaspoon ground ginger
1 Tablespoon dried thyme
2½ cups medium-grain rice
In a blender, combine tomatoes, Scotch bonnet pepper, and onions; purée. Pour out half the purée into a bowl; set aside. Add the bell peppers to the purée remaining in the blender and pulse until smooth. Add to the mixture that was set aside and stir to combine.
Heat vegetable oil in a large pot over medium heat. Add blended vegetables along with the salt, curry powder, ground chile pepper, garlic powder, onion powder, bay leaves, ginger, and thyme. Bring mixture to a boil.
Stir in the rice until well mixed, then reduce the heat to low. Cover pot and let cook until rice is al dente, about 45 minutes. Check after 30 minutes; if rice is sauce-logged, remove the lid to cook off the excess sauce. If rice seems dry, stir in 1 to 2 cups water. Allow the rice at the bottom of the pot to char a bit to infuse it with a smoky flavor.
This is a popular dish for Indians from Hyderabad, India, where Zuhaira's family is from. It is a tradition for most Hyderabadi Muslims to serve this on Eid as both a breakfast item and a dessert, especially when visiting or hosting others on Eid. 
¼ cup almonds, blanched and slivered
4 Tablespoons unflavored oil or ghee, divided 
¼ cup pistachios, blanched and slivered
4 cups milk
1 cup thin vermicelli
¼ cup sugar
6 dates, pitted and sliced into quarters lengthwise
Fry almonds in 2 tablespoons oil until golden brown and set aside. Fry pistachios in the same oil until golden brown, then set aside. 
In a large pot, bring milk to a slow rolling boil, stirring constantly so it does not stick to the pan. Let it cook until it reduces by a quarter (about 30-45 min on low). 
While milk is cooking, prepare vermicelli. Break vermicelli into 2-inch pieces, then fry, using the remaining oil, in a separate pot, on medium heat until lightly browned, making sure not to let it burn.
Once the milk is cooked down, add the sugar and stir to dissolve. Then add the fried vermicelli and let it cook for another 15 minutes. Add dates and cook for another 5 minutes. The consistency should be like a thick soup, but you may make it as thick or thin as you prefer. Serve warm, garnished with the fried nuts. 
Editor's note: The Muslims of Bellaire and Nearby Neighborhoods (MBN) are hosting a drive-thru Eid event on May 15, 4-6 p.m., at Condit Elementary School's South Rice parking lot. It's a free, ticketed event to enhance cross-cultural understanding and build interfaith ties. 
Want more buzz like this? Sign up for our Morning Buzz emails.
To leave a comment, please log in or create an account with The Buzz Magazines, Disqus, Facebook, Twitter or Google+. Or you may post as a guest.