Rumor Has It - May 2021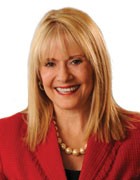 Click the Buzz Me button to receive email notifications when this writer publishes a new article or a new article in this column is published.
Who knew there were blue drop cloths? They were hung to cover the studs in Janet Pate's garage, and twinkle lights were strung across the ceiling from here to there and back. Art was nailed to the studs, and a mylar fringed chandelier was hung. The garage party room became alive. Although Janet had used the room only for her family holiday gatherings in December, she unveiled it this spring to her weekly Tuesday group to honor Mary Jane Pizzitola's 80th birthday. The group normally meets outside on Janet's patio 6 feet apart, with Janet measuring beforehand. The friends from bridge, tennis, and more stood outside for the doors to roll up before they toasted to Mary Jane. Those who helped with the food and to decorate the festive tables were Sue Bennett and Dorothy McLemore. Jelyn Pizzitola came from San Antonio to be with her mother.
An unexpected fuzzy cactus. Memorial Garden Club took a docent-led field trip to 132 acres of the new Houston Botanical Garden. Although the Arctic Blast had visited the garden, there were many thriving plants, and the exquisitely laid trails in a variety of 12 themed areas commanded attention. A grand waterfall, boulders, a bridge, and unique plants made for a fun walk. One unexpected tall fuzzy cactus caught everyone's interest. Some of the gals lingering were Jenny Blanc, Susan Braden, Susanna Jeu, Marla Salvador, Diane McDaniel, Lindy Stockdale, Jana Stiffel, and Carolyn Eckert     
Dream trip. They liked the trip to Dreams Riviera Cancun so much over Spring Break that Sharon Smith is looking for an excuse to return at the end of the school year. Sharon and children Ethan, Emma, and Liam celebrated Terence's 50th birthday at a Mexican restaurant at the resort. His brother and wife, Sean and Tina Smith, joined the family for the six days. They explored the local cenotes and had spa days. It was at about 50 percent occupancy, with attentive poolside bartenders that remembered your drinks the next time and had them ready before you asked.
Red Raiders. Five girlfriends who went to Texas Tech have gone on an annual trip for the last 15 years to Red River, New Mexico, during the Super Bowl. Linda West says they rent a condo just across from the ski lift so the skiers have a short walk to get on the mountain. These days there are just three skiers. The non-skiers usually go to Taos for a while, but this year the restaurants were closed, so they shopped for a few hours and drove back. They also completed two 1,000-piece puzzles since they had more time in the condo as the restaurants were only open for takeout. Linda picked up crocheting again to keep busy in the evenings and completed a collection of infinity scarves that she plans to donate to a homeless shelter next winter.
A pop-up party. Seventy ladies arrived at Marmion Park gazebo on a perfect day to celebrate the Houston Junior Forum's 75 years. President Linda West used wine cups to scoop the cake out and serve – plenty of refills were available. The HJF also is celebrating 50 years of operating the Houston Junior Forum Resale Shop, located at 1815 Rutland in the Houston Heights, which funds the HJF programs. The HJF provides charitable services in the Greater Houston area. Among those celebrating were Donna Dawson, Virginia Purcell, and Phyllis Ashley. See more on houstonjuniorforum.org, Facebook, or Instagram. 
Grand move. Cynthia and Mickey Mills are officially back in Houston. Their second home in Colorado Springs had become their main home after selling their Houston one. But the Mills finally had enough of the long cold winters and decided they would rather deal with Gulf Coast heat, hurricanes, and humidity. While their dogs, Baron, Sasha, and Minka, might miss seeing bears and the rippling creek outside their Colorado window, they have plenty of squirrels and birds and even a peacock to amuse them here. But best of all, there are grandchildren in Houston!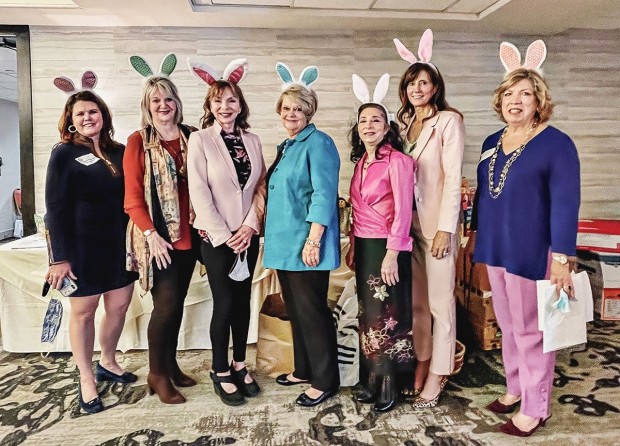 Hop to it. Village Republican Women were real Easter bunnies. Members donated food, cash, and toys to fill 100 Easter picnic baskets for children from food-insecure families served by West Houston Assistance Ministries. They provided grocery gift cards to each family. Volunteers included Deanna Harrington, Mary Ann Sterrett-Russell, Ginger Howell, Mary Grace Landrum, Joanie Baine, Susan Taggart, and Gail O'Neill.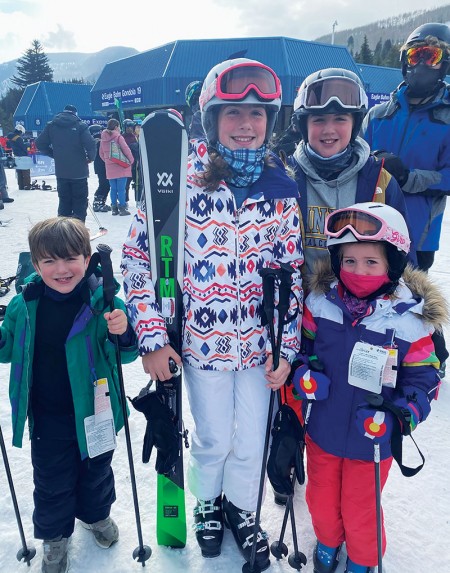 Roaring good time. Freedom on the slopes was a nice break from Covid. Michael and Georgia Piazza took their family to Lionshead in Vail for a Spring Break playcation. A big storm rolled in and brought lots of fresh powder for some terrific snow skiing. Georgia said the lines were manageable, and Vail did a great job with Covid precautions. Nina, 11, and Michael, 10, have skied since they were 4 and 5. Grier, 5, started when she was not even 3, and Paul, 4, started in 2020. Nina skied one day in Beaver Creek with her dad and friends.   
Sea of Cortez awaits. Ryan Wald invited mother Mary Sue Wald, sister Laura Fondren, and Jodie Parker to enjoy his magnificent vacation home at Chileno Bay located on the water between Cabo San Lucas and San Jose, Mexico. They had nine days of luxury living, with a butler who chauffeured them from town to town, made their drinks, and was at their beck and call, even poolside. They did the Thursday Art Walk and restaurants in San Jose and hotel-hopped for variety. The view of the mountains and aquamarine waters brought inner peace.
Surf's up. Lili Rubin and Dennis Langlois arrived in Maui to celebrate Lili's milestone 60th just as a dam was breaking on the other side of the island and a deluge of continuous rain greeted them. Finally, after a few days, they got a break in the weather to enjoy a birthday dinner at Spago, golf at Wailea Blue twice, whale sightings, and snorkeling. On one swim they were amused to find a large turtle with them. They took excursions when daughter Michelle Rubin visited from San Diego.
It's a flamingo day. Little did they know in Post Oak Timber, Post Oak Landing, that an annual homeowners association barbecue in October 2019 that turned into an informal once-a-month Friday night get-together would become a mind-saving social soiree during the pandemic. A different homeowner puts a flamingo in front of their home to designate the host. Everyone brings their own chair and drink. Kathy Molitor, who is a regular, says, "It is a random time, depending on the season," but during the pandemic, it has been two or three times a month. The neighbors on a first-name basis – and those who are usually first there – are Kathy, Laurie, Joe, Jerry, Deborah, and Jean.
Multiple flights to nowhere. Spring Break had started in Houston but so had Winter Storm Xylia in Colorado. Alec Schneider, a senior at St. Thomas High School, dad Chris Schneider, Alec's girlfriend, Makenna Capitaine, a senior at St. Pius, and friends from St. Thomas attempted to get to Steamboat Springs. The families of the boys frantically tried to get them on multiple flights going all different directions. Ultimately, Alec and Chris got out a day later and flew to Colorado Springs, then drove to Steamboat. Other spring breakers drove from Houston to Steamboat. Daredevils Alec and Makenna snowboarded at Copperhead Park in Colorado Springs, and Alec conquered a halfpipe, a flight to behold. The inner wild was released.
Have some good news to share? Email us at [email protected].
People in this article:
Janet Pate
,
Mary Jane Pizzitola
,
Sue Bennett
,
Dorothy McLemore
,
Jelyn Pizzitola
,
Jenny Blanc
,
Susan Braden
,
Susanna Jeu
,
Marla Salvador
,
Diane McDaniel
,
Lindy Stockdale
,
Jana Stiffel
,
Carolyn Eckert
,
Sharon Smith
,
Ethan Smith
,
Emma Smith
,
Liam Smith
,
Terence Smith
,
Sean Smith
,
Tina Smith
,
Linda West
,
Donna Dawson
,
Virginia Purcell
,
Phyllis Ashley
,
Cynthia Mills
,
Mickey Mills
,
Deanna Harrington
,
Mary Ann Sterrett-Russell
,
Ginger Howell
,
Mary Grace Landrum
,
Joanie Baine
,
Susan Taggart
,
Gail O'Neill
,
Michael Piazza
,
Georgia Piazza
,
Nina Piazza
,
Grier Piazza
,
Paul Piazza
,
Ryan Wald
,
Mary Sue Wald
,
Laura Fondren
,
Jodie Parker
,
Lili Rubin
,
Dennis Langlois
,
Michelle Rubin
,
Kathy Molitor
,
Alec Schneider
,
Chris Schneider
,
Makenna Capitaine
Want more buzz like this? Sign up for our Morning Buzz emails.
To leave a comment, please log in or create an account with The Buzz Magazines, Disqus, Facebook, Twitter or Google+. Or you may post as a guest.