Belong Kitchen
Serving up opportunity
Click the Buzz Me button to receive email notifications when this writer publishes a new article or a new article in this column is published.
When 20-year-old Ellie Brown was six months old, her parents noticed she was missing milestones – things they had watched Ellie's older sister Morgan do, like rolling over and sitting up.
Through years of assessments and interventions spearheaded by Ellie's mom Kim, a retired attorney, Ellie was diagnosed with IDD, or intellectual and developmental disabilities.
Ellie loves to be around people, and she is a huge sports fan, especially of the Astros and anything Baylor. Her mom describes her as "super hip" and says she goes everywhere with her family. But her intellectual functioning is not typical – she reads on a second-grade level.
Kim made sure Ellie went to neighborhood schools, where she received extra support. And with her husband Jay, CFO for an energy company, their oldest daughter Morgan, and their younger daughter Olivia, the Brown family has worked to make sure Ellie has always found her place in the world, a place where she belongs.
When Ellie, who graduated in 2020, was a junior at Memorial High School, Kim began thinking about what would come next for her daughter. "Further academics were not going to help Ellie get a better job," Kim says. "I decided if there was going to be an opportunity for her going forward, we were going to create it."
That's when Kim formed the nonprofit Belong Kitchen. "It's a place where young, capable adults can work and have meaningful employment, where students can go for a cookie after school, where moms can pick up dinner on the way home at the end of the day," Kim explains.
Ellie and six other young adults with IDD have been employed by Belong since it began. (Initially, the "fab seven" gathered in the Browns' kitchen to prepare a limited number of meals and treats each week, spoken for on Sundays through an Instagram signup. They always sold out quickly.) Kim says they'll eventually employ 25 people at their new storefront space; they're accepting applications at belongkitchenhtx.org.
"We're going to provide training and certification that will give them transferable job skills, real life skills, and experience. We're focusing on the transition from high school to adulthood because that's where there isn't opportunity."
Ellie especially loves being the chief dishwasher. Her friend and fellow Memorial High School graduate Kendall Tate, 27, says her favorite part of work is assembling salads and enchiladas. She layers lettuce and cucumbers while someone else puts together the dressing. "Then we box it all up," Kendall says. 
The path to creating Belong Kitchen, which opens across the street from Memorial High School this month, is a story of community. "I had this vision and this idea," Kim says. "God had a plan and put the right people in our path. We had to be patient, which is not my strong point, but it was well worth the wait."
Volunteers like Gregg Thompson of Milk & Cookies and Chris Pappas of Pappas Restaurants stepped in to help Kim with everything from creating a business model, to finding a storefront, to designing kitchen space. 
"The landlord [Brett Moody and Stephen Woods with Moody National] and [neighboring] Tiny's were willing to split the space, which is prime retail space," Kim says. "They were willing to take a chance; we don't have a track record. And we are thrilled to have [a Milk & Cookies] in the neighborhood, so we don't have to keep driving to West U!"
Belong's staff program director is Jennifer Cardenas, a retired Spring Branch teacher who has run a high school culinary program and special ed cooking class. She has coached the tight-knit group of seven original employees in making things like Mexican lasagna, which Kendall describes as "like lasagna, but with a Mexican flavor. It's tortillas, filling, cheese, more tortillas, more filling, more tortillas, then we sprinkle cheese on top."
Holidays bring specials, like Mrs. Cardenas' famous pumpkin rolls for Thanksgiving, and "puppy chow," a mix of cereal, powdered sugar, chocolate, and M&M's, for Valentine's Day.
"Remember the Pop Tarts with Nutella?" Kendall's mom Lara Tate asks, remembering their Christmas special, one of the early treats and meals Kendall and her co-workers would prepare at the Browns' home.
"Oh yes," Kendall says, "and the breakfast medley – egg casserole, Pop Tarts, and homemade biscuits."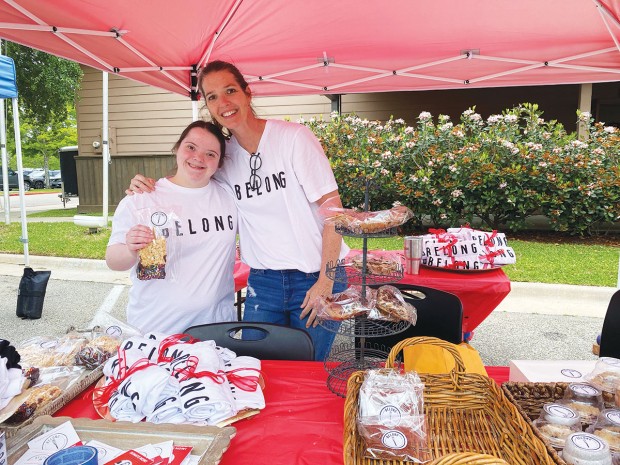 Ellie and her friends have slowly brought Belong Kitchen to life. For months, they've been cooking Brown family favorites – chicken enchiladas, lasagna – in the Browns' kitchen, where they often sport Astros jerseys and watch games while they cook (that is, when they're not playing music and dancing). 
Dinners come prepared in pans and feed four to six people. Starting in June, customers will be able to swing by the new Belong Kitchen location to pick up dinner for their families, and maybe a cookie or Rice Krispie treat for the ride home.
You can support Belong by donating, ordering dinner, or volunteering to support the employees in the kitchen, 9655 Katy Freeway, Suite 3105. See belongkitchenhtx.org. "We want people of all ages to come in and work together and form relationships within the community," Kim says. "This is not only for [employees] to get a paycheck, but for them to have friends, to feel like they belong." 
So far, things seem to be working out.
Want more buzz like this? Sign up for our Morning Buzz emails.
To leave a comment, please log in or create an account with The Buzz Magazines, Disqus, Facebook, Twitter or Google+. Or you may post as a guest.