It's time to grill
Click the Buzz Me button to receive email notifications when this writer publishes a new article or a new article in this column is published.
Cooking Buzz is produced in partnership with the Junior League of Houston, a women's charitable and education organization founded in 1925.
Early summer is arguably one of the best times of year in Houston. The worst of the heat isn't here yet, making the possibility of grilling and eating meals on the patio an attractive idea. Who doesn't love the hint of smoke on meat and vegetables and the ambiance of rustling leaves? And since it is getting warmer, not heating up the oven also has its benefits.
A few years ago, my husband and I bought a pellet grill. It removes the guesswork that cooking good barbecue over a pit requires and also allows you to have a certain level of inattention. Any recipe that requires you to put something in the oven can be made on a pellet grill, which uses wood pellets and fans to heat, much like an outdoor convection oven.
The Roasted Rosemary Pork with Asparagus can be done on a grill or in an oven, as can the Goat Cheese and Potatoes Timbales. If you're pulling out the paper plates and throwing presentation to the wind, replace the pans with aluminum foil.
Grilled Salmon Steaks with Watercress Mustard Butter is another great summery entrée option. The tangy butter complements the rich flavor of the salmon.
Cold appetizers and salads in the summer are a good choice for sides. Make the Upside Down Pickles a day ahead and enjoy a crisp cold snack. On the cold-salad front, give the Butter Lettuce, Pomegranate and Walnut Salad a try. Or consider a simple side of Grilled Marinated Vegetables using your favorite veggies, whatever you happen to have on hand.  
If you're looking to offer a fun drink option for the 21+ crowd, this Summertime Cooler is a crowd-pleaser. The recipe serves 16, so if you're planning for a smaller group, cut down the portion size as needed.    
Conclude your summer feast with a refreshing treat like the Sour Cream Lemon Pie. 
Roasted Rosemary Pork with Asparagus
From Stop and Smell the Rosemary
3 large cloves garlic, minced
4 teaspoons chopped fresh rosemary
½ teaspoon salt
½ teaspoon freshly ground pepper
3 Tablespoons olive oil
2 Tablespoons Dijon mustard
2 Tablespoons fresh lemon juice
1 center cut pork loin roast (5 pounds)
2 pounds thick fresh asparagus, trimmed and blanched
Preheat oven or grill to 400 degrees. Mix garlic, rosemary, salt, pepper, olive oil, mustard, and lemon juice in a small bowl. Reserve 1 tablespoon of the mixture. Spread remainder over fat side of pork. Place pork fat side up on a wire rack in a roasting pan and place in the oven. Reduce heat to 325 degrees and cook uncovered for 2 hours. If using a pellet grill, wrap the pork in aluminum foil and cook to 145 degrees. 
Toss asparagus with 1 tablespoon reserved garlic mixture. Arrange asparagus around roast and cook uncovered 15-20 minutes. Serve immediately. Serves 8.
Grilled Salmon Steaks with Watercress Mustard Butter
From Stop and Smell the Rosemary
2 bunches watercress, minced (1 cup)
½ cup (1 stick) unsalted butter, at room temperature
1 Tablespoon minced shallot
1 Tablespoon Dijon mustard
½ teaspoon plus ¼ teaspoon salt
¼ teaspoon freshly ground pepper
6 fresh salmon steaks (8 ounces each), 1 inch thick
Watercress sprigs
Combine watercress, butter, shallot, mustard, ¼ teaspoon salt, and pepper in a small bowl. Refrigerate at least one hour.
Prepare grill. Season fish with remaining salt and dot one side with half of the mustard butter mixture. Arrange fish, butter side up, and grill 4 minutes. Turn and dot with remaining butter mixture. Cook 3 minutes. Garnish with watercress sprigs and serve immediately.
Goat Cheese and Potatoes Timbales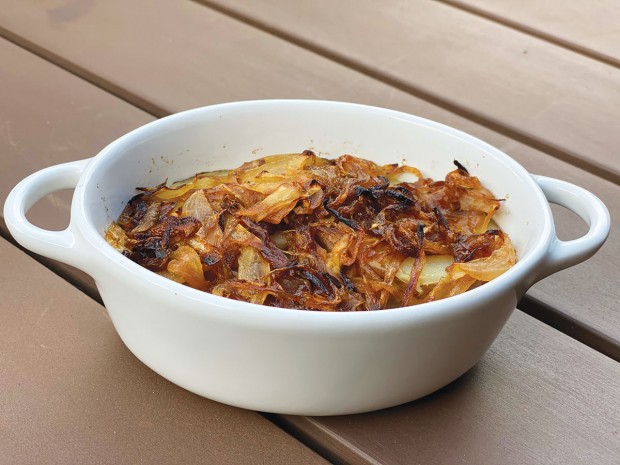 From Peace Meals
Extra virgin olive oil
2 Tablespoons butter
4 medium yellow onions, thinly sliced
1⁄8 teaspoon sugar
Coarse salt and freshly ground pepper
3 medium red potatoes, unpeeled
1⁄3 cup bread crumbs, seasoned with salt and pepper
4 ounces aged goat cheese, thinly sliced
Lightly oil six 4-ounce ramekins with olive oil and set aside. Melt the butter in a sauté pan over medium heat. Add the onions and sugar, and cook for 30 to 40 minutes until the onions are a deep caramel color, stirring frequently. Remove from heat, season with salt and pepper, and let cool. Simmer the potatoes in a pot of water until just tender, then cool under cold running water. When the potatoes are cool enough, cut them into thin slices, season with salt and pepper, and set aside. 
Preheat the oven to 500 degrees. Sprinkle 1 rounded tablespoon of the bread crumbs into each ramekin. Layer with the goat cheese and then two to three slices of potatoes. Repeat the layers of cheese and potatoes once more, packing the ramekins lightly. Top with caramelized onions. Place the ramekins in the oven for 5 to 7 minutes. To serve, run a knife along the sides of each ramekin and gently invert the timbales onto plates. Serves 8.
From Stop and Smell the Rosemary
1 jar (46 ounces) whole dill pickles
2½ cups sugar
6 Tablespoons apple cider vinegar 
1 teaspoon celery seed
2 Tablespoons prepared horseradish
1 small onion, chopped
Slice pickles. Put them back in jar and set aside. Combine sugar, vinegar, celery seeds, horseradish, and onion. Pour mixture over pickles. Turn jar upside down and refrigerate 24 hours. Serve chilled. Yields 46 ounces.
Butter Lettuce, Pomegranate and Walnut Salad
From Peace Meals
Vinaigrette: 1⁄3 cup pomegranate juice
1 Tablespoon red wine vinegar
¼ cup extra virgin olive oil
Coarse salt and freshly ground pepper
Salad: 2 heads butter lettuce, torn
Seeds from 2 pomegranates
¼ cup crumbled blue cheese
½ cup chopped walnuts, toasted
Whisk together the vinaigrette ingredients in a small bowl; season with salt and pepper. In a large bowl, combine the salad ingredients; toss gently with desired amount of vinaigrette. Serves 6-8.
From Peace Meals 
6 to 8 cups thickly sliced vegetables
2⁄3 cup balsamic vinegar
2 Tablespoons Dijon mustard
3 Tablespoons olive oil
¼ teaspoon salt
¼ teaspoon pepper
4 cloves garlic, minced
Combine your favorite sliced vegetables, such as yellow squash, zucchini, green onions, eggplant, asparagus, and yellow, red, and orange bell peppers in a gallon-size resealable plastic bag. Combine the vinaigrette ingredients and pour into the bag of vegetables. Seal and marinate for 30 minutes. Remove the vegetables from the bag and place in a wire grilling basket coated with cooking spray or on a cookie sheet. Grill or broil the vegetables for 5 to 7 minutes on each side or until tender.
From Stop and Smell the Rosemary
5 tea bags
2 to 4 Tablespoons sugar
1 bottle (64 ounces) raspberry-cranberry drink, chilled
2 large lemons, juiced to equal ¼ cup
2 large limes, juiced to equal ¼ cup
1 bottle (34 ounces) lemon-lime diet soft drink, chilled
1 can (6 ounces) frozen lemonade concentrate, thawed
1 medium nectarine, cut in wedges
½ pound seedless green grapes
½ cup raspberries
In a 4-cup glass measuring cup, pour boiling water over tea bags to equal 4 cups. Let steep 10 minutes. Discard tea bags. Cover and refrigerate tea until ready to complete the punch.
Just before serving, mix desired amount of sugar with the raspberry-cranberry drink, lemon juice, lime juice, lemon-lime diet soft drink, lemonade concentrate, and 1½ cups cold water. Add tea. Add fruit to mixture as garnish. May be served with vodka or sparkling wine. Serves 16.
From The Star of Texas Cookbook
1½ cups sugar, divided
¼ cup lemon juice
Finely grated rind of 1 lemon
3 Tablespoons cornstarch
1 cup milk
3 eggs, separated
1 cup sour cream
1 baked cooled pie crust
Preheat oven to 350 degrees F. Combine 1 cup of the sugar, the lemon juice, grated rind, cornstarch, milk, and egg yolks. Cook over medium heat, stirring constantly, until thick. Let mixture cool completely. When cold, fold in sour cream and pour into cool pie shell. Beat egg whites with remaining ½ cup sugar until they form stiff peaks. Spread over filling and bake for 10 minutes or until top browns.
Want more buzz like this? Sign up for our Morning Buzz emails.
To leave a comment, please log in or create an account with The Buzz Magazines, Disqus, Facebook, Twitter or Google+. Or you may post as a guest.