The Buzz Magazines 2021 Photo Contest
Click the Buzz Me button to receive email notifications when this writer publishes a new article or a new article in this column is published.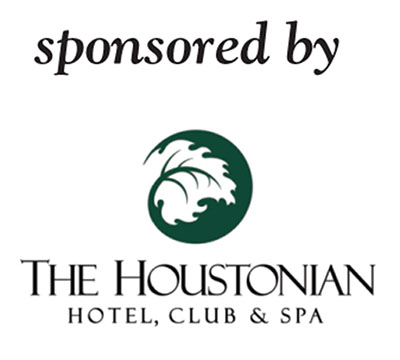 After reviewing more than 1,200 submitted images, we are pleased to present the winners of The Buzz Magazines' 16th annual photo contest. Congratulations to all and especially to our grand prize winner, Scott Mochon, for his photo, Royal St. Blues.
As our grand prize winner, Scott will receive a couples staycation package compliments of The Houstonian Hotel, Club & Spa.
Royal St. Blues, Grand Prize Winner
Scott Mochon, 65, took this photo of an unknown musician playing bass on Royal Street in the French Quarter of New Orleans. "It was taken in September of last year on an extremely hot day in the middle of the afternoon. He works hard for a living and was sharing his gift of music with people who walked by." 
The Judges' Response
The instant this image flashed on the screen we all went, "Whoa!" We immediately knew this photo was likely going to be the winner. The photographer's choice of black and white amplifies all the textures in the photograph. We know it's an unposed, live event because we see onlookers in the background, which are out of focus and add another layer to the image. It's a nice piece of street photography that tells a compelling story. 
About the Photo Contest
With any contest like this, the process is subjective. However, there are basic principles of photography that must be met, such as lighting, focus, exposure, and composition. And there are personal elements to consider: subject, emotion, and storytelling. Judging is blind, as the judges do not see names or any information about the photographers.
We also let our readers vote. We posted 45 finalists on our Facebook page, and the photos that received the most "Likes" became our Readers' Choice winners.
The Buzz Magazines' annual photo contest is open to all amateur photographers, so keep that in mind as you are shooting pictures in the upcoming year. Watch for next year's call for entries on our website and social media and in the March 2022 print issue. Thanks to everyone who entered, our judges, our readers who voted online, and our contest sponsor, The Houstonian Hotel, Club & Spa.
A Leaf Through the Dew on a Spider's Web, Third Place/Nature
Matthew Strausser, 34, goes on "bug hunts" with his 2-year-old daughter. "I noticed some funnel spider webs in the grass near a wooded area, and we got down close to search for the builders. The spiders were nowhere to be seen, just dead grass and wet, brown leaves. Although not a particularly photogenic area at first glance, up close I could see the water drops were almost perfect spheres and functioned as tiny lenses. I began experimenting to see if I could photograph the leaves below, focusing through these nearly microscopic drops. What started out as a photoshoot of animals in their natural environment ended up being a much more experimental and abstract exercise in how light bends, blurs, and reflects off water and spider silk." This photo also received first place in our Readers' Choice contest. 
It Feels Like Rain, Fifth Place/Nature
Jan Buchholtz, 64, said she took advantage of clearing skies on a late afternoon in July and traveled to Brazos Bend State Park. "After arriving, a lone rain cloud drenched the park. Not deterred, I continued to explore the trails teeming with wildlife. I crept toward a yellow-crowned night heron (Nyctanassa violacea), waiting for it to turn toward the sun. I knelt to capture the bird surrounded by wetland grasses sparkling with raindrops. This is one of my favorite photos of the day because it depicts the heron in its lush environment."
Goats in a Field, Fourth Place/Animals
Bonnie Davidson, 72, took this photo south of Sheffield, Texas, in August. "We were on our way to Big Bend and typically take the offbeat road. These goats were just laying around and begging to have their picture taken. When I got out of the car, they all got up and came to the fence. I love goats and a few other animals (i.e. donkeys and sheep). These goats wanted to be petted, which I did not do, since I did not know them, nor their owner." 
Highway Through the Canyons, Second Place/Landscapes
Mitch Boeck, 33, took this photo of the Historic Columbia River Highway that runs through the Columbia River Gorge. "I had noticed this unique 'horseshoe' view of the road earlier the day prior and made it a point to go out and shoot it during sunrise. I was blessed with beautiful conditions in a beautiful area. My explorations of the Columbia River Gorge were incredible. From broad vistas and rivers to secluded and incredible waterfalls, this place was a dream."
Inquisitive, First Place/Animals
Chantal Liekens, 57, took this photo of a northern crested caracara last April on North Boulevard in Boulevard Oaks. Chantal was out taking photos in the early evening for a long-exposure exercise when an ambassador of the Wildlife Center of Texas passed by with this caracara on his arm. He was walking down the street to get the caracara used to a noisy environment with people before being brought to schools and organizations. "We started chatting about this beautiful bird, and I took the opportunity to take some photos. My challenge for this photo was the low light I had to deal with while keeping a high shutter speed, as the caracara was moving his head a lot."
Amaryllis, Second Place/Nature
David Silberman, 67, took this photo of an amaryllis in April 2021 in his neighbor's yard. "Many gardens were impacted due to the freeze Texas experienced this winter. This flower was a welcome survivor. Unable to travel due to Covid, I found beauty close to home. Wonderful things are all around us." 
Into the Looking Glass, Fourth Place/People and Portraits
"This photo was taken in the front yard when it was almost impossible to professionally capture our son turning 1 year old during the Covid pandemic, so we decided to take some home photos ourselves," said Danielle Crockett, 51. "On one of our Houston, hot, humid, sunny days in September 2020 we dressed up Knox to match one of our large mirrors in the house and crossed our fingers he could be still for a few seconds. At the age of 50, I have had many titles, but the best title I will ever have is being a mom. Knox was born just one month after I turned 50 years old, and he will continue to keep us young. We are happy to share what a joy he has been to our family." 
Sleeping Lion, Third Place/Animals
Jaana Eleftheriou, 57, took this photo of a sleeping female lion in Masai Mara, Kenya, in November of 2020. "I travel frequently to Africa. I mainly volunteer in wildlife-conservation projects. This place in Kenya is by African Impact. They have a volunteer project in Naboisho, greater conservation area to Masai Mara. This lion was part of a legendary pride in Masai Mara. She was sleeping in a bush, and I was drawn to the variations of the light and shadow on her sleeping face. It created a very peaceful picture."
Farmer's Paradise-Ubud, First Place/Landscapes
Payman Karimi, 53, took this photo of a rice field in August in Sidemen Village in Bali, Indonesia. "The person in the photo is an unknown farmer (to me) who was working on his field while I was taking a walk around the village. The symmetry and the harmony that this farmer had created attracted me to capture this photo. And even though I could not see his face, I could feel that he must've been very proud of it. It was late afternoon, and it was during pandemic, and it was very quiet times indeed with not many people around, but to me it demonstrated the hard work that this farmer had put in his field – pandemic or not! And life was going on as normal for him while wrapping up another day in such a beautiful place." 
Frozen Tears, Second Place/Readers' Choice
Dana Katz, 44, says, "This is a photo of my sweet, 1-year old nephew Luca Yudovich taken in Bellaire during the arrival of the exciting and unanticipated February ice storm. Wearing a snowsuit and snow boots for the first time, Luca didn't know how to walk on the snow and began to cry. When his mother went to pick him up, he stopped crying, but the manifestations of his weeping were caked on his face. Perhaps these frozen tears were a portent of the devastation many of us would feel in the days and weeks to follow."
Bee Haven, First Place/Nature
Jan Buchholtz took this photo last July in Sheldon Lake State Park as a change of pace from her regular early-morning walking routes. "I was pleased to discover an alligator-observation boardwalk over the water. Though no gators were in evidence that morning, I did enjoy an unusual downward viewpoint of a lotus flower. Stamens tenaciously grasped the seedpod, as if they were protecting the precious cargo. Then I noticed others found the sunny glow at the center of the flower compelling; one and then another honeybee approached to collect pollen, the wing blur adding a dynamic element to the photo."
Tunnel View, Third Place/Landscapes
Shunney Nair, 49, took this photo of Yosemite Valley from Tunnel View at sunrise. "Growing up I recall seeing black and white photos of this vista view made famous by Ansel Adams and [was] intrigued by write-ups highlighting how it changes from season to season and even moment to moment. While this is a must-see, popular spot to take photographs, I wasn't sure what to expect due to the California wildfires. It turns out the haze from the smoke created a dramatic, painting-like effect on the landscape and sky that continuously changed the view even more than usual. It was well-worth the 5 a.m. wake-up call and [I was] fortunate to be there over Labor Day weekend – especially since two weeks later, the park closed temporarily due to smoky skies and hazardous air quality." This photo also received third place in our Readers' Choice contest. 
Portrait in B/W, Second Place/People and Portraits
Mauricio Recinos, 50, took this photo at home while his wife's family was visiting. "Sometimes it is not easy to take pictures of young people because many times they are camera shy, but I was lucky all of them did great. This picture is of Valentina, one of my wife's nieces. I was able to take a few pictures of her. For this one, I asked her to sit sideways and turn and look at me. Fortunately, she did precisely what I wanted, and the picture came out nice. Black and white was just the final touch." 
Four, Fifth Place/Animals
Mauricio Recinos took this photo in March on a trip to Galveston. "It was a sunny day with a little wind, and the seagulls were flying low. They caught my attention because they were flying almost in a straight line. I tried to take some pictures, but the first time I was not able to get a good one. Fortunately, they came back a second time, and it was then when I got this shot. The four of them looked well synchronized as they flew by."
Skyspace, Fourth Place/Landscapes
Don Dorsey, 67, took this photo of James Turrell's "Skyspace" installation on the Rice University campus in July 2020. "I ride my bike past it at different times of day, and that day the light and angles made it an interesting subject. I thought the geometry and form of it would come across best in black and white."
Sand Play, Third Place/People and Portraits
Whitni Parker, 42, took this photo of her son, Emmett, at Inlet Beach, Florida, in August 2020. "I was just trying to capture the feel of the trip and pulled my camera out to document what my kids were up to on the beach. The color of the beautiful sea water in contrast with the white sand is the perfect backdrop … you can't take a bad picture in this setting. It begs to be photographed. Everyone knows kids don't keep, so I try to grab pictures of my kids being kids often." This photo also received fourth place in our Readers' Choice contest. 
Arrival of Summer, Fifth Place/People and Portraits
Bora Rockov, 39, took this photo of his son Kai, 4, in their backyard in the afternoon. "The pure joy he was having prompted me to take the photo. He kept running through the sprinkler, and the flowing water added an interesting effect to the image."
Please Open the Door, Second Place/Animals
Deborah Seghers, 46, took this photo of her rescue dog, Clover, last year by the back door of her home. "Despite her unusually calm temperament and genteel tendencies, Clover has a high prey drive. She was staring at a lizard on the back patio. I walked over to see what had caught her attention. I had my camera phone in my hand. As I approached, she looked up at me with a look of intent. I couldn't help but take a photo." (The lizard got away.)  
Bloodshot, First Place/People and Portraits
Estefania Lopez-Salas, 16, took this photo of her own eyes while she was on a trip in Rome with her family in November 2020. "I wanted to get an interesting panorama of my eyes, which is how I ended up with this photo. I then cropped it and edited it. I was trying to take a so-called 'selfie' of my face, and I manipulated the photo digitally to make everything in the picture black and white except my eyes." 
The Lone Fisherman, Fifth Place/Readers' Choice
Loyd Dalton, 73, took this photo in June 2020 at San Luis Pass between Galveston and Surfside. "I traveled there early one morning to arrive at dawn for a photo op and was rewarded with a glorious sunrise and corresponding reflections at the water's edge. The composition just jumped out at me. The bonus was the fisherman that was setting up his rods on the beach! I thought the image was worthy of entering in the Buzz Photo Contest!" 
Giant Swallowtail on Firespike, Fourth Place/Nature
"My husband is the gardener in the family, so I always go running, with my camera, when I hear his call because I know he has found something great!" said Bonnie Davidson. In June, her husband called her from the garden. "This butterfly [giant swallowtail] sat on the firespike blossom for some time with its wings spread, allowing me to zoom and get a sharp picture." 
Point, First Place/Sports and Action
Edie Stavinoha, 62, was at the Glassell School of Art on the third floor in April and "looked down to see this fantastic scene on the steps below. It seems to be a place people like to take pictures, myself included." 
Rice Blessing-Ubud, Fifth Place/Landscapes
Payman Karimi captured this photo in August 2020 in Sidemen Village in Bali, Indonesia. "The beauty and tranquility created by these rice fields attracted me to them, which also showed how the farmer puts his hope and blessings (small temple in the middle) for the healthy growth of his rice plants." 
Judges' Bios
Bob Gomel became a photographer with LIFE magazine in 1959. During the '60s, his subjects included such luminaries as President Kennedy, The Beatles, Muhammad Ali, President Nixon, General MacArthur, Mickey Mantle, Roger Maris, Marilyn Monroe, Peggy Lee, and Dustin Hoffman. In addition to his LIFE assignments, he shot covers for magazines that included, among others, Fortune, Sports Illustrated, Newsweek, and Forbes. In the '70s and '80s, he shot notable ad campaigns such as Merrill Lynch's "Bullish on America'' series. His work has been reproduced in over two dozen book collections. His awards include the prestigious Missouri School of Journalism's Best Picture of the Year. Both the Library of Congress and the Museum of Fine Arts, Houston have several of his works in their permanent collections. A recent documentary filmed in Houston about his career, Bob Gomel: Eyewitness, is viewable on Amazon Prime Video. Another documentary, Muhammad Ali: A Life in Ten Pictures, is on BBC – it features interviews with Bob about his famous image of Malcolm X taking Ali's picture at the victory party after Ali became the champion. The Dolph Briscoe Center for American History at The University of Texas at Austin has committed to cataloging and preserving his archives for future generations. Read more about Bob Gomel in Behind the Lens: The Life of a Life Photographer.
[email protected]
Michael Hart has provided photographic images to corporations, design firms and advertising agencies for almost 40 years. His assignments have taken him to 49 states and more than 30 countries. Michael's work is consistently represented in the international Black & White Spider Awards, and an image appears in its book, The World's Greatest Black and White Photography. Recent exhibits include multiple shows at the New York Center for Photographic Art, and the Southeast Center for Photography. Recent accolades include local Gold and Silver ADDY awards and a national ADDY award from the American Advertising Federation. He is a member of the national board of directors of the American Society of Media Photographers. His book, Biggio: The Final Game, is in the library of the National Baseball Hall of Fame, and a photo from it is in The Museum of Fine Arts, Houston.
www.hartphoto.com, www.michaelhartfineart.com, [email protected]
Rocky Kneten came to the great city of Houston in 1984 and began his career making photographs for corporations and magazines including Texas Monthly, Sunset, Forbes, Discover, and Esquire. He was commissioned by the Museum of Fine Arts, Houston to do principal photography for two books, and his work has been included in the books Texas on a Roll, Houston: A Self-Portrait, and The Pictures of Texas Monthly: 25 Years. Always visually curious, he shoots personal work that has been exhibited in galleries, the Houston Center for Photography, the Museum of Fine Arts, Houston, Windows on Houston (Bush IAH), and many group shows during the FotoFest biennials in Houston. He is thankful for a profession that has taken him to unusual places and to meet interesting people. Rocky is a member of the American Society of Media Photographers and the Pixels + Silver Fine Art Photography Group.
www.rockykneten.com, [email protected]
People in this article:
Scott Mochon
,
Matthew Strausser
,
Jan Buchholtz
,
Bonnie Davidson
,
Mitch Boeck
,
Chantal Liekens
,
David Silberman
,
Danielle Crockett
,
Jaana Eleftheriou
,
Payman Karimi
,
Dana Katz
,
Shunney Nair
,
Mauricio Recinos
,
Don Dorsey
,
Whitni Parker
,
Bora Rockov
,
Deborah Seghers
,
Estefania Lopez-Salas
,
Loyd Dalton
,
Edie Stavinoha
,
Bob Gomel
,
Michael Hart
,
Rocky Kneten
Want more buzz like this? Sign up for our Morning Buzz emails.
To leave a comment, please log in or create an account with The Buzz Magazines, Disqus, Facebook, Twitter or Google+. Or you may post as a guest.