Four small-town Texas escapes
Click the Buzz Me button to receive email notifications when this writer publishes a new article or a new article in this column is published.
As we saw two months ago in Travel Buzz: Three tiny Texas gems, getting away for a while doesn't need to involve a huge investment of logistics, time, or cash. We had so much fun reporting that story that we decided to circle back and seek some more Texas small-town destinations – and we didn't have to look far. From Smithville to Luckenbach, small-town Texas is calling to many of our readers. 
A girlfriend getaway, a concert, a search for a wedding destination, and a dream to reconnect with a simpler lifestyle led some of our readers to set their sights on peaceful burgs throughout the region. Four of them shared their stories with us. 
Round Top: Jorden and Reed
Reed Hogan and Jorden Jolley were all set to tie the knot in a destination wedding in Italy, where Reed's mother Terrie has a second home. Covid made that impossible, however, so the family put the plan on hold. 
Meanwhile, Reed's birthday was coming up, and they were casting about for a different sort of place where they could savor some of Italy's flavors closer to home. "Reed's mom really knows her way around Italian food, and she suggested Lulu's in Round Top," recalled Jorden. They were just going to make the hour-and-a-half drive for dinner and then come back. But a spectacular dinner, combined with lots of wine and a foggy evening, turned it into an overnight – and thus began the couple's love affair with the Hill Country town. They loved it for its nostalgic feel, for its cowboy chic, for its unexpected sophistication.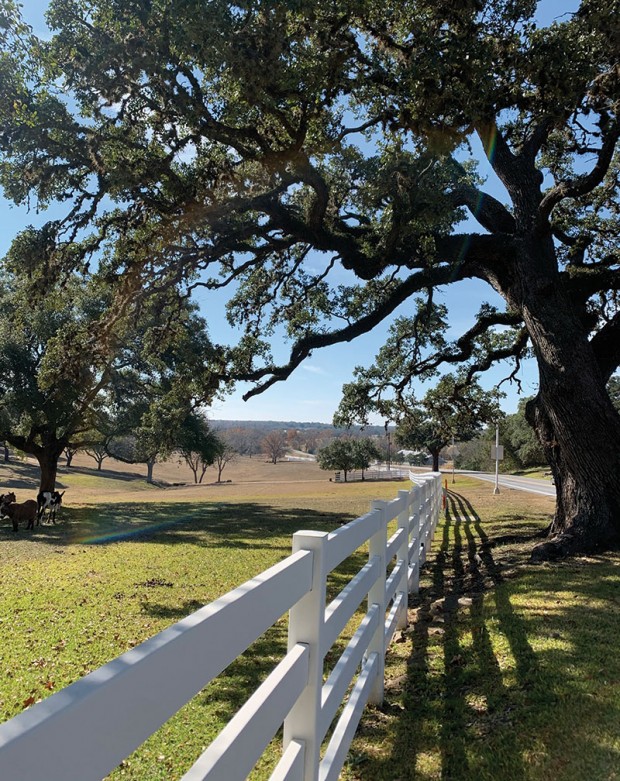 That night they found The Frenchie — a boutique hotel in a renovated vintage 1890s farmhouse – and they began, as Reed put it, to connect the dots. 
"We had no idea what to expect because when we got there, it's the middle of the night, and it's completely foggy. We wake up, and it's gorgeous."
The fall leaves were coming down around them, and the couple looked around the chic farmhouse filled with colorful retro French and other European décor. "I was like, where are we? What is this place? This is so cool. I was just not expecting it."
"And that's when we decided officially, OK, we love this," said Jorden. 
"It depends on where you're going. Some places lean more into the countryside; others lean more into like European culture," said Jorden. "So it's Cowboy European, I guess you could say."
The wedding was at The Frenchie, and the wedding dinner was at Lulu's, with the rehearsal dinner at Royer's Round Top Café – a place of happy childhood memories for Reed, whose family would often go up to spend the weekend in the town.
Jorden gets teary-eyed when she talks about the gathering. The Italian ceremony would have left out Jorden's sister-in-law, who was pregnant, and her grandparents, who didn't want to fly that far. It would have also been much bigger. But as it turned out, the 18 people who attended were together in the Frenchie for two to three days and ended up bonding through the experience. 
"We were in a small hotel in a small town, and we spent like every second together – and I think it made it much more intimate overall," said Reed.
Jorden agreed. "I feel like it put our marriage off to a good start because it's like our whole family got joined together," she said.
Fredericksburg: Lynda and friends
After a lifetime living in Houston, Lynda Transier had decided to make the move to Colorado. She wanted to do a special farewell, so she decided on a girl's retreat. Fredericksburg rose to the top; she hadn't been there since college, and she knew it had changed. 
"I knew it had great little wine trips and side trips and fun shopping," she said. "So it seemed like the perfect girls' getaway."
Of the larger group that started planning three months before, a threesome actually saw it through – Lynda, Donna Lewis, and Patsy Chapman. They landed at The Inn on Baron's Creek, just two blocks from downtown but a world apart. "You can sit on your rocker on your porch and just enjoy the afternoon and the sunset; it's very relaxing."
They signed up for a wine tour and were charmed by their guides. Deb, a Fredericksburg native, had recently gotten engaged to Brayden, from a small town near Dallas, and the two of them had started 830 Elevated Wine Tours – named for the Texas Hill Country area code – together. They bought a 15-person van and set about tailoring their trips to what the guests are most interested in.
"They were super wonderful," said Lynda. "They're knowledgeable and funny, and they're young and in love – and it's refreshing to be around that."
With 60 vineyards in the Fredericksburg area (and another 70 applicants awaiting their permits), there was no shortage of places to choose from. Their favorite: Augusta Vin, a picturesque estate winery overlooking the Pedernales River, which "makes you feel like you're in Napa Valley," according to Lynda.
They also had to check out the outrageous Fat Ass Ranch and Winery. "It was mainly out of curiosity more than anything else," she confessed. "Their wines are a little sweeter than what we prefer, but they also sell something called an orange mimosa – orange juice mixed with white wine – and I did walk out with quite a few bottles."
Back in town, they spent hours browsing the stores and boutiques up and down Main Street – Auer Haus home décor stood out for its furnishings and accessories. 
For meals, breakfast at Emma + Ollie Bakeshop topped the list – an elevated version of your grannie's kitchen, to loosely quote their website. 
"That was our favorite meal of the entire trip," said Lynda. "Their breakfast was phenomenal. They had special coffees and teas, and a little retail side. You don't think of breakfast when you're traveling as being your favorite meal, but it's just charming, and it has a lot to offer."
The trip reminded Lynda of the special character that can only be found in small towns. 
"Those little towns, you can see that they are existing on the charm; hopefully, people are coming back to that," she said. "My mother grew up in a small town, so, visiting relatives, you realize you need to support small, especially the Mom and Pop businesses. So that's why we felt we wanted to keep it small, go local, and keep it something we could drive to."
Gruene: Leah and friends
For Leah Ragiel, the occasion was a Wynonna Judd concert at Gruene Hall. A friend procured 10 tickets, and another friend who owns a house a few blocks from the venue offered a place to stay – so a Gruene girls' getaway was born.
She'd been to Gruene once before during the pandemic and knew it wouldn't be the same as the old times – mandatory masks, distanced seating, no standing and dancing in the aisles – but it was Wynonna, and it was Gruene. So it was a festive occasion. 
It was mid-April, and the timing was perfect. "The bluebonnets were in bloom; it was just a wonderful escape out into the Texas countryside," said Leah.
Elizabeth Fulghum rolled out the red carpet for her friends, offering a color-coded Mexican blanket for each guest to wrap up in on the deck overlooking the Guadalupe River. There was coffee in the mornings and wine in the evenings the three days the friends gathered, and this quickly became their place to bond and share stories. 
"We just really enjoy the town and the shopping and the eating," said Leah. "We can walk everywhere from Elizabeth's house, and we generally bring our cowboy boots."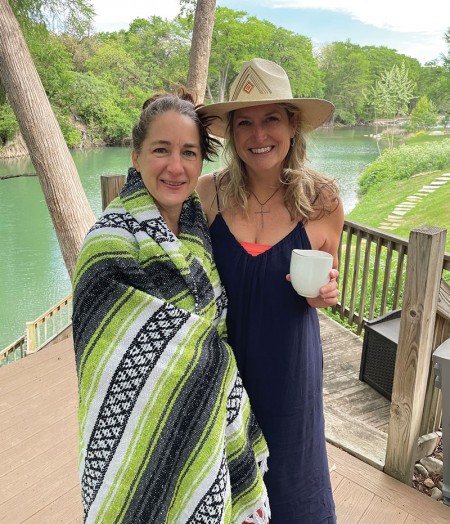 The girls started rolling into town on Friday night, with four of them joining for a late-night dinner at McAdoo's Seafood Company. A leisurely Saturday morning began with breakfast tacos on the terrace, and when everyone was ready, they all walked into town for a day of shopping and dining and more shopping. 
"Some shops offer snacks or cocktails while you shop," Leah recalled. "Gruene Market Days was happening in the public square, and they had live music."
Finally it was time for the main event.
"We had been listening to Wynonna Judd songs all week in preparation," said Leah. "She was awesome… it was really intimate, so close and personal." It was her first show since Covid began, and she was so happy to be performing, she came out barefoot. 
After the concert the girls stayed up late chit-chatting and then rose late and breakfasted on pastries from Naegelin's, the stellar German bakery nearby.
After a rough year, this group of empty nesters just needed to get out of town and have some fun, said Leah.
"It's such a change of scenery to live in the big city and just have a reset," she added. "Not just a change of scenery but a change of ambiance. I'm getting back to my Texas roots, and I'm not even Texan, but I brought my boots and my hat."
Smithville: Betsy and family
For Betsy Taylor, Smithville has been more than a destination; it's been the fulfillment of a dream. Eighteen years ago, when daughter Maddie was in second grade, her scout troop wanted to take the girls on their first campout. One of the moms in the troop had a ranch near Smithville.
"We took the girls out there so we'd have easy access to bathrooms and the house; it was good for first-time campers," said Betsy. "We had a great weekend, and the friend showed us the town of Smithville, and we thought it was adorable."
Betsy showed husband Mitch the town on the way to Austin, and they had talked about getting a weekend place there. But a couple of years went by before they got serious about it. Betsy contacted a realtor who began looking around for them — top on the list was a nearby place to board horses. 
The realtor knew just the place – right across the road from the only horse-boarding place in the area.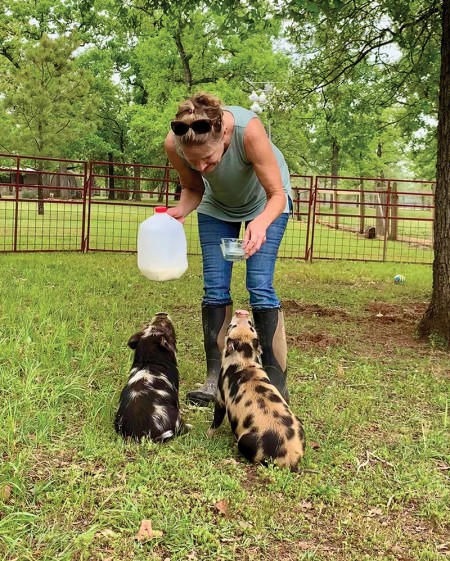 "It was prettier than I had ever imagined a property in Texas would be," said Betsy. It was covered with trees, on a hill, with a pretty house. An older couple had built it five years before, and had decided to retire in town. It would be the perfect place for the ranch they had been dreaming of. 
Sixteen years later, that ranch is now their second home. They are now the weekend caretakers of four horses, five miniature donkeys, three goats, two pigs, 14 chickens, four cats and two dogs, and 135 acres of former cattle ranch, which they are managing for wildlife, trying to bring back the biodiversity. There's a lot of work to be done, but when it's time for a break, or when there are visitors, the go-to place is Smithville, for its mosaic murals, delightful dining, fun shopping, live music, and antiquing.
The antique railroad town, with its railroad depot-turned-museum and its historic Main Street, has changed a lot in the 16 years since the Taylors made their move. At the time it was a sleepy little place without much going on. Since that time it's woken up in a big way. Betsy's favorites include the Back Door Café, Honey's Pizza, the Mosaic Art & Home gallery, The Royal Tomato specialty grocery store, and an unusual restaurant with a unique concept: the Comfort Café, a pay-what-you-can restaurant run by recovering addicts from Serenity Star, a local rehab center.
"Our Smithville life is so different than our Houston life," said Betsy. "Out here we feel more connected to the earth, more affected by the weather, closer connections to small businesses and their owners, with associated greater hopes and fears for their success. We love the slower pace of change and the real excitement when something new comes along. And we cherish the friends we've made out here, with so many interesting life stories, most of which culminate with their thrill at having landed in Smithville."
Editor's note: Buzz travel columnist Tracy L. Barnett is a Lowell Thomas travel journalism award winner and longtime travel and environmental writer. Email her at [email protected] to share your own travel tales.
Want more buzz like this? Sign up for our Morning Buzz emails.
To leave a comment, please log in or create an account with The Buzz Magazines, Disqus, Facebook, Twitter or Google+. Or you may post as a guest.