Chef's Corner: Nadereh Ahly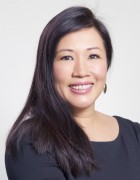 Click the Buzz Me button to receive email notifications when this writer publishes a new article or a new article in this column is published.
The name "Ember & Greens" offers some clues to Nadereh Ahly's holistic bent on food. 
"Ember" describes the glowing fire that greets guests upon entering the Memorial-area restaurant at 9403 Katy Freeway. The coal-fired oven emits cozy vibes throughout the brick-walled dining room, and Nadereh relies on it to roast vegetables and flatbreads. She finds that the extreme temperatures – up to 1,100 degrees Fahrenheit – not only give her flatbreads a glorious char, creating a crispy crust with the inside of the dough staying tender, but also provides a caramelized depth to her roasted broccolini, tomatoes, beets, carrots, and potatoes. 
As for the "Greens," there are many throughout the entire menu – from arugula to peas – but the word also embodies Nadereh's approach to eating and cooking: Keep it organic and local when possible, and keep it healthy, simple, and delicious.   
Here, the self-taught chef shares her journey from the mountains of Iran to Texas, along with her fresh-food approach, shaped by her travels and Persian childhood.
When did you open Ember & Greens, and how did you come up with the concept? 
We opened Ember & Greens in fall 2019, right before Covid. We had an Italian-restaurant franchise in the same space for more than 10 years, but I was ready to do my own thing and introduce the food I've been serving at home to family and friends. That's how I approach the restaurant, as if people were coming to my home. 
You partnered with your 30-year-old son, Iman Yarjani, to open Ember & Greens about six months before the pandemic shutdown. How did that impact your eatery?  
We lost 75 percent of our business overnight, but we managed to get through it, thanks partly to my son, Iman. Now we're busier than before the pandemic. 
Your son, a Memorial High School graduate, came up with a side business three years ago that helped keep the restaurant afloat. Tell us about Lola & Baxter, an idea sparked by your eat-green-and-clean philosophy for humans and furry friends.  
My vet always commented on how my dog's coat is so shiny and beautiful. He asked me how I did it. I told him I make my own dog food. It's something my parents did for our dogs in Iran because there was no canned dog food available. My son branded the idea and started selling Lola & Baxter dog food at the local farmers market. It's been very successful. Many of our regulars will come here to eat, and then take our made-from-scratch dog food home to their pets.
On your covered patio, we noticed diners with their pooches, and both are enjoying your food. Now, that's a new concept in dining. That aside, how has your Persian heritage influenced some menu items, like the best-selling turkey-and-potato samosas?
I was born in Iran, but spent my high school years in Santa Barbara. Later, after my divorce, I moved to Houston to raise my children and to be closer to my family. 
So my menu is modern American with influences from my travels around the world. It is more international than Persia, but you'll find elements of Persia, too.
One of our best-sellers is the Maman Shookouh's Samosas with cucumber yogurt. It's my mother's recipe, but we bake the samosas, whereas my mom used to fry them. We also have a veggie version. It was important to me that whether you're vegan, vegetarian, gluten-free, or an omnivore, you can eat here.  
You almost take a holistic approach to your cooking, such as using various seasonings that not only enhance the flavors of dishes, but also are beneficial to the body. 
Cinnamon and turmeric contain anti-inflammatory properties, and they are used in Persian cooking. You'll find both in many dishes, like the Citrus Chicken. The flavors are very subtle,  just enough to give depth and that je nais se quoi. 
You've lived in the Memorial area for more than two decades, and you're a big supporter of  local businesses. What are some restaurants that you frequent?
I go to these places not only for their food, but also because of the owners, who are hands-on. I love Ciro's Italian Grill (9755 Katy Freeway) down the street. They have great pastas and pizzas. I also enjoy going to Arturo Boada Cuisine (6510 Del Monte Drive) for fettuccine alfredo, seafood pasta, and the lamb chops.
We typically think of watermelon as a Southern tradition. But it's a Persian one, too. The juicy fruit is well-loved among Iranians, eaten during celebrations and holidays. At Ember & Greens, co-owner Iman Yarjani recalls looking forward to weekend mornings when he and his buddies enjoyed his mother's bountiful brunch that included a refreshing watermelon salad with feta cheese, hummus, and egg shakshouka. His mom, chef-owner Nadereh Ahly, said watermelon with feta is a typical all-day-long snack that starts in the morning. 
For the dressing:
Juice of ¼ lemon
Juice of 1 orange
¼ cup extra virgin olive oil
3 Tablespoons Chardonnay or Pinot Grigio wine
Dash salt and pepper, or to taste
For the salad:
1 cup romaine lettuce
1 cup arugula
2 Tablespoons feta cheese
4 Tablespoons dried cranberries
4 Tablespoons chopped roasted walnuts
4 wedges watermelon
Whisk or blend together the lemon, orange, olive oil, and wine. Season with salt and pepper to taste. Set aside. 
In a large salad bowl, lightly toss together the romaine and arugula with half of the salad dressing. Sprinkle feta cheese, dried cranberries, and walnuts. Gently toss with remaining salad dressing. Divide onto two plates. Divide watermelon wedges on each of the plates. Serve immediately. Makes 2 servings. 
There are many versions of Shakshouka throughout the Middle East. In her homeland, people simply refer to it as a Persian tomato and egg bake omelet. But for lack of a better term, said Ember and Greens chef-owner Nadereh Ahly, she serves it as E&G Egg Shakshouka on the brunch menu, which also includes Eggs Benedict. 
2 Tablespoons vegetable oil
½ cup diced onions
½ cup chopped bell pepper
½ cup button mushrooms, quartered
¼ teaspoon turmeric
¼ teaspoon paprika
½ teaspoon garlic powder
½ teaspoon salt
¼ teaspoon black pepper
2 cups diced tomatoes
½ cup baby spinach, roughly chopped
4 to 6 eggs
1 Tablespoon finely chopped parsley
Preheat oven to 375 degrees.
Heat oil in a large oven-proof skillet over medium-low heat. Add onions, bell peppers, and mushrooms and saute gently until very soft, about 15 minutes. Stir in the turmeric, paprika, garlic powder, salt, and pepper, and cook for 1 minute. Pour in tomatoes and simmer until tomatoes thicken, about 10 minutes. Stir in the spinach. Add more salt and pepper if needed.
Gently crack eggs into skillet over tomatoes. Transfer skillet oven and bake until eggs are just set, about 7 to 10 minutes. Option: Instead of placing in the oven, you can cover the skillet, reduce heat to low, and cook 7-10 minutes on the stovetop until eggs are set. Sprinkle with parsley and serve with your favorite hot sauce. Makes 2-3 servings. 
Editor's note: Buzz dining columnist Dai Huynh is a James Beard food-journalism award winner and longtime Houston-based restaurant writer.
Want more buzz like this? Sign up for our Morning Buzz emails.
To leave a comment, please log in or create an account with The Buzz Magazines, Disqus, Facebook, Twitter or Google+. Or you may post as a guest.