A Summer Menu
Keeping it tasty and cool
Click the Buzz Me button to receive email notifications when this writer publishes a new article or a new article in this column is published.
Let's cool off with a late-summer menu straight from our blog, "Back Porch Table." It's all pretty easy, and pretty close to no-cook, for those of us who have shut down our ovens for the summer.
And for those of us sending kids back to school, we have added a bonus recipe (this one requires some prep and an oven) – Zucchini Lasagna is both a treat and healthy, a great combo for a first-day-of-school dinner.
Snap Pea and Mint Pesto Crostini
There's a whole lot going on in Snap Pea and Mint Pesto Crostini. The Mint Pesto was a revelation – like basil pesto, but a little less rich, and so much fresher-tasting.
For the Mint Pesto:
2 cups packed fresh mint leaves, plus more for garnish
¼ cup toasted walnuts
1 small clove garlic
1 T parmesan
½ teaspoon salt
¼ teaspoon freshly ground pepper
½ cup olive oil
For the snap peas:
½ tablespoon butter
2 cups sugar snap peas, chopped on the diagonal into ½-inch pieces
¼ teaspoon salt
¼ teaspoon freshly ground pepper
For the toasts:
12 ¼-inch slices baguette, cut at a diagonal 
¼ cup olive oil
½ teaspoon salt
¼ teaspoon freshly ground pepper
1 clove garlic, sliced in half lengthwise
To serve:
1 ½ cups ricotta 
Finely grated zest from 1 lemon
Flaky salt (such as Maldon or coarse sea salt)
Make the Mint Pesto. In a food processor, pulse together the mint, walnuts, garlic, parmesan, salt, and pepper just until it is minced. Scrape down the bowl of the processor, then slowly, with the motor running, drizzle in the olive oil. Set aside.
Sauté the snap peas. In a small pan, melt the butter over medium-low heat. Sauté the peas, seasoned with salt and pepper, for about 5 minutes, until they are warm and crisp-tender. Set aside.
Toast the baguette slices. Preheat the broiler. Brush the bread slices with the olive oil. Sprinkle with salt and pepper. Broil for about 3 minutes, until the bread begins to look toasty and golden (be sure to watch – the pieces can burn quickly). Remove from the oven, and rub the warm bread with the cut sides of the garlic clove.
When the toasts have cooled, spread them with the ricotta. Drizzle some Mint Pesto over each slice, then spoon the peas over. Finish with the lemon zest and a little sprinkle of flaky salt.
You will have some Mint Pesto left over. Cover it and refrigerate, and use it later on veggies, pasta, chicken, pork, or as a dipping sauce for bread.
These marinated tomatoes will be "I want to eat this every day" good enough on their own, but then you add cubes of ciabatta that drink up the dressing and tomato, and the whole thing is irresistible.
¼ cup red wine vinegar
½ cup olive oil, plus 3 tablespoons, divided
½ teaspoon Dijon mustard
½ teaspoon kosher salt
¼ teaspoon fresh ground pepper
1 clove garlic, smashed
6 large tomatoes, cut into 1-inch pieces
¼ small red onion, sliced thin
¼ cup basil leaves, chiffonade (stack the basil leaves on top of each other, roll them up together like a cigarette, and then slice them in thin strips)
Ciabatta bread, cut into ¾-inch cubes (about 4 cups)
In a large bowl, whisk together the red wine vinegar, ½ cup olive oil, and Dijon mustard. Add the salt, pepper, and smashed garlic clove. Add the chopped tomatoes, onion, and basil leaves and fold them into the dressing so that they are all coated. Cover with plastic wrap and refrigerate for 1 to 2 hours. 
Preheat the oven to 350 degrees. On a baking sheet lined with foil (makes cleanup easy), toss the bread cubes with 3 tablespoons of olive oil. Spread them in a single layer on the baking sheet and sprinkle a little salt and a few grinds of pepper over them. Bake 12 to 15 minutes, until the bread cubes are golden and crisp.
Fold the bread cubes into the tomatoes and dressing. Let the Panzanella sit on the counter for at least 30 minutes, so that the bread soaks up the dressing.
An easy and super-flavorful marinade for chicken. My daughters call this "a 10-out-of-10," worthy of going into the summer rotation.
Juice of 1 lemon
¼ cup olive oil
1 large clove garlic, grated
8 sprigs fresh thyme
1 teaspoon salt
¾ teaspoons freshly ground pepper
4 boneless, skinless chicken breasts
Whisk together the lemon juice, olive oil, garlic, thyme, salt, and pepper. Put the chicken breasts into a zip-top bag. Pour the marinade into the bag, squeeze out the excess air, and seal. Shake the chicken around so that it is coated in marinade. Refrigerate for a few hours, 6 to 8. During that time, shake and flip the bag a couple of times to make sure the chicken is marinated on all sides.
Prep your grill to medium-high heat. Remove the chicken from the bag, and throw away the bag and extra marinade. Season the chicken generously with more salt and pepper. Grill and serve hot or at room temperature.
We served No-Mayo Blue Cheese Coleslaw at Meatfest (a barbecued meat heaven of a birthday party for a meat-lover), where it was reluctantly received ("This isn't Veggiefest," I was told) but happily eaten. All of it. Light enough to brighten grilled meat, but with strong legs to stand on from the blue cheese. When the meat-eaters started asking for the recipe, I knew we had something good.
1 large head green cabbage, thinly sliced
2 or 3 scallions, green part only, thinly sliced
1 4- to 5-ounce wedge firm blue cheese
½ cup white wine vinegar
½ cup good olive oil
1 Tablespoon kosher salt
1 teaspoon (or more) fresh ground pepper
1 Tablespoon sugar
¼ cup roasted pepitas (optional)
In a large bowl, toss the cabbage and scallions together. Using your hands, gently crumble in the blue cheese, making sure that the pieces are small, nothing larger than a pea. In a small bowl (or I just use a Pyrex measuring cup), whisk together the vinegar, oil, salt, pepper, and sugar until the sugar has dissolved. Pour over the cabbage and toss. Top with pepitas if using. If you want to make this ahead – the flavor actually gets better with an hour or two of rest time – just add the pepitas right before you serve the coleslaw.
Magnolia Bakery's Banana Pudding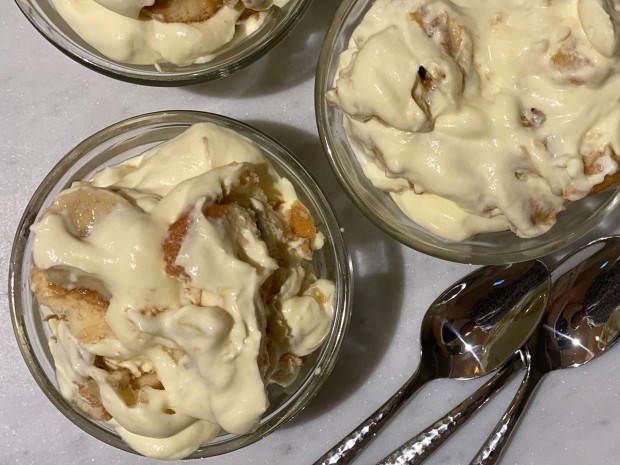 From The Complete Magnolia Bakery Cookbook
Famous treats are famous for a reason. They're so yummy they've created a cult following. You can't get much more famous or cultish than the Banana Pudding from New York's Magnolia Bakery. The work to make it is minimal, but you will get maximum love from anyone you serve this to.
1 14-ounce can sweetened condensed milk
1½ cups ice cold water
1 3.4-ounce box instant vanilla pudding mix (preferably Jell-O)
3 cups heavy cream
1 12-ounce box Nabisco Nilla Wafers
4 cups sliced ripe bananas
In a small bowl, on the medium speed of an electric mixer, beat together the sweetened condensed milk and the water until well combined, about 1 minute. Add the pudding mix and beat well, about 2 minutes more. Cover and refrigerate for 3 to 4 hours or overnight before continuing. It is very important to allow the proper amount of time for the pudding mixture to set.
In a large bowl, on the medium speed of an electric mixer, whip the heavy cream until stiff peaks form. Gently fold the pudding mixture into the whipped cream until well blended and no streaks of pudding remain.
To assemble the dessert, select a large, wide bowl (preferably glass) with a 4- to 5-quart capacity. Arrange 1/3 of the wafers to cover the bottom of the bowl, overlapping if necessary, then 1/3 of the bananas and 1/3 of the pudding. Repeat the layering twice more, garnishing with additional wafers or wafer crumbs on the top layer of the pudding. Cover tightly with plastic wrap and allow to chill in the refrigerator for 4 hours, or up to 8 hours, but no longer, before serving.
Zucchini Lasagna is inspired by Gina Homolka of "Skinnytaste." We have added Italian sausage for flavor and fresh mozzarella slices for a thick, stretchy, bubbly top layer of cheese. This is a back-to-school dinner treat or just an inspired way to use up summer's zucchini.
3 zucchinis, sliced very thinly lengthwise (best done on a mandoline)
1 tablespoon olive oil
1 pound lean ground beef
½ pound Italian sausage, casings removed
1 yellow onion, chopped
2 cloves garlic, minced
1 teaspoon kosher salt
½ teaspoon freshly ground pepper
1 teaspoon dried oregano
2 tablespoons tomato paste
1 28-ounce can crushed tomatoes
½ cup fresh basil leaves, torn
16 ounces ricotta cheese
1 cup grated parmesan cheese, plus ¼ cup, divided
1 egg, beaten
16 ounces fresh mozzarella cheese, sliced ¼-inch thick
Line the countertop with a couple of paper towels stacked on top of each other. Layer some of the zucchini slices in a single layer on top of the paper towels, then layer more paper towels on top. Keep layering paper towels and zucchini until all the zucchini slices are between paper towels and press down gently. Let the zucchini sit for about 30 minutes; this helps to drain the excess water out of it and keep the lasagna from getting soupy.
In a heavy saucepan, heat the olive oil over medium heat. Add the ground beef and sausage, using a wooden spoon to break up and combine the meat. Cook until the meat is no longer pink, about 8 minutes. Add the onion and garlic, and cook until the onion is translucent, about 5 minutes. Season with the salt, pepper, and oregano, and stir in the tomato paste and crushed tomatoes, then the basil. Simmer over low heat for 30 minutes. 
Meanwhile, in a large bowl, stir together the ricotta, parmesan, and egg. Preheat the oven to 350 degrees.
Spread ⅓ of the sauce in the bottom of a 9-by-13-inch baking dish. Top with a single layer of zucchini slices, cutting the slices to fit. Dollop ½ of the cheese mixture all over the top of the zucchini, then spread ⅓ of the sauce on top. Repeat the layers, ending with the sauce. Place the mozzarella slices on top, then sprinkle ¼ cup parmesan over. Cover the lasagna with foil and bake for 30 minutes. Remove the foil, and bake for another 20 minutes. Turn on the broiler, and broil the top for about 3 minutes, until the cheese begins to bubble and brown.
Remove from the oven and let the lasagna stand for 10 or 15 minutes before serving.
Back Porch Table is a weekly blog where Andria Frankfort shares favorite recipes for weekend cooking (or anytime). Come join us on Friday mornings as we try out a new recipe each week.
Want more buzz like this? Sign up for our Morning Buzz emails.
To leave a comment, please log in or create an account with The Buzz Magazines, Disqus, Facebook, Twitter or Google+. Or you may post as a guest.