A Tail-Wagging Hero
An author's salute to Happy the dog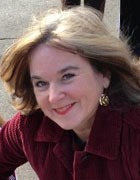 Click the Buzz Me button to receive email notifications when this writer publishes a new article or a new article in this column is published.
Dracula was a box office hit, actor Bela Lugosi terrifying audiences with his icy vampire stare. The Empire State Building opened, a beacon of hope amidst the Great Depression. Gangster Al Capone, convicted of tax fraud, was gifted a trip to federal prison.
The year was 1931, and on an early summer day, a black and tan stray dog of indiscernible origin padded up the streets of Southside Place and onto the porch of Bradford and Camille Clark, lured by their cat's bowl of food.
The persnickety Persian – typically intolerant of interlopers – saw fit to share its meal with the skinny stray. Cat-approved, the family kept the mutt, naming him Happy for his perennially cheerful ways. And the two creatures dined together daily, the dog sleeping nights on the porch.
Happy more than returned the favor.
Within a week of finding his forever home, he became the Clarks' hero, his cute snout joining the likes of Capone and famous aviator Charles Lindbergh on the front page of the Houston Press.
They say every dog has its day. As Southside Place author Kate McCormick reveals, Happy certainly had his.
I'm so happy to share the story of Happy," enthuses the author whose newly published children's picture book by TCU Press, Happy: The True Story of a Stray Dog Who Became a Hero, tells the riveting tale of the pup who alerted the Clarks to a fire next door, saving his family and neighbors James and Carrie Lyon from impending doom.
The decades-old event, which happened less than a block from Kate's house, is not just a fortuitous tale about a heroic dog. It's also a story about a community's fortitude, she says.
The vulnerable neighborhood had no fire protection of its own. Not so much as a fire hydrant. The blaze sparked a movement that resulted in the Southside Place Volunteer Fire Department (SPVFD).
As history records, firefighters from West University Place and Houston responded to the fire, drafting water from Southside Place's neighborhood pool in a hose relay that linked pumper truck to pumper truck, over yards and streets, till reaching the blaze. Despite efforts, hungry flames leaped to the Clarks' house, destroying both residences on Darcus Street.
When the smoke cleared, residents huddled, coming up with a plan that ultimately resulted in fire hydrants on each street, a siren in the park to call volunteers to duty, and a shiny new open-cab pumper truck.
"It was the start of a really tight-knit community. And what a fortuitous thing that this little dog showed up at the Clarks just days before the fire," muses Kate, who discovered the account of Happy while conducting research for her first book, Images of America: Southside Place, a city history co-authored with friend and neighbor Kris Holt.
"The other book I did was more for adults. I wanted to write a book for children about something that really happened. I wanted children to see that this story represents history in everyday life. This is a dog who lived up the street."
Bradford Clark awoke to Happy's incessant barking at 2 a.m. on June 5, 1931, newspaper accounts show, the dog pawing wildly at the window screens. The homeowner saw the fire and ran to alert the Lyons, who barely escaped the blaze. "We saved a little of our furniture from the fire but if it hadn't been for him, we wouldn't have saved anything," Happy's owner told reporters. "And there's no telling what might have happened to Mr. and Mrs. Lyon if he hadn't gotten me up so I could wake them up."
The newspaper account adds that, "The dog, black and tan of doubtful ancestry, stayed by his master's home while the flames were destroying it." Photographers shot a picture of Happy in the ruined window of the Clarks' burned home. It ran at the top of the front page, two columns left of Capone – and much larger.
"It's quite a story. The more I looked into it, the more interesting it became," says Kate, a labor and employment lawyer. Researching and writing is second nature to the attorney who is used to doing both in her job. The self-professed "nerd" loved writing term papers and book reports in school, diving deep into research like, well, a dog with a bone. Digging and digging.
She spent countless hours at the Harris County Archives piecing together the story of Happy and the fire. And, with the help of a genealogist, she tracked down descendants of the Clarks.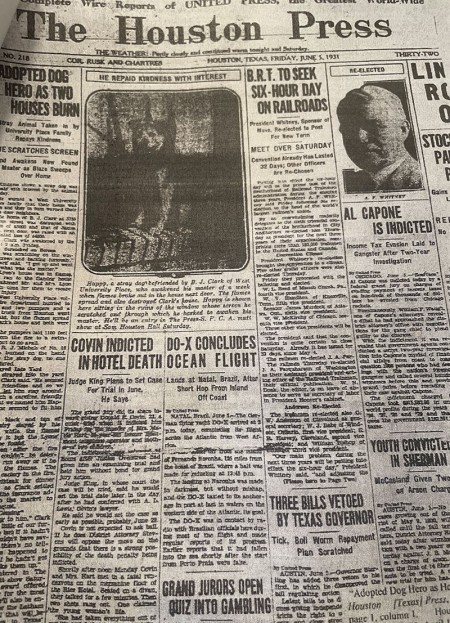 "We couldn't be more thrilled that a writer put together a book about Happy. We know the story well," says Fred Kandeler, 79, of Lawrence, Kansas, grandson to Bradford and Camille Clark. The Clarks had two teenage daughters, Genevieve and Camille (named for her mom). The younger Camille was Fred's mother.
"My mother was 16 when they got the dog and had the fire. The whole time I was growing up we had dogs. I think it's because of the huge impression Happy made on her. They'd only had that dog a brief time. It was remarkable that he wound up saving their lives by waking them and getting them out of harm's way."
Fred, a retired clergyman, heard his grandparents and mother reflect on the event many times. "It was a traumatic memory for them. But if not for that dog, things could have been much worse. There's a picture of my granddad on the porch with Happy before the fire. I always wondered how the picture survived. It makes you wonder if they didn't grab a photograph album or something."
Coincidentally, the first annual Houston Press-SPCA Mutt Show took place on June 6, 1931, the day after the fire. "I mean, what are the chances of that?" quips Kate. The show awarded Happy the prize of "Most Heroic Dog." And later, The Latham Foundation that promotes humane treatment of animals named Happy "Texas' Greatest Dog Hero of 1931."
The former SPVFD chief of 20 years, Mike Pack, a bit of a researcher himself, is the one who brought Happy to the attention of Kate, sharing a picture of the Houston Press clip. "I used to be on the board of directors for the Houston Fire Museum, and I was doing research on fires that had occurred in the city over the years, and I happened across this newspaper article that talked about the Southside Place fire. The community really got busy after that happened. And that first pumper truck served them for many, many years."
That pumper truck, circa 1935, was retired in 1970 after 35 years of service. It was repurposed as a piece of play equipment at the city's Southside Place Fire Truck Park, where it remained for 42 years. A park sign tells the story of the pumper and pays homage to Happy and the community spirit that created the fire department.
Kate, her husband, Champ, and sons Champ, 23, and Michael, 19, have a soft spot for the department. Her husband was a volunteer firefighter there for 15 years.
"I love Southside Place and its history and its people, and Happy's story is very much a part of that history," says the author, always on the prowl for interesting story ideas. She's currently working on a children's book about a boy who lived in a library. A true story, just like Happy's.
She credits sister Patricia McCormick, a two-time National Book Award finalist, with giving her great pointers and support on her way to getting the book published. "I asked her, 'How do I find out how to write a children's book?' I knew there had to be some kind of methodology." At her sister's suggestion, she joined the Houston chapter of the Society of Children's Book Writers and Illustrators. Her book, in its pre-published state, was a finalist for the organization's Joan Lowery Nixon Memorial Award.
It's through the group that she found her book illustrator, California-based Tina Ochenante, whose charming depictions bring the tale to life. "I really love her style," says Kate. A portion of the proceeds from the sale of the book through 2022 will be donated to the Houston SPCA. "It seems like a nice full-circle thing, helping other animals and strays like Happy."
As for the hero pooch, his grateful owners went to the market to buy him a steak after tending to business with insurance adjusters. "He had it coming to him," Bradford Clark told the Houston Press.
Happy shared it with the cat.
"Happy: The True Story of a Stray Dog Who Became a Hero" is available at Amazon, Barnes & Noble, and other major booksellers and at www.katemccormickauthor.com.
For more on author Kate McCormick and her passion for children's literature, see "StoryWalk Houston" by Jenna Mazzoccoli. 
Tags:
Books
,
Children's books
,
Authors
,
Children's author
,
Houston authors
,
Houston author
,
Southside Place
,
West University
,
West University Place
,
West U Place
,
Fire
,
Fire Department
,
Firefighters
,
Houston Fire Department
,
Southside Place Fire Department
,
Dogs
,
Pets
,
Heroes
,
History
,
Houston History
,
Historical
Want more buzz like this? Sign up for our Morning Buzz emails.
To leave a comment, please log in or create an account with The Buzz Magazines, Disqus, Facebook, Twitter or Google+. Or you may post as a guest.