Get a Clue: Heartwarming 'Blue's Clues' Video Brings Back Memories
Click the Buzz Me button to receive email notifications when this writer publishes a new article or a new article in this column is published.
Most kids born in the '90s or 2000s have fond memories of a green-striped-shirt wearing guy named Steve and his dog Blue, the stars of Nickelodeon's wildly popular children's show, Blue's Clues. The award-winning educational preschool series, which debuted in September 1996, is celebrating 25 years. 
Not familiar with Blue's Clues? In the show, Steve (Steve Burns) is the host and only human character. Each episode, Blue, Steve's blue-furred puppy, who only speaks "Dog," leaves three pawprint clues around the house to help Steve (and young viewers) solve a problem. Adorable animated friends like Sidetable Drawer, Tickety Tock, and Slippery Soap help Steve with the guessing game. 
Blue's Clues was a pioneer in giving preschoolers creative ways to interact with television and practice problem-solving skills. The format of the show involves Steve looking directly into the camera to ask friends on the other side of the screen if they can help with the challenge. Steve pauses a few seconds to wait for their answer. Luckily, they usually say yes.
In a 2002 episode, Steve announced he was heading to college and introduced his little brother, Joe (Donovan Patton). Viewers were left a little confused and sad.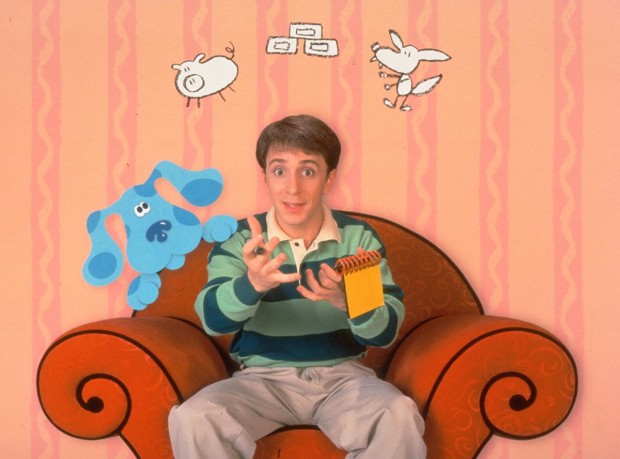 Almost two decades later, whatever happened to Steve (or Steve Burns) had remained a bit of a mystery. But recently, fans got a surprise clue of their own.
In celebration of the 25th anniversary of the show, Nick Jr. released a video from none other than Steve. Still sporting his signature green striped shirt and khakis, Steve looked directly into the camera to share a special message with his "all grown up" pint-sized friends.
Steve reminisced about the good old days: "You remember how, when we were younger, we used to run around and hang out with Blue and find clues and talk to Mr. Salt and freak out about the mail and do all the fun stuff?" 
Reflected on how far they had come and the challenges of adulting: "I mean, we started out with clues and now, it's what? Student loans and jobs and families? And some of it has been kind of hard, you know? I know you know."
Shared his appreciation to his Blue's Clues friends: "I guess I just wanted to say that after all these years, I never forgot you . . . ever."
Steve's message left veteran clue-hunting friends dabbing at tears of joy and nostalgia. 
Even though their Handy Dandy Notebooks and Thinking Chairs were long gone, the now young adult fans turned to their helpful new friend, Social Media. The video went viral, reaching more than 37 million views in a week.
And it wasn't just the Millenials and Gen Z who were touched, it was their Baby Boomer and Gen-X parents and generations of other kids that still love the show via reruns.
Clue-finding Buzz friends shared some favorite Blue's Clues memories. 
Holly Reichert Beery, 26, and her brother Jack Reichert, 24, loved Blue's Clues. "It was my favorite show as a kid," Holly said, "I even had a Handy Dandy Notebook like Steve." 
Mom Kim Reichert shared an infamous family story – the Sharpie incident: "Shortly after we moved into our new home, 4-year-old Jack took a blue Sharpie and put 'clues' on all the built-in cabinets and our Native American drum from Taos. That Magic Eraser sponge had just come out and, thankfully, it actually worked on the cabinets but to this day, the drum still has a faint 'clue.'"
A less-messy memory took place in October 1998 when Holly and Jack got to meet Steve in person at the Randalls on Weslayan. Kim says the kids were thrilled.
Ryan Lewright, 24, watched Blue's Clues until he was about 5 years old, which is when Steve left for college. "I had forgotten about how much I enjoyed the show but watching Steve's video reminded me of all of the good memories, and how fun it used to be. I'm happy to see that he's doing so well, and that he has had a good life!"
"Blue's Clues was as much a part of my young adulthood as it was my son's childhood," Ryan's mom, Anne Lewright, added. "I remember watching him speak and sing to the TV, interacting with Blue, Magenta, and Steve. We purchased Ryan a mini Thinking Chair like the one on the show and it became a part of our family's decor for years. Many memories were made with that chair as a part of our background. We still have it in storage, and we hope to pass it on to our grandkids one day!"
Riley Hulbirt, 19, also loved watching the show. "Steve was my favorite and I remember not being happy when he went off to college!" 
Riley's mom, Shelley Hulbirt, added, "Riley would get so excited about the clues and then turn to me with the cutest little squeal!"
Victoria Shelby, 22, had a Blue's Clues party for her third birthday. Two Blue's Clues characters, Pail and Shovel, liked making sandcastles. So Victoria's Papaw, Vic Corman, built a sand table for the party and the birthday cake was sandcastle-shaped. Victoria's love of dogs like Blue has continued - she is excited to be headed to vet school. "Who knew Blue's Clues would still relate to me as an adult?!" Victoria said, smiling.
"Watching the video was very sentimental," Allison Fernbach, 24, shared. "I loved Paprika (Mr. Salt and Mrs. Pepper's baby) and my Handy Dandy Notebook! I liked that Blue was a girl and I thought it was awesome that girls could be blue."
Allison's mom, Karen Fernbach, added, "My mom bought Allison a Blue's Clues mailbox when she was three. I remember because Allison loved using it and we had it for years!"
Cheers to 25 years, Blue's Clues. Thanks for all the memories.
And Steve, we just wanted to say that after all these years, we never forgot you either . . . ever.
Want more buzz like this? Sign up for our Morning Buzz emails.
To leave a comment, please log in or create an account with The Buzz Magazines, Disqus, Facebook, Twitter or Google+. Or you may post as a guest.