Houston's Fly Girl
A trailblazing pilot's life in the clouds
Click the Buzz Me button to receive email notifications when this writer publishes a new article or a new article in this column is published.
Have you ever climbed aboard an aircraft with no destination in mind? Debbie Gary does it all the time, flying the open sky in her Piper Super Cub two-seater airplane.
"It was like true love when I discovered flying," said 74-year-old Debbie, who has had her pilot's license for 54 years. 
Soaring above the landscape is where this fly girl feels most at home, but, in the interim between joyful takeoffs and reluctant landings, there is the necessity of a residence – or two. She has a 1939 bungalow in West University as well as a two-story house in Friendswood equipped with its own private airplane hangar and community airstrip for quick access to fly every day. 
"We first moved to Houston in 1982. Before that I never lived in a place longer than six months," said Debbie. Full of energy and always smiling, this grandma loves to tell stories. "I would be wherever the flying weather was good because that was the center of my life, and I would say the flying weather is pretty good here."
There are about 50 homes in this pilots' paradise south of Houston, with airplane hangars that flank the 2,700-foot tarmac in an "uncontrolled" (no control tower) airfield. Debbie's quarter-acre lot has long been considered party central.
Her home is adorned with whimsical designs and colorful art along with a pool and garden area boasting zinnias so hefty they can hardly stand up. And then her prized possession – the bright yellow Piper perched like a shiny trophy on an expansive black and white checkered tile floor in her 2,000-square-foot hangar. Alongside it are pinned newspaper headlines, articles, and photos of her past loves – the Pitts S-2A biplane, SIAI-Marchetti, Bellanca Decathlon, CAP 232, and aerobatic Bonanza planes she has owned before. 
"I didn't have a drive to become a pilot. I just love the wind and the sky and weather and maps and boys and packing in small spaces. Every single thing that had to do with flying I already loved, and so when I found flying I was like, 'Oh yeah, this belongs to me.'"
What happened over the next 40 years are displayed on the walls of her hangar, highlights of a pioneering career in aerobatic avionics and proof of achievements in the air at the highest level. She flew in air shows, big outdoor parties where the planes seem to dance with thrilling twirls and pirouettes, loops and rolls, dives and glides. The shows attracted a creative and elite crowd of innovative pilots.
"She's a pioneer! She's flown the Pitts biplane and the BD-5 mini jet in air shows professionally on two different teams," said Leroy Chiao, Debbie's good friend and neighbor in both cities. Leroy's hangar, which houses his Grumman Tiger single-engine four-seater plane, is across the runway from Debbie. And they live across the street from each other in West U.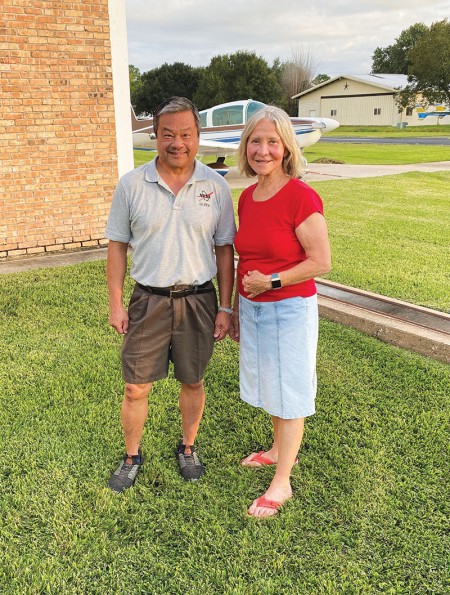 Leroy's expert praise is impressive, considering that he is a former NASA astronaut and former commander of the International Space Station. But it was Debbie who taught him flying tricks. 
"I'm more of a structured pilot, so when she was teaching me how to do these aerobatics, I was looking at the instruments, looking at the wingtips as reference points, where she's like, 'Well, that's all great, but just let go of that and feel how to do it.' She flies by feel," said Leroy. "When she gets up in the sky, she is creating like an artist, and so she loves flying visually, whereas most of the time when I'm flying I'm looking at the needles and the gauges."
Adventure is in Debbie's DNA. As a young girl, she, her parents, and older sister traveled and moved a lot, and in the '50s, when she was 10, they moved to Trinidad for two years. It was there she remembers taking a ride on a twin-engine plane to a small island, and she got the thrill of sitting in the cockpit. But it was during her sophomore year in college at George Washington University in Washington D.C. that her dad got a job in the Virgin Islands, and she took a semester off and went with him.
"That's where I learned to fly. I spent every cent I had on flying, which means when I was taking lessons I could afford three days a week. It was very cheap then. It was $10 an hour to rent a plane with gas in it," said Debbie.
Within months, at the age of 20, she had her pilot's license and her first job towing gliders in St. Croix. Before long she was learning to do aerobatics, and in 1971, at the age of 24, became the first woman to fly on a formation aerobatic team, with the Jim Holland air shows. There is no end to her list of accomplishments. 
She was part of the Carling Aerobatic Team, a BD-5 Jet Team (an aircraft that holds the Guinness World Record for the world's smallest single-seat, build-it-yourself jet, with fuselage not much bigger than a motorcycle), and the Bud Light Micro Jet Team. Debbie also performed solo routines and eventually became an aerobatic-flying instructor. 
After marrying and raising a daughter and son, Debbie returned to college in her 40s, earning a journalism degree from the University of Houston and embracing one of her favorite jobs of being a travel and adventure writer for Texas Skies Magazine. Her byline has also appeared frequently in Air & Space Magazine, an adjunct publication of the Smithsonian Institution's National Air and Space Museum. 
These days Debbie has many passions: gardening, traveling, writing, entertaining, and spending time with her grandchildren – but she still absolutely loves piloting her plane. No matter what grand adventure Debbie recalls, it inevitably revolves around flying. She describes it as a source of magic and beauty, the power of which seems to infuse her face with light.
"From a certain altitude you have a beautiful view of the shape of the land and the cows and the deer and the long shadows at the end of the day and the river that looks like tomato soup or the waterfalls or the lakes ... so much to see."
At the age of 54, Debbie formed an all-woman wing-walking act – which, she says, was exciting and frightening.
"That was the first time I was genuinely dry-mouthed," said Debbie. "I spent time confronting fear and realizing that I couldn't be afraid and perform. It gives you tunnel vision. I had an experience early on, just flying over the water between the two islands of St. Thomas and St. Croix, where I realized the engine sounded rough, and my perception had narrowed down, and so I realized I couldn't be afraid in an airplane." 
And the result was a lifetime of exploration. She has traveled around the world at least three times and recently returned from a trip to Iceland. Her marriage ended in divorce after 21 years. Debbie says she was able to harness the adversity as a source of growth. 
While her last air show was more than a decade ago and she does not own an aerobatic airplane now, Debbie still longs for a blue canvas, clouds, and contrails for her acrobatic artistry. 
"The last air show I did was in 2009. The joke was I was always saying I'm going to retire, and then I did, and I went on some great adventures. My daughter went with me, and we flew to Alaska. I've been up there four times. That is the adventure of adventures, to fly yourself to Alaska," said Debbie. "It is flyers' heaven."
You might be wondering if there is anything this adventure-seeking pilot is scared to do. 
"I've been inverted low to the ground when my engine quits. I've had close calls on a runway. Lots of things go wrong. But I'm not afraid in that arena," she said. "If you told me to go river running by myself I would turn into a puddle of Jell-O, or if you told me I had to go skiing right now. There are a million things I wouldn't want to do because I would be scared."
Debbie has a unique definition of adventure, which she sees more as a willingness to both make and learn from mistakes rather than an actual accumulation of experiences.
"One of the key things, I was never afraid of screwing up. At my first lesson, my instructor let me check the oil and let me put the cap on. He said don't make it too tight, but I didn't tighten it enough, so we landed, the plane was covered in oil," she said. "I wasn't even embarrassed."
Hers has been, by all accounts, an extraordinary life so far, filled with courage, few regrets, and skies.
Editor's note: Debbie was inducted into the International Council of Air Shows' Hall of Fame in 2012; see clips of Debbie in this ICAS Foundation video. See more past videos of Debbie in the sky here and here.
Want more buzz like this? Sign up for our Morning Buzz emails.
To leave a comment, please log in or create an account with The Buzz Magazines, Disqus, Facebook, or Twitter. Or you may post as a guest.