We're Going Batty: Bat-Watching in the Bayou City
Click the Buzz Me button to receive email notifications when this writer publishes a new article or a new article in this column is published.
Many Houstonians may not be aware that while they are tucked into their beds, a stealthy group of crusaders flies throughout the night protecting the Bayou City from our dreaded evil villain...mosquitoes! We owe a big thanks to these mysterious nocturnal superheroes that rid our city of thousands of pounds of insects every night . . . bats! Now is the perfect time to celebrate them as October is Bat Appreciation Month. 
In fact, Texas is the battiest state in the country: The United States is home to 47 bat species and Texas is home to 33 species, more than any other state. Eleven of those species spend time in Harris County. The bat species that live in Texas are insect-eaters (insectivores), which makes them great pest control for the Lone Star State.
The best time to see bats in the wild is around dusk, according to the Houston Parks and Recreation Department, when they are headed out for their all-you-can-eat-insect buffet night-on-the-town.
Two of Houston's best-kept secrets are the impressive sunset bat shows at the Waugh Street Bridge in River Oaks and the Watonga Boulevard Bridge in Oak Forest with hundreds of thousands of bats taking flight from their homes under the bridges. 
 
The Waugh Street Bridge stretches over Buffalo Bayou, about a mile from downtown. The Waugh Bridge houses the second largest urban bat colony in the United States with an estimated 250,000 Mexican free-tailed bats calling it home year-round. 
As the sun goes down, an impressive group of emerging bats wind along the bayou and spread in various directions for their massive nighttime feedings. The colony eats up to two tons of insects a night (yes, that's not a typo – two tons).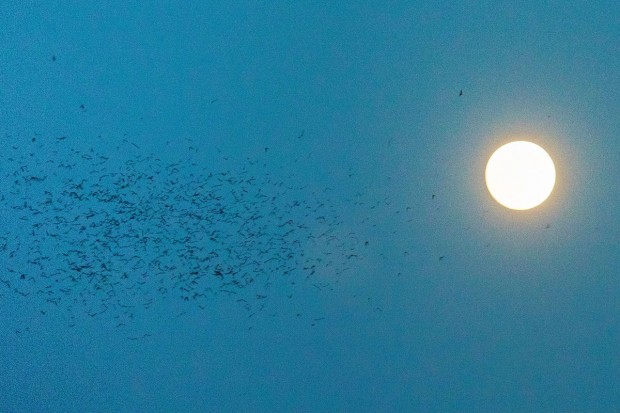 A group of local bat experts called The Houston Area Bat Team promote bat education and give "Bat Chats" near the Waugh Bridge on Friday nights March through October starting 30 minutes before midnight. Check the weather forecast because the bats will often stay cuddled up inside if it is cold or rainy.
The Buffalo Bayou Partnership offers a unique Waugh Bat Colony Pontoon Boat Tour. The tours have ended for the season and will resume in the spring. Reservations are required.
The other best spot for bat-watching on the bayou is the Watonga Boulevard Bridge that stretches over White Oak Bayou Greenway.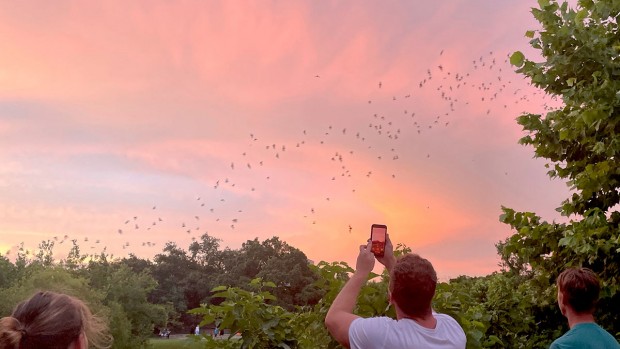 Experiencing the flight of 100,000 Mexican free-tailed bats emerge at sunset and disappear into the night is awesomely impressive. Get a sneak peek here. Perks of the Watonga Bridge location include more parking and less crowds. The best time to see any of the bats in the wild is during the warmer months of March through October.
Another place to say hello to bats is The Houston Zoo. The McGovern Children's Zoo Supervisor, Michelle Castle, and General Curator, Kevin Hodge, want everyone to know that bats are amazing creatures.
A small colony of Seba's short-tailed bats live in a partially glassed-in cave in the back of the Children's Zoo. Seba's are pollinators who eat fruit, pollen, and insects in their native forests of Mexico and Central and South America. They eat bananas or drink smoothies made by their keepers.
 
One interesting fact the Zoo shared is that bats are the only flying mammal because flying squirrels really don't fly, they just glide. And their favorite bat jokes: "What do you get when you cross a vampire bat and a snowman? A: Frostbite!" or "What kind of bat can do a backflip? A: An acrobat!" 
Bats can be spotted throughout Houston. Look for solitary Spanish moss, tree bark, and in trees. If you go out in the evening and spend some quiet time looking up at the stars, you might see a bat. Experts' pro tip is to turn off bright lights to help you see the bats more easily. Remember to leave bats alone and not ever try to touch bats. 
Local bat expert DeAndra Ramsey shared, "I adore bats. Nothing but bats can eat bugs all night. I love that they eat all those Texas-size bugs." DeAndra, executive director of Bellaire's Nature Discovery Center, is a member of The Houston Bat Team. During her previous job at the Houston Zoo, DeAndra facilitated the Texas Bat Monitoring project with Bat Conservation International.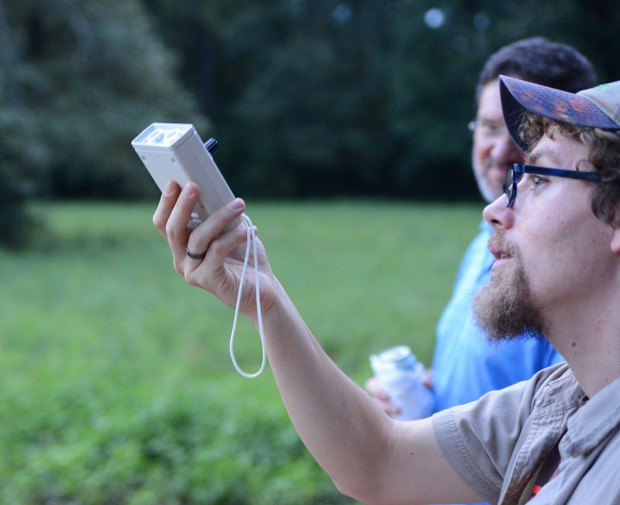 One suggested way for people to be nice to bats is adding a bat box to their yard to give bats a place to roost during the day and provide protection from heat, cold and rain. DeAndra suggests researching bat boxes on the Bat Conservation International and Bat World Sanctuary websites. 
On Oct. 29, 7-9 p.m. the Nature Discovery Center will highlight bats at their Halloween Adult Nature Night: Scary Nature with spooky stories, adult beverages, and a night hike through the park.
A little-known fact is that without bats, margaritas would have no tequila. Long-nosed bats help pollinate agave plants, which are the main ingredient in tequila. Another good reason to say "Cheers!" to bats. 
The Houston Arboretum celebrates this fact each summer on National Tequila Day with a nighttime event featuring tequila popsicles and a bat hike with special detectors to listen to bat sonar.
Another favorite colony of bats in Houston can be found hanging under the rafters of Minute Maid Park...the Altuve, the Correa, the Bregman bats, and all the Astros bats. And this season's battiest Astro of all, Yuli Gurriel, who won the 2021 American League Batting Title Champion with a .319 batting average. This species of bat may not eat insects or make tequila, but they do make home runs! We are batty for the Astros! 
Editor's note: For more about mammals and wildlife in Houston, read Wildlife in Our Yards: So who do we have here? by Cheryl Ursin.
Want more buzz like this? Sign up for our Morning Buzz emails.
To leave a comment, please log in or create an account with The Buzz Magazines, Disqus, Facebook, Twitter or Google+. Or you may post as a guest.