A Park City Christmas
Click the Buzz Me button to receive email notifications when this writer publishes a new article or a new article in this column is published.
A native Texan, John Johnson always dreamed of having a snowy White Christmas. In 2017, together with his family, the dream came true – in a big way.
He and wife Carolyn had just bought the vacation home of their dreams in Park City – a place they had come to love because of the family atmosphere, super-flaky snow and convenience, just 45 minutes from the Salt Lake City airport. 
They found the perfect mountain home for the whole family 8,000 feet above sea level in Deer Valley along with a ski-in, ski-out trail, and they closed the deal in June. Son Mike and daughter-in-law Jana were excited by the news of the new place, and so were grandchildren Cole and Lily, then 13 and 11. 
"It was always my husband's dream to have a big family Christmas in the mountains," recalls Carolyn. But she hadn't planned on doing Christmas there so soon – until Mike and Jana said they planned to come, so Carolyn "put it in high gear."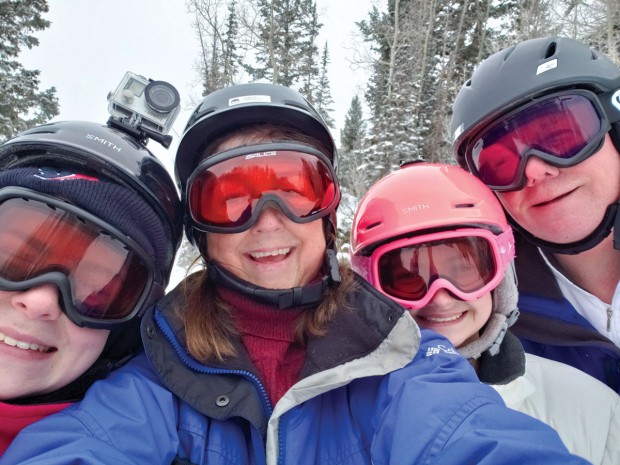 Carolyn cast about for ideas about how to make this Christmas super-special when she hit on the scheme of a scavenger hunt. It would be a fun way for the kids to get to know the new house while tracking down their gifts, she thought.
"We spent one whole weekend coming up with places to hide little bitty black boxes," she said. She typed up cards with the clues. Each answer was the name of a room so that the kids would have to learn their names. The house – which they dubbed Cowboy Longhorn Lodge, with a nod to Carolyn's alma mater, UT — would, of course, have a Western theme, with a touch of Texas. The bedrooms were Wild Horse, Stagecoach, Dripping Springs, and Silver Saddle; then there was the Wasatch Theatre, Cowboy Bar, and other special spots and corners throughout the house: under the yak, in the moose's hood, behind the bronze cowboy.
Christmas rolled around, and the family arrived on Christmas Eve, beginning by celebrating "the reason for the season" at a small local church. Dinner was tamales that Carolyn had stocked up on back in Houston at Pete's Fine Meats. 
Lily was thrilled to wake up to her first snow-covered mountain scene on Christmas morning. The family woke up early and had a quick breakfast – bagels with peanut butter – and headed out to the slopes to lay fresh tracks with Santa while other families were still opening their presents. 
Then it was back home for a delicious lunch of Cajun Hot Wings that Carolyn had ordered online from Hebert's, then sipping mimosas made the traditional way with orange juice and champagne. Finally, it was time for the scavenger hunt aptly named "The Twelve Days of Christmas" to commence. 
One riddle read: "Merry, Merry Christmas Cole! This is going to be fun and games! Find a room with a great view where inside critters keep warm by the flames." (Answer: Family Room – under bear ottoman)
And another: "Lily, Have a Merry, Merry Christmas full of lots of snow and a wild run! Your first gift is sleeping where a horse bucks for fun." (Answer: Wild Horse – behind Sonos box)
The kids passed the next couple of hours in a whirlwind, putting their minds together to figure out the 12 clues.
"We were running around, following them from room to room," said Carolyn. "It was just hilarious, and they had the best time."
After the scavenger hunt, it was time for Christmas dinner: turkey and all the trimmings. 
"It was just a huge deal for everyone," said Carolyn. "Usually, you get up and rip through the presents in 20 minutes. But this made it something really special."
Now Cole is 17, and Lily is 15.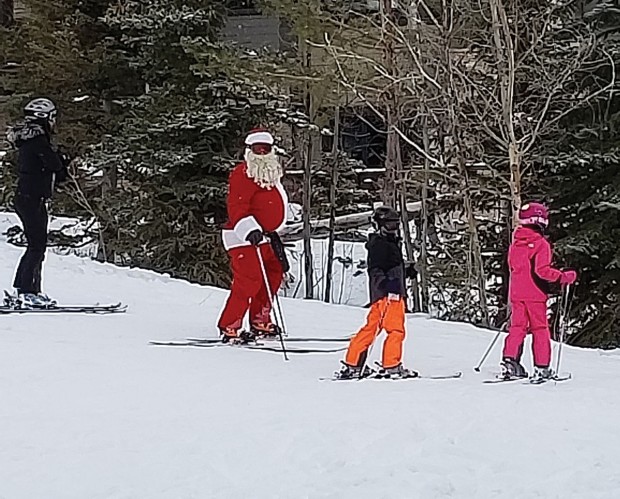 "They still talk about it," Carolyn recalls with a laugh. 
The scavenger hunt was not repeated; when Christmas rolls around, they focus more on skiing, visiting, exploring the town, and enjoying its various attractions. But the Christmas of 2017 will never be forgotten.
A beloved Christmas memory they've repeated is a horse-drawn sleigh ride up the mountain as well as a trip to their favorite Italian restaurant, Grappa. It's located at the top of Main Street in an old house with a fireplace, friendly waiters, and wonderful Italian food, and it's become a family tradition.
The Johnsons are far from teetotalers – they enjoyed a visit to the High West Distillery and the tastings of their special holiday bourbon, among other spirits – but they do appreciate the more conservative, family-oriented atmosphere of Utah, which they attribute to the Church of Latter-Day Saints, which has influenced the development of the state from its inception.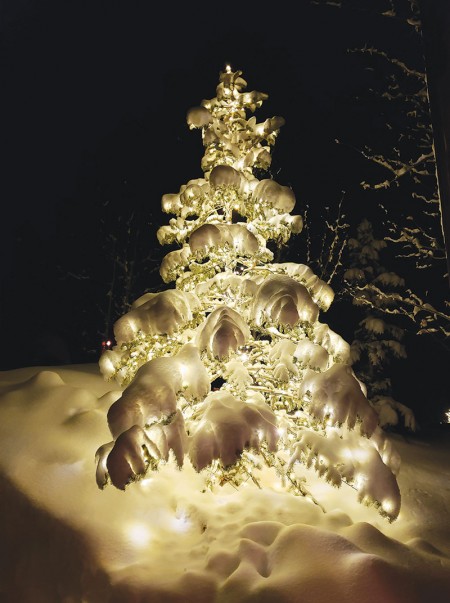 "I've been to Vail and to Aspen and all the different ski places in Colorado, and I appreciate that bartenders don't let people get rip-roaring drunk on Main Street," said Carolyn. "It's a really good family environment."
That doesn't mean it's boring, not by a long shot. Its antique mining town history lends itself to some colorful stories, with which their guide Kirsten regaled them. In old mining towns, there wasn't much to do besides the bar and the brothel, she learned, so there were plenty of them.
"Our guide was a sommelier with a party bus whose grandfather was one of the miners. She takes you all around Park City, telling you about its rich history as a mining town," Carolyn said. "For instance, we learned that there are more tunnels under Park City than New York or Chicago because of the silver mines."
Another thing she likes about Deer Valley is that it's only for skiers – no snowboarders allowed. She describes herself as someone who "used to be a good skier but now I'm just functional," and she confesses to being a bit terrified at the sound of a snowboard coming up behind her. 
The family enjoys their mountain home in the summer, as well, when it's an ideal spot to escape from the Houston heat for a few days. So much so, in fact, that one year in early June, they woke up to find a foot of snow on the ground. 
"I left Houston in sandals and thought we were good," she recalled with a laugh.
Another thing they enjoy – though with great respect and caution – is their resident moose, who like to walk up the ski-in ski-out trail behind their house and mosey right across their patio, to get to a shady area on the other side. 
"Of course they have nicknames. We call them Bullwinkle, Natasha, and Rocky."
One time John and Carolyn were in the hot tub in early October, which is mating season for the moose, when they are especially restless. 
"We had seen Natasha and her baby, Rocky, nearby, so we had to be on moose watch," she said. "All of a sudden, John said, 'Uh-oh, we gotta go.'"
They jumped out and Carolyn shot photos from inside the house, dripping wet, as the moose crossed the patio and stopped to drink out of the hot tub.
"There was music playing, the water was bubbling, there were lights… it didn't bother Mama Moose at all," she said. "Then we had to run them off because Baby Moose was trying to get into the hot tub."
All in all, buying a home in Park City was the perfect choice for the Johnsons. Not only does it provide a White Christmas season, but it gathers everyone together as a family once, sometimes twice a year, where they can slow down life's pace and simply indulge in all the lovely seasons Utah provides.
Park City faves
Some of Carolyn Johnson's favorite places:
• Kirsten Fox's Wines and Mines Tour of Park City
• High West Distillery and Refectory – Utah bourbon and rye whiskeys
• Los Lobos Dog Sledding with rescue dogs
• Deer Valley amphitheater, the Snow Park Outdoor Amphitheater, for outdoor concerts
• Sundance Mountain Resort
• Utah Olympic Park
And her favorite Park City restaurants:
Dinner
• Grappa – great Italian menu
• Prime Steak House – best steak in town
• Fletcher's – best salmon in town
• Goldener Hirsch – great Weinerschnitzel and cheese fondue
• Riverhorse on Main – great Continental for special occasions
Lunch
• Café Terigo – modern Italian
• High West Saloon – eclectic with great cocktails
• No Name Saloon – best buffalo burger in town
Breakfast/Brunch
• Eating Establishment – great traditional breakfast
• Silver Star Café – chorizo and egg pizza
• Silver Fork – best sourdough pancakes
Editor's note: Buzz travel columnist Tracy L. Barnett is a Lowell Thomas travel journalism award winner and longtime travel and environmental writer. Email her at [email protected] to share your own travel tales.
Want more buzz like this? Sign up for our Morning Buzz emails.
To leave a comment, please log in or create an account with The Buzz Magazines, Disqus, Facebook, Twitter or Google+. Or you may post as a guest.