The St. Nicholas Day Boot
Bringing a German tradition to Houston
Click the Buzz Me button to receive email notifications when this writer publishes a new article or a new article in this column is published.
Everyone loves the jolly man in the red suit who magically brings gifts to children every Christmas. But there's more to Santa Claus than a beard and a sleigh.
Beyond "St. Nick," who swoops in every year from the North Pole, St. Nicholas was the actual man behind the merriment. A kind and generous fourth-century bishop, he would give to the poor, sometimes dropping a few coins into their shoes, and was especially generous with children. Centuries ago, people around the world, especially in Europe, celebrated St. Nicholas Day Dec. 6 and St. Nicholas Day Eve Dec. 5 with small gifts given in the spirit of the benevolent bishop, St. Nicholas (St. Nikolaus, if you're in Germany).
With the advent of modern Christianity, that tradition evolved into giving gifts on Christmas morning (or Christmas Eve). Still, some hold on to the custom of remembering the saint behind Santa Claus – St. Nicholas – and his penchant for leaving little surprises in people's boots.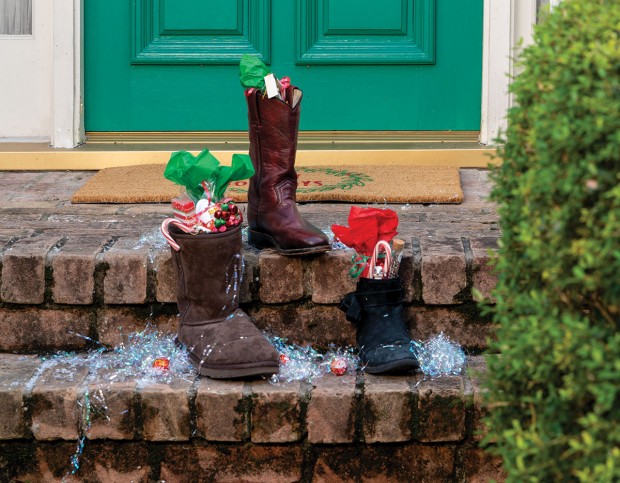 When Sara Jane and Bob Wilson's daughters, Maggie and Charlotte, were 7 and 3, respectively (they are now 26 and 22), the family moved to Munich, Germany, so Bob, an attorney, could open a Fulbright & Jaworski office there (the firm is now Norton Rose Fulbright).
December 5 came around, and the moms in Charlotte's preschool class told Sara Jane about the German tradition of putting children's boots on the front porch and filling them with goodies for children to find on St. Nikolaus Day. The other mothers wanted to be sure Charlotte didn't come to school Dec. 6 and feel left out of the other children's excitement.
"They told me to fill the girls' boots with candies, nuts, fruits, and a little gift, and leave them on the porch," Sara Jane says. "It was a very simple thing in Munich, but something very much a part of their traditions. If you were going to pick something up, [the boot tradition] was it. When we came home to Houston, I think my girls kind of expected it." So began a long-lived and cherished custom in the Wilson home.
The Wilsons' youngest daughter, Charlotte, was in first grade when they moved home to Houston.
Ann and Greg Hill's oldest daughter, Lindsey, was in the same class at St. John's. The school assigned the Hills as the Wilsons' host family (maybe that had something to do with the fact that Greg also is a lawyer), and a friendship was born.
Along with playdates and family dinners, the Wilsons shared their St. Nicholas boot tradition with the Hills. "Lindsey was 6 or 7," Ann says. "We didn't even have Katherine yet." (Katherine is the Hills' youngest daughter, now a freshman at St. John's; Sarah, their middle daughter, is 20).
"It's a little like the Elf on the Shelf thing," Ann says, comparing the St. Nicholas boot to the little elf doll said to be Santa's scout, which kids search for each morning. "We were not great Elf on the Shelfers. Seems like [the elf] would stay in the same place for a long time."
Part of the beauty of the St. Nicholas boot is that it requires only one night of parental planning. That, and, at least for the Hills, maybe a little help from friends.
"Maggie babysat," Sara Jane says of her older daughter, "and she and I would go around to those kids' houses in secret [on St. Nicholas Day Eve]." The Hills' was one of those houses. "We would jump out of the car, put snowy stuff down, then fill the boots."
Sara Jane added snow and glittery tinsel to the boots, to replicate a snowy German Christmas and provide a little sparkle. She and Maggie would call ahead to ask moms to leave their children's boots on the porch.
"The moms always knew who did it," Sara Jane says, "but I don't know if the kids ever found out who it was."
Ann remembers: "At the beginning, and for a long time, my kids were like, 'How does this happen?' It was magical."
Sara Jane says Katherine Hill is the only one she still stuffs a boot for. "She's the last one," Sara Jane says.
"My girls look forward to it," Ann says. "I've sent a couple of St. Nicholas boxes to Lindsey at school, and last year was kind of fun because all three were home. We could put all the boots out again. It's become one of the things that kicks off the holidays for my kids."
Through the years, Ann and Sara Jane have collaborated on their girls' boots. Gifts have matured with the girls, starting with lip glosses and evolving into an ornament for the tree or – Hill girls: do not read this part – a tea towel that says, "Call Mom."
The year Charlotte was just about to turn 16, she found a car key in her boot. From her childhood in Germany, Charlotte remembers the boot tradition being "a really big deal and a lot of fun," and she says everyone there participated. Still, the car key was the perfect illustration that "everything's bigger in Texas."
Along with the gifts, the boots have grown. "When they were little, it was easy to discern whose boot was whose," Ann says. "Now they're pretty much all the same size. One year we had to stuff an over-the-knee boot, that was the only boot Sarah brought home from college. It was hard to see what was in there, but we filled it. I'll probably keep trying to do it through college, but if Lindsey moves away and gets a job, I don't know what will happen to St. Nicholas. We haven't gotten there, and we'll have to see."
However the tradition morphs in the future, it's already added a lot of extra cheer and twinkle – and snowy boot memories – to the Wilson and Hill children's holidays.
Want more buzz like this? Sign up for our Morning Buzz emails.
To leave a comment, please log in or create an account with The Buzz Magazines, Disqus, Facebook, Twitter or Google+. Or you may post as a guest.