Rumor Has It - January 2022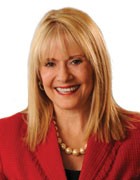 Click the Buzz Me button to receive email notifications when this writer publishes a new article or a new article in this column is published.
A walk in the park. Elyse Elsenbrook was taking a sunset stroll with Drew Tolson in the Eastern Glades of Memorial Park a year ago, Dec. 26, 2020. She thought they were going to have a drink afterwards. Little did she know that the fellow she has known since 2010, junior year of high school at Second Baptist School, was proposing that evening. The drink was celebratory indeed. Their wedding, Oct. 9, 2021, was in the courtyard of the St. Regis Aspen Resort in Colorado, facing the mountains with golden Aspen trees as a backdrop. After the kiss, a huge gust of wind blew snow as they were ushered with a "second line" down to the reception in the lower-level ballroom with ebullient onlookers in the lobby. Feeling the warm love glow for the couple were parents Lesha and Tom Elsenbrook and Suzette and David Tolson.
Strut and buy. Girls' Night Out on the Wild Side featured food, fellowship, fashion, and fun hosted by the Daughters of the Nile and chair Elaine Bell with co-chairs Rosa Macias and Janet Hawkin. The fashion show, emceed by Maryann Patterson of Glamorous Fashions, San Antonio, included 91-year-old model Ethel Kelly, who strutted with her long scarf. Daughters of the Nile has 18,000 members worldwide and donate over $2 million annually to the Shriners healthcare system. Some caught up in the buying frenzy were Barbara Files, Amy Richards, Nina Lian, Sherri Khatami, and Roz Cooley.
Who's in for a movie night? Murry and Karen Penner hosted a private screening of House of Gucci at IPIC Houston in the River Oaks District. This special movie night chronicled a feuding fashion dynasty and featured crime, drama, scandal, ambition, and, of course, fashion. The stylish crowd began the invitation-only showing with cocktails in the theater's private lounge, followed by pre-opening screening of the movie with dinner, unlimited popcorn, and candy. Well-heeled Memorialites in the crowd included Darlene and Michael Abdouch, Stacy and Michael Ellington, Renee and Alan Helfman, and Elizabeth and Alan Stein. 
Thankful respite. Thanksgiving week was the perfect time to get away. Dr. George and Geetha Mammen spent time with adult children Anish, Ajay, and Serena at the islands of Turks and Caicos. Anish's fiancée, Natalia Merkidonova, and Serena's husband, Max Weber, also enjoyed the scuba diving, snorkeling, kayaking, and paddle boarding at Crystal Sands Villa on Sapodilla Bay Beach. Eating conch fritters and conch ceviche were some of the highlights.
Small but mighty. The 50th Memorial High School reunion for the Class of 1970 was delayed, and although it was considered the best ever, there were only about 160 due to the Covid factor. The outstanding novel venue, Hemi Hideout, featured on The Texas Bucket List, is owned by classmate John Hovas, who claims he didn't know too many people in his class. Now they all know him! Chair Jeff Baker and co-chairs Liz Lisenby Grage, Susan Folk, and Linda Scheps Armstrong were impressed that classmates came from Arkansas, Georgia, Ohio, Colorado, and North Carolina. Many said that it was the best reunion ever. A major U.S. home builder and CEO of one of the largest grocery chains, as well as a renowned filmmaker, were there to also enjoy the vintage muscle cars and neon signs that decorated the giant emporium with ceilings five stories high. Barbecue catered in from Truth BBQ in the Heights was another ahhh.  
Bittersweet trip. Dr. Louis and Sheila Train tried multiple times to gain entrance to Israel to pray at their daughter's final resting place since she passed one and half years ago, finally with success this fall. Their visit coincided with their 61st anniversary, which they celebrated with family at a gourmet lunch at the luxurious Inbal hotel in Jerusalem. After their 10-day stay, they visited a resort on Lake Kinneret. They took a boat ride on the Sea of Galilee, where they could tour the lush acres of Golan Heights, which contrasted with the battlefields. Although they've made 30-plus trips to Israel, they say they will go back. 
The goal. Candlelighters' Lights of Courage kicked off the first nighttime event at the Houston Polo grounds, glamourized with chandeliers hung throughout the tents. Funds raised go to emotional and financial support for kids battling cancer and their families. Chairs Kris and Jimmy Vallee and Beth and Steve Guinn announced that this event raised more money than at any previous one, more than $445,000. Linda Wheeler, executive director, applauded while Melissa Fox emceed. 
Art and wine go together. Although Ally Mintz, gallery-exhibition manager, and Nick Duble, a wine distributor, are from Houston, they met in New York on a dating website. He popped the question right before the world shut down. They selected April 2021 to wed in NYC, but the pandemic lingered and the selected venue shuttered. The Beekman Hotel became available and was the right smaller size. Bottles were uncorked Aug. 20 after a beautiful wedding ceremony, which was hurriedly moved indoors to avoid the approaching hurricane. To share the joy with more family and friends, a toast-the-newlyweds "Dublemintz" celebration was hosted in Houston Nov. 27 by Lauren and Jordan Mintz and Elaine and John Eichelberger. The cocktail party was at the Heights Ironworks with no drama, just laughter and cheers and photos of the wedding.
Where the wild go. Although the safari was delayed a year, it was worth waiting for. Every tourist felt treasured, according to George Kovacs. Rosanne Kaufmann and Ron Juwa, Gordon and Rita (Walker) Kovacs, and Brenda Mize were thankful for the Ugandan staffers, guards, and police for a safe trip as they hiked a long, steep, tortuous trek throughout the vines of the Bwindi Impenetrable Forest National Park to watch a family of eight gorillas up close. The gorillas did not care a flip about them. The group marveled at the flight of thousands of wildebeest, some of which lost their lives crossing the Mara River in Tanzania. On the island of Zanzibar, a large spice farm and market captured their senses.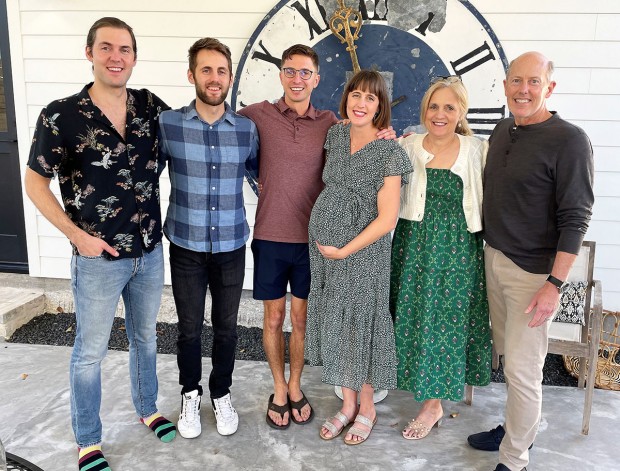 Clever. A baby shower for a little pumpkin was held in November for first-time-to-be parents Patrick and Molly (Mayo) Glowacki. Baby G Jeopardy and Mad Libs games were played with the 20-plus guests on a big screen in the outdoor patio at Molly's parents, Bill and Mary Mayo. Baby G was due Dec. 4 but resisted. Grandparents Bill and Mary Mayo and Ken and Kim Glowacki had to wait until the night of Dec. 13 to welcome baby Ollie Brooks, all 9 pounds, 2 ounces, and 21 inches of him.
Have some good news to share? Email us at [email protected].
People in this article:
Elyse Elsenbrook
,
Drew Tolson
,
Lesha Elsenbrook
,
Tom Elsenbrook
,
Suzette Tolson
,
David Tolson
,
Elaine Bell
,
Rosa Macias
,
Janet Hawkin
,
Maryann Patterson
,
Ethel Kelly
,
Barbara Files
,
Amy Richards
,
Nina Lian
,
Sherri Khatami
,
Roz Cooley
,
Murry Penner
,
Karen Penner
,
Darlene Abdouch
,
Michael Abdouch
,
Stacy Ellington
,
Michael Ellington
,
Renee Helfman
,
Alan Helfman
,
Elizabeth Stein
,
Alan Stein
,
George Mammen Geetha Mammen
,
Anish Mammen
,
Ajay Mammen
,
Serena Mammen
,
Natalia Merkidonova
,
Max Weber
,
John Hovas
,
Jeff Baker
,
Liz Lisenby Grage
,
Susan Folk
,
Linda Scheps Armstrong
,
Louis Train
,
Sheila Train
,
Kris Vallee
,
Jimmy Vallee
,
Beth Guinn
,
Steve Guinn
,
Linda Wheeler
,
Melissa Fox
,
Ally Mintz
,
Nick Duble
,
Lauren Mintz
,
Jordan Mintz
,
Elaine Eichelberger
,
John Eichelberger
,
George Kovacs
,
Rosanne Kaufmann
,
Ron Juwa
,
Gordon Kovacs
,
Rita Kovacs
,
Brenda Mize
,
Patrick Glowacki
,
Molly Glowacki
,
Bill Mayo
,
Mary Mayo
,
Ken Glowacki
,
Kim Glowacki
,
Ollie Brooks
Want more buzz like this? Sign up for our Morning Buzz emails.
To leave a comment, please log in or create an account with The Buzz Magazines, Disqus, Facebook, or Twitter. Or you may post as a guest.