A Whirlwind of Weddings
When everybody gets engaged – and Covid happens
Click the Buzz Me button to receive email notifications when this writer publishes a new article or a new article in this column is published.
One family. Five months. Three weddings. One more way the pandemic saw our plans for 2020 and raised them with 2021.
Kelly and John Raley, both lawyers, watched with excitement as their three children were engaged to their future spouses within months of one another, in 2019 and the beginning of 2020. Wedding dates were set: Kate Raley, Kelly and John's eldest, was to marry Sean McIlroy, from Tulsa, in May 2020. The youngest Raley, Wesley, would marry Houstonian Kasey French in January 2021. And William Raley would marry Louisiana native Kaily Bourg in June 2021.
It was a happy whirlwind of weddings, spread over the course of 13 months. Nobody expected another whirlwind – the pandemic – to supersede their plans.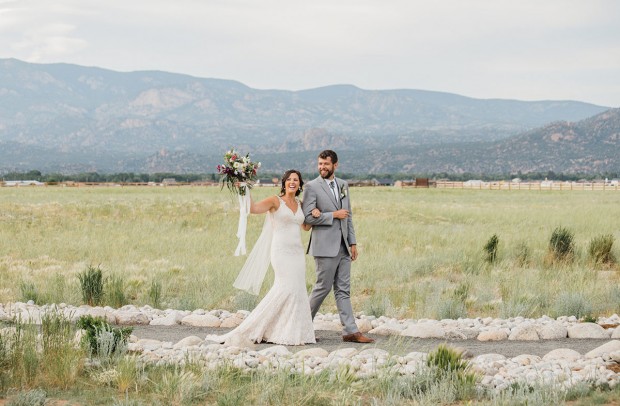 In the beginning
It was the '80s, and Kelly and John Raley had met a couple of times on campus at the University of Oklahoma. But the meeting that "sealed the deal" was at a mutual friend's engagement party. "We ignored everyone else in the room and closed down the party," Kelly says. A few days later, she came home to find a note on the door of her room at her sorority house saying: This guy called and wanted you to call him back whenever you get home. "It was late, but he said to call 'whenever.' So I did, and I called the number and woke him up," Kelly says. "I was so embarrassed! Then he started hemming and hawing, so finally I just asked, 'Are you trying to ask me out on a date?' He said yes.
"He didn't have any money and asked me to go to the dollar movie on campus," Kelly remembers. "He was really going to splurge, but I didn't know that. I had heard Man from Snowy River was really good and playing at the Norman theater, so I asked if we could go to that movie instead. I didn't know it, but he literally went through the cushions and his car looking for enough quarters to get us into the movie! To this day, we get goose bumpy when we hear the soundtrack." That was the first of many dates.
The couple married on Sept. 22, 1984, and moved to Scotland three days later for John to earn his master's degree in law as a Rotary Ambassador Scholar. Kelly put her med school classes on hold so she could accompany her new husband.
"It was a magical year," Kelly remembers; they traveled all over Great Britain and Europe. But at the end of the year, John moved to Houston to work for Fulbright & Jaworski, and Kelly went back to Oklahoma to finish medical school. "We had been together 24-7 for a year. Living apart, I cried every night," she says. "There were no cell phones in 1985, so calls were very expensive. On top of that, all my tests were on Mondays, which made weekend visits tough. We couldn't just relax and go to a movie, not that we had money for that."
To her parents' dismay, Kelly dropped out of med school and moved to Houston to be with her husband. She changed course and became a lawyer, going to work for Vinson & Elkins. When she and John started having babies, Kelly says she became the firm's "first mom lawyer they let work from home."
Today, John is known for his pro-bono work with The Innocence Project, helping to prove the innocence of people wrongly incarcerated. Kelly just earned her master's degree in law from the University of Houston and enjoys watching her husband perform in local productions at theaters like AD Players and Queensbury. "Acting is not in my wheelhouse, but it connects me to him," she says.
"When we were first married, we had our ups and downs. But someone once told us the goal is, once the children have left your home, you still want to have your marriage. You're going to focus on them, but never forget to focus on each other. That's always been in the back of my mind."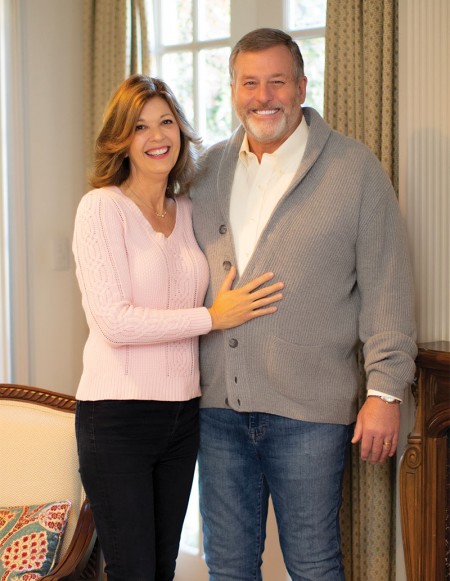 The Raleys celebrated their 37th anniversary in 2021.
Fast-forward
By January 2020, all three Raley children were engaged to be married. Then came March, and the reality of the pandemic began to set in.
Hopeful that the state of the world would improve, Kate and Sean mailed invitations to their May 2020 wedding. They were expecting 400 people to celebrate with them on a hilltop south of Nashville. But as the date neared, Kate and Sean and their families realized the gathering would be impossible to pull off. They postponed the wedding a year, until May 2021.
"It was heartbreaking," Kate says. "At that point, we had been engaged for 13 months and were ready to celebrate. But ultimately, like all Covid couples, we knew postponing was the right call."
Kasey, who was engaged to marry Kelly and John's son Wesley in January, watched as her future sister-in-law and others began canceling plans. But she and Wes held out hope to marry on the palindrome day of 1-23-21. (See the full story of their wedding, "Love Times Two," in this issue.)
As they waited and watched, their own wedding showers had to be canceled. But during what Wes and Kasey thought would be an outdoor family dinner at the Raleys' home that fall, they were surprised when friends began driving by and honking, picking up appetizers and water bottles as they wished the couple well.
Because they loved the date, and for many other reasons, including that they wanted to support the local businesses affected by so many event cancellations, Kasey and Wes went ahead with their January 2021 wedding. It was smaller than they had originally planned, and the weekend included Covid-testing – which led to a delayed bridemaids' luncheon. "Sadly enough, the testing was successful," Kasey says. Just before the lunch was to begin, one of the bridesmaids, asymptomatic, tested positive for Covid. They held off the luncheon so that she could test again. Still positive.
"Then we all cried," Kelly remembers. "She ended up leaving and getting sick days later. That would have been our super-spreader. We also lost one groomsman who got sick in the week before the wedding."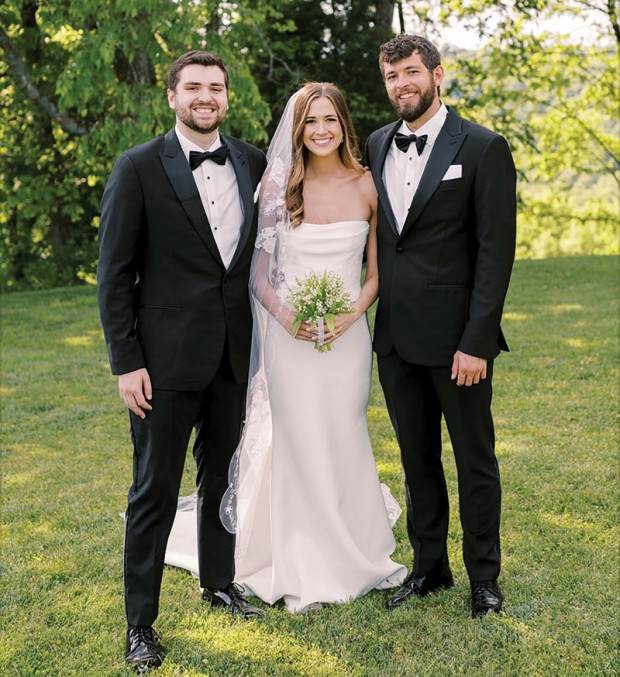 In the end, Kasey and Wes married on 1-23-21 (read more about their story here). Other than the two wedding party casualties, everyone stayed healthy. 
Four months later, May 15, 2021, Kate and Sean were finally able to enjoy their own postponed wedding, at sunset outside Nashville. "When our big day finally arrived," Kate says, "it was more than worth the wait."
Jim Jackson, the retired Chapelwood United Methodist Church pastor who had baptized Kate, and Sean's confirmation priest from Tulsa officiated. Their wedding guest book was illustrated with some 100 hand-painted watercolor scenes based on photos the couple had taken on their travels around the world. Kate's going-away dress was designed by Houstonian David Peck, who also designed Kasey's wedding dress. Sean's groom's cake was a golf bag with the West Point logo, his alma mater. And John, father of the bride, announced dinner by playing "Highland Cathedral" on the bagpipes.
That left Kaily and Will. They would wed June 19, 2021, which originally had put five months between their wedding and Kasey and Wesley's and 13 months between theirs and Kate and Sean's. But with Kate and Sean's date change, the family wound up celebrating two weddings within a month of each other.
Like Kate and Sean's, Kaily and Will's wedding reflected their personalities. Outdoors at sunset, they married in Colorado overlooking some of the mountains they had summited together. Again, John, this time father of the groom, played the bagpipes to announce dinner, this time "Amazing Grace." The couple's favorite bluegrass band, Wood Belly, played, and Kaily and Will surprised everyone with a choreographed dance, punctuated by Kaily doing cartwheels and a backflip.
Will had proposed to Kaily on a snowy Himalayan mountaintop in Nepal while they were backpacking around the world. In a nod to that trip, his groom's cake was a globe highlighting all the countries the couple had visited together. The newlyweds left their wedding on an LED-lit 1967 tandem bicycle Will had rehabbed.
Looking back
How did it feel to be parents of the January groom, the May bride, and the June groom? "Are you asking about the pandemic, the energy, or the money?" Kelly laughs. "The stressors everyone faced planning, canceling, re-planning, and executing pandemic showers, bachelor and bachelorette parties, weddings, and honeymoons tested us. But in the end, every bit of anxiety and stress melted away at the joyful celebrations."
Kelly says the past year has also given her and John opportunities to reflect and to advise. "It's not all rosy and not all good times," she says. "But look at us, we've been married 37 years. You have to keep looking at the significance beyond the wedding and keep focused on the goal."
Want more buzz like this? Sign up for our Morning Buzz emails.
To leave a comment, please log in or create an account with The Buzz Magazines, Disqus, Facebook, Twitter or Google+. Or you may post as a guest.