Love Times Two
Two generations of love stories
Click the Buzz Me button to receive email notifications when this writer publishes a new article or a new article in this column is published.
Kathy and Kerry French's love story has come full circle. The couple, she a regional pharmaceuticals sales manager and he a commercial mortgage banker, married in 1992 under the gazebo at at The Houstonian Hotel, Club & Spa, a resort property set on 27 wooded acres just west of 610. It was a special spot for them.
"I've been a member since it was built," Kerry says. "I stood in the driveway and watched them cut the ribbon. It was a dirt road at the time, 1979."
The Frenches decided to get married a second time in 2016, this time in a sacramental ceremony at St. Michael the Archangel Catholic Church, nearby on Sage.
"We've been longtime members of the church and felt like a sacramental marriage in the Roman Catholic church would enrich us both," Kathy says. "I'm Catholic, and he is Southern Baptist. Kerry did that to honor me and my religion."
Then she quips, "We've been married twice, and we think it's gonna stick this time."
Last January, on the palindrome date of 1-23-21, Kathy and Kerry's only daughter, Kasey, wed her longtime beau, Wes Raley, in the same church – which is also the church where Kasey was baptized – and celebrated in the same gazebo. (That is, the same gazebo, just a few feet across the lawn: "The original was underneath the big oak tree. But when the oak tree got so large, they had to move it stick by stick," Kathy says.)
Even as their love stories converged in the same place, Kathy and Kerry and Kasey and Wes took different paths getting there.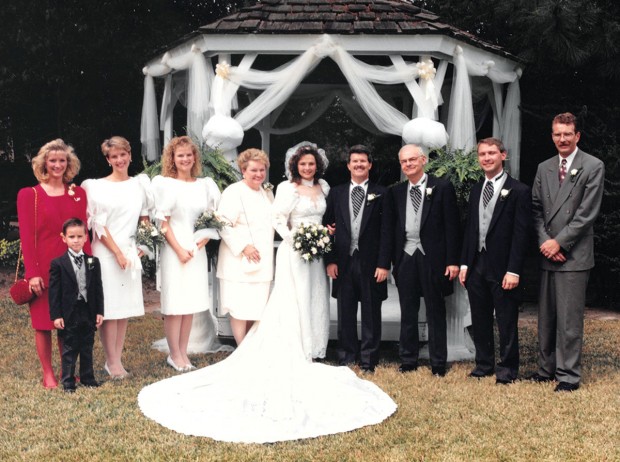 Kerry and Kathy met when Kerry was serving on the board of directors of the American Lung Association. "Kathy came in to talk to us about smoking cessation," Kerry says. "She was working at GlaxoSmithKline [pharmaceutical company] at the time. We met and exchanged cards. I called her a couple of weeks later, and she said, 'If you hadn't called me, I was going to call you.' It was one of those things."
"Our first date was at Café Express in the old Saks pavilion," Kathy says. "We ate outside and kept talking over each other. We had a lot to share that first date. Then I remember very clearly – this never happens to me, but I had a dry mouth. He walked me to my car and kissed me. I never stopped thinking about him since that first kiss."
"I didn't know she had a dry mouth!" Kerry laughs.
"We dated for a couple of years," Kathy says. "I was on the road all the time with work. So when we had a chance to date on the weekends, we did.
"It was very exciting. You think about those people who just smile when they talk about who they're dating? That was us. It was a storybook romance."
One of the couple's weekend dates found them on the Kemah Boardwalk. "I looked at Kerry and asked him if he ever thought about getting married again," Kathy says. (Kerry had been married before.) "He said, 'What do you think we're doing?' I was like bing!"
It was a July Fourth weekend when Kerry finally proposed. "We went to Lake Tahoe," Kathy remembers. "It was this gorgeous morning, a little cool, and we took our coffees and went for a walk on the lake. We sat together looking out at this beautiful lake, and I remember he said, 'This is beautiful, and so are you.' Then he got down on one knee, there in the sand, and asked me to marry him. I spilled my coffee, started crying, and told him I would marry him."
They were engaged for 18 months. Kerry had a son, Walker, and he wanted to be sure his son and family were comfortable with Kathy and their impending marriage. "Kerry really wanted to make sure we took the time to get this right," Kathy says. "We knew the end game, and we were in it for the long haul."
Daughter Kasey and her now-husband Wes started earlier in their lives. "We had always lived about 10 or 12 minutes away from each other, our whole lives," Kasey says. "We had the same pediatrician, same family dentist. There's probably a picture of us together somewhere when we were 12 – we just don't know it.
"I was never going to marry a Houston boy," she says. "I was going to live somewhere else and find someone there and move there."
But right before graduating high school, Kasey and Wes met, for real, through a mutual friend. "A lot of my friends from middle school ran in the same circles as his friends from high school because Houston is a big city, but really it's a small town," Kasey says.
"It was one of those things. We were slowly falling in love with each other, not realizing it until our friends and family were like, 'Are you dating?' It just cosmically aligned. I went to UT and he to A&M."
 "Whoop," Kathy, an Aggie, interjects. 
"We thought we'd just give long-distance a try," Kasey remembers. "The drive was long enough between Austin and College Station that we had our own lives, but close enough that we could still have a spur-of-the-moment weekend trip and drive to see each other. And here we are, seven and a half years later, married."
Kasey wasn't a girl who dreamed about her future wedding. "I never imagined a dress or a cake, and when it came time to start planning, I was like, 'Wow, I don't have any vision in my head.'"
But Kathy saw things differently. "When we [started talking] about Kasey and her dream wedding, which she didn't realize she had," Kathy says, "we immediately thought about the Houstonian."
Kasey and Wes were engaged on Jan. 18, 2020, two months before the pandemic hit. "My mom knew Wes and I were going to get married, so she had the church where I was baptized, all the things, she had them ready on speed dial. So by the 23rd, we had already secured the date: 1-23-21. It's a great date, and a year was a great time to plan a wedding." Then came the pandemic.
"My future sister-in-law, Wes' sister, was supposed to get married that May. I saw her slowly cancel her bachelorette party, postpone her wedding, and I was like, 'Oh no.' At this point, I just wanted to get a dress made and shipped before the pandemic closed it all down. And of course, we all thought that was going to last two weeks."
In addition to the church and the location, Kasey wanted every part of her wedding to have meaning. "I was like, 'Let's bring it back to basics.' My wedding band and engagement ring are my paternal grandmother's. I went to a local designer for my dress, a friend of my sister-in-law [Ginny French, married to Walker] for flowers." David Peck designed Kasey's dress; Freedom Flowers did the flowers.
"A big thing was also the gazebo. There is this beautiful picture of my mom and dad in front of it [at their own wedding]. It's filled with love and family. I wanted to recreate the picture, knowing almost all the same family members would be there."
Still, the pandemic persisted. "We watched," Kasey says. "People were really nervous to have weddings in July, but by October, I saw people starting again. At Christmas, numbers were going up. But we had also seen so many cancellations, so many small businesses suffering, so many parts of Houston suffering, which was an additional layer to all of this. So I thought even if I had 10 people show up, let's just support these groups however we can because Houston is very important to me."
The wedding went on as planned, only Covid testing was part of the weekend. "Sadly enough, the testing was successful," Kasey says. "We had to send a bridesmaid home who was asymptomatic, but very sick two days later.
"Everyone had the time of their lives. Except for the bridesmaid."
A year later, with the world still dealing with Covid and prices increasing, Kasey is thankful to have taken the chance.
"We ended up having 123 guests spread out in the ballroom, on 1-23-21. That was one of those moments where I thought yes, there is a higher being listening to me and telling me this was right," Kasey says.
What's next for Kathy and Kerry, now that their only daughter has married and moved to Chicago, where she is a digital marketing manager and her husband is a supply chain data analyst for PepsiCo?
"We remodeled the kitchen and didn't get divorced," Kathy says. "Does that count?"
Seriously, Kerry says, "We've seen a lot of change in our neighborhood [Tanglewood]. But we have a beautiful ranch home, and we love our home, the home we built for our kids."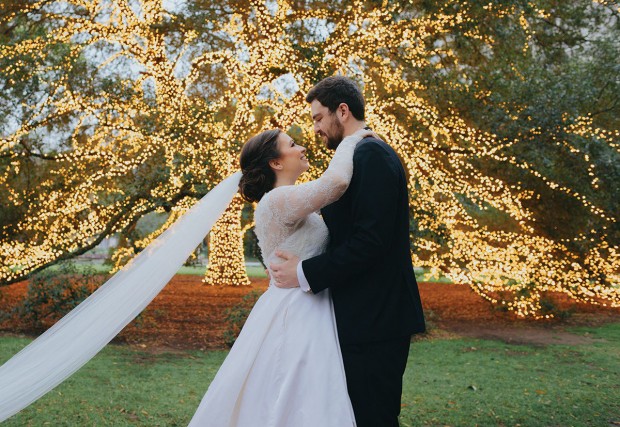 That includes Walker and Ginny, and their daughters Grace and Sarah. "They must love it too because they keep coming home, only now they bring Tate, a little bitty Anatolian shepherd who's about 100 pounds."
Kathy says her daughter's wedding was not only reminiscent of her own but also a testament to what love actually is. "The love story is not just the two people or the relationship," she says. "It's about where the two people are. We love Houston, we love the Houstonian, we love our church."
How lucky to have incorporated all those loves – and more – into two special weddings.
Editor's note: See "A Whirlwind of Weddings" in this issue for the story of Kasey's new family-by-marriage, the Raleys. Her groom, Wes, was one of three siblings to get married within five months, thanks to pandemic rescheduling.
Want more buzz like this? Sign up for our Morning Buzz emails.
To leave a comment, please log in or create an account with The Buzz Magazines, Disqus, Facebook, Twitter or Google+. Or you may post as a guest.