A Big Dill
Pickleball is on the rise
Click the Buzz Me button to receive email notifications when this writer publishes a new article or a new article in this column is published.
Pickleball has become quite a big dill lately. (Apologies for the pun.) Although this racket sport originated in the mid-1960s, the game is enjoying a surge in popularity. A hybrid of tennis, ping-pong, and badminton, pickleball is played with paddles and a plastic, wiffle-type ball – and it's popping up everywhere, from Buzz-area streets to neighborhood parks and athletic clubs.
"Pickleball, for the Gissel family, was the direct result of Covid," says Lewis Gissel, who picked up the game with wife Amy and children Henry and Lizzie. "We started in April 2020 when Amy, on a whim, bought a racket and I strung out a net on our street." Lewis measured off a court with blue painter's tape. At the time, Lizzie was a junior in high school and Henry was a student at A&M; Henry returned home when his classes went remote. The Memorial family went outside daily to play, for hours at a time. "Our neighbors pulled up lawn chairs to watch us."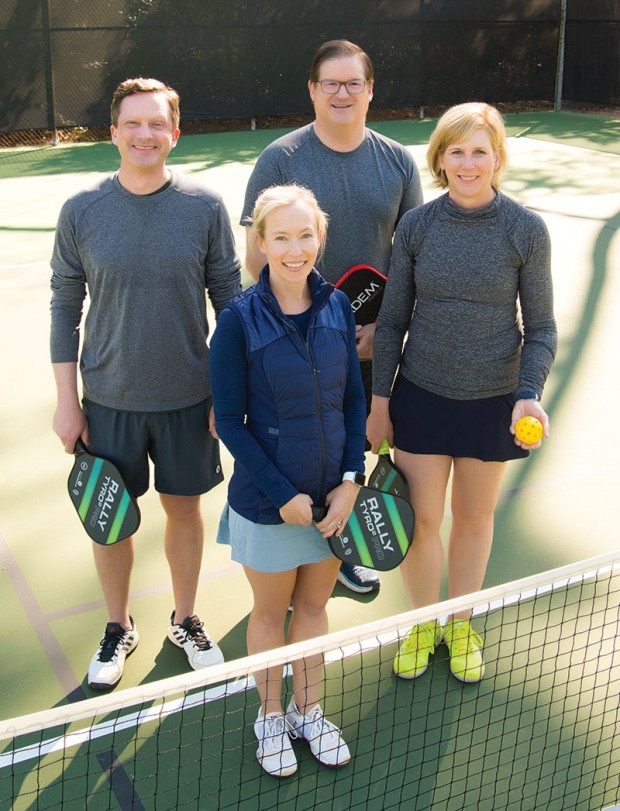 Lewis laughs that his family pickleball bunch became the sport to watch. "There were no sports on TV," he recalls. "They cancelled NCAA basketball and then the MLB cancelled. The only thing on TV at the time was Australian rules football that my son said people were excited to see." That – and live pickleball.
"The couple across the street would drink white wine and watch us play!" he says. "People were trying to figure out how to get outside and it was fun to see all the people's courts that opened up on their streets." With fewer drivers out, the Gissel family found it easy to keep their court in good shape – until the day they encountered a road hazard. "A UPS truck messed up our tape by driving over it," says Lewis, executive vice president at Texas Regional Bank. "But it was very easy to tape it back up."
At the same time, the Perrin family took to the streets in their Briargrove neighborhood. Lizzy and Carter Perrin discovered pickleball at the start of the pandemic, playing with their daughters or their neighbors, Sarah and Chip Lane. They Googled court dimensions (a pickleball court is one-fourth the size of a tennis court) and then pressed down the tape accordingly for their homemade court. "We just moved the net when a car came, and one friend watched for cars while we played," Lizzy says.
Lizzy has fond memories of playing during the pandemic. "That was my favorite time to play," she recalls.
"It cracks me up how popular it is now," she says. "Now it's hard to even get a court or a spot on the street because everyone is playing."
And although Googling basic rules of play was the way they started, Lizzy and Carter kicked their game up a notch when they were invited to join a group of friends to take pickleball lessons. Friend Amy Anton spearheaded the gameplay during the pandemic, much to the delight of the Perrins and Danielle and David Magdol. "We were outside, and it felt like it was a safe and friendly endeavor," says Danielle. "It was a nice way to be outside with your spouse instead of camped out in front of the TV."
For her part, Amy was thrilled to help friends learn to play a game she loves. Although she played tennis in high school, Amy was intrigued when Mike Alcott, the racquet sports head professional at The Briar Club, suggested she give pickleball a try. "He's the pickleball guru and his excitement for the game bubbles over. I have gotten more and more hooked," says Amy, the owner of web-based Kitchen Underground. "As I progress and get experience you see there is a strategy to the game."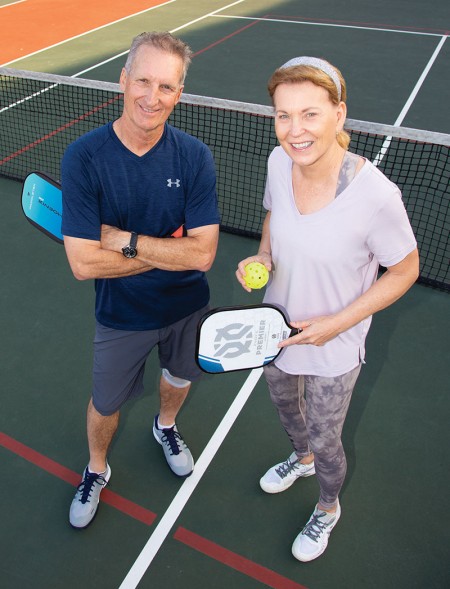 Pickleball can be played singles or doubles on a rectangle-shaped court. The game was created in 1965 in Bainbridge Island, Wash. when some friends and their families looking for recreation improvised a game of badminton using ping-pong paddles. They named the new game after their dog, Pickles. The net is lower than a tennis net and because the court is smaller in size, there is less running and different rules than in tennis. "Pickleball is just supposed to be fun," says Amy. "It's easier than tennis overall. It's easier to make the shots and the games are quick and you can talk while you are playing; you can have a conversation."
That social aspect is appealing to players across the board. Mary and Mark Goodman love playing pickleball so much they have a weekly standing game with friends at Mulberry Park in Bellaire. "Tennis was too much running after a ball," says Mary. "For pickleball, you have to have quick reflexes and since the court is smaller you don't have to run so much. You get good cardio. It's a lot of quick moving and because it's a very social sport, we always play as doubles. You make stupid mistakes, and everybody laughs. Some people take it really serious. We have a blast playing with our friends. We also are all competitive and we all want to win."
Husband Mark agrees. "The camaraderie is there for sure with the friendships," he says. "It is a very fast-paced game, and you get a lot of exercise. When you are at the pickleball line, and you are blasting the ball back and forth, you have to be on your toes." Mark adds that age is not much of a factor when playing pickleball. "Anybody can play," says Mark, the owner of Specialty Maintenance Products. "That is the beauty of it. If you can play ping-pong, you can play pickleball. It's kinda like standing on a ping-pong table. Lateral mobility is important. Anybody can get out there and pick up a paddle and I guarantee they will have fun."
However, it's not all fun and games. Injuries can happen. Last fall, Dr. Barry Zietz was looking forward to a game of pickleball with longtime friend Tali Blumrosen at the Bellaire Recreation Center. Barry was not a novice to the sport, but it had been a while since he'd last been on a court. They had decided to meet at 10 a.m. but Barry, eager to play, arrived early and joined some other players on a court. That's when he took a tumble.
"My goals were, in this order: not to get hurt, not to embarrass myself, and to win," says Barry, a recently retired pediatrician. "That was kind of my mindset, but I violated rule number one. Someone hit a lob over me, and as I was running back to get it, I lost my balance. I put my arm down to break the fall."
When Tali arrived, she was startled by the scene. "I show up at 10 and see the ambulance and fire truck at Bellaire Rec," Tali recalls. "And there is Barry laying on the ground, bleeding. I was like, 'Barry, what are you doing?!'" Barry jokingly proclaimed the accident was all Tali's fault. The banter, they both say, helped the gravity of the situation.
"We were bickering as such old friends, it was just comical because he was so calm," adds Tali. "I immediately got into motion to help him. I took his car back home and got his wife Hallie over there. I love him dearly and felt so bad because I had invited him." The jarring spill onto his left hand required an ambulance ride to the hospital and major surgery to place an eight-inch plate and pins to reconstruct his wrist. Months of physical therapy followed.
Barry says, however, that is not a deterrent; he is already playing pickleball again – but he wants others to be mindful of injuries. "I think people can get hurt doing anything. You can break your wrist in any way," he says. "Some people who are playing are older and are transitioning into a more active life. I think people need to realize in addition to minor things like pulling a muscle, you might fall down on a hard surface. People need to expand their world of movement. I think pickleball is a lot of fun for people, but they need to ease into it over time rather than going all out every day or several times a week. Many of us have not used certain muscle groups in years.
"Along those lines is the need to work on stability and balance because those things haven't been challenged as much and improving those skills will help not only on the pickleball court but also in everyday life as we get older."
Danielle notes that one of the perks of playing is the span of new friends made on the court.
"Pickleball is universal with players being such a wide age range from the 20s to late 70s and beyond," she says, noting that she gets on the court with both her high-school-aged sons. "There is something about it that does not carry the same weight as a tennis game. It's a little bit less intense and you feel like you are playing a game that is more relaxed and playful."
When it comes to pickleball, "It's hard not to laugh," adds Amy Gissel. In fact, that's one of the highlights of the game. Amy and friend Allison Martin have enjoyed playing together for years in their Wednesday tennis league, and now as part of the newly formed league at The Forest Club. Along with Lewis and Allison's husband, Grier Martin, they've formed a group that meets weekly for fun matches and dinner and drinks afterward.
"Our new team is named the Heavy Dinkers, named for when you barely dink a ball over the net," Amy says. "For the last club tournament, prizes were jars of pickles and pickle-flavored cotton candy."
Places to play pickleball
by Caroline Siegfried, staff writer
There are a variety of places to try pickleball in Houston, including a homemade court on your own street. Here are some local spots that offer pickleball.
Some places offer paddles and balls to rent, while others ask players to bring their own equipment. No partner? Several locations offer "open play" at set times throughout the week. Contact each facility to ask about equipment and confirm details about hours and pricing.
Open to the public:
Bellaire Recreation Center
7008 Fifth Ave., Bellaire, TX 77401, 713-662-8280
Outdoor pickleball available on a first-come, first-serve basis at the two tennis courts behind the Center. Reserve courts for $3/hour for Bellaire residents, or $5/hour for non-residents. Indoor pickleball courts open for public play on Mondays, Wednesdays, and Thursdays 10 a.m.–1 p.m. $10 daily admission fee for non-members to use indoor courts.
Bumpy Pickle
554 Lockwood Dr., Houston, TX 77011, 713-409-5047
Bar/restaurant with nine pickleball courts. Book a court for $20/hour. Paddle rentals: $5.
Fonde Recreation Center
110 Sabine St., Houston, TX 77007, 713-226-4466
Free and open to the public. All-ages pickleball is offered Saturday 10 a.m.–12 p.m. and Tuesday 5–8 p.m.  Adults/senior adults pickleball is offered Wednesday 10 a.m.–12 p.m., and Friday 10 a.m.–12 p.m.
Freed Park Community Center 6818 Shadyvilla Ln., Houston, TX 77055, 832-395-5055
Free and open to the public. Pickleball is offered Monday–Friday for seniors (55+) 11 a.m.–1 p.m., and Thursday for all ages 5:30-7:45 p.m.
Houston Badminton Center
10550 W. Airport Blvd., Houston, TX 77477, 346-229-4921
Pickleball open-play at the center is weekdays 10 a.m.–5 p.m., with Friday being the most popular day. They host events such as monthly mixers and tournaments. If you don't have a membership, drop-in passes are available for $5 for seniors/juniors and $7 for adults.
Mulberry Park 700 Mulberry Ln., Bellaire, TX 77401, 713-662-8280
Free and open to the public. Pickleball lines marked on outdoor tennis court.
Quillian Memorial Center (First United Methodist Church)
10570 Westpark Dr., Houston, TX 77042, 713-781-9195
Pickleball is offered Monday, Wednesday, and Friday 11:30 a.m.–1:30 p.m., Tuesday evenings 6:30–9:30 p.m., and Saturday mornings 8:00–11:00 a.m. $4/person. Players must register ahead of time; email [email protected].
The Zone Sportsplex
10371 Stella Link Rd., Houston, TX 77025, 281-317-7529
Youth sports complex and activities center. Rent a court for $25–50 per hour (all ages can play). The Zone requests that guests bring their own equipment.
Members-only (or guest of a member):
The Briar Club
2603 Timmons Ln., Houston, TX 77027, 713-622-3667
Pickleball courts available to members and guests of members. Equipment available for rental.
Evelyn Rubenstein JCC, Merfish Teen Center
9000 S Rice Ave., Houston, TX 77096, 713-729-3200
New, covered facility including three covered courts and three open-air pickleball courts located on the tennis courts. Available to members and guests of members. See website to make a reservation.
The Forest Club
9950 Memorial Dr., Houston, TX 77024, 713-686-3728
Pickleball courts available to members and guests of members. Paddles available, but balls must be brought with you.
The Houstonian Hotel, Club, and Spa
111 N Post Oak Ln., Houston, TX 77024, 713-680-2626
Ten pickleball courts, pickleball lessons, and pickleball open play on Saturdays, 9–11 a.m. Available to members and guests of members.
Memorial Forest Club
12122 Memorial Dr., Houston, TX 77024, 713-468-4581
Pickleball court available to members and guests of members.
River Oaks Country Club
1600 River Oaks Blvd., Houston, TX 77019, 713-529-4321
Pickleball offered to members and guests of members. Equipment available.
Royal Oaks Country Club
2910 Royal Oaks Club Dr., Houston, TX 77082, 281-899-3200
Open pickle play every Monday and Thursday. Guests of members must pay a $10 fee, $6 for extended family. Pickleball paddles and balls are available to check out. Tennis attire applies. Smooth-soled, non-marking tennis shoes are required to play (no running shoes are permitted).
Trotter Family YMCA
1331 Augusta Dr., Houston, TX 77057, 713-781-1061
Pickleball nets, paddles, and balls available for use. Members only.
Weekley YMCA
7101 Stella Link Blvd., Houston, TX 77025, 713-664-9622
Pickleball is offered Monday–Friday from 11 a.m–1 p.m. and Sundays 12–2 p.m. Paddles and balls available for use. Members only.
Editor's note: Visit places2play.org and enter your zip code to find places to play pickleball.
Want more buzz like this? Sign up for our Morning Buzz emails.
To leave a comment, please log in or create an account with The Buzz Magazines, Disqus, Facebook, or Twitter. Or you may post as a guest.