Setting Sail
Family fun on Galveston Bay
Click the Buzz Me button to receive email notifications when this writer publishes a new article or a new article in this column is published.
As each weekend approaches, Rocco Thomas, 6, excitedly asks his favorite question: "Are we going to the bay?" The answer is usually a resounding "yes!" from his parents Jane and Travis Thomas. When Friday arrives, Rocco and his little brother Tynes, 4, hop in the car and after an easy 45-minute drive south from their Memorial home, it feels like they are a world away as the family boards their sailboat named Ranch Water.
The Thomas family is part of a sailing community that few Houstonians know much about. Even though Galveston Bay is less than an hour away, the idea of captaining a boat and competing in sailboat racing leagues seem like things that happen in far-away places.
Sailing is a Thomas family tradition. Travis, an oil-and-gas chief financial officer, is a third-generation sailor. Along with his brother, David, he was born into a sailing family and spent much of his childhood on boats in Galveston Bay and running around the Houston Yacht Club with friends. "That was our thing, growing up," said Travis. "Sailing gets into your blood and, honestly, it has defined my entire life."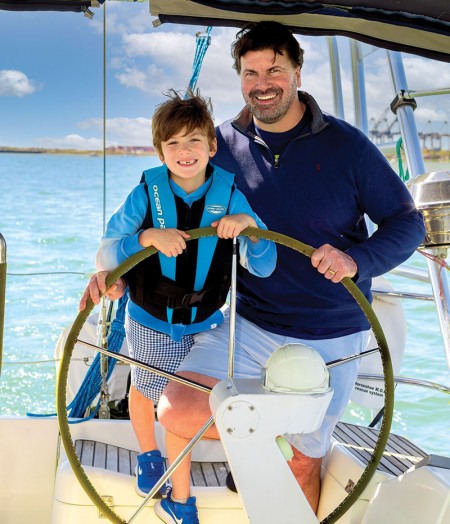 His childhood summers were spent learning how to sail in the club's Ragnots youth program, following in the footsteps of his parents Larry and Cheryl Thomas, and grandparents Tynes and Sissy Sparks. Travis' mom, Cheryl, also grew up in the Ragnots program where she earned the nickname "Skipper" that lives on today as the name her grandchildren call her.
This summer, Travis and Jane, a realtor, will introduce Rocco to the Ragnots program where the Hunters Creek kindergartner will learn to sail his own one-man sailboat called an Optimist. Up until now, the young Thomas boys have spent their boat time learning the basics and helping their parents on Ranch Water.
"There's a big learning curve with sailing," Travis says. "You have to learn about the weather and the wind and the physics involved, and then there is a whole vocabulary of words people use." In addition to feeling comfortable around water, Rocco and Tynes have learned to help with every aspect of sailing. There is some sibling rivalry involved in determining who gets to drive, trim the sails, put the fenders out, and help dock the boat.
Jane Thomas learned about sailing as an adult. "I had no sailing background until Travis took me on a boat for our second date," she said. "He had a 44-foot sailboat at the time, and we went to a regatta. We even ended up getting engaged on a boat." Jane admits to being more competitive than Travis when it comes to racing. "Travis couldn't care less about winning. He just enjoys it," Jane said.
When kids get older, there is plenty of opportunity to up their game when it comes to competitive racing. Addison Scott, 15, a freshman at Memorial High School, claims sailing as her sport and is committed to spending time on the bay. She and her brother Ryan, 13, a seventh grader at Spring Branch Middle School, have grown up sailing with their parents Morgan Scott, a veterinarian, and Zach Scott, an energy trader. They are regulars on the Gulf Intracoastal Waterway making trips around Galveston Island and down to Matagorda Bay.
Addison started sailing at age 9 and does both traditional and competitive sailing. On a typical weekend, she spends entire days with other kids and their coach perfecting technique on the water. "I really enjoy the sport and the time I get to spend on the water. I don't have super competitive goals for the future, but I do race and I wouldn't mind being on a college team someday," said Addison.
She balances school, sailing, and friends with some good time management. "I study in the car on the way there and back, and the practices are during the day, so I still have Friday and Saturday nights at home with friends," Addison said.
Sailboat racing spans a full spectrum from casual hobby to serious, time-consuming activity, depending on individual preferences. The something-for-everyone quality is what draws many into the sport. "On the larger boats, if you're hardcore into it, you can be as competitive as you want," Zach said. "You can be assigned a handicap, just like in golf, and compete on racecourses all over the place."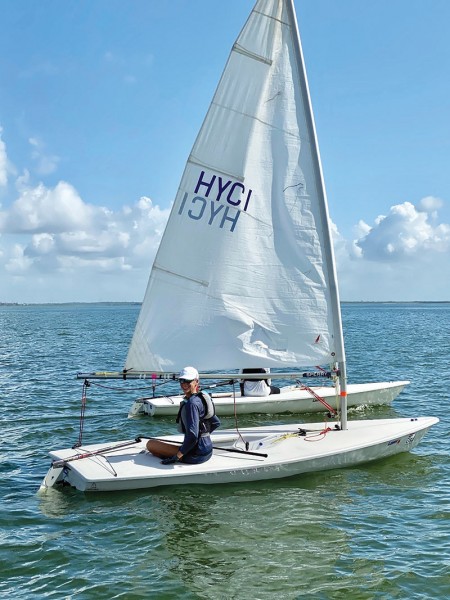 Ryan Scott spends most of his after-school time on the baseball field but has also become a talented skiff sailor. Skiff sailing is a different experience than traditional sailing. Skiffs are shallow, flat-bottomed boats that are perfect for doing tricks. His mom, Morgan, says the difference between traditional and skiff sailing is like the difference between skiing and snowboarding. "It's classic versus free spirited," she said. "Addison's sailing is very serious. When Ryan does a race, it's about being as goofy as you can with stuff like doing handstands on the boat or fitting as many kids on the boat as you can."
People outside the sailing community are always surprised to learn that the Scott kids sail. Morgan is used to questions about how it's possible to find the time to spend at the bay and why they want to drive so far. Morgan is both a baseball mom and a sailing mom, and she says her sailing title is much better. "We have driven to plenty of baseball tournaments that are two hours away and then have to sit on the bleachers in the heat. I'd much rather drive 45 minutes and get to spend time by the water with a breeze, or inside the club with air conditioning," she said, laughing.
Both Zach and Morgan say the confidence and independence kids learn while sailing are valuable life skills. "Youth sailing is self-directed, in a way, because they run their own boat. There are other kids out on the water, and the coach is there for safety and instruction, but it's up to each kid to make decisions on the water," Zach said.
The Scott and Thomas families both say sailing is in their blood, and they feel fortunate to have a lifelong activity the whole family can do together. "We are thrilled the boys have caught the 'bay bug' and that they are living the same dream as the generations before them," said Travis Thomas. "I fear that one day when they grow up, we will get to the bay and find the boat missing, along with both boys and their passports. At that point I will know we raised them right."
Sailing Lingo
Learning to sail comes with a new vocabulary. Here are a few terms to get you started.
Dinghy: a small boat typically crewed by one person
Optimist (aka "Opti"): a small, single-handed "first boat" for kids learning to sail
Sheet: a line used to control a sail
Trim: to adjust the tension in the line that controls the sail
Daggerboard: a retractable underwater fin used to counteract the wind's force
Tell-tale: a piece of ribbon or string on a sail that indicates how the wind is flowing over the sail
Fender: a bumper used to protect a boat from damage while docking
Hike: to use your body as a counterweight to the wind's force to level the boat
Heel: the leaning of a sailboat as it goes upwind
Puff: wind coming across the water on a calm day, visible by rippling water
Bullet: first place in a sailing race
Want more buzz like this? Sign up for our Morning Buzz emails.
To leave a comment, please log in or create an account with The Buzz Magazines, Disqus, Facebook, Twitter or Google+. Or you may post as a guest.