Filipino Food
And its rise in popularity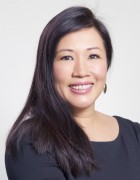 Click the Buzz Me button to receive email notifications when this writer publishes a new article or a new article in this column is published.
The first time I saw the Philippines was 45 years ago, right after the Fall of Saigon in 1975. My family and thousands of Vietnamese refugees found temporary asylum in this archipelago in the Pacific Ocean. Our stay was short. We were bound for America, but my impressions of the Philippines remain – rocky beaches that lead to endless rolling hills, vividly green, almost dreamlike.
Then, there was the food. Familiar, yet different, from the cuisine of Vietnam, 500 miles away. Last summer, I stumbled on the husband-and-wife team of Fil N' Viet at a pop-up in West Texas, Marfa of all places. The Austin couple, Kevin and Rose Truong, served Vietnamese-Filipino fusion, and for three days, I had it for lunch and dinner. Their Filipino specialties were mouthwatering, from the earthy, chargrilled flavors of crispy pork belly sisig with rice and cooling pickles to the juicy chicken inasal.
The experience prompted me to do a deep dive into what was happening with Filipino food when I got back to Houston. I couldn't believe the number of Filipino restaurants that have popped up, not only on our Gulf Coast but around the country. And the ingredient of the moment? Filipino ube.
Slightly nutty, the sweet purple yam hints of vanilla. With its velvety texture, pastry chefs are folding it into ice creams, cakes, doughnuts, and other desserts. Its photogenic violet color has made it a social media darling, so much so that in April, Trader Joe's introduced an ube ice cream and cookies.
"Filipino food is having a moment," says commercial lawyer Liz Referente. The Houstonian credits this partly to the growing numbers of Filipino-American celebs, including Bruno Mars and Olivia Rodrigo. Global phenom Enrique Miguel Iglesias is part Filipino. Then, there are the culinary accolades.
This year, Michelin awarded its first star to a Filipino concept in America, Kasama in Chicago, which features a tasting menu for $215. In 2021, The New York Times added Kasama and Seattle-based Archipelago, a Filipino fine dining restaurant, to its best restaurants list. In 2019, while at the acclaimed 24-seat Bad Saint in Washington D.C, founding chef Tom Cunanan won the James Beard Award for his Filipino cooking (another first). Now, he is at Houston's POST Market food hall (401 Franklin St.), tweaking the seven-month-old menu at Soy Pinoy, a concept founded by controversial Filipino American chef Paul Qui, who won the ninth season of Top Chef and earned a James Beard Award for his Japanese cooking.
Speaking of firsts, I met Liz when she got engaged to a Filipino college buddy, Anthony Referente. In 2010, Liz entered the citywide Filipino adobo competition, which attracted home cooks and professional chefs.
"I was intimidated," recalls the River Oaks area resident, who grew up cooking Vietnamese, not Filipino. "I turned to my husband and said, 'Anthony, you got to tell me how to make it.' He wasn't very helpful."
Many Filipinos consider adobo the national dish of the Philippines. The perfect adobo gently braises a protein of choice in soy sauce, vinegar, sugar, garlic, and spices (typically bay leaves and fresh ground peppercorns). There are many variations of this beloved stew. Pork and chicken adobos are most common, but shrimp, fish, duck, beef, quail, bamboo shoots, tofu, chicken livers, and even chicken feet are standard. Filipinos often joke that there are as many adobos as islands in the Philippines, composed of 7,100-plus islands and islets, but only one-third are inhabited.
Liz opted for an adobo with pork shoulder and crispy chicharron. She heightened flavors by reducing the tangy, savory sauce and folding crispy shallots into otherwise plain jasmine rice. In the back of her head, she kept hearing Hopdoddy Burger Bar founder and Filipino-American chef Larry Perdido's advice: "Liz, you can't mess with adobo. You got to stay true to the traditional flavors."
Liz took home the first-place trophy for adobo that year and again in 2012. "I used two kinds of vinegar in my adobo," she says. "Vietnamese is about a balance of sweet, hot, sour, and salty. You have that similar balance with Filipino, but I noticed that the palate leans more toward the sour."
There are rows and rows of vinegar, or suka, made from sugarcane, rice, coconut, palm, pineapple, and countless other fruits at Cherry Foodarama (8017 Main St.) in the Pinoy Corner at South Main and Kirby Drive. Filipinos love to infuse vinegar with aromatics, including garlic, chiles, and herbs.
"Sour is the gateway to Filipino food," says Nicole Ponseca, co-author of I Am a Filipino: And This Is How We Cook. The New York City restaurateur adds that a sour element underscores every meal, either as a dipping sauce, pickles, in the marinade, or a last-minute splash of Filipino calamansi lime. One of the most popular soups is the flavorful, tangy sinigang, characterized by tamarind or other sour fruits, tomatoes, onions, fish sauce, vegetables, and pork, beef, or seafood.
That lilt of acidity is a welcome element at heavy, meat-laden celebratory feasts and holiday dinners. Filipinos honor guests by serving meat, lots of it. Now, drum roll, please, for the winner: pork.
Traditional menus are heavy on pork, followed by chicken (such as crowd-favorite Filipino fried chicken), seafood, then beef. Filipinos adopted nose-to-tail eating long before it became trendy. No parts of the pig are wasted. Take sisig, a menu staple either as an appetizer or main dish served with rice (present at every meal). It consists of minced pork meat, belly, ears, cheeks, onions, chiles, and sometimes, chicken liver. But recipes vary from restaurant to restaurant, and I can only guess what part of the pig is being used. Many Houston eateries, though, include crispy pork belly.
My daughter's favorite is the crispy pan-fried version with mayonnaise, red onions, and raw egg at Be More Pacific (506 Yale St., Suite E). Mine remains the aromatic pork belly and cheeks over hot coals from food truck Fil N' Viet at Camp East (2903 E 12th St, Austin). But many Filipino friends said that the sisig tart with vinegar at Max's Restaurant Houston (8011 Main Street, Suite 200) is authentic.
Kids and adults crave lechon kawali, crispy pork belly at Flip 'N Patties (1809 Eldridge Parkway and 800 Capitol). But you'll find this almost on every Filipino menu, along with lumpia pork eggrolls. Siopao is a steamed bun stuffed with pork or chicken. Godo's (7235 Fannin St.) is famous for siopao. Pata is deep-fried ham hock, and the pork specialties go on and on, including menudo and tocino, sweet, garlicky glazed pork belly or shoulder caramelized in sweet soy sauce.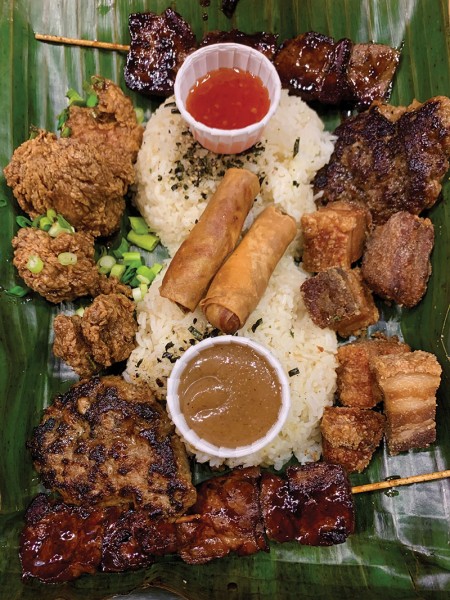 Not sure what to order? Some restaurants, including Be More Pacific and Flip 'N Patties, offer sampler plates, sometimes called kamayan, a family-style feast served on banana leaves. Soy Pinoy, which means "I am Filipino," has a meat sampler plate. Still, chef-partner Cunanan recently added a seafood sampler for $95 with whole fish, fried shrimp, calamari adobo, and ceviche. He's learning that Houstonians clamor for vegetarian and seafood, so he also created a vegan kare kare, traditionally an oxtail vegetable peanut sauce stew.
Filipino food is tough to pinpoint because it is the culmination of centuries of influence, starting with the Malaysians, then the Spaniards, Chinese, Indians, Arabs, South Asians, Pacific Islanders, and even Mexicans. Spanish fleets brought settlers from Mexico to the Philippines. The result is complex yet very humble, and many Filipinos declared that it is best made by an "auntie" at home.
People speculate this played a role in why Filipino food has taken so long to go mainstream despite being 2.9 million strong. Filipino is the third-largest Asian group in the United States, behind the Chinese and Indian. But it is way ahead in numbers compared to Vietnamese, Korean, Thai, and Japanese.
Cunanan is eager to introduce more Americans to the food of his homeland. A late bloomer, the classically trained chef didn't start cooking Filipino until age 32, after his mother passed. But he believes that as long as he cooks Filipino, Cunanan figured he would feel her presence beside him, guiding him.
"My life's goal is to push Filipino food forward, go to every state and promote it," says the Soy Pinoy chef-partner. "And I look forward to the day when I don't get that question, 'What is Filipino food?'"
Here are recipes by James Beard Award winner and Soy Pinoy chef-partner Tom Cunanan.
1 lb. skinless, boneless pork shoulder
¼ small red onion, thinly sliced
6 red Thai chiles, coarsely chopped
4 garlic cloves, coarsely chopped
½ cup Sprite or 7UP
¼ cup soy sauce
2 Tbsp. and 2 tsp. cane vinegar (such as Datu Puti) or unseasoned rice vinegar
2 Tbsp. sugar
½ Tbsp. black peppercorns
½ Tbsp. kosher salt, plus more to taste
3 dried shiitake mushrooms
To make the pork easier to cut, freeze it on a rimmed baking sheet until very firm around the edges for 45–60 minutes. Remove it from the freezer and slice as thinly as possible lengthwise into 1- to 2-inch-wide strips.
While the pork is in the freezer, combine the onion, chiles, garlic, soda, soy sauce, vinegar, sugar, peppercorns, and 1 tablespoon of salt in a large resealable plastic bag. Grind the mushrooms into a powder using a spice mill or a mortar and pestle, then whisk it into the marinade. Coat the pork in the marinade a few pieces at a time, coating them thoroughly, so they don't stick together and absorb the marinade evenly. Cover and chill for 6-8 hours.
An hour before grilling, soak some wooden skewers in water or use six to eight 8-inch metal skewers. Prepare charcoal or grill for medium-high heat. Remove the pork from the marinade and thread it onto the skewers. Transfer the marinade to a small saucepan and bring it to a rolling boil on the grill. Cook one minute, skimming off any foam that rises to the surface. Move to a cooler part of the grill.
Season pork lightly with salt and grill, undisturbed, until well-browned for about two minutes. Turn and baste with marinade. Continue to grill, turning and basting every minute, until cooked through and browned all over, about four minutes longer. Serve with cucumber and onion salad. Makes 4 servings.
3 Persian cucumbers, thinly sliced
¼ small red onion, thinly sliced
½ tsp. kosher salt, plus more to taste
2 Tbsp. unseasoned rice vinegar
1 tsp. sugar
Freshly ground black pepper
Fresh mint leaves (for serving)
In a medium bowl, toss the cucumbers, onion, and 1/2 teaspoon of salt. Let sit until the cucumbers begin to release liquid. Gently press down on the cucumbers to force out more liquid, being careful not to break them apart. Remove the vegetables from the bowl, shake off the liquid, and place them in a clean salad bowl. Toss with vinegar and sugar, and season with salt and pepper. Top with mint. Serve immediately with any grilled meats. Makes 4 servings.
Want more buzz like this? Sign up for our Morning Buzz emails.
To leave a comment, please log in or create an account with The Buzz Magazines, Disqus, Facebook, Twitter or Google+. Or you may post as a guest.