Going Vegan
What it's really like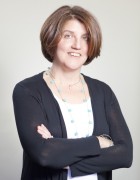 Click the Buzz Me button to receive email notifications when this writer publishes a new article or a new article in this column is published.
About a year ago, my husband, who does not like vegetables, suggested we go vegan.
This should be interesting, I thought.
Actually, I was glad he brought it up.
I have always felt uneasy about eating animal products. My mother says when I was four, I discovered where meat came from and was so horrified that I almost drove the entire family to vegetarianism.
But then I forgot. I was four.
Some definitions may be in order because while all vegans are vegetarian, not all vegetarians are vegan. What people tend to think of as "vegetarian" is a person who doesn't eat meat but will eat dairy and eggs. But to be precise, that's an ovo-lacto-vegetarian. I recently met a woman who is a lactose-intolerant vegetarian. "I confuse people," she says. Officially, she's an ovo-vegetarian; that's a vegetarian who will eat eggs but not dairy. There are also lacto-vegetarians, who will eat dairy but not eggs. And there are pescatarians, vegetarians who will eat fish.
A vegan doesn't eat any animal products: no meat, dairy, eggs, even honey. People vary on how strict they are with this. Some won't eat any foods that are produced using animal products in any way. That might mean no wine or beer that has been fined, a purification step in the production process that might use egg whites, casein (which comes from milk), gelatin, or isinglass, which is made of the swim bladders of fish. (Really.) Some people are vegan in all aspects of their lives and won't use any products that come from animals, such as leather or silk.
Vegans have a reputation, not entirely undeserved, of being prickly. I joined several vegan recipe exchange pages on Facebook. (I did this so you don't have to; you're welcome.) I found that recipes weren't so much being exchanged as hot words were, often from page members whose caps-locked buttons were on.
A common query on these pages is, If I raise my own chickens and know that they are well-treated, can I eat their eggs? The answer from the caps-locked crowd: NO! Those eggs belong to the hens, they say, never mind that those eggs aren't fertilized, are just going to rot, and domestic chickens have been bred to lay an unnaturally large number of eggs.
People go vegan for a number of reasons. Some, like my 4-year-old (and present-day) self don't want to cause animal suffering. Others want to lessen their impact on the environment. (The main reason my husband went vegan.)
Some (also me) want to eat a healthier diet. While eating vegan, theoretically all fruits and vegetables, can be healthy, it is not, as I had hoped, a free pass to eat anything I want in any amount I want as long as it's vegan.
Let me explain. Oreo cookies are vegan. Whataburger French fries, fried in soybean oil, are vegan, although, alas, Whataburger onion rings, battered with egg and milk, are not. Margaritas are vegan. Vegetable egg rolls, their name notwithstanding, usually don't contain eggs and can be vegan. Skittles are vegan. Many kinds of potato chips are vegan. And be still my heart, Girl Scout Thin Mint Cookies are vegan.
Or perhaps I should say that some of these accidentally vegan products are "technically" vegan, because there is debate. Google if Oreos are vegan, and in the results, some unequivocally say that Oreos are vegan, including statements from PETA (People for the Ethical Treatment of Animals) and from Veg News, a vegan magazine. Others, one a blog called The Picky Eater, say Oreos are not vegan because they are made in factories and on equipment that are used to make other non-vegan products, so there is a risk of cross-contamination and also because Oreos are made using regular white sugar. Sugar is made white using a purification process that might use bone char, which is made from bones, usually of cattle. This is why organic sugar, which does not use bone char in its production, has a gold hue.
In your supermarket ice-cream case, there is now an entire section devoted to non-dairy alternatives. Ben & Jerry's produces 17 vegan ice-cream flavors, including a vegan Cherry Garcia. Whole Foods sells mini vegan corndogs that my definitely non-vegan kids say are better than regular corndogs. There are some pretty passable "cheese" puffs that are made of chickpeas.
Cooking vegan meals held some surprises, too.
First, the positive: Because you are not worried about raw meat or eggs, and as long as you wash your fruits and vegetables, you can taste everything at every stage of cooking and chop everything with the same knife and cutting board.
Which is nice because you will dirty every bowl and pot and pan in your kitchen, in addition to your blender and your food processor. Vegan recipes, trying hard to impart richness and flavor without cheese, cream, or butter, tend to call for a bazillion ingredients, most of which have to be finely chopped.
Some of these ingredients are things I had never heard of, like nutritional yeast. For some reason, every definition of nutritional yeast I have ever read ends with the observation that some people like the taste so much, they sprinkle it on their popcorn, to which I can only say, "Yuck." It is good for imparting a cheesy flavor to recipes and, to sauces, a cheesy consistency.
Miso paste, though, I could eat – okay, I do eat – with a spoon right out of the container. Made of fermented soybeans, it works kind of like bouillon and adds a umami, or savory, rich taste, to recipes. It is also, like bouillon, high in sodium.
While I will still occasionally get a text from my husband, out to a business dinner at a steakhouse, that reads "I'm ordering the vegetable medley" accented by green-faced and vomiting emojis, I have to say we are both pleasantly surprised that it wasn't so hard to make the switch. Even those vegetable medleys can be quite good. Recently, one of my definitely non-vegan kids looked at my vegetable medley as the waiter set it down and said, "Hey, that looks pretty good." I almost fell out of my chair.
And don't forget: there can always be Ben & Jerry's for dessert.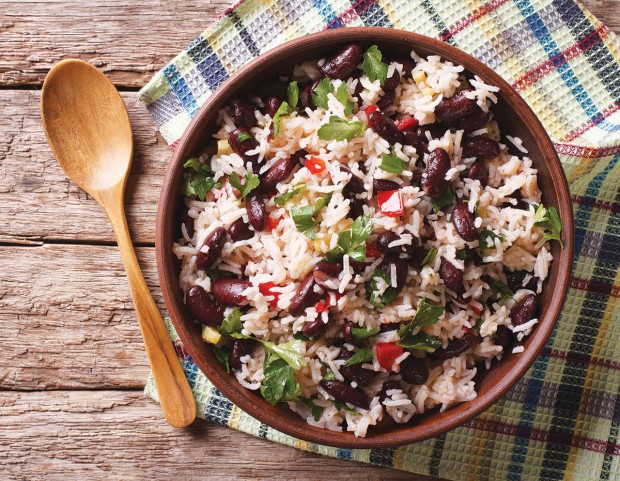 Serves 5
Sometimes, it's easy to make a recipe you've made for years vegan. This recipe for beans and rice, from Chef Robert Irvine (chefirvine.com), simply needed me to use vegan butter, rather than regular butter, and vegetable stock, rather than chicken stock, in the making of the rice.
1 Tbsp. olive oil
2 cloves garlic, minced
1 large red onion, diced
1 stalk celery, diced
1 green bell pepper, small diced
1 red bell pepper, small diced
2 16 oz. cans red kidney beans
1 tsp. onion powder
1 tsp. salt
1/4 tsp. black pepper
1 Tbsp. hot sauce
2 1/2 cups vegetable stock
1 cup white rice
1 Tbsp. vegan butter
1 Tbsp. minced fresh cilantro leaves
Heat olive oil over medium-high heat in a large saucepan. Sauté garlic, onion, celery, and bell pepper until tender. Stir in kidney beans, onion powder, salt, pepper, and hot sauce. Reduce heat to low and let mixture simmer slowly while you cook the rice.
Bring the vegetable broth to a boil and stir in rice and vegan butter. Return to a boil, reduce heat to low, cover and cook for 20 minutes without removing the lid. Remove from heat and let stand for 5 minutes. (Alternatively, I make the rice in a rice cooker.)
Fold rice and beans gently together and transfer to a serving dish. Serve garnished with cilantro.
Vegan Blogs
Facebook recipe-exchange pages aside, the Internet is a great source for vegan recipes. A few I like include:
Hummusapien - Registered Dietitian and Nutritionist Alexis Joseph does not call herself a vegan. She says that about 97.3 percent of her diet is plant-based, so there are some non-vegan and non-vegetarian recipes on her site, Hummusapien. However, many, including one of my favorites, her "Best Vegan Lasagna," are vegan.   
MinimalistBaker - Like Hummusapien, MinimalistBaker is not entirely vegan but has many great vegan recipes, including another favorite of mine, their "Mushroom and Leek Risotto." They say their recipes all call for no more than 10 ingredients each, use only one bowl, and take 30 minutes or less to make. Yay!
Eating Out, Vegan-Style
While I have made the switch to veganism, my favorite thing to make for dinner remains reservations. Luckily, more and more restaurants, from fast-food to fine-dining, are including vegetarian and vegan options on their menus.
And in Houston, there is a wide range of all-vegan restaurants. They include:
Verdine – 449 W. 19t St., 713-876-4768
Cascabel – 1415 Murray Bay St., 713-999-9551
Mo'Better Brews – 1201 Southmore Blvd., 832-740-4297
The Doshi House – 3419 Emancipation Ave., 713-814-5085
Veegos – 10932 Westheimer and 2616 Blodgett, 281-888-5030
Green Seed Vegan – 4320 Almeda Rd., 844-365-8346
Korny Vibes – 403 Westheimer Rd., 713-485-4609
Trendy Vegan – 3821 Richmond Ave., 713-621-9488
The Hive Vegan Eatery – 14520 Memorial Dr., 832-300-2777
Heartbeet – 14714 Memorial Dr., 832-617-8278
Hungry's, though not entirely vegan, offers a separate vegan menu., 2356 Rice Blvd., 713-523-8652; 14714 Memorial Dr., 281-493-1520
Govinda's, the vegetarian restaurant at the Hindu ISKCON Houston Temple & Cultural Center in Garden Oaks, serves an entirely vegan menu on Fridays, Saturdays, and Sundays. 1320 W. 34th St., 832-831-9951
Want more buzz like this? Sign up for our Morning Buzz emails.
To leave a comment, please log in or create an account with The Buzz Magazines, Disqus, Facebook, Twitter or Google+. Or you may post as a guest.