For the Love of Books
A daughter's grief turned to giving
Click the Buzz Me button to receive email notifications when this writer publishes a new article or a new article in this column is published.
Regina Shadle Nolan has fond memories of driving all over Huntsville with her dad every Saturday morning to scout books for sale.
Regina's father, Bob Shadle, had been an associate professor of history at Sam Houston State University for almost 50 years. Before retiring in 2011, he taught a variety of history classes from U.S. history to his passion, the British Empire. He was an author and an editor, and he was a voracious reader.
But at the end of the day, he was the inspiration for Regina's love of books.
"I was my daddy's little girl," she says. "Anywhere he went, I went. He was an early reader, and I was an early reader. He taught me to read.
"On Friday nights, we would circle all the garage sales [in the newspaper] that mentioned books, and then off we would go in the morning," Regina, a vice president for human resources at HP, says. "We would load up in his VW and go from stop to stop to stop looking for books. We'd come home with bags and boxes of them, and my mom [Lidia] was always like, 'Please don't bring any more books into my house!'"
Bob would enroll Regina in the summer reading programs at the library, and they always marked their calendar for the Houston Public Library's book sale. "Some families came to Houston to go to AstroWorld," Regina says. "We went for the Houston Public Library book sale."
With all the buying trips came a massive collection of books. Bob kept them organized: he kept a list of the books he had read, and another one of the books Regina read. "Because he was a British Empire professor, he had a lot of books from the Victorian era," Regina says. "But they were also varied and really showed you how diverse his thoughts were. He had books that were thrillers, [James] Pattersons. He read about African history, the road to independence for the Ivory Coast. For me, not all that was interesting. But for him, that's how he built his knowledge." (To hear about Regina's own book preferences, click here.)
Regina says her dad kept careful watch over his books. "He'd say, 'Over here, these are really important,' or, 'Over here, these are thrillers.' Prior to him passing, he tried to tell me what to do with them. That was his number one thing. He wanted to make sure I knew which books were more valuable."
But, like many daughters, Regina didn't want to go there. "I would say, 'You're fine, you're fine. Why don't you take care of your books by just being here?'"
So when Bob died in 2019, Regina wasn't sure how she should handle the books. "It took me a couple of years to even go into his office," she says. But this past spring, she did it.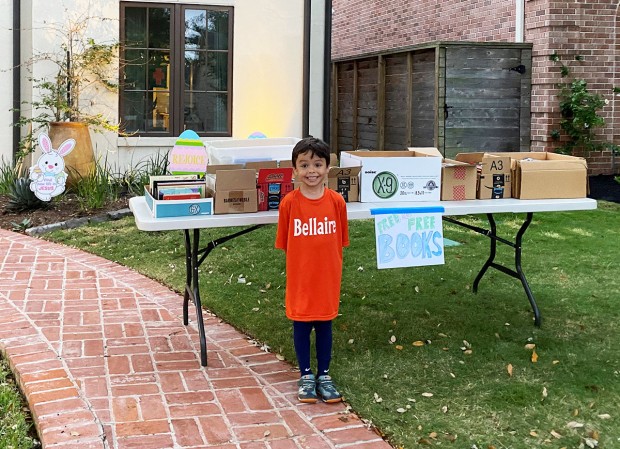 "I think my dad really just wanted to make sure I valued his books like he valued them and gave them to people who would also value them," Regina says. She began the process of culling through the books and giving them away.
"Grief is a process," Regina says. "For me, giving the books away was one way of working through that process.
"I thought about how [my dad] would want me to manage the books, and, for me, there was an obligation to share them with the community. So I did a Saturday morning pop-up with free books in my front yard."
Advertised only by a post on the Nextdoor app, Regina's book giveaway brought readers to her front yard starting at 5 a.m. All the books she put out that morning were gone by 11:30. "There've been an outpouring of people who loved the [Nextdoor] story – like 650," Regina says. "It's crazy. There were so many comments from people who were history professors or who had similar experiences with their dads. I read every one of the comments and thanked everyone for acknowledging my dad. It was part of my grieving."
It's going to take more than one – or two, or three – Saturday mornings to give all Regina's dad's books away. She plans to keep going, sorting books according to genre. "This was a first pass," Regina says, "more of his luxury reading, not his historical reference books or the true classics. I haven't gotten there yet."
But the community response buoyed Regina's spirits. "It was a way to give back," she says. "I think my dad would have been very, very pleased with how I gave the books to the community. They weren't recycled, they were redistributed.
"And I loved the idea of giving them away on a Saturday morning. Maybe there was a little girl there looking through the books with her dad."
Want more buzz like this? Sign up for our Morning Buzz emails.
To leave a comment, please log in or create an account with The Buzz Magazines, Disqus, Facebook, Twitter or Google+. Or you may post as a guest.