The Garden Code
Gifts grown in Grandpa's garden
Click the Buzz Me button to receive email notifications when this writer publishes a new article or a new article in this column is published.
Watermelons, cucumbers, squash… good things that emerge beneath the scorching summer sun in a southern garden. Jones Mays, 18, spent much of his early years in his grandpa's community garden in the tiny town of Tunica, Mississippi. Jones, lovingly called "Squirt" by Grandpa Jerry Lee Gentry, would follow him around the garden meticulously dropping seeds in manicured rows, examining newly sprouted vegetable plants, and scanning the shroud of greenery for bright red strawberries and cherry tomatoes ready for picking.
"The best part about this garden was he had such an abundance of food that he just left his back door open," said Jones who lived with his father Jones Sr., mom Ingrid Haynes, and older brother, Vazquez Haynes, in neighboring Memphis, Tennessee. "Anyone who needed something could walk up and get it whether it was something for a picnic or because they didn't have money to buy food at a grocery store."
Nothing can beat those cherished childhood memories in the garden. They proved to be potent seeds of knowledge that would yield a much bigger harvest, one that would win Jones national recognition. It was in Tunica, he learned that few southern gardens survive without a relentless inspection of enemies.
"Ultimately, we had to tackle this invasive vine species named Kudzu. It just takes over everything and covers everything in your garden," said Jones. "We had to constantly fight this vine."
Kudzu is a perennial vine native to Japan. If left alone, its invasion, mostly in the south, prevents the growth of trees and plants, smothering and crushing what's beneath it. It can cause damage to power lines and overwhelm homes.
Jones and his family moved to the West University area of Houston when he was about 6 years old, but gardening remains a passion. Now, Jones is a senior at Carnegie Vanguard High School, an academically-challenging public school in Houston for gifted and talented students. Jones applied his Kudzu-hunting experience in an AP Research class. Later, he decided to research computer science competitions and ultimately entered his project into the Apple Swift Student Challenge to design code that would digitally detect the vine.
"The app I created, which is named Ivy, really helped solve this issue by detecting invasive vines, either by location or by uploading an image to the app," said Jones.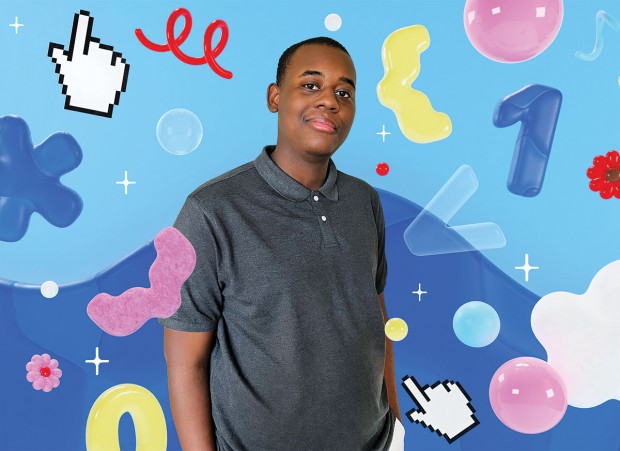 Prevailing in the Swift Student Challenge is no small feat. It culminates with the annual Apple World Wide Developers Conference. Hundreds of young people from around the world test their power of coding to create apps that help solve problems in their communities. Jones was one of three teens announced as a winner out of 350 students from 40 countries and regions. This summer he was flown to Apple Headquarters in California and introduced to Apple's CEO Tim Cook.
"For a person who is basically the superstar of tech, he was just so friendly and he was really engaged in our apps. I will never forget the experience," said Jones. "We didn't actually know until the day we were there that Tim Cook was coming. When he came up the giant hill with this giant group of helpers and people, I just had to collect myself for a few seconds."
It's with that kind of enthusiasm that Jones tackles everything. His father, Jones Mays Sr., says his son has embraced nature his entire life with lots of trials and errors.
"Every time he saw his granddad, his grandad would give him seeds. So when Jones got home he would go out in the backyard and plant the seeds," said Jones Sr., also into computer science and works as Director of Technology for the nonprofit group Alliance. "We finally had to give him his own little organized garden area because he would just go out and plant the seeds in the yard and I didn't know where the seeds were and I would cut the grass and cut his plants down. I would have hell to pay after that."
Jones stands tall at 6 foot 5 inches, but his hobbies are not what you might assume at first glance. He doesn't play competitive sports. And, despite his success in the prestigious Apple challenge, he was never into coding. In fact, he didn't take computer science until high school as an elective and discovered he liked it. His true passion is art: creating art and working at the Contemporary Arts Museum Houston as a teen council member.
"My work is mostly abstract expressionistic," said Jones. "I've started to transition into combining computer science into art. And now I'm really fascinated with kinetic sculptures, typography, and really just movement."
His dad says there was no secret sauce to bringing up a brilliant, creative, goal-driven kid, but there is one thing he believes made a difference.
"I never ever told him he couldn't do anything," said Jones Sr. who was all smiles telling anecdotes about how inquisitive Jones was as a little boy. "I'm a jogger and I had one of those jogging strollers. He would do this thing where he would raise his hand and when he raised his hand it was a signal for me to stop. I would stop and he would get out of the stroller and pick up leaves and rocks and plants and put them back in the stroller."
It's one thing to be a good student but Jones' teachers at Carnegie say this teenager takes his education to a whole different level.
"He's so interested in every subject, he would work like his whole life depended on it," said Julea Brode, an Algebra II teacher, who taught Jones in his freshman year. "I wasn't surprised at all when I heard about the award. I thought this is just another 'Jones thing'… he's continuing on his journey of being a shining star."
This summer, Jones is getting the experience of coding camp – as a young adult, helping teach younger kids about coding at a local summer camp called Code Wiz.
"I would say to a person to try a multitude of things, because ultimately, you'll be able to find something that you like," said Jones. He also toured Stanford while in Silicon Valley and plans to apply there. "I just think that when you have goals in life and you want to achieve those goals, then you do what's necessary to try to get there even though you may not achieve them. Like the saying goes: You shoot for the stars and land on the moon."
Jones' prize is a yearlong membership to work with Apple developers. His app, Ivy, will be up and running this summer. But Jones has another reason for getting the app into gardeners' hands.
"I really want to pay homage to my grandfather, who sadly passed away during the Covid-19 pandemic," said Jones. "I want to pay respect to his legacy and all he taught me."
It's clear that those seeds of knowledge will continue to blossom in whatever comes next for Jones.
Want more buzz like this? Sign up for our Morning Buzz emails.
To leave a comment, please log in or create an account with The Buzz Magazines, Disqus, Facebook, Twitter or Google+. Or you may post as a guest.